You are moving!
Near or far, for work or play, with your girlfriend or with your cat or with the Star Wars action figures you've had since you were ten, in a box, with a fox — it doesn't matter — you are moving to a new place.
There are certain truths universally acknowledged about moving, like that it sucks, and that unless you're a military brat or someone in a Disney Channel movie, you feel like you have no idea what you're doing.
Conveniently, all three editors of this publication have also moved relatively recently, ranging from September 2010 (Riese) to May (Laneia) to this August (Rachel).  We've all learned many lessons, mostly about our own inner workings and how many panic attacks are possible in one day. But some of those lessons were about moving! And we are here to share. Although, you know, fair warning, we actually have no idea what we're doing. Here goes!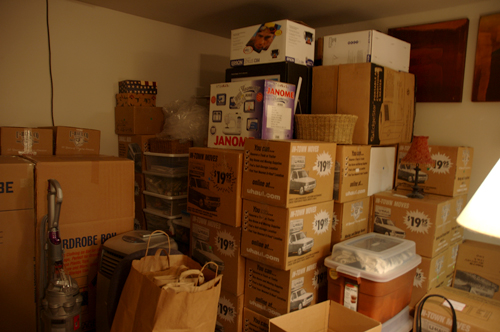 3-6 months ahead of time
+ Start saving money, because moving is expensive. Probably way more expensive than you think it is. Here's just a sampling of the things you may or may not be spending money on in the near future:
UHaul
Hotel room, if you're traveling a long way
Gas for the trip
Shipping costs
An actual moving company
Packing tape (it's like $5 or more per roll?)
First, last, and security at your new place
The likelihood that utility bills and rent between apartments will overlap
A week's worth of pizza and Chinese once your kitchen is packed up
A week's worth of buying $3 coffees after you pack up the coffee machine
Cleaning supplies, soap, toilet paper, etc for your new place
Replacements for the things you didn't feel like moving (trash can, iced tea pitcher, half-full honey bear)
Bike rack
Therapy
All your living expenses until you find a job at your new place
Could you afford all that right now? No. Work on that.
+ Start getting rid of shit, because you have too much of it.
Trust me on this. If you are wily, you can leverage this into point number one by selling your shit, which is really ideal.
Garage sale! EBay! Your greedy roommates! Chances are you don't have an unreasonable amount of stuff, but unless you're an actual ascetic, as soon as you start trying to pack it up you will feel like one of the failure stories on Hoarders.
A former roommate of mine who is generally much more successful in life than I am advocated the "sticker system" — buy a set of stickers from the dollar store and for a set period of time, maybe a month or six weeks, put a sticker on an item every time you use it. At the end of the set time period, look at the stuff that doesn't have stickers on it. How bad do you need it? Obviously if it's your snow boots and it's July, you get a pass. But if it's the set of knitting needles you've been meaning to teach yourself how to use for the past two years, maybe get over it and get rid of them. Your aspirational ideas about your future self are not worth making your friends carry that shit around in boxes.
Obviously I don't have my shit together enough to use this method, as it requires forethought. Instead, I went through my stuff as I packed the week of, picking up each object and looking deep into my soul as I asked myself "Do I really want to pack this in a box and move it 800 miles to unpack it again?" Frequently the answer was "no," so it was effective in that sense, but I would warn that with this method, you are left with a huge pile of shit that you no longer want at exactly the eleventh hour, when you have no time left to figure out what to do with it all. Your call!
+ Begin looking into roommates, jobs and apartments. If you are physically moving out of your old home, then the "finding an apartment" stage should really be complete already. This 3-6 months is your time to take care of that. Get on it. In these things, as in all things, the answer to your prayers will come via Craigslist. Also though, don't get axe murdered.

4-6 weeks ahead of time
+ Start packing. It seems like you don't need to yet, but you do. Stuff that you're not going to use up until you move — parkas in summer, ice cream maker in winter, etc. Be real, are you going to read War and Peace between now and then? No. I realize that having huge piles of boxes in your house is really depressing, but you really have way, way more than you think you do. Remember all that stuff in the attic? And the casserole dish set your aunt gave you? It all has to go. Unless:
+ Get rid of even more stuff. I'm serious.
+ Logistics. How are you getting there? Plane, train, automobile? How much will it cost? Will you need to stay somewhere halfway? Do you need to rent a van or car? Are there things that would be easier to ship? Do you need to sell your furniture or whatever? Can you sell anything to the new tenant? Is anyone helping you? Do you have any friends even?
Organizing these things won't be easy. All I can say is: make lists. Lists of what to pack, what to do, who to call, what to take care of before leaving Point A, what you'll need to take care of when you get to Point B. Should you make sure to check off going to the dentist before you leave? Library books to return? Parking tickets to pay? Try to take care of those things now, because you're not going to have time to realllllly soon.

2 weeks ahead of time
+ Start eating strategically. Now is the time to start working on that 24-pack of frozen Gardenburgers that you bought six months ago and forgot about, because otherwise you're going to have to throw them all out. Anything perishable or anything that could at some point become perishable needs to go. Invite friends to help if necessary. Which brings me to:
+ Start making plans to see the people you need to say goodbye to if you're moving far away, because otherwise the last time you see them will be waving from the sidewalk while you're sleep-deprived and blubbering like a child, which is not sexy. You want them to remember you as sexy.
– If you are driving (I'm going to assume you are because I did) start making road trip mixes/CDs. This may not seem important but it is because otherwise you end up driving through 173 miles of Ohio farmland with nothing to do but curse yourself over and over for not burning a copy of The Black Album. Also, make sure you bring The Black Album.
+ If you're driving, get your car a tuneup. This is also something you will appreciate in the middle of Bumfuck, Ohio. At LEAST make sure you have a recent oil change and good tire pressure, you crazy diamond.
+ Get a Xanax prescription if you can. I'm serious about this. I don't advocate the use of prescription drugs for recreational purposes, but this is not a recreational purpose. You will need this at some point in the moving process. I feel confident promising this. Your doctor may understand.
+ Change your address with the Post Office. You can tell them in advance what date you're moving. It's a little thing, but it will save you SO MUCH HEADACHE.
+ Pack ALL YOUR SHIT. Seriously. Go to the liquor store. Get the free boxes. Bring a pretty friend if necessary to make sure you get the free boxes. Don't buy any liquor though, because drunk packing is even harder than regular packing. Take my word for this.
PACKING PROTIPS!
+ Pre-pack a duffle or suitcase that contains your basic toiletries (if you have stuff in travel sizes, that's great), a week or so's worth of clothes and underwear, and a few pairs of shoes. If you pack this stuff first, then you can live out of this before, during and immediately after moving, so you don't have to agonize over what box you packed your v-necks in, or whether you should pack your v-necks yet, or whatever.
+ I used my clothes as packing materials for fragile things, and ended up not having to figure out how to pack like ⅔ of my clothes! Granted they are now really wrinkled and smell like my wine glasses, but I'm ok with that.
+ Pack a box of "first week/first day" things that you will need to unpack immediately. It should contain: corkscrew, vibrator, vital medications, important books, granola bars, chapstick, and anything else that you feel you will freak out without and need to unpack EVERY BOX until you locate.
+ Put books and other heavy things in SMALL BOXES so that you're actually able to carry them yourself.
+ Pick something to label your sex toys and other personal items so the yahoos that you convince to help you move don't feel weird, like "items for Lily Tomlin devotional altar" or something.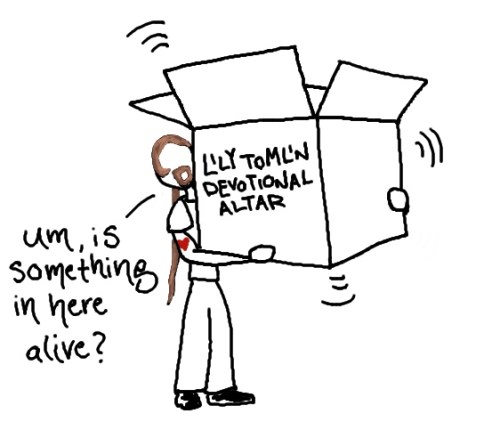 + You could optionally label important things accordingly, like "favorite books," just be aware that if you are later storing said boxes at the house of someone who is soon to be a vengeful ex-girlfriend, or something, that will be the first box to be vandalized.
+ Pack cleaning supplies last so you can get your security deposit back.
+ So many ziploc bags. Use them for silverware, spices, especially terrible liquids (like nail polish remover or, say, liquid smoke). This will seem excessive and annoying at the time, and I sincerely hope for you that your move will proceed such that you can continue feeling that way, as opposed to "Oh Jesus, I'm so, so glad everything I own doesn't smell like liquid smoke," or worse, "Oh Jesus, everything I own will smell like liquid smoke forever."


Next: What to do in that crucial final week.

1 week ahead of time
+ SERIOUSLY PACK EVERYTHING WHAT THE FUCK IS WRONG WITH YOU just put Hoarders on Netflix and get to it.
+ Institute a rule that the only social events allowed are "helping you pack." People who try to convince you to come out for drinks or to a party just one last time are your enemies. Frenemies. Whatever.
+ If you have a pet, see if you can get pet drugs for it. These exist. I don't know what your personal vet's disposition towards this idea is, but I can attest that a two-day drive with an unhappy, crying cat is way worse than the same drive with a stoned cat. I think I will get yelled at in the comments for this but I sincerely believe both you and your beloved pet will be happier for this.
+ I lied about how you can only have friends over to help you pack, you can also have friends over to help you eat all your perishable food/food you don't want to pack. You can also have friends come over to talk you down from panic attacks about packing, but only if the episode ends in packing.
+ If you need to buy furniture or anything in your new location, nowish is a good time to start making Craigslist inquiries.

3 days ahead of time
+ If you haven't done so already, bite the bullet and just start eating delivery for every meal. All your pots and pans and dishes should be packed by now.
+  You are not as packed as you thought you were going to be. Trust me. Call around and make sure at least one person is available for last-minute day-before packing assistance. It is okay if this person is your mother.
+ I live(d) in a city, and it had shitty and insane parking rules. If this is also the case for you, you may also be able to do what I did, which was go to the city parking office and get special parking signs that blocked off part of your street for the truck or car or whatever on the day of your move, so you didn't just have to hope that there would happen to be three spaces free right next to each other. It's worth at least calling.

Last day before moving
+ If you managed to get the abovementioned Xanax, now is the time to use it.
+ If you can pre-load anything that you've packed, i.e. put it in a car or truck the night before, do that. All I know about packing trucks is that the weight is supposed to go in the front (near the cab, or the direction you're driving) and that the boxes should go on bottom and furniture on top. I also ended up stuffing my bike in upside down on top of my mattress, though, so maybe don't listen to me. (I didn't have the money for a bike rack, see step 1.)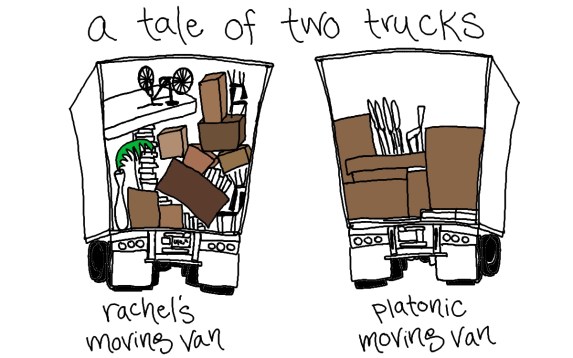 Moving Day!
It's all about road trip snacks and coffee. Maybe get a bagel. Maybe you won't be able to find good bagels where you're going, or at least it will be harder. That's my only real advice. Get a bagel and some coffee and go.
All cartoons via Autostraddle's own Intern Laura!
Have some moving tips? Share them in the comments!
Pages: 1 2See entire article on one page