It's time for Movie Night, where we choose a movie based on any number of variables and feelings, create a themed menu to match, then spend Friday / Saturday night eating these foods and watching these movies!

THE MOVIE
E.T.: The Extra-Terrestrial
[ buy me ]

Synopsis, from IMDB:
A group of aliens visit earth and one of them is lost and left behind stranded on this planet. The alien is found by a 10 year old boy, Elliot. Soon the two begin to communicate, and start a different kind of friendship in which E.T learns about life on earth and Elliot learns about some new values for the true meaning of friendship. E.T. wants to go home, but if Elliot helps him, he'll lose a friend.
There are times when I wish I could erase all adult responsibility and relive those glory days of childhood. For instance, when I was most recently evicted from my apartment via an unforeseen infestation of black mold. It's times like these when nostalgia strikes, I turn to the classic 1982 movie, E.T.
Although this movie was released three years before I was born, I think of it as an archetypal film from my youth. Don't get me wrong, as a child I was scared shitless of the infamous little martian and his creepy fingers. Because I consistently imitated my older brother, I tried to play it cool and hide my fear, which proceeded to haunt me in nightmares. I watched E.T. in bits and pieces, mostly because it was quite intense for my over-protected, suburban self. As an adult I want E.T. to be my buddy, primarily because I know we would have the greatest time raiding the fridge for beer, reading comics, and frolicking in the redwoods.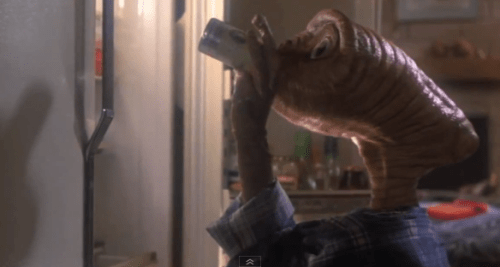 "Is he a pig? He sure eats like one."
– Gertie
A Stephen Spielberg gem, it's hard to over-look this movie when thinking about the great American classics. E.T. was so progressive in its production value that character's haircuts, home furnishings, and automobiles are the only things that make me think it's the 1980s. Also, I'd just like to point out that lil' Drew Barrymore, who plays Gertie, is so fucking adorable. Gertie succeeds in getting E.T. to talk, which is the second most adorable thing about this movie.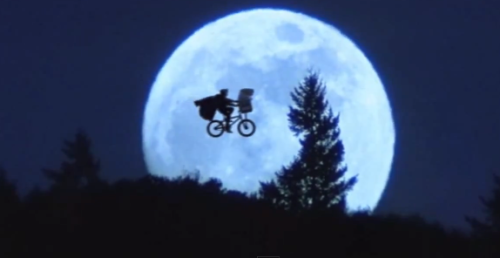 Michael: What is this shit?
E.T.: E.T. phone home.
Michael: My God, he's talking now!


Sidenote: I forgot everything I know about health and food politics when crafting this menu. Also, someone got celebratory and made a cake.
THE MENU
E.T. "Pee"
Reese's Pieces Rice Krispy Treats
Pizza Dip
+
E.T. Pee

In an effort to temporarily forget my adult responsibilities, I decided to prepare a cocktail that would take me to childhood in the 1980s and still be reminiscent of the alien theme.
Ingredients
1 tbsp Rose's Grenadine
1 part Midori Liquor
2 parts Vodka
1 part Pineapple Juice
Lime Rounds
Find your favorite cocktail glass. Note: we will gently layer all the ingredients before stirring for full visual effect. Spoon the grenadine directly to the base of the glass and fill it generously with ice. Add the Midori, then vodka, and top it off with pineapple juice. Serve with stir stick, stir to incorporate, and garnish with a lime round. Cheers!
+
Elliot: But, look, you can't tell. Not even Mom.
Gertie: Why not?
Elliot: Because, uh, grown-ups can't see him. Only little kids can see him.
Gertie: Give me a break!
Reese's Pieces Rice Krispies Treats

Since Reese's Pieces are at the forefront of the movie and happen to be my favorite candy, I decided to combine them with my favorite lunch box snack, Rice Krispies Treats.
Ingredients
4.5 cups crispy rice cereal
1 bag mini marshmallows
¼ cup butter (1/2 stick)
1 ¼ cups Reese's Pieces, frozen
Spray the bottom of a 9X13" pan with non-stick cooking spray.
Begin by putting the Reese's Pieces in the freezer, at least 30 minutes prior to making the treats. Melt the butter in a medium saucepan, when the butter is melted add the marshmallows. Stir until the marshmallows are completely melted and remove the pan from the heat. Add the cereal and stir. Right before everything is incorporated add the frozen Reese's Pieces, stir gently, and then press the mixture into the bottom of your pan (wetting your hands will help). Cool completely and cut into bars. Perhaps you too can find an extra-terrestrial friend with your leftover Reeses Pieces.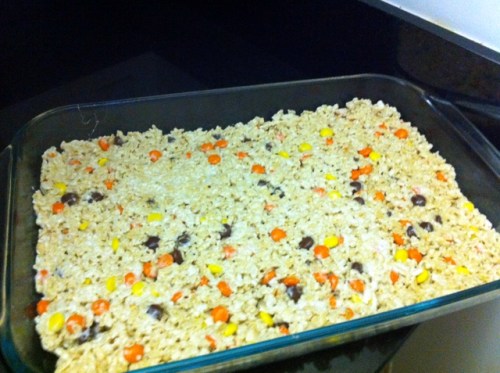 "Swear the most excellent promise you can make."
– Elliot
Pizza Dip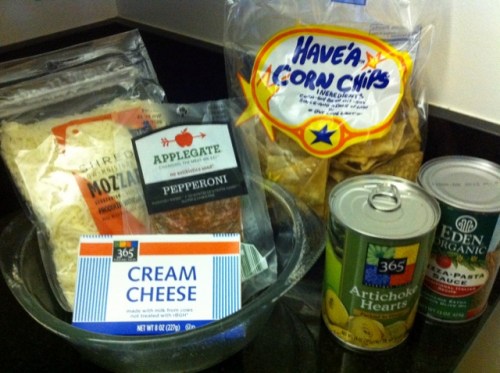 I'm pretty sure every time I watch this movie I crave pizza and Reese's Pieces because they are focal points of the movie, or maybe I'm just obsessed with food. Southerners turn everything into some sort of dip and usually add cheese at any possible opportunity. Hence, pizza dip, a food from my favorite family gatherings which originated from an old Southern cookbook. This recipe is as versatile as your outfit. You can change anything and/or everything about it with great success.
Ingredients
8 ounce package cream cheese, softened
14 ounce jar pizza sauce
1/3 cup onions, chopped
1.5 cups mozzarella cheese, grated
6 ounces artichoke hearts, drained and chopped (or olives, mushrooms, peppers, etc)
2 ounces sliced pepperoni
Bag of corn chips
I chose to include artichoke hearts for garnish because they are insanely delicious, but substitute anything you'd like.
Preheat the oven to 350 degrees. Press the softened cream cheese in a 9-inch pie pan, or any approximate casserole dish will do. (Let's remove the crust of the pizza and make it cheese. Ok, let's!) Spread the pizza sauce. Layer remaining ingredients in the order listed (onions to pepperoni). Bake for 25 minutes and serve with corn chips.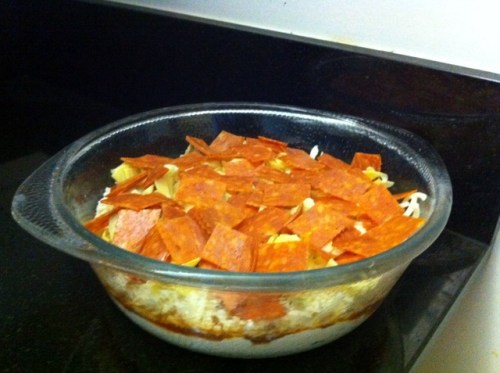 But, for serious, wouldn't it be fun to have a little friend to dress up in drag?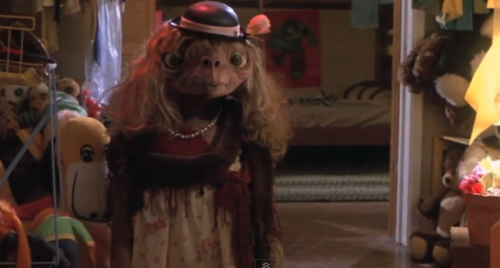 Oh, and my brother wanted to make sure I had tissues on hand while revisiting this film. I suggest you do the same.

Share any out of this world recipes / memories / favorite feelings in the comments!