Welcome to Movie Night! Where we choose a movie based on any number of variables and feelings, create a themed menu to match, then spend the night eating these foods and watching these movies! It's an uncomplicated but promising plan.
Attending this last-minute screening in Sydney were a handful of participants ranging from hardcore D.E.B.S. fans to reluctant/involuntary viewers, including my girlfriend, my flatmate, and Autostraddle readers Dina & Desiree.
All photos have been taken by Kate.

THE MOVIE
D.E.B.S.
[ buy me ]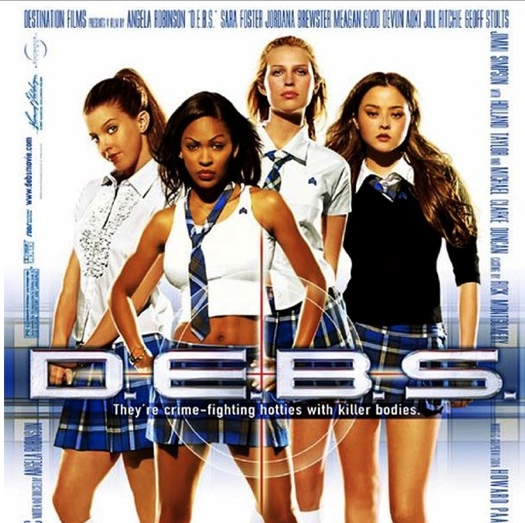 Synopsis, from IMDB.com
"Recruited by the U.S. government for their unique ability to lie, cheat and fight, Amy, Max, Janet and Dominique join an underground academy of secret agents known only as D.E.B.S. These crime fighting hotties set out to save the world and keep their lipstick perfectly applied while doing so. Now the girls must combine their skills for their most important mission- to capture vexing vixen Lucy Diamond, the deadliest criminal the world has ever known. When D.E.B.S. star player, Amy, falls for Lucy, chaos erupts and the D.E.B.S. loyalty is put to the test."
I typically steer clear of movies that have "crime-fighting hotties" in Catholic schoolgirl uniforms gracing the front cover, however my adoration for Jordana Brewster (Lucy) compelled me to make an exception. And I'm glad, 'cause D.E.B.S. is now my all-time favorite piece of queer cinema.
Dina: Aren't they supposed to be in college? Why are they wearing schoolgirl uniforms?
Kate: Um, because it's hot.
"This is not the Girl Scouts, this is espionage!"
– Mrs. Petrie
Everything about this movie is totally f*cking ridiculous, but that's apparently how I like it. D.E.B.S. taught me many things about myself, including the fact that I'm never not in the mood to watch a smokin' hot lesbian criminal mastermind break through a plaid-patterned force field to the tune of The Cure's "Love Cats" in order to kidnap a straight super spy and whisk her away to an underground industrial nightclub so they can drink beer and subconsciously bite their bottom lips. To me that's quality entertainment.

"Are you kidding me? We conduct a nationwide manhunt for you and you're boning the suspect? Did you think this was a joke? "Let's divert federal resources and man hours so I can have my collegiate lesbian fling in style." – Mrs Petrie
D.E.B.S. is written & directed by Angela Robinson, who has given us many good things such as the few bearable episodes of The L Word. The relatively PG-13 love affair between Amy and Lucy is super adorbs and all, but what makes this movie extra irresistible is the dialogue and scenes featuring Dominique, Janet, Scud, Mrs Petrie, and Ninotchka the assassin. If I could be any character in this film I'd wanna be one of the boys that Dominique kicks out of bed. You?
Kate: "Dominique doesn't do laundry. Or French accents."

THE MENU
3-Cheese Pastizzis
Chargrilled Tofu Burgers with Sweet Potato Fries
Tiramisu
+
3-Cheese Pastizzis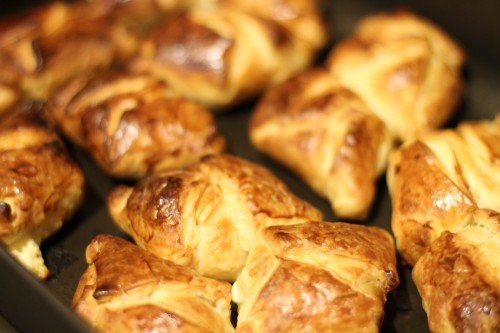 Pastizzis, aka pastry crack, are not only on theme because of their puffy diamond shape, but they also happen to be my all-time favorite snack food. Win/win.
Ingredients (makes 24)
500 grams ricotta
1 cup shredded mozzarella
½ cup grated parmesan
2x eggs, beaten
6 sheets of puff pastry (buy it or make it)
Salt and coarsely ground black pepper
Preheat your oven to 200 Celsius or 392 Fahrenheit. Put the ricotta, mozzarella and parmesan into a mixing bowl with half the egg. Mash it up while adding generous amounts of salt and pepper. If you want to kid yourself / others into believing that these are not 100% bad for you, throw in a few cups of spinach.
Cut the pastry sheets into 4x squares and add a heaped teaspoon of cheese filling and then fold in the sides, forming a diamond shape. Make sure there are no holes or shit will get leaky. Place onto a baking tray and brush with remaining egg, then bake for 20 – 25 minutes. Freeze any that you don't bake.
Kate: "You know who could do with three kinds of cheese? Jordana Brewster."

Chargrilled Tofu Burgers
Food only features once this film, and in that scene Amy orders tofu. Truly inspired foreshadowing right there.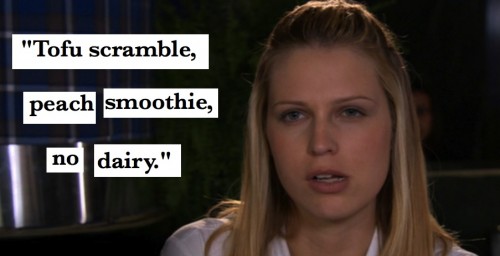 Ingredients (serves 6)
350g pkt of firm tofu, cut into 6 slices
1 tbs olive oil
3 tbsp soy sauce
2 tbsp sweet chili sauce
1 tsp fresh ginger, grated
Bread of your choice, I suggest turkish or pannini
200g of baba ganoush (make it or buy it)
2x brown onions, cut into thin rings
2x cups of rocket (arugula)
2x roasted red capsicum (peppers) with skin removed and cut into thin strips (make it or buy it)
Marinate the tofu slices in the soy sauce, sweet chili and ginger. Stow in the fridge for at least an hour. Heat oil in a grill / bbq / frypan and throw on the onion rings until they're brown. Take them out and cover with foil, then repeat the process using the capsicum. Lastly, cook the tofu slices for 2-3 minutes each side.
Toast both sides of the bread using your preferred method of toasting bread. Or leave it fresh! I totally left it fresh because I ran out of time. Spread the baba ganoush on both sides of the bread slices, then throw on the tofu, capsicum, onion and rocket. Serve with the sweet potato fries.
+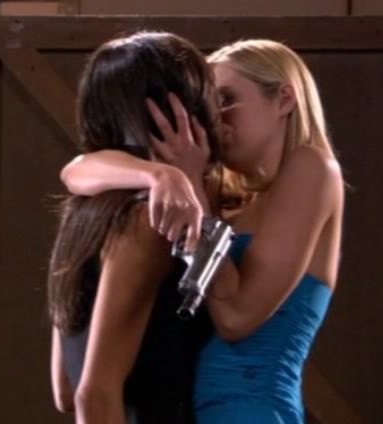 Janet: Everybody's talking about it.
Amy: About what?
Janet: How you met Lucy and lived to tell about it. They're calling you a hero, when really you're a slut.
Amy: You shut up.
Janet: A gay slut.
Amy: I'm not gay!
Sweet Potato Fries
Ingredients
Sweet potato, any quantity you want
Coarse salt and pepper
Olive oil
Preheat the oven to 230 Celsius or 450 Fahrenheit. Decide how you feel about sweet potato skin and then peel or don't peel the potatoes accordingly.
Cut the potato into ¾ inch strips and lay them out on a steel baking tray. Apply generous sprinkles of salt and pepper and then drizzle with olive oil. Warning: too much oil will cause them to go soggy. So will over-crowding the tray. I know this because it happened.
Bake the fries in the oven for 15 minutes. Turn them over. Bake for another 10 minutes. Eat.
Max: Who's your best friend?
Amy: You are my best friend.
Max: And what did I say to you the very first day at the Academy?
Amy: "That's my bunk, bitch."
Max: After that.
Tiramisu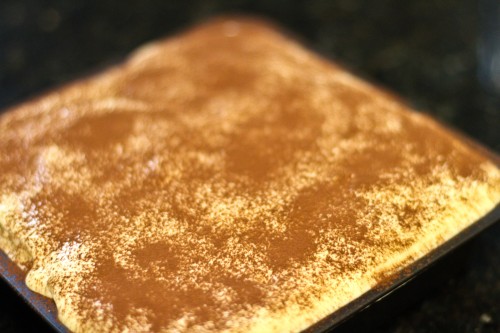 I don't like tiramisu, but it's on tonight's menu regardless because tiramisu allegedly means 'pick me up' in Italian, and I'm not one to let my palate stand in the way of something being funny. Consider this a tribute to the way that Lucy picked up Amy during the bank robbery, that was a hot scene. You know what wasn't hot? The tiramisu, it was kinda spongey and wet. Everyone seemed to be really into that though. Lesbians.
Ingredients (serves 10)
2 cups of black coffee
3 eggs, separated
2x packets of salvoiardi (Italian sponge/ladyfingers)
⅓ cup of caster sugar
250g mascarpone
300g thick cream
2-3 tbsp of an alcohol (optional), preferably marsala, Tia Maria, Baileys, brandy or rum
Cocoa, for dusting
Pour the coffee and marsala into a shallow dish. Set aside. Beat the egg yolks and sugar in a large bowl until they're pale and thick. Add the mascarpone and whipped cream, and mix in until just combined. Beat the egg whites until soft peaks form and gently fold them into the mascarpone mixture.
Quickly dip each salvoiardi into the coffee & alcohol dish and start laying them on the base of a 19cm square dish, covering the whole surface. Then cover the biscuit layer with one-third of the mascarpone mixture. Repeat two times, finishing with a layer of mascarpone mix on top. This is a cold/unbaked dessert, so all you need to do is cover it with plastic wrap and stick it in the fridge for 2-3 hours. Then dust it with cocoa and serve!
At the end of the night we watched D.E.B.S. the original short film. It was awful, I still can't talk about it.

Share any D.E.B.S.-related recipes / memories / favorite feelings in the comments!