TV happens every week. Did you know that? It's time for Televisionary, the Thursday edition.
Parks and Recreation
by Brittani
In a lovely fictional Indiana town, Leslie Knope has published a book on Pawnee. Joan Callamezzo  accuses her of publishing an inaccuracy in the book. After fact-checking and going over every part of the book with the help of the Parks and Rec department, Bert Maclin, FBI, helps Leslie steal her birth certificate. She discovers she was born in Eagleton, the land of rich jerks. We are then left with the gem, it's not where you're born, it's where you're from. Apparently that's enough for the people of Pawnee. The people of Pawnee seem smarter than real people. By real people I mean those of the Birther Movement since this episode parodies them.
Ann is adorable this episode. She tries to break the ice with Ron and April but they are…well, Ron and April. She eventually gets through with a gross nurse story because who doesn't love those? Probably the same people who hate Saw. So that's what happened on "Born and Raised." These are some of the funny parts.
Joan: I'm gonna go powder my nose. Amongst other things. If you know what I mean.
Ben: Is she going to powder her vagina?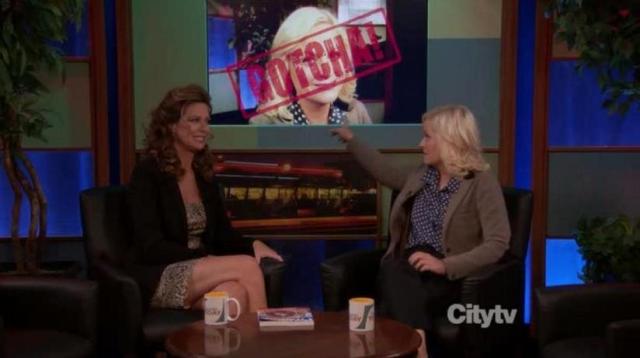 Leslie: I have to tell you, this feels like gotcha journalism.
Joan: In what way?
Leslie: That way. You put gotcha on my face.
Ben: Wow. You guys are really cute together.
Tom: Ben, I'm cute together with everybody.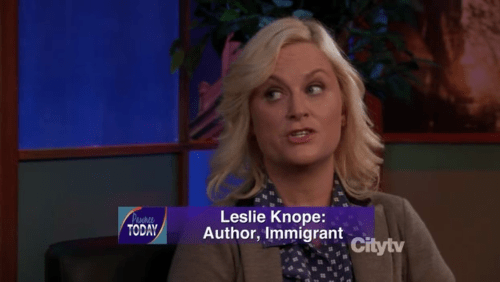 Leslie: I wonder who else was born in Eagleton. Voldemort, probably.
This episode had a Harry Potter and lesbian joke. I think that's all you people could ask for. What did you think?+
Big Bang Theory
by Lizz
Raj hasn't been around much since his big not-actually-sleeping with Penny moment, but this week we were treated to a heavy dose of our favorite silent character. Raj is understandably pretty sad because all of his friends have girlfriends and he has to cry alone in the dark every night.
Sheldon Makes a Valid Point:
Raj: Uh, I don't know if I want to play anymore
Sheldon: Because you don't have a girlfriend? Oh good lord. If that becomes a reason not to play Dungeons and Dragons this game is in serious trouble.
Penny and the ladies discuss what to do about said Raj sadness while bizzarely covering their hands in hot wax. Is this something anyone here has actually done? Amy is once again hilarious and maybe just a little bicurious. Lately I swear the funniest jokes have gone to Amy. I vote yes on the return of Blossom.
Of course, Raj (literally) can't speak to women so the obvious solution is to get him a deaf girlfriend (Emily) because if that made any sense at all they could just sit in silence not signing or talking and just stare at each other. Still, I can't make fun of the poorly portrayed deaf-hearing relationship because Emily is played by Katie Leclerc who I love love love love love on ABCFamily's Switched at Birth.
Emily starts to seem like kind of a gold digger and Sheldon announces that the Koothrappali's have a ton of money as if we didn't already know that. Raj's parents threaten to cut him off if he doesn't dump Emily, which he doesn't. Emily hears that the money has dried up and, well, she's basically over it. Yup, gold digger.
I wish Katie Leclerc could have lasted longer but I suppose she's got to go back to playing an awesome seventeen year old. At least we'll always have this one episode. On the bright side, Raj's parent's said if he dates an Indian girl he gets a Maserati. Raj makes it pretty clear that the Maserati will determine his next girlfriend. Oh that reminds me! I almost forgot. Sheldon also spent the whole episode rolling Dungeons and Dragons dice to make trivial life decisions.
Community
by Brittani
This week in "Competitive Ecology" the gang gets assigned lab partners. After convincing Professor Omar to let them ditch their assigned randos, they pair off with each other. Except for Pierce who is stuck with oddball Todd.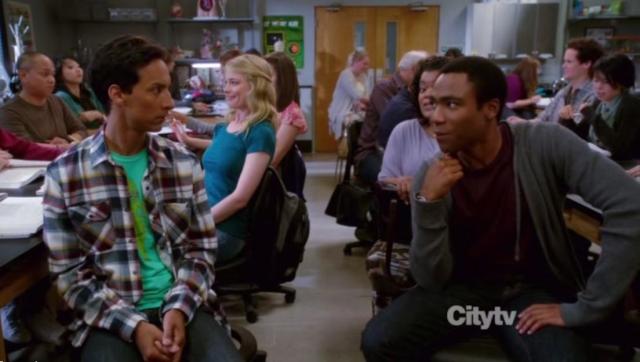 Troy: Who are these people?
After pairing off amongst themselves, the group wants to shuffle things up when they discover the pairs they are in aren't working out. Troy really wants to be partners with Britta which I must admit, I enjoy. Abed, the computer, comes up with an algorithm that will pair the most popular with the least popular.
We learn that Annie is the most popular (because she'll do all the work) and Shirley the least (because she's a creationist).
Jeff: You're just a good grade and a tight sweater.
Annie: You're just a bad grade and a tight sweater.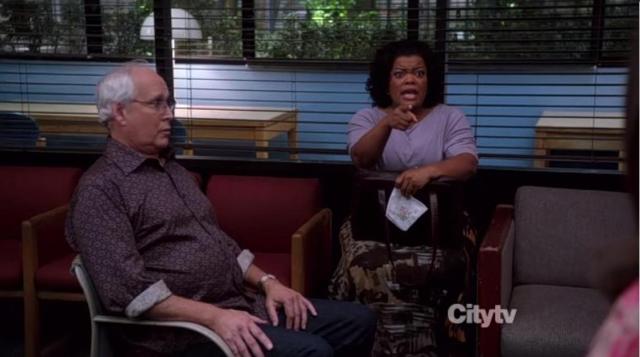 Shirley: You too, Brutay?
The above take on "Et tu, Brute?" was my favorite part of the episode. Shirley in general has been my favorite part of episodes this season.
After several hours of failed attempts to couple off, it's 15 minutes until class and Todd is sick of their crap.
I mean, Britta almost set a turtle on fire. Enough is enough. Once the groups shows up in class, Professor Omar punishes them by making them share tools and a grade… a failing one for the first project. This causes Annie to faint. Especially since she somehow concocted a terrarium in the 15 minutes before class.
In other news, Chang is promoted to head of security after Nunez quits when he realizes Chang is insane. I didn't find the film-noir voice-over gag entertaining until Dean Pelton got in on the action. Every scene with Chang was boring and overdone. No offense.
Dean Pelton: How did this happen. And did I miss the firemen?
Did you enjoy Magnitude's brief appearance? What do you think of the Chang storyline?