Mother's day is almost upon us! Are you buying a special mother in your life a gift? Regardless of your relationship with your parents, Mother's Day is a great opportunity to show your most important ladies just how much you care about them. The co-mother of your children, your best friend's mother or, yes, even your own supportive parent can be the mother you celebrate this May 13th.
If Your Mother Lives Far Away
If you live far away from your mom, sending flowers is your best bet. You can call a flower shop local to your mother, or you can use a service like FTD. Generally speaking, I suggest cut flowers simply because sending someone a potted plant is like sending them a responsibility. However, if your mother loves to garden or just pour water on things occasionally, a potted plant is great too. Yellow or pink roses are classic, but orchids and hydrangeas are also totally funky and great. If you really want to go all out, get your mom some crazy rainbow flowers.
If Your Mother is Super Supportive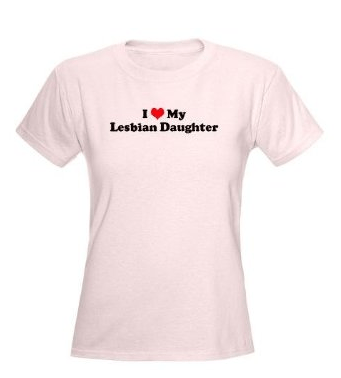 Do you have one of those moms who marches in the Pride parade every year? If so, Mother's Day is the perfect opportunity to get her some swag. Does she have an "I Love My Lesbian Daughter" shirt yet? Maybe it's time to buy her that PFLAG tote bag. You can even go for the understated but ever popular rainbow flag car decal. Whatever you choose, getting your mom pride gear lets her know you appreciate all her support.
If You're Totally Broke
Being totally broke is the worst around gift giving holidays. This Mother's Day, why not save your money and celebrate by spending time with your mother. Take the opportunity to do something your mother loves with her. If she loves to garden, spend the day planting May seeds. If she loves to cook, have her show you some of her favorite recipes. Whatever you decide to do, as long as you make the day about spending time together, both of you will be happy. Well, actually, if you don't get along with your mom too well this might be a mistake. Then, perhaps, you should write her a long, thoughtful letter about what she means to you. Mothers love long thoughtful letters. Handmade cards didn't go out of style when you turned eight.
If Your Mother(s) is/are Queer
Maybe you're lucky enough to have one or more queer moms! You must be the luckiest kid in the world. Of course, just like any mom, your mom(s) will appreciate any nice gift you get her/them. If you have moms who are still together (or your mom has a current partner) you can really wow her with a trip for two to a spa or a gift certificate to a fancy restaurant. Alternatively you can get a double picture frame and frame a picture of the two of you (or three, or four, or whatever) together when you were a baby, side by side with a current family picture. Do you know that kind of stuff does to moms? Tears. Everywhere. And of course, you can always go with a copy of the classic coffee table book Love Makes a Family.
If The Mother You're Celebrating is Your Partner
If your partner is a mom, she certainly deserves all your love on Mother's Day. Does she wear jewelry? Can we talk about how this is a great opportunity for giving jewelry? Or a classic watch? Or new whiskey stones. Whatever the hell it is that your lady friend most wants! Maybe what she really wants is a relaxing night in with some Jeopardy, wine and sex. I bet you can supply that.
Whatever it is, moms work hard, so show your mom/best-friend/aunt/neighbor/lover just how much you appreciate all she does!