Keaton Fuller has attended the private Catholic school Prince of Peace for 13 years, and thus far it hasn't even been that bad; school officials even encouraged him to apply for the Matthew Shepard Award as a gay student. But on Monday, a Bishop in the school's home state of Iowa overruled the school board in order to prevent Fuller from being recognized as the Gold Matthew Shepard Award winner by the Eyechaner Foundation.
Officials at Prince of Peace and supported Fuller through the process of applying for the award, and when he received the $40,000 scholarship that he will be using toward an education at Iowa State, the officials at his school were proud of him. The documents they had seen and submitted to the foundation throughout the application process clearly stated that part of the prize was allowing an organizational representative to present the award to the winning student at graduation. Fuller, who won because of his academic excellence and passion for fighting homophobia, was informed on April 27 that that was no longer an option.
The decision doesn't stop Fuller from being recognized at all. In fact, he will alternatively be recognized by a staff member on stage. Although this may sound like only a minor change, it's a move to uphold the deeply-rooted homophobia within the Catholic Church. The reasoning behind the bizarre and contradictory solution to this "problem" comes from Bishop Martin Amos of Davenport, who feels the Eyechaner's work to end discrimination and harassment "conflicts with church doctrine" because of its recognition of homosexuality. The Bishop has faced his share of dectractors: School Board President Edward O'Neill said no one on the board had a problem with the scholarship, and spoke out against Amos' ruling, saying, "we preach tolerance and acceptance but then we turn around and we don't practice what we preach."
The Eyechaner Foundation was not notified of the decision, and instead Fuller's family was placed in the middle of the debacle. In response, they launched efforts to reverse the decision. Fuller launched a petition on Change.org and wrote a moving letter, posted online by the Eyechaner Foundation:
I have never felt as invalidated and unaccepted as I have upon hearing the news that the scholarship that I have worked so hard for not just in the application process, but also in my deportment and actions over the years, would not be recognized in the way that it should at the graduation ceremony. It is difficult to understand how after I have spent thirteen years at this school and worked hard during all of them, I would be made to feel that my accomplishments are less than everybody else's. This whole ordeal has been incredibly hurtful, and I am even sadder that this will be one of my last experiences to remember my high school years by.
This is a teachable moment for Prince of Peace to stand up against rejecting and invalidating the accomplishments of any student. Please help me by respectfully requesting that this decision be reversed.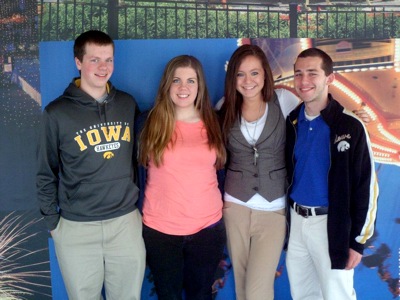 As someone born-and-raised Catholic who somehow managed to avoid hating gay people, it is difficult to watch as church leaders continue to perpetuate outdated, offensive, and hurtful "doctrines" as part of their efforts to become closer to God. Over at Salon, Mary Elizabeth Williams commented on the letter and the conflict, hitting the nail on the head when it comes to the oft-observed ideological disparity between Catholics and their leaders on gay issues:
It's an articulate, impassioned plea for support and basic courtesy. Oh, and I have a letter too. It's from Jesus. It says, Bishop Amos, you're doing this wrong. Sure, one could argue that you wouldn't expect an outpouring of gay pride at a Catholic school. But it's worth noting that Fuller's school was supportive of him, and proud of his accomplishment. It's Bishop Amos who should grok that it's called Prince of Peace for a reason. The values of tolerance that name represents are the same values that the Matthew Shepherd scholarship represents, a scholarship created in the name of a young man who died horribly simply for being who he was. And it would be a terrible shame if the last thing Fuller learned at his school was that his church is too cowardly to applaud him for being who he is.
Prince of Peace has an opportunity to continue supporting one of their students, and that should be their top priority and mission — period. The Eyechaner's efforts for tolerance embody more teachings of affirmation and love than probably 90 percent of Catholic schools. Fuller has been lucky, and describes himself as "grateful," for the support of his classmates and school officials. And it isn't fair to him to strip him of that community or isolate him within it mere weeks before he moves on to bigger, better, and less religiously affiliated things.
Fuller graduates on May 20. Sign that petition and cross your fingers, because maybe Bishop Amos will learn a lesson.