One recurring theme as we dive into our But Make It Fashion issue has been the commonly held belief that lesbians have bad style. Haha, lesbians wear flannel and birkenstocks! Well, the joke is on those people, because we love lesbian fashion. Seeing lesbian style on other women is hot, wearing it ourselves is hot, and having both at the same time is amazing! Here are our favorite lesbian style clichés, unreservedly and without apology.

Carolyn Yates, NSFW Consultant
Inappropriate footwear is a lesbian cliche and I won't let anyone tell me otherwise. Consider the combat boot in a non-combat scenario (jk every scenario can feel like a combat scenario if heterosexuals are involved). Consider the hiking boot at the grocery store. Consider the Converse as a wedding shoe. Consider the Birkenstock, period. Consider my personal favorite, the thigh-high heeled leather boot at a chill family function, or the beach in midsummer. Why compromise for fashion or for podiatry, right?

Heather Hogan, Senior Editor
Plaid flannel. I have loved plaid flannel every day that I've been alive, which is lucky for me because I was a teenager and college student during the '90s and then I came out and started shopping for clothes as a lesbian. Really the only difference between the way I dress now and the way I dressed when I was in high school is I don't tie my flannels around my waist. Flannel looks so much better on women than it does on men. I love women in flannel. I love the way flannel feels on me. Lumberjack season forever.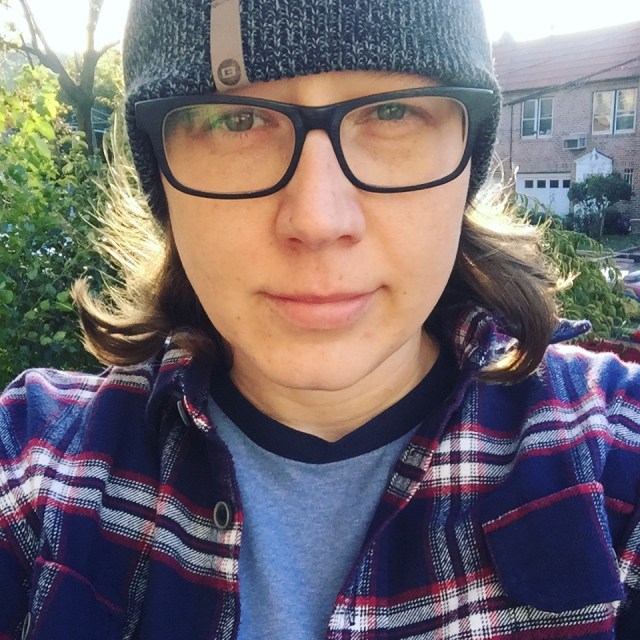 Riese Bernard, CEO
It's truly hard to pick just one. I enjoy a simple plaid flannel shirt as much as the next born-and-bred Midwestern (lesbian) person. I like a nice clean pair of cute sneakers with an otherwise-formal outfit including nice slacks, a style I was rocking for many years before Ellen DeGeneres made it officially cool. [In high school, my gay BFF was always horrified by my insistence that I could wear Converse one-stars with a dress even though it was the '90s and Sporty Spice was PEAKING.] I like wearing t-shirts with the sleeves cut off. I have been known to shop in the boys section. But speaking of, I suppose my #1 is that when I am not wearing a thong, I am wearing boys boxer-briefs instead of grown woman underwear, although now there's TomboyX and they make that style of underwear for bodies like mine (the biggest issue with boys/mens underwear for me is the penis pocket), so who knows, maybe my days of creeping around the H&M Boy's Section are numbered.

Vanessa Friedman, Community Editor
Birkenstocks. Chokers. (My butch date's) flannel. Long flowy hippie dresses. Not wearing a bra even though I have giant boobs. Nose rings. Crop tops. Body hair. Glitter. I could keep going…
I fucking love lesbian style clichés and I will die a million deaths on each of these hills until I actually die, to be honest. I'm femme and fat and my bod doesn't fit into all the lesbian style clichés, but honestly, if there's one I can pull off, I probably will. Photos of old dykes are always so charming to me because I'm like WOW WHERE DID SHE GET HER LOOK! I fit right in when I lived on dyke land in rural Southern Oregon and then again when I lived in Portland, and I've gotta admit my ~looks~ are a little less uh, well received now that I'm back on the East Coast, but I don't care. Sometimes my friends tease me (in a nice way) about my aesthetic choices, but for the most part we're all just rolling around being weirdos so no one cares. Also, to be fair, the clichés I've mentioned are a little bit varied – like, there's a certain kind of lesbian who's gonna wear Birks and a certain kind of lesbian who's gonna wear glitter and honestly lots of other lesbians who will probably wear other different things and call them "lesbian style clichés," do you know what I mean? Like there are so many different ways to embrace a lesbian style cliché. The only thing a partner and I have really argued about re: my style is my deep disdain for deodorant, which isn't really a "style cliché" but is like, a lesbian life choice that kind of overlaps with style, do you know what I mean? Like you know that dyke in the Birkenstocks and the long flowy dress who is both not wearing a bra and also not wearing deodorant at the co-op? It's me and I'm a stereotype and I don't care, come say hi while I shop for kale okay?

Carrie Wade, Staff Writer
I have to go with button-down shirts, especially anything featuring a good print. They form the foundation of 95% of my outfits (especially for work) because they let me look put together while still having some fun. (Much of my field hasn't gotten a fashion update since the West Wing era, so anything beyond "navy suit or black suit?" is still a stretch.) I know these shirts make me look super gay but y'know what, that's part of why I like them — especially living in Washington, in this political moment, it feels extra important to subtly announce my queerness in every meeting, every happy hour, every time I step out onto the street. I didn't wear button downs for a long time because of body image hangups related to my disability and how it causes clothes to fit. But once I found the ones that worked, hoo boy, I was off to the races.
(And yes, obviously I had to include the photo with the bow tie — and the voting sticker — in it.)

Alexis Smithers, Staff Writer
Hello I am still of the early 2000s black and brown butch style that includes baggy jeans, oversized t-shirts, those white undershirts that are super inappropriately named, and clean-ass sneakers or Timbs. Honestly, as soon as I have a job on lock, I'm going to embarrass everybody by bringing this fashion back with a vengeance.

Kayla Kumari-Upadhyaya, Staff Writer
I'm pretty sure My People have a reputation for wearing ugly shoes, right? Is that a thing? Or is it just a thing perpetuated by my slightly lesbophobic mother? In any case, I love my ugly shoes. Gimme all the clunky sandals, clogs, sneakers, and austere boots!!!!! I have low arches, by which I mean I have no arches, so I have to be very selective when it comes to my footwear, but who am I kidding? I think even if I had the most perfectly arched feet I would still wear my Merrell sandals that I purchased at The Walking Company, and I would like to be buried in my Danskos. Doc Martens are like cool now or whatever (doesn't it feel like the fashion choices that people used to make fun of lesbians for suddenly become cool once they're embraced by straight girls I MEAN), but still technically… ugly? Of course I have lesbian pals who love Fashion Shoes and who find my clogs offensive but I DON'T CARE! FUNCTION OVER FASHION!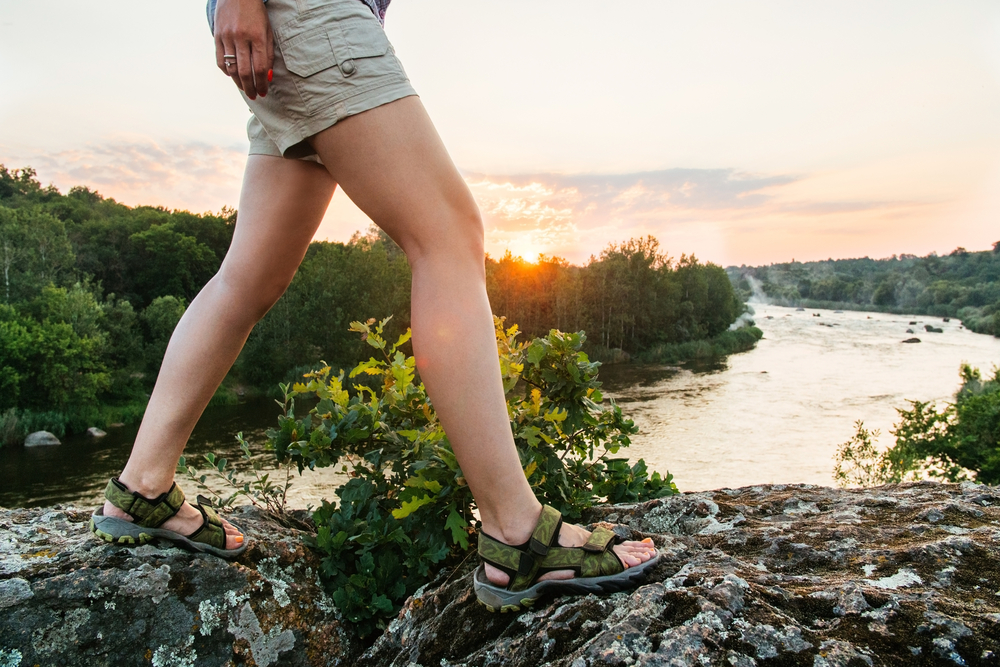 Valerie Anne, Staff Writer
I fucking love flannels!!! They are warm and cute and comfy and they don't make me feel too self-conscious about my own body because they are not designed specifically to expose any part of my body the way some fashion trends do (looking at you, peekaboo tops). Since I have bigger boobs I have found I enjoy wearing flannels as an outer layer over a complimentary t-shirt (or tank top in the fall). And I don't even need it to be literally made of flannel, that same pattern on a thinner material is also cool with me. I live in New York so flannels don't belong exclusively to the gays here so no one really cares but my queer friends and I are always highly amused at the volume of flannels in our group in the winter at any given event. (Isn't a group of lesbians called a flannel of lesbians? I think it's well-earned.)

A.E. Osworth, Contributor
I struggled a lot with even whether or not to answer this roundtable, because I am not a lesbian nor am I a woman! So really, I suppose my lesbian style cliche is agonizing about where and when I can take up space. But Laneia assures me I should answer this, and so here we are: the hill I will die on is my hair. I have been getting the same haircut since I did identify as a lesbian woman and maybe someday it will change, but I'm currently hanging onto it out of spite. Because a very bad thing happened wherein the American White Nationalists started getting this exact same haircut, probably to look mainstream and presentable, after this had already been a gay haircut to have. The Nazis have my country and they ruined fedoras, too. I'm not letting them have my fucking haircut; this one's for us, dammit.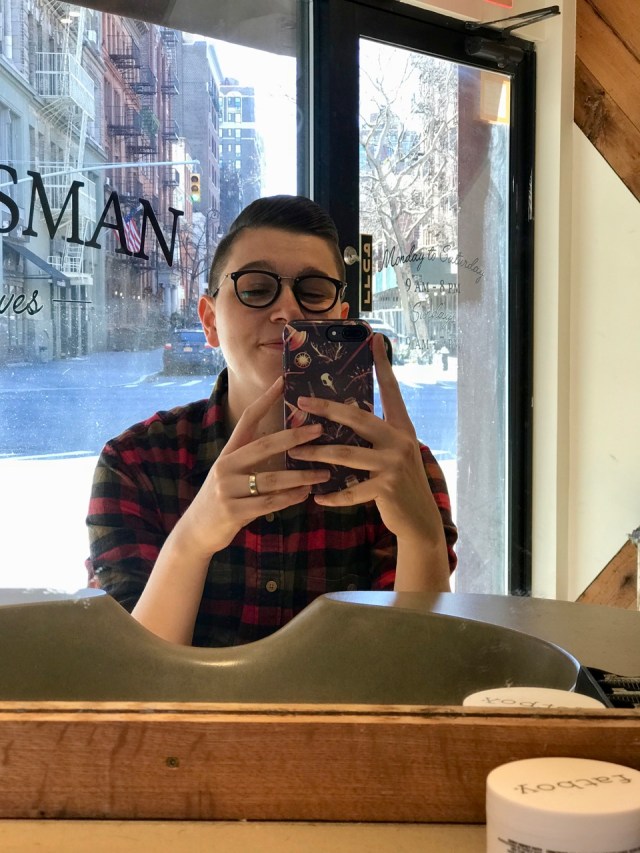 Archie Bongiovanni, Cartoonist
Unshaven armpit and leg hair! I was a 13-year-old bean-shaped kid at science camp the first time I encountered this look. I can still feel the shiver of surprise — and dare I say delight — when my teacher raised her arms in a tank top pointing out a bird or a cloud or something. There it was: a full bush of armpit hair. It's a bit cliche that unshaven hair on a woman's body is a signal for queerness — or at least a way to show one is rejecting men's stereotypical desires. I like to think that nowadays we can all agree that shaving or not shaving has little to do with rejecting the patriarchy; it's about doing whatever feels good for your body! And it's all valid!
I love my body hair, my pals know I love my body hair, my partner loves my body hair (almost as much as I love theirs??). I spent many hours caressing my leg hair as I let it grow out for the first time six years ago. It felt good from the beginning. I HATED shaving and was REALLY BAD AT IT. No one taught me how?? So I just like cut myself constantly and figured that's how it goes down for everyone.
Despite loving my body hair, I had a lot of anxiety about how other people perceived it. I remember working in a restaurant at one point in my life that allowed skirts/shorts and wearing shorts there for the first time and the double-take the owner kept doing to my legs. The next day a new rule was implemented that shorts and skirts were no longer allowed. Whatever. I'm never shaving again.

Laneia, Executive Editor
LEATHER CUFF BRACELETS. Cuff bracelets are SEXY and tough! They highlight your hands like a sexy hand hat! Or maybe a scarf — a sexy hand scarf. Either way listen up, leather cuff bracelets will never not be hot, and everyone knows that straight women aren't allowed to wear the wide ones. These are the rules. So if you see a woman wearing a leather cuff bracelet over 1.25″ wide, she is gay, even if she doesn't know it.
I got my first leather cuff bracelet at the annual fall arts and crafts fair when I was probably 7 years old. An old man measured my wrist, then he sat on a stool and cut a length of leather, then stamped my name into it, one letter at a time. That cuff wasn't sexy but it was TOUGH AS HELL, and therefore I was tough as hell. In between my wrist growing out of that bracelet and me realizing I was a lesbian, I didn't wear any cuff bracelets, which is sad.
I lost my very best and favorite leather cuff bracelet several years ago and that was even SADDER, but before I lost it I wore it with everything all the time! I hope I'm wearing a leather cuff bracelet when I'm 97, sitting in a plush chair listening to Fleetwood Mac and drinking a nice bourbon.

Stef Schwartz, Vapid Fluff Editor
Once upon a time someone at A-Camp referred to my type as "Shirley Manson femme" and I've been hanging onto that lovingly ever since. I'm (mostly) into femme types who look like they could kick my ass, and I'm a sucker for a babe in a cute dress with shit-kicker boots. Incidentally this is also a look I also enjoy wearing on myself, and almost exclusively play shows in. I wouldn't say this is specifically a lesbian cliché or even a cliché so much as a look I'm particularly here for? When I reflect back upon some significant women from my past, this is definitely a common factor.

Rachel Kincaid, Managing Editor
I love a good flannel as much as you probably do, but I feel like the thing that's so LESBIAN it brings a sparkle to my eye is deeply practical men's jeans or pants on women. Carhartts, 501s, a well-cut trouser even — kill me! Obviously this is traditionally kind of a butch look, which, yes, sign me up, but the vision of someone more femme of center wearing old Carhartts and like a paint-spattered t-shirt while weeding the tomato plants is also such an idyllic gay dream. It's so funny to me that this is what overpriced "boyfriend jeans" designed for women are trying to emulate; bless their hearts but straight women wearing boyfriend jeans will never be able to touch a butch in 501s leaning over a pool table.

KaeLyn Rich, Staff Writer
My lesbian style cliche is definitely my undercut. I've had an inverted bob for, like, over a decade. One fine fall day in 2014, I decided I was going to CUT IT OFF on the left side and thus the undercut stereotype was fulfilled. The undercut has seeded itself and spread across my entire head now, so I have my medium-length straight hair on top and stubble all around the sides and back. I think I always wanted to look a little extra "FU" with my hairstyle since I started wearing it in a sharply angled bob in 2005. As I got older, my cool hairstyle started reading more "cool suburban mom" than "cool hip person," so I decided to go more drastic. I thought I'd wear it hidden more often than I really do. Honestly, it's the perfect haircut now that I'm an actual mom! I just throw it up in a sorta mini-bun twisty messy poufy thing. I can also wear it down completely (like I did for my sister's wedding) or show just one side or slick it back so it looks like a really nice hard femme sneer.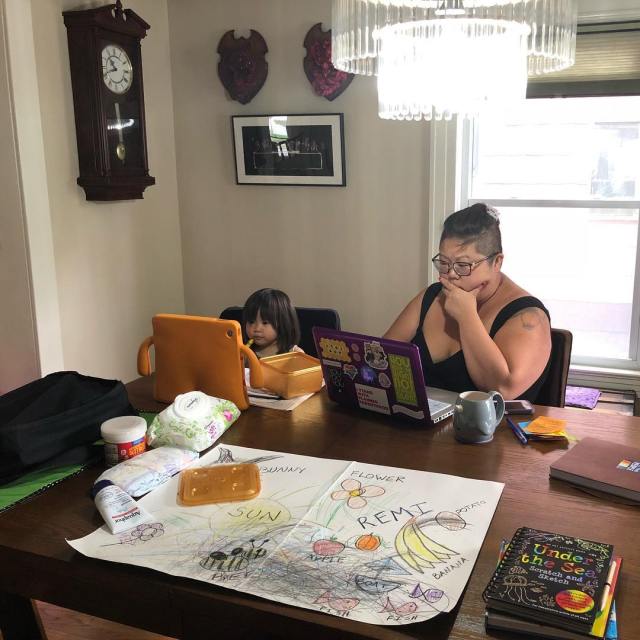 Cameron Glavin, Cartoonist
Flannels & beanies. One time my coworker asked if I could dress any dykier re: the outfit pictured, and you know what? I don't know. It's pretty gay. Really Hot Lawyer Girl* claims that she swiped right on me solely based on an outfit in my profile picture. Which she recalled to me in detail. Months later. Down to the nail polish and the ear cuff that I don't have anymore. She hates my jorts, though, even though they are GREAT jorts. 

*my girlfriend's name for herself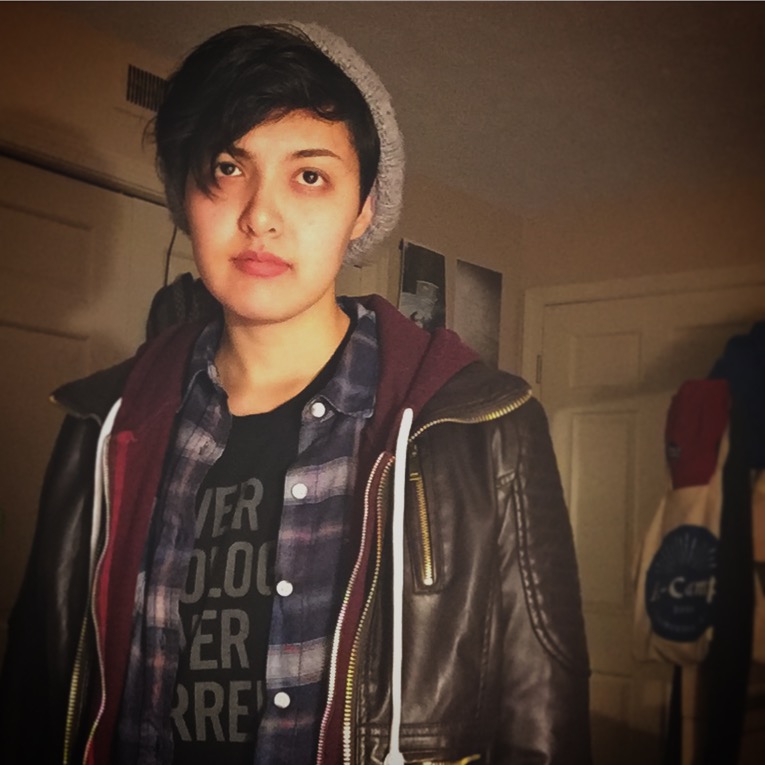 ---