Have you heard the good news about Good Company?
We've talked about the print magazine before. You're going to love it, I just know you are. Here's the best part! Good Company is giving away five issues of their magazine for free to some lucky Straddlers!
Were you one of those teenagers who collected stacks of magazines in their bedroom to read while laying facedown on your bedspread, paint your nails, and listen to emo music? Me, too! Now you can relieve those nostalgic feelings with the help of Good Company. Maybe you'll want to curl up with the magazine in a big comfy chair and a cup of peppermint tea, on a crisp Sunday morning? Listen, I just want you living your best life.
Grace Bonney, the lesbian founder of Good Company, wanted to create a publication by and about people of color, LGBT folks, women, the disability community, and those living with chronic illness. She told me, "Our goal is to talk about some of the uncomfortable, but real parts of creative life… so that we can find better ways to support each other, understand each other, and share advice that comes from a broad range of life experiences."
The magazine more than surpasses that bar. The first issue of Good Company featured our own Editor in Chief Riese Bernard and the new issue we're giving away has so many awesome queer folk inside! I'm talking about: Rhea Butcher, Blair Imani, Desiree Akhavan, and Jacob Tobia! It also features an interview with Wanuri Kahiu, director of the Kenyan LGBTQ film Rafiki, and a profile of my favorite little radical feminist "Girl Scout"-style troop, The Radical Monarchs. On top of all that, it is all soooo pretty!! Design is Grace Bonney's speciality and let me tell you – it's on full display. There's no other way to to put it, the magazine is gorgeous.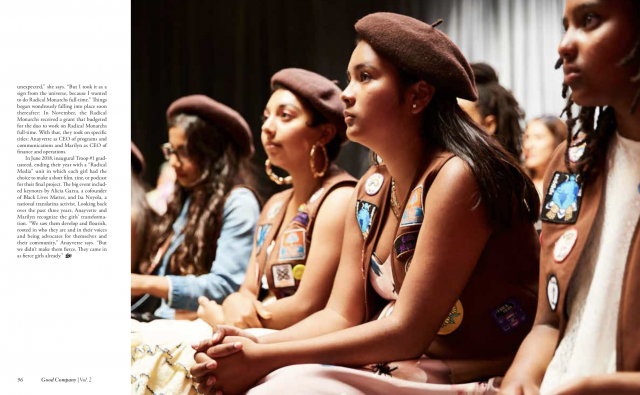 Each issue of Good Company is tied around a theme, so now it's time to talk about something (literally) scary: Fear. They're using their new issue to intentionally create a safe space "for people to talk about failure, roadblocks – anything vulnerable and transparent, so that we could see that we're all in the same boat." It can be difficult to strip down and expose ourselves, but Grace is hopeful that "the more we share our fears and our challenges with each other, the less alone we all feel and the better we are to help through tough times together."
In that spirit, we'd like to ask you: What do you do to steel yourself and take down fear? What's your routine? Who do you lean on when your scared as shit and need community? Hit us in the comments with the ways you cope and conquer fear and you could win a free copy of Good Company!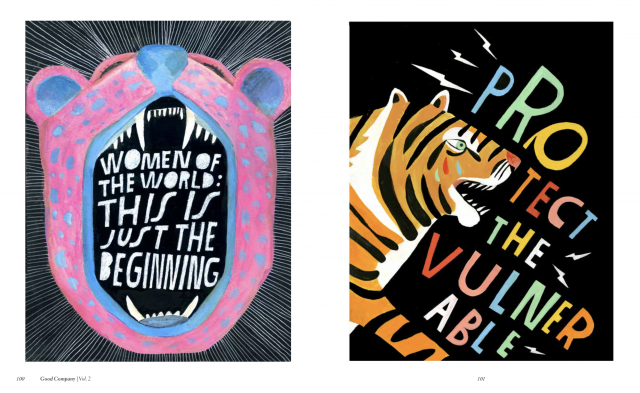 Talking about fear can be sticky, so I'll start us off. The person I lean on when I'm too scared to take steps by myself? I'd probably say my Mom, but really I think the most honest answer is my best friend of nearly 15 years, Tinbete. He's held my hand through every new start, every bout of depression, every whispered midnight dream of a future I imagined for myself. My bravery routine? Bubblegum pop "girl power" songs. We're talking Katy Perry's "Roar" levels of pop here. The more cheerful the better. Oh and of course lots and lots of Beyoncé (but I guess you probably saw that coming).
Your turn! Every one of your comments is an entry into the lottery, so chat away! I'll stop by throughout the day to keep you company.
Oh, and just in case you don't win one of those lucky five copies, you can find Design Sponge at a full range of places to grab a copy on your own.