Election Day is tomorrow. Thoughout the midterms, we here at Autostraddle have sought to celebrate all the record number of women, and LGBT women, in particular, who are running for public office. We've highlighted them, during the primaries and in the general election, in hopes that our readers would find a reason for optimism in the midst of the madness.
Today, we offer our endorsement to Stacey Abrams, not just because she's the best candidate to lead Georgia — though she is, unequivocally — but also because she is advancing a political strategy that takes us beyond tomorrow. The Abrams strategy ensures increased political power for LGBT people and, if successful, could be a template for progressive leaders everywhere. And as a space that sees inherent value in representation, Autostraddle recognizes that it matters that Georgia elect the first African-American woman governor in our nation's history.
"We are writing the next chapter of Georgia's history, where no one is unseen, no one is unheard and no one is uninspired," Stacey Abrams proclaimed when she won the Democratic nomination for governor.
Tomorrow, the next chapter of Georgia's history gets written. We invite you to be among its authors.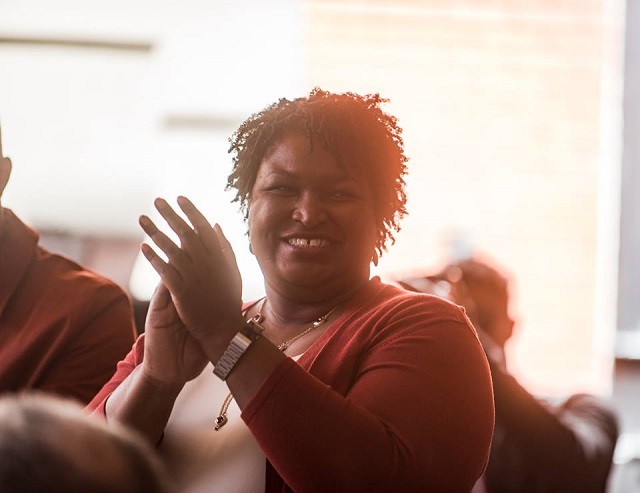 WHY YOU SHOULD SUPPORT STACEY ABRAMS IF YOU LIVE IN GEORGIA
In 2017, Stacey Abrams appeared at the Lesbians Who Tech Summit and admitted that LGBTQ issues weren't talked about in her house, growing up. Once Abrams' family moved to Atlanta, though, they were confronted by the scourge of homophobia, in the form of evangelical pastor Charles Stanley of First Baptist Church, who'd lead anti-gay marches down Atlanta's main thoroughfare. Abrams' family had never talked about LGBT issues, but when confronted with Stanley and his parishioners, they stood on the side of justice.
"One of the first protests I participated in in Georgia was my mom and dad, standing outside with their six children… holding up signs saying, 'God Loves Gays,'" Abrams said.
Since that day, Abrams has been a staunch and vocal ally for the LGBT community: from her time at Spelman College, where Abrams advocated for the creation of the school's first LGBT student organization, despite threats that warranted protection from campus security; to her first run for the Georgia House in 2006, when she spoke out in favor of same-sex marriage. Later, when Republicans in the legislature came to Abrams hoping that she, as the daughter of two Methodist ministers, would support a religious freedom bill, she refused; instead, she worked with business leaders and civil rights organizations to fight it. They won that battle.
In 2015, Abrams joined with Rep. Karla Drenner, the first openly gay member of the Georgia legislature, to sponsor the Fair Employment Practices Act (HB 323), which would prohibit discrimination against state employees on the basis of sexual orientation and gender identity. The bipartisan bill never made it through the Republican-controlled legislature but the commitment to creating robust anti-discrimination laws remains a central part of Abrams' Equality platform. During the campaign, she's called an ongoing effort by Republicans in the legislature to ban LGBT adoption a "bigoted idea" and pledges to oppose it, and similar efforts, as governor.
Abrams believes a Georgia that works for everyone is an open and inclusive one and weaves LGBT priorities into her broader platform. For example, Georgia Equality, the state's leading LGBT advocacy organization, has been working in partnership with Georgians for a Healthy Future to advocate for Medicaid expansion in the state. They saw Medicaid expansion as a way to address health disparities in the LGBT community and, in a Stacey Abrams, they have a candidate committed making that happen. As she travels the state, Abrams makes the case that not only is an expansion good for the health of Georgians, but that it makes good business sense: providing good well-paying jobs and stemming the tide of rural hospital closures. Her advocacy has pushed the Medicaid expansion to its highest levels of recorded support and closer to fruition for the thousands of LGBT Georgians who need it.
WHY YOU SHOULD SUPPORT STACEY ABRAMS, EVEN IF YOU DON'T LIVE IN GEORGIA
For decades now, the Democratic Party has staked its future on the pursuit of the white swing voter or, as we euphemize them today, the "white working class voter." Those voters are chased and appealed to, through platforms and promises, while the Party's base — people of color, LGBT people, young people, single women — is routinely ignored. Michelle Nunn and Jason Carter — both Democratic royalty in the state of Georgia — ran campaigns driven by the pursuit of the white swing voter and lost. Stacey Abrams' opponent in the primary, Stacey Evans, telegraphed that her general election strategy would've sought that same sliver of voters. Democratic politicians stubbornly cling to this strategy even as it has failed in one campaign after another.
But Abrams is forging a new path, one that relies less on attracting swing voters and, instead, of cultivating a more expansive Democratic base. Her campaign builds on the work she started in 2013 when she launched New Georgia Project, a nonpartisan nonprofit that sought to mobilize Georgia's 1.2 million eligible but unregistered voters. NGP wasn't just interested in voter registration, though, they focused on engagement: setting a goal of registering 75,000 voters in their first year (2014) and another of having all 75,000 actively participating in elections by 2024. That same spirit of engagement is infused in the Abrams campaign, from its platform to its choice to spend less on TV and radio ads and more on a field strategy that prioritizes face-to-face interactions.
"My approach is every Democratic voter we can get, especially those that don't think their voices matter, and independent thinkers who realize they're heading down the wrong path if they don't vote for a Democrat this time. There are enough of us to win an election," Abrams told Seth Meyers when asked about her strategy in June.
It's hard to overstate how big a deal this could be. Imagine a 2020 campaign where we wouldn't have to listen to Party leaders or strategists lecture us on the importance of outreach to a group of voters who see us as inherently "less than." Imagine a campaign where voters — namely people of color, LGBT people, young people, single women — who have been taken for granted for YEARS get to be the power brokers. If Stacey Abrams can successfully model, in Georgia, that Democrats can use the nation's changing demographics to their advantage, that they can win without doggedly appealing to white swing voters, then the political game we've grown used to over the last 25 years will fundamentally change.
And Republicans cannot have that.
YOU SHOULD SUPPORT STACEY ABRAMS BECAUSE REPUBLICANS REALLY, REALLY DON'T WANT YOU TO
Republicans know that, if Stacey Abrams is able to reshape the political map, it's game over for them… not just in Georgia… but, with the right investment, an Abrams strategy could easily work in Florida, North Carolina or Texas. For the GOP that prospect is untenable — it'd almost certainly mean they'd never hold the White House again — so they're desperate to stop it. But, of course, instead of making a direct appeal to those voters, Republicans have gone a different route: voter suppression and few Republicans have been as brazen about their suppressive efforts than Brian Kemp, Abrams' opponent in the general election.
Kemp currently serves as Secretary of State and, by virtue of office, chair of the State Elections Board. Unlike his predecessors — both Republican and Democratic — he has not resigned or recused himself from involvement with the board so he remains in a position to oversee his own election. He's been a longtime advocate of voter suppression but had been thwarted by the preclearance process, as prescribed by the Voting Rights Act. Once those protections were stuck down in 2013 (Shelby County v. Holder), Kemp was given carte blanche to enact suppressive laws that subjected "a disproportionate number of African-American, Asian, and/or Hispanic voters to additional and, more importantly, erroneous burdens on the right to register to vote." Through his voter roll purges, Kemp has cancelled over 1.4 million voter registrations since 2012, including 670,000 registrations in 2017 alone.
To put that into context: Hillary Clinton lost Georgia in 2016 by just 211,141 votes.
Last month, Rolling Stone released audio of Kemp at a ticketed campaign even when he expressed concern that people were going to exercise their right to vote. Since that audio was recorded, almost every day has brought with it new evidence of ongoing voter suppression in Georgia.
Just yesterday, Kemp's office announced a probe of George Democrats due to an alleged voter system hack. He offered no evidence — nor did he note the irony of having refused election security help from the federal government in 2016 or that he's being sued for compromising voter data — but truth isn't really the point: voter suppression is the goal.
"[Kemp] is desperate to turn the conversation away from his failures, from his refusal to honor his commitments and from the fact that he's part of a nationwide system of voter suppression that will not work in this election because we're going to outwork him, we're going to out vote him and we're going to win," Abrams told CNN.
Polls are open in Georgia from 7AM until 7PM on Election Day. Voter ID is required. Any voter in line by 7PM will be eligible to vote. If you experience problems while voting, you can call 866-OUR-VOTE or text OUR VOTE to 97779.