Much ado has been made in recent weeks about blue waves (for Democrats) and pink waves (for women), but there's another surge worth noting this election cycle: a rainbow wave of LGBTQ candidates running for office.
As of this post going up, I've located 65 lesbian, bisexual, queer and/or trans women candidates. Some have a national platform; others are running for local office. Some proudly declare their identities on the landing pages of their websites; others quietly and casually mention same-sex partners in interviews. Most are progressive Democrats; but we also have Republican and Libertarian representation, too. All of them are dissatisfied with Trump's status q uo. All have strong convictions. All want to make the world a better place.
Here are their stories. Write a note in the comments if you know of anyone else who should be here, and I'll update the list. Most importantly: make sure you're registered to vote.
[Update May 8: Thank you for your additions! The list is now up to 90 candidates.]
[Update May 9: Thank you to the readers who called me in on including straight trans women on this list. I particularly appreciated this note from Sage: "Of course, sexuality and gender identity are separate matters, but the fights for social justice are often common to the whole LGBTQ+ community. As well, at a time when we are still seeing many women not accepting trans women as 'real' or 'genuine' women, and excluding them from spaces, inclusion is a political stance." You're right, and I'm updating the list now. We are now up to 118 candidates.]
[Update May 10: 149 candidates.]
[Update May 13: 163 candidates and counting.]
[Update May 20: 171 candidates.]
---
Alabama
Audri Scott Williams
U.S. House of Representatives, District 2 | Primary Election June 5
Felicia Stewart
Alabama House of Representatives, District 46 | General Election November 6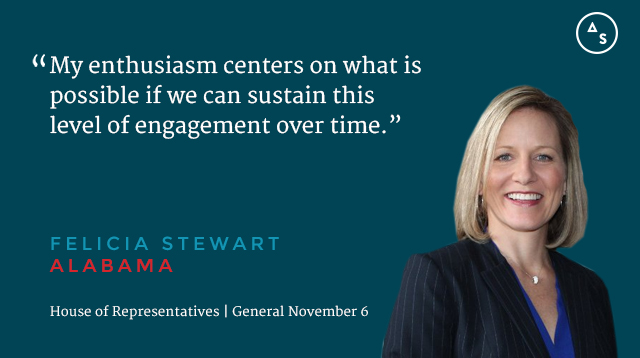 Alabama Democrats have a new level of confidence this year, following the unlikely Senate victory by Doug Jones against pedophile Roy Moore in December. "The energy is incredible, but I don't think Democrats are over-confident," first-time candidate Felicia Stewart told Birmingham Patch in an interview. "After all, nearly 600,000 Alabamians still voted for Roy Moore. My enthusiasm centers on what is possible if we can sustain this level of engagement over time."
Running on the campaign slogan "Hi, Felicia!", Stewart is a business executive and active community volunteer. Says Stewart, "I am running for State Representative because I expect more from the state I love. I expect our elected officials to heed their calls to public service as servants and not as paid puppets. I expect our laws to equally protect and support all of the people of this great state. … I expect our legislature to prioritize solutions to real problems facing Alabamians like job and wage growth, education, criminal justice reform, healthcare and environmental protection instead of spending valuable time debating non-existent problems like bathroom choice, how quickly we can kill a death-row inmate and what measures need to be in place to forever enshrine confederate monuments."
Stewart recently celebrated her 16-year anniversary with her wife, Christy; together, they're raising energetic twin daughters, Helen and Harper. Her campaign has been endorsed by State Rep. Patricia Todd, Alabama's first gay legislator, who will not be seeking re-election. If elected, Stewart would be only the second LGBTQ person ever elected to the Alabama legislature.
Arizona
Kelly Fryer
Governor | Primary Election August 28
"Like a lot of people in our state, I'm just fed up with the policies, decisions and budgets that are being passed in Arizona that are hurting the people I love and the communities I care about," said Fryer in an interview with Red Rock News. "We need to win the election this year — it's critical."
Coming out of the Women's March last year, Fryer was inspired to take a stand and run for office. Though she's never held political office before, she has 25+ years of CEO-level experience under her belt, most recently as CEO of the YWCA Southern Arizona. Fryer was a founding board member and teacher in the Eller Social Innovation program at the University of Arizona, and previously was an assistant professor of leadership at Luther Seminary in St. Paul. She's served as a pastor and has an incredible ability to bring people together with the power of her words.
Fryer is an out lesbian who supports tuition free community college; automatic voter registration for everyone over 18 in the state, and ending the voucher system for private schools.
Joan Greene
U.S. House | Primary Election August 28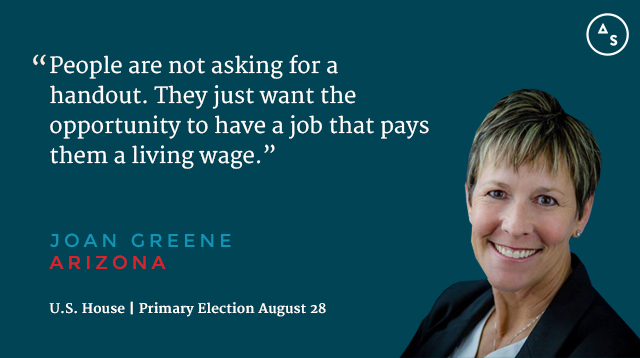 Joan Greene is a lifelong Arizonan and entrepreneur with a mission to make the American Dream available to everyone. Says Greene, "The American Dream is different for everyone but I believe with support from my platforms it can be a reality. People are not asking for a handout. They just want the opportunity to have a job that pays them a living wage, healthcare that is not just for the wealthy, education that provides for their future, affordable housing to raise their families and to be able to have money left over so they can invest in their retirement or take a vacation." To get there, she's prioritizing infrastructure investments, single-payer health coverage, and debt-free tuition for public Community Colleges, Universities and Vocational Schools.
Greene has a degree in psychology and is the owner of a small marketing company that just celebrated 30 years in business. She was motivated to run in part due to incumbent Representative Andy Biggs's terribleness; among other appalling items, he's continuously spoken out against same-sex marriage, including as recently as six months ago.
Karyn Lathan
Constable of University Lakes Justice Precinct
Karyn Lathan is an Air Force veteran with over 25 years experience in law enforcement, corrections, and victim advocacy, including as the Restorative Justice Coordinator for Arizona Department of Corrections. She first ran for office in 2011 in a district that was deemed to be "too red." She closed the gap and made it a competitive district, and has been actively involved in Arizona politics ever since.
Lathan is a member of the LGBT community and current Vice Chair for the Arizona Democratic Party. In previous cycles, she's spoken out in support of comprehensive sex education in schools. She's active on Twitter at @Karyn4Constable.
Daria Lohman
Arizona State Senate, LD 23
Daria Lohman is an Army veteran who was raised on military bases around the US and England. She has a B.S. in both Physics and Mathematics, and 33 years of experience working in Software, Systems, and Cybersecurity Engineering. In addition to maintaining her career and raising her two children, Lohman has been active in local Democratic politics. She's participated in the FBI Citizens Academy, and the Scottsdale City Government 101 Academy, Citizens Police Academy, and the Citizens Fire Academy. She also served on the Scottsdale City Human Relations Commission before resigning to run for the State Senate.
As Senator, Lohman will work to expand affordable healthcare and improve infrastructure and public education. If elected, she would make history as Arizona's first transgender elected official (possibly alongside Brianna Westbrook, who is running in LD22!); and the second trans person to both be elected and serve in a state legislature.
Says Lohman, "We must take Arizona FORWARD in providing opportunities for ALL to live healthy, happy, productive lives. The road starts with a budget that provides resources to keep our good public school teachers and improve our public school facilities."
M. Teresa Mabry
Justice of the Peace for the South Mountain Precinct in Phoenix | Election August 28
Kyrsten Sinema
U.S. Senate | Primary Election August 28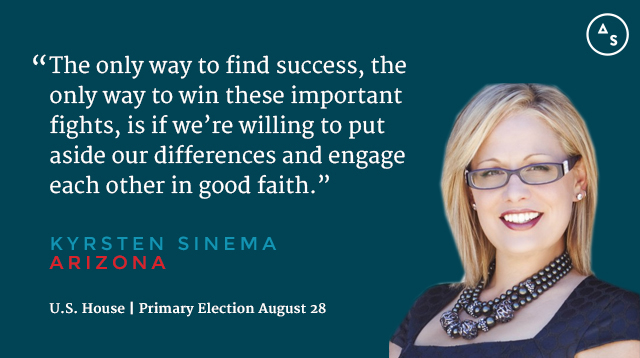 Representative Sinema has had a truly remarkable personal journey. Overcoming homelessness as a child (she lived in an old gas station for three years with no electricity or running water), Sinema became a social worker as an adult, then quickly rose through the state Legislature. She was the first openly bisexual person to ever be elected to Congress, and sees her place in the House as "working to pass tough immigration laws, securing funding for our vets, working to provide business incentives for job creation and fighting back against attempts to gut basic health care for kids, cuts to services for the elderly and dramatic drops to school funding." Though Sinema was very progressive at the start of her career, she's built bridges in an increasingly conservative state by moving towards the middle — a dynamic that informs the way she talks about immigration, for example.
Speaking at a dinner put on by the Human Rights Campaign, she recently shared, "The only way to find success, the only way to win these important fights, is if we're willing to put aside our differences and engage each other in good faith. See, I'm running for the Senate, but I'm also running to stand up for the values that unite us as Americans. The right to define our own destinies. The belief that no one should be different in the eyes of the law. The freedom to reach for every opportunity and fulfill our greatest potential. We here, we together, we have a moral obligation to continue this work. And standing together, I know we can win. I know we can. There's so much to be done. We've gotta do it this year. But I couldn't be prouder to be in this fight with all of you. So let's go get it."
As candidate for Senate, Sinema is seen as the Democratic frontrunner in a real clusterfuck of a race. If elected, she would be the first openly bisexual person elected to the U.S. Senate and the second openly LGBT person ever to serve in the Senate.
Brianna Westbrook
Arizona State Senate, District 22 | General Election November 6
After a surprisingly strong showing in the February 27 special congressional primary, Brianna Westbrook was defeated but undeterred. Following the race, Westbrook met with Democratic party officials and – after briefly considering a do-over for the same seat in the House in August – decided instead to run for a Republican-held seat in the State Senate. She is now teaming up with her former opponent, helping register Democrats to vote and asking her supporters to get behind Hiral Tipirneni. In turn, Tipirneni will ask her supporters to vote for Westbrook.
In her announcement for the Senate run, Westbrook writes, "I'm aware that sometimes I seem too intense for some people, but my all-or-nothing tendency has helped me triumph every challenge I've faced, including:
Working my way out of poverty
Raising my daughter
Adopting and raising my three younger siblings
Coming out as transgender at age 27
Undergoing the transgender reassignment process and filming my entire transition on YouTube to educate and help others
Working full-time while running for U.S. House of Representatives in CD8."
As a candidate, Westbrook supports automatic voter registration, ending private prisons, moving to 100% renewable energy, tuition-free higher education, and Medicare for all.
Rebecca Wininger
Encanto Justice of the Peace
bio written by Natalie
For years, as a part of Equality Arizona — first, as a board member and, eventually, as president — Rebecca Wininger has worked to achieve and maintain equal and legal rights for LGBT Arizonans. This year, she looks to broaden her life's mission to extend dignity, respect and fairness to all those who come before the Encanto Justice of the Peace.
"I want to assure you that when I'm on the bench and somebody comes in my courtroom, they're going to be listened to, I'm going to hear them, they're going to be treated with compassion and respect," Wininger told an audience at a May candidate forum.
Wininger brings a unique resume to the race for Encanto Justice of the Peace. She is not a lawyer; her career, which has included stints at Safeway, PetSmart and Amazon, is in management and information technology. Most recently, she's been an independent consultant, working with non-profits and small businesses, like the one her mom started, on information technology and strategic planning. Wininger plans to utilize that unique skill set to make Encanto's community court more responsive to its citizens.
Wininger has been married to her wife, Wendi, for two years and they live in North Encanto with their three dogs.
Arkansas
Tippi McCullough
Arkansas House of Representatives, District 33 | Primary Election May 22
McCullough is a lifelong Arkansan who dedicated the last 32 years of her life educating young people. She was moved to action when she was fired from her teaching job after marrying her longtime partner, Barbara, in 2013. Tippi is a member of the State Committee of the Democratic Party of Arkansas and serves on the Party's Affirmative Action Committee and Executive Committee. She was elected chair of the Democratic Party of Pulaski County in January 2017, and in addition to her work with the Human Rights Campaign, Hillcrest Resident's Association, and the Stonewall Caucus, she is the co-chair of Pridecorps, serves on the Kaleidoscope Film Festival Advisory Committee, and is active in her church.
Central campaign issues include opposing charter school expansion; raising the minimum wage; fighting for anti-discrimination policies; keeping after school programs; ensuring access to quality, affordable healthcare; fighting climate change and protecting our environment; closing loopholes in ethics laws; fighting bathroom bills and other anti-LGBT proposals; and repealing Arkansas's overly harsh eviction laws.
California
Sonia Aery
California State Assembly, District 3 | Primary Election June 5
Sonia Aery is the proud daughter of Indian immigrants. Following Trump's election, she felt moved to political action, making donations as a private citizen and organizing the Women's March in Chico. "This year, we just want to keep the momentum going from last year and show that it's not over. We're not just going to give up. We have a lot of change left to create," Aery said at the time. When she subsequently found out that there wasn't a progressive candidate running in her district, Aery took the next step and decided to run for office. "It's time for a new energy, for a new perspective," says Aery.
Aery is rejecting oil company contributions. Her priorities include retooling our economy toward renewable energy industries, recycling, and sustainable management of our resources; investing in education, both for students as well as for educators; expanding broadband efficiently so that all Californians can further their education, business, and personal management needs.
Judy Appel
California State Assembly, District 15 | Primary Election June 5
See judyappel.com.
Jovanka Beckles
California State Assembly, District 15 | Primary Election June 5
See jovanka.org.
Jennifer Campbell
San Diego City Council, District 2 | Primary Election June 5
bio by Natalie
Jen Campbell had led a full life by the time she decided she wanted to head back to school and become a doctor. She'd studied history at George Washington University, was active in the Civil Rights Movement, got married and had two children, but still she dreamt of something more. She enrolled at the Pitt School of Medicine and, even after becoming a single mother, Campbell eventually earned her degree. That expertise was the foundation of a long career of practicing family medicine and teaching and it's also the foundation of her campaign for City Council.
"I decided to run for office for the first time after 30 years in medicine because of the city's meager response to the hepatitis A outbreak," Campbell told the San Diego News. "San Diegans deserve responsive and attentive government."
Housing is the issue at the heart of the District #2 campaign. San Diego is dealing with a dearth of affordable housing, a growing homeless population and a proliferation of unregulated short term vacation rentals and Campbell has sought to address them all in her campaign. Campbell was one of the top two finishers for the City Council seat in California's primary and will move on to face incumbent councilwoman, Lorie Zapf, in November.
Campbell is retired and lives in the Bay Ho neighborhood of Clairemont, with her partner Suzanne. They share six children, nine grandchildren, and two great-grandchildren.
Sabrina Cervantes
California State Assembly, District 60 | Primary Election June 5
Her surprise win in November 2016 helped Democrats gain a supermajority in the Legislature. Now, Sabrina Cervantes is being targeted by GOP, with her Republican opponent building an entire campaign around the Assemblymember's crucial vote last year for SB1, a $52 billion transportation funding package that fixes crumbling roads and pays for other transportation projects through a 12-cent gas tax hike. Because of this, Cervantes is seen as one of the most vulnerable legislative Democrats in this year's election.
During her first term in the Assembly, Cervantes introduced legislation to expand access to tax breaks for local businesses. She also authored a bill, which was signed and chaptered into law, to help small businesses get loans so that they can comply with the Americans with Disabilities Act (ADA). She is working to promote entrepreneurism; invest in clean energy technology; and expand access to college and job-training programs to ensure our workforce can meet the demands of the economy.
Cervantes is an out lesbian.
Denise Davis
Redlands City Council District 1
bio by Natalie
Following the 2016 election, Denise Davis saw an opportunity, not to retreat in our corners – liberals to the left, conservatives to the right – but, instead, to engage with each other in and find common ground on issues of importance. That engagement, dubbed the Redlands Common Ground Conversation Series, spurned an interest in Davis to seek political office and bring that same spirit of unity to the city council.
"I have a vision for what a thriving Redlands looks like," Davis says, "and it involves making sure that all people can contribute and be a part of the conversation, that voices are being heard and more seats are being created at the table."
Davis first moved to the area to study at the University of Redlands, and chose to come back after finishing her Master's degree at the London School of Economics. She worked as the director of leadership and involvement at her alma mater before moving on to lead the Women's Resource Center at UC-Riverside. In her role there, she launched PERSIST, a women's political engagement conference, the first of its kind in the region.
Linda Deos
Davis City Council
See lindadeos.com.
Marge Doyle
California Congressional District 8 | Primary Election June 5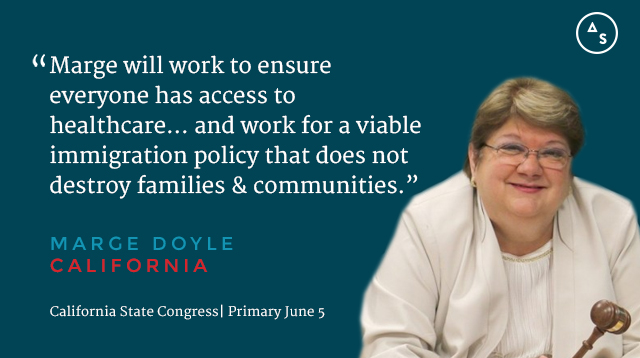 Doyle is a registered nurse and healthcare executive with nearly four decades as a leader in the healthcare community. She was first moved to run to office when her local hospital faced closure due to bankruptcy. Doyle was elected to the Board of the Morongo Basin Healthcare District in 2014, and after only three years, the hospital is now financially stable with $15M in reserves.
Recently, when Congressman Paul Cook voted to take away the health insurance of 115,000 of his constituents, Doyle decided it was time to spring into action again. In Congress, Doyle states that she "will work for practical and sustainable solutions to ensure everyone has access to healthcare; protect our precious and irreplaceable public lands from drilling, draining and mining because they are directly tied to jobs and a sustainable economy in our district; protect Social Security and Medicare which every working person paid into; ensure that those who served – our veterans – receive the benefits and healthcare they were promised; and work for a viable immigration policy that does not destroy families and communities."
If elected, Doyle would become the first openly lesbian member of California's congressional delegation.
Bonnie Dumanis
Supervisor, District 4 (San Diego)
Susan Eggman
California State Assembly, District 13 | Primary Election June 5
See susaneggman.com.
Shay Franco-Clausen
San Jose City Council, District 9 | Primary Election June 5
bio by Natalie
Shay Franco-Clausensan's family migrated to San Jose, CA looking to achieve the American dream but as she's grown older, she's seen that dream grow out of reach for many Bay Area families. Even before running for public office, Franco-Clausensan had built a career in creating more equitable San Jose. She currently serves as the director of Development and Government Relations for Silicon Valley FACES, a non-profit working to create systemic change in the community by equipping individuals to resist bias, bigotry, bullying and violence. She is also a member of several commissions and committees devoted to protecting and advocating for women and girls and LGBT people.
Though she finished third in her race for city council, she assured supporters in a Facebook message that this race was only the beginning. She plans to continue to advance her people focused agenda as a citizen. Until her run, only four out LGBTQ candidates had run for San Jose City Council, and Franco-Clausensan is the first lesbian to do so. Though her campaign was unsuccessful, she served as an inspiration for the LGBT youth who powered her run and who might, at a later date, make municipal runs of their own.
Cathleen Galgiani
Board of Equalization, District 2
See galgiani4boe.com.
Sunday Gover
California State Assembly, District 77 | Primary Election June 5
See votesunday.com.
Katie Hill
California Congressional District 25 | Primary Election June 5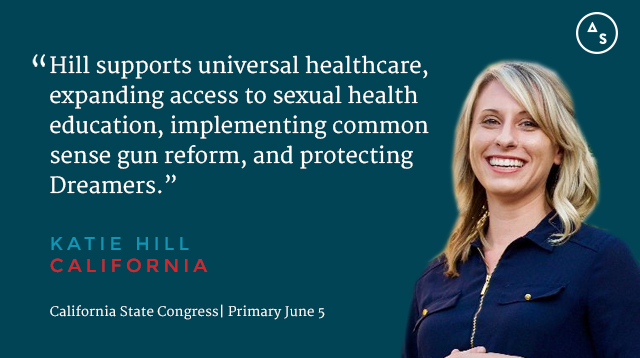 Hill is the executive director and deputy CEO of People Assisting the Homeless, a statewide organization that works to move people off the streets and into their first home. This is her first time running for political office. Among other issues, Hill supports universal healthcare, expanding access to comprehensive sexual health education, implementing common sense gun reform, getting off of fossil fuels, and protecting Dreamers. She's outspoken about the need for campaign finance reform and has pledged not to take money from PACs.
District 25 is currently Republican controlled, but has an almost even split between Democrats and Republicans; as such, it's a key opportunity for Democrats to take back the house in 2018. Hill said she is a good fit for the "rare purple district" since she grew up there and knows the values of swing voters – including her family, who is half Republican. "We in the 25th District are really in the middle in a lot of ways," she said. "People are looking to both sides and figuring out if we can find common ground."
Hill identifies as bisexual. She currently lives on a farm with her husband, some chickens, goats, four rescue dogs, and a horse named Marty.
Kayla Jones
Mayor of Seaside | General Election November 6
Here's a statement from Kayla:
I currently serve on the City Council in Seaside, California. I was elected in 2016 and now I'm running to be our City's first woman mayor and first queer mayor in our entire county (Monterey County). When I was elected in 2016, I was the first woman on the council in more than 20 years, and the first queer Councilmember to ever serve. I'm also a 24-year-old mother of a 4-year-old, and if I win my election I will be the youngest mayor in the entire state of California. Election day is on November 6, 2018.

More information about me can be found on either my campaign website, Facebook page, and I'm linking an article our local paper wrote up when I announced last month.

Since being on the council I've worked to make our City more inclusive and championed progressive values. I successfully passed free childcare for parents during our council meetings; I made our majority Latinx City a Sanctuary City; I've pushed for higher minimum wage and took the lead on creating a first-time homebuyer program to ensure my residents have the opportunity to purchase homes before out-of-towners, and more. I also called for stricter federal gun control laws (a move that lead to me receiving threats of violence, but the fight continues).
Nancy Magee
San Jose County Superintendent of Schools
See vote4nancy.org.
Jess Phoenix
California Congressional District 25 | Primary Election June 5
Jess Phoenix is a volcanologist and founder of the research nonprofit Blueprint Earth, which is dedicated to cataloging the Earth's environments for future terra-engineering projects. Running in district 25, she's going up against Steve Knight – one of the most vulnerable incumbents in the country, who coincidentally has a 0% lifetime score on environmental issues from the League of Conservation Voters. Phoenix is running on a platform promoting green tech R&D, supporting a $15 minimum wage, and fighting for LGBTQ+ veterans, among other issues.
"Scientists are adaptable, creative, and logical. We are trained to look at all available facts to work towards eliminating uncertainties," wrote Phoenix in a December 2017 Facebook post about why she's running for Congress. "We need curiosity to fight ignorance. We need versatility to fix stagnation. We need people who have hired and fired, researched and explored, comforted and healed, educated and created, learned and built, struggled and triumphed. We need officials who know when to listen and when to lead. So yes, more scientists in Congress. I think we'll do just fine."
Vivian Romero
California State Senate, District 32 | Primary Election June 5
Gerrie Schipske
California State Senate, District 34 | Withdrew from race
Kristin Rivers, Ph.D.
East Side Union High School District Board of Trustees in San José
Anne Marie Schubert
District Attorney, Sacramento
See schubertforda.com.
Joy Silver
California State Senate | Primary Election June 5
Joy Silver is a small business owner who built a successful career as a health clinic executive, senior housing developer and business consultant, acting as founding principal of the first fully operational LGBT retirement community, and Chief Strategy Officer for the largest free-standing women's medical and mental health center in the United States. Her platform centers on bringing good jobs to Sacramento, investing in career and vocational training, providing universal health care coverage, building a clean energy economy and advocating for immigrant communities.
Though Silver is a first time political candidate, she has prior experience acting an adviser on LGBT issues for New Mexico Governor Bill Richardson's 2008 presidential campaign, as well as doing field organizing for Hillary Clinton in 2016. Silver's campaign has been very successful at fundraising to date, outpacing her incumbent Republican opponent by a three to one margin at the end of December. She's committed to #CourageousResistance against Trump.
Jackie Smith
California State Assembly, District 6 | Primary Election June 5
See smith4assembly.com.
Terra Snover
California House of Representatives
See terrasnover.com.
Whitney Weddell
2nd District of the Kern County Board of Supervisors | General Election November 6
Colorado
Daneya Esgar
Colorado House of Representatives, District 46 | Primary Election June 26
Daneya Esgar is a Pueblo native who has represented the communities of Pueblo, Beulah, Colorado City, and Rye since January 2015. The former journalist is a progressive Democrat in a just-turned Republican county, who ran unopposed during her 2016 re-election campaign. Over the past three years, she's passed more than 25 laws, working to treat the opioid crisis, increase health care access, and boost Colorado employment rates, among other issues.
Esgar recently sponsored a resolution prodding the Colorado Department of Corrections to update their policy on transgender inmates, allowing them to be housed according to their gender identity. She is the first openly LGBTQ individual to serve Pueblo in the statehouse, and lives in Pueblo with her wife and two golden retrievers.
Joann Ginal
Colorado House of Representatives, District 52 | Primary Election June 26
After living for years worried she was going to lose her friends, her family and her job if she revealed she was gay, Joann Ginal ran as an out candidate in 2012. She won and is now in her third term as State Representative for House District 52, which is Fort Collins and parts of unincorporated Larimer County. Ginal serves on three committees: Public Health and Human Services; Transportation and Energy; and as Chair of the Health, Insurance and Environment Committee.
In office, the former researcher and biology professor has focused much of her attention on healthcare and public health issues, including regulating naturopathic doctors in Colorado; creating uniform standards for prior authorization of prescription medication; and sponsoring the End of Life Options Act.
Ginal is a trained master naturalist for the City of Fort Collins. In her spare time, she enjoys hiking and slot canyoneering.
Leslie Herod
Colorado House of Representatives, District 8 | Primary Election June 26
Representative Herod is the first African American LGBT candidate elected to the State Legislature. Growing up, she faced the hardship of a mother battling addiction, a sister in and out of prison, and responsibility to raise her nieces and nephews. Today, she brings a unique perspective and voice to the table, with stated priorities including protecting voting rights; supporting rehabilitation and re-entry of the prison population into the community; and advocating for small business interests.
Here's her campaign video, featuring spoken word art:
Brianna Titione
Colorado House of Representatives, District 27 | Primary Election June 26
See briannatitone.com.
Michelle Williams
Covington City Council
See williamsforcovington on Facebook.
Connecticut
Beth Bye
Connecticut Senate, District 5
See @bethbye5.
Cora Santaguida
Connecticut Senate, District 27
Delaware
Kerri Evelyn Harris
U.S. Senate | Primary Election September 6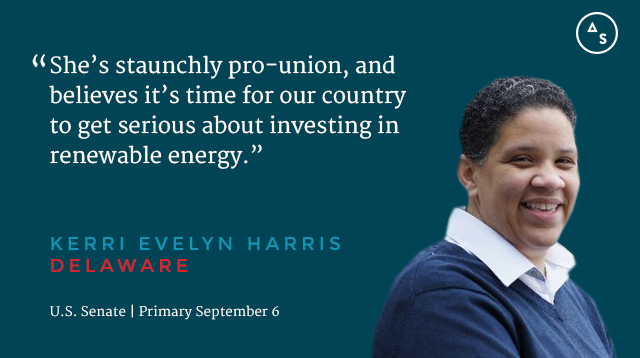 Kerri Evelyn Harris is an advocate and community organizer who previously worked as loadmaster in the Air Force.The proud, biracial lesbian supports a single payer healthcare model, a progressive tax code, Universal Pre-K, and efforts to end mass incarceration. She's staunchly pro-union, and believes it's time for our country to get serious about investing in renewable energy.
The incumbent opponent in the race, Tom Carper, is "known for playing the godfather role in state politics." Interestingly, Carper is a longtime supporter of LGBT rights, and there's an out gay Republican running, too: Eugene Truono, former Paypal executive. This year is the first time an out gay or lesbian person has run for Senate in Delaware.
Florida
Lauren Baer
U.S. Representative, Congressional District 18 | Primary Election August 28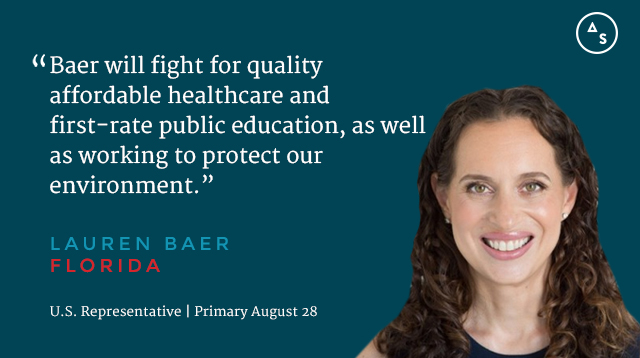 An attorney and foreign policy expert, Baer served as an official in the Obama Administration from 2011-2017. At the state department, she was senior advisor to UN Ambassador Samantha Power, and both secretaries of state John Kerry and Hillary Clinton. She currently works as a consultant for Albright Stonebridge Group, the global strategy firm founded by former Secretary of State Madeleine Albright. This is Baer's first time running for office, and the Democratic Congressional Campaign Committee has included her in its Red to Blue program, which helps congressional hopefuls stand out to donors, and gain them access to additional DCCC staff resources and organizational support.
Per her campaign video, Baer will fight for quality affordable healthcare and first-rate public education, as well as working to protect our environment and preserve and expand the middle class. She and her wife Emily are active athletes who enjoy tennis, distance running, and spending time outdoors with their young daughter, Serena, and their dog, Biscuit. If she wins the seat, Baer would make history as the first woman to be in a same-sex marriage while also serving in Congress.
Monica DePaul
Florida House of Representatives, District 4 | Primary Election August 28
See monica4florida.com.
Robin Harris
County Commissioner, District 6 (Orlando)
See harris4six.org.
Jennifer Webb
Florida House of Representatives, District 69 | Primary Election August 28
In 2016, Jennifer Webb ran against incumbent Republican Kathleen Peters, losing by 14 points after being outspent four to one. This year, District 69's seat is open, and is widely regarded as one of Florida's most vulnerable GOP-held state House seats.
Webb is the founder and managing partner of Publicus, Inc. (a civic innovation, public relations and business solutions consulting firm) and president and founder of Think Tampa Bay, Inc. (a non-profit think tank finding local solutions to regional problems). She's a committed environmentalist and promises to protect Florida's drinking water and waterways; support policies that ensure homeowners have access to affordable insurance; and invest in mental health and substance abuse treatments.
Webb and her spouse, Cynthia Wurner, own a single-family home near the business district of Gulfport. If elected, she will be the first openly LGBTQ woman elected to the Florida House of Representatives.
Georgia
Park Cannon
Georgia House of Representatives, District 58 | Democratic Primary Election May 22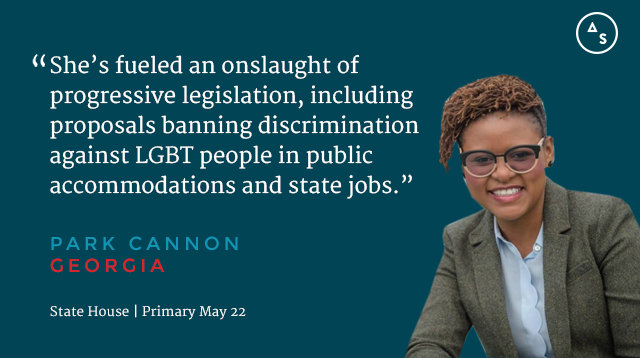 In February 2016, Cannon won a runoff special election for the Georgia State House, becoming one of three openly queer women serving in the state's legislature. She was encouraged to run by Georgia State Rep. Simone Bell — the first Black lesbian to serve in any state legislature — whose seat she ultimately filled. Since taking office, Cannon has joined committees for human relations & aging, small business development, insurance, and making technical and grammatical revisions of Georgia's statutes. She's fueled an onslaught of progressive legislation, including proposals that would eliminate the gay panic defense in manslaughter cases, launch a PrEP pilot program, improve HIV education, and ban discrimination against LGBT people in public accommodations and state jobs.
Cannon is fluent in Spanish, identifies as queer, and grew-up in a single parent household that was shaped by domestic violence. She is passionate about reproductive rights and previously volunteered with Planned Parenthood and NARAL as well as acting as the coordinator for the Black Women's Wellness Program at Atlanta's Feminist Women's Health Center. She's committed to affordable housing, fully funding public education, and protecting and increasing access to quality affordable healthcare.
Karla Drenner
Georgia House of Representatives, District 85 | General Election November 6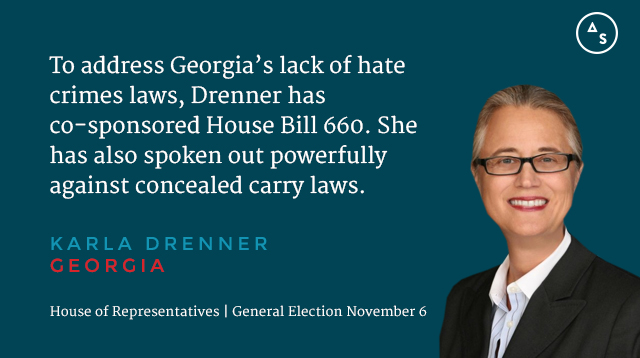 When Drenner first entered office in 2001, she became the the first openly gay member of the Georgia State Assembly, and the only openly gay lawmaker in the Deep South at the time. She's endured intense homophobia from colleagues during her time in the House, and became the face of gay resistance in 2004 when Republicans introduced a state constitutional amendment banning same-sex marriage. It passed by a two-to-one margin, and the GOP became that body's majority for the first time since Reconstruction, eventually redrawing district maps to emaciate Democrats.
Today, Georgia remains one of only five states without hate crimes law on the books. To address this, Drenner has co-sponsored House Bill 660, one of three bills dealing with hate crimes under debate this year. She describes herself as "a voice of reason," and has spoken out powerfully against concealed carry. In her nearly two decades of public service, Drenner has championed more than 40 pieces of legislation to promote the development of Georgia's energy resources both on land and offshore; sponsored income tax credits for teleworkers (the first such tax credits in the nation); and created a solid waste trust fund and voluntary remediation programs, protecting streams by increasing buffer zones and requiring rain sensors for office building irrigation systems.
At the beginning of 2017, Drenner served on committees for energy, utilities and telecommunications; health and human services; natural resources and environment; rules; and small business development. She has two Ph.Ds, and teaches undergraduate and graduate public administration courses at Purdue Global. She also owns her own environmental consulting firm.
Julie Jordan
Georgia House of Representatives, District 179 | General Election November 6
See juliejordanforgeorgia.com.
Renitta Shannon
Georgia House of Representatives, District 84 | General Election November 6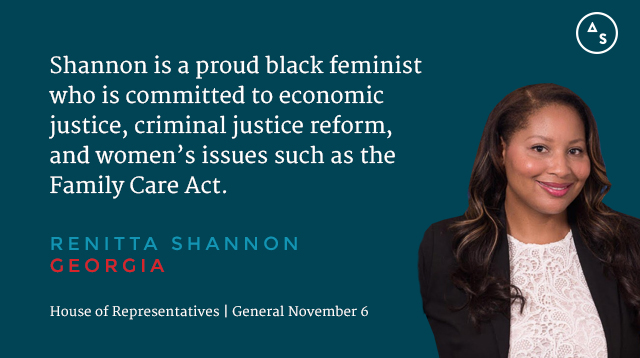 Coming into office in January 2017, Representative Shannon defeated a four-term moderate Democrat incumbent in an upset that surprised many. Previously a medical sales representative, Shannon has been a leader in pushing forward reproductive rights legislation and speaks openly about her personal experiences with abortion. She has a very active and informative social media presence, including when she came out as bisexual in a Facebook post last October.
Shannon is a proud Black feminist who is committed to economic justice, criminal justice reform, women's issues such as the Family Care Act, and supporting quality education through public schools. She is a member of 9 to 5 Working Women Atlanta, the Executive VP for the Georgia State Chapter of the National Organization for Women, and active in the Fight for $15 campaign.
Valerie Vie
Georgia House of Representatives, District 62
Keisha Waites
Chair of the Fulton County Board of Commissioners | Democratic Primary Election May 22
Keisha Waites was elected to the Georgia Legislature in 2012, where she served until resigning in September to make a run for chair of the Fulton County Board of Commissioners. Waites previously ran in 2006 against John Eaves (who resigned earlier this year to make a run for Atlanta mayor!). This time around she'll be going up against Robb Pitts, who won the runoff in December. The Democratic primary in May will be the key contest for the top elected position in Fulton.
As chair, Waites would play a role in county efforts combat HIV. She is committed to finding tangible solutions to tax reform, keeping her community safe, and working with state partners to find real solutions to transit problems and gridlock. As a member of the public safety committee, she led the fight to support gun reform, keeping guns off of college campuses and requiring safety training for concealed carry. In the future, she's also interested in addressing homelessness and affordable housing.
Hawaii
Kim Coco Iwamoto
Lieutenant Governor
See kimcoco.com.
Illinois
Gaylon B. Alcaraz
Cook County Commissioner, District 4 | General Election November 6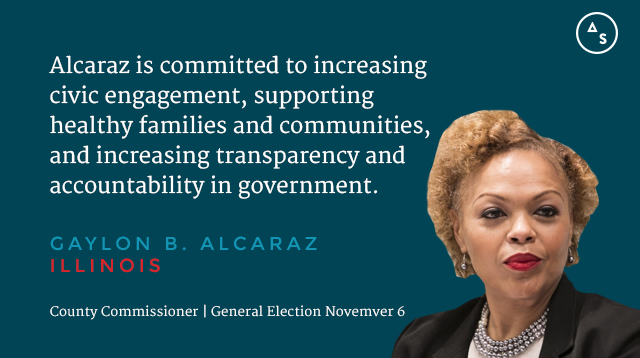 Gaylon Alcaraz has spent the past 25 years championing social justice, equity, independent thinking and progressive values, from reproductive rights to affordable housing preservation. Among other leadership roles, she's served as Executive Director of the Chicago Abortion Fund, joined the board of the Illinois Caucus for Adolescent Health, and was a founding member of Affinity Community Services, an organization advocating for black LGBTQ communities. Alcaraz was inducted into the Chicago Gay and Lesbian Hall of Fame (now the Chicago LGBT Hall of Fame) in 2013.
Alcaraz plans to advocate for a public bank system that will divest all County money from the Wall Street banks and reinvest those dividends back into the County revenue. She is committed to increasing civic engagement, supporting healthy families and communities, and increasing transparency and accountability in government.
As a lifelong Chicagoan, Alcaraz attended both Chicago public and private schools and believes in equal education for all. Through determination, she transformed her life from a 360 pound domestic violence survivor to a marathon runner and advocate for all people. She currently works as a professor at Northeastern Illinois University, and is a Ph.D. candidate at National Louis University.
Kelly Cassidy
Illinois House of Representatives, District 14 | Primary Election March 20
Representative Cassidy has been serving in the Illinois General Assembly since May 2011, and is the only openly gay female legislator. She is the former legislative director for the National Organization for Women, and has been outspoken about maintaining affordable, safe access to abortion, including sharing her own story.
Cassidy has been active in the gun control movement in recent weeks, and last year proposed legalization of marijuana in Illinois. Her current committee assignments are Appropriations-Public Safety (Chairperson); Economic Opportunity; Human Services; Judiciary – Criminal (Vice chair); Labor & Commerce Committee; Tourism, Hospitality & Craft Industries; and Restorative Justice (Vice chair).
Cassidy got engaged to her wife in front of the Statehouse in 2013 and has three sons.
Maria Hadden
49th Ward Alderwoman
bio by Natalie
A decade ago, just after Maria Hadden bought her first home in the Rogers Park neighborhood on the North Side of Chicago, the housing bubble burst. The developer who sold her the unit, fled the country, leaving her and the other tenants with expensive mortages and no one to pay for the repairs and maintanenance the building required. In an effort to sustain her new community, she organized her neighbors and began a three year fight to keep their homes. During that time, Hadden reached out to the alderman representing the 49th Ward, Joe Moore, for help. But what she found then, and what she sees now, is a representative that has stopped being responsive to the community he serves.
"You have to set up real processes for community voice and engagement and you have to be in relationship with people," Hadden told the Windy City Times. "And it's something that I haven't seen [Ald. Moore] do in the 10 years that I've lived here, but particularly not in the last six years."
While Election Day is still over a year away, Hadden's already begun the hard work of building those relationships across the 49th Ward. Her experience working in the community — from her leadership of the non-profit, Our City Our Voice. to her work with on the Participatory Budgeting Project, BYP 100 and Voqal — laid the groundwork for the four issues that will ultimately define her campaign: safe and healthy neighbors, affordable and accessible housing, building a strong local economy and creating a more inclusive democracy.
Maria Hadden lives in Rogers Park with her partner of six years, Natalia Vera, and their two rescue dogs. If elected, Hadden would be Chicago's first black queer alderman.
Cecilia Horan
Circuit Court of Cook County | Primary Election March 20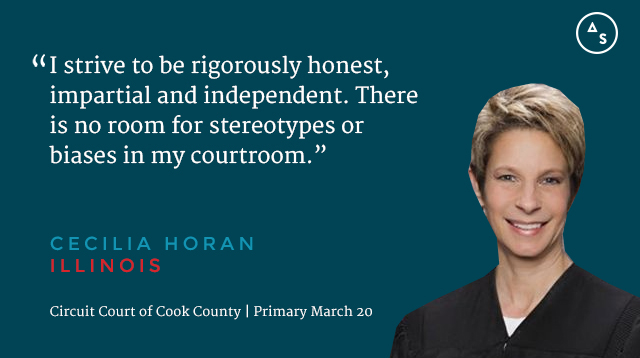 Judge Horan was appointed by the Illinois Supreme Court in January 2017 to fill a vacancy caused by retirement. 2018 will be her first time running for election. She's presently assigned to the First Municipal Division where she hears cases involving alleged breaches of contract, the rights of landlords and tenants, debtors and creditors, and traffic matters.
Horan grew up on Chicago's North Side and was a litigation partner with the firm Hinshaw & Culbertson LLC for 20 years, specializing mainly in transportation-related personal injury litigation as well as product liability and insurance coverage matters. Horan had been co-chair of the firm's Chicago Office Mentoring Committee, a co-founder of her firm's LGBT affinity group, and she assisted her firm in achieving a 100% rating on the HRC Corporate Equality Index from 2010-2017. She is president of the Lesbian and Gay Bar Association of Chicago (LAGBAC), a bar organization for LGBT lawyers, law students and legal professionals.
Says Horan, "Justice depends not only upon the laws, but on who is interpreting and applying the laws. I believe all diverse persons should have a similar story of acceptance, recognition and embracement by society. I endeavor to be the kind of judge who treats everyone with respect, who provides everyone a full and fair hearing, and who aims to reach a just result. I strive to be rigorously honest, impartial and independent. There is no room for stereotypes or biases in my courtroom."
Lori Lightfoot
Mayor of Chicago
Stephanie Miller
Circuit Court of Cook County, Judicial Subcircuit 6 | Retention Election Expected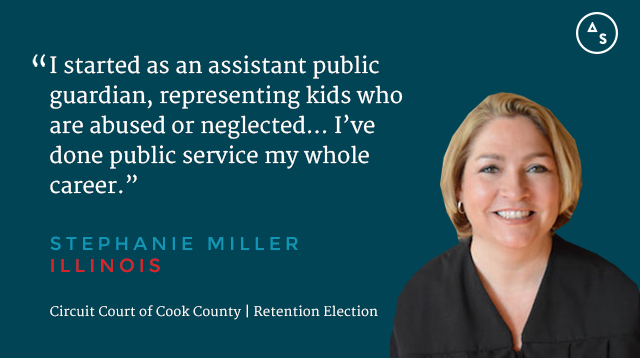 The Illinois Supreme Court appointed Judge Miller to the Lopez Cepero vacancy in 2017. Prior to her appointment, Miller served as an Assistant State's Attorney, and co-founded the National LGBT Prosecutor's Bar Association. She is on the board of the Lesbian and Gay Bar Association of Chicago and is the chairman of the LGBT committee for the Hispanic Lawyers' Association of Illinois.
"I have spent my entire legal career in public service," Miller told the Windy City Media Group. "I started as an assistant public guardian, representing kids who are abused or neglected, and adults in probate division and then went to the state's attorney's office, where I specialized in sex crimes cases with juvenile and adolescent victims. I've done public service my whole career. When I had the incredible opportunity to be appointed to the bench, it furthered my commitment to that work."
Miller lives with her wife and twins.
Mary Colleen Roberts
Circuit Court of Cook County, Judicial Subcircuit 11 | Retention Election Expected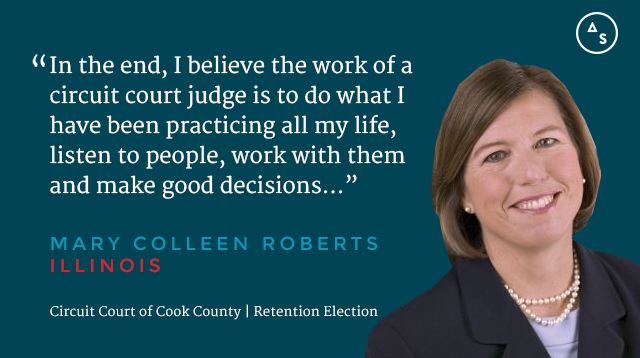 Judge Roberts began her legal career in 1989 as an assistant state's attorney, and gained experience in civil, administrative and criminal law prior to becoming a judge. "In the end, I believe the work of a circuit court judge is to do what I have been practicing all my life, listen to people, work with them and make good decisions based upon what is before me," said Roberts in a 2006 interview. In an interesting case at the end of last year, she ruled that a Whole Foods in Bellevue Square must reopen after breaking its long-term lease, which required the grocery to operate for a minimum of 10 years.
To continue serving, Roberts must compete in a retention election. Per Ballotpedia, there are 513 judges on the Illinois Circuit Court, each elected in partisan elections to six-year terms. Upon the completion of these terms, judges that wish to continue serving must compete in uncontested, nonpartisan retention elections. Judges seeking retention are required to file a declaration of candidacy to succeed themselves with the secretary of state at least six months prior to the general election. The names of judges seeking retention are then given to voters on a special judicial ballot — without party designation and without an opposing candidate — featuring the sole question of whether he or she should be retained for another term in office. Retention elections are held along with the general elections in the specific district or circuit where the judge is seeking retention. To be retained, judges must receive three-fifths of the vote.
Karen Roothaan
Metropolitan Water Reclamation District of Greater Chicago
Andrea "Andy" Schleifer
Circuit Court of Cook County, Judicial Subcircuit 12 | Retention Election Expected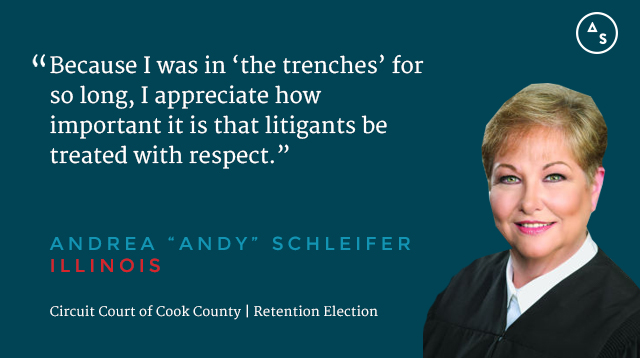 Judge Schleifer assumed office in January 2012, following 31 years in private practice. As a lawyer, she worked primarily in family law — an experience which shaped her perspective on how to be an effective judge. In a 2012 interview with the Daily Herald, Schleifer explained, "Because I was in 'the trenches' for so long, I appreciate how important it is that litigants be treated with respect; that litigation proceed with diligence; that consideration be given to the toll that any litigation has on the parties, and how any delay can cause serious ramifications."
To continue serving, Schleifer must compete in a retention election. Per Ballotpedia, there are 513 judges on the Illinois Circuit Court, each elected in partisan elections to six-year terms. Upon the completion of these terms, judges that wish to continue serving must compete in uncontested, nonpartisan retention elections. Judges seeking retention are required to file a declaration of candidacy to succeed themselves with the secretary of state at least six months prior to the general election. The names of judges seeking retention are then given to voters on a special judicial ballot — without party designation and without an opposing candidate—featuring the sole question of whether he or she should be retained for another term in office. Retention elections are held along with the general elections in the specific district or circuit where the judge is seeking retention. To be retained, judges must receive three-fifths of the vote.
Debra Shore
Board of Commissioners of the Metropolitan Water Reclamation District of Greater Chicago (MWRD) | Primary Election March 20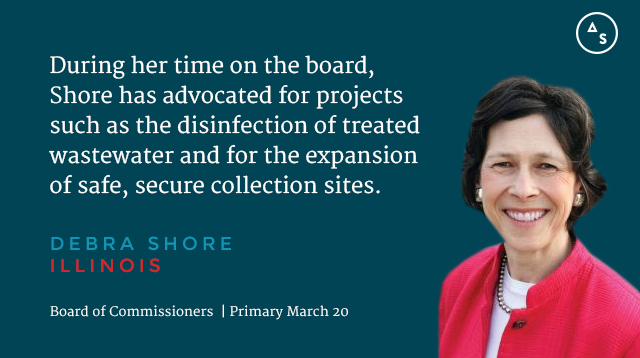 Shore was elected to the board of commissioners of the Metropolitan Water Reclamation District of Greater Chicago in 2006, and was re-elected for a second term in 2012. During her time on the board, she has advocated for projects such as the disinfection of treated wastewater (measurably improving water quality in the Chicago area waterways), and for the expansion of safe, secure collection sites for people to dispose of unused or expired medications so they don't flush them down the toilet.
Shore lives with her partner, Kathleen Gillespie, in Skokie, and has a 34 year-old son who is an architect in Seattle.
Maggie Trevor
Illinois State Representative, District 54 | General Election November 6
Maggie Trevor is a proud graduate of the Rolling Meadows public school system who has spent over three decades in higher education. Trevor attended the University of Chicago, earning a bachelor's degree in chemistry and a master's degree and Ph.D. in political science. She then took a research fellowship at the Government Data Center at Harvard University, and taught political science at the University of Iowa. After leaving academia in 1999, she worked as a market researcher and operations executive in the health care field, then founded her own research firm.
Health care is central to Trevor's platform, as are reproductive rights and a graduated tax system. Maggie Trevor is an out lesbian and the only candidate in the Democratic primary. She runs against incumbent Tom Morrison, who is the sole candidate in the Republican primary.
Jill Rose Quinn
Judge, 10th Subcurcuit
Indiana
Pat Hackett
U.S. House Indiana, District 2 | Primary Election May 8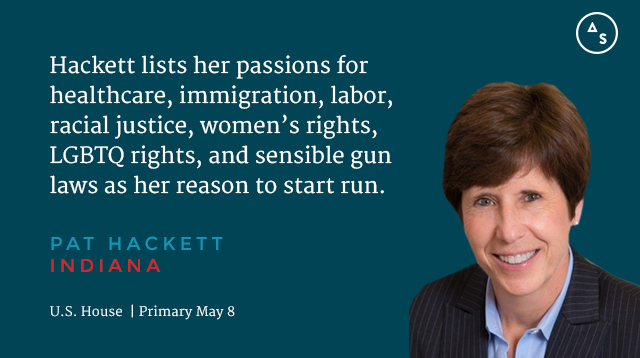 An attorney by trade, Pat Hackett has spent four decades serving the people of Northern Indiana as an educator and civic leader who has dedicated herself to her community in positions ranging from adjunct assistant professor in the Notre Dame Law School, to President of Alzheimer's Services of Northern Indiana. Hackett describes herself as "wholly dedicated to the development of the community through education," and has earned a B.A. in Government and Theology, an M.A. in Theology, and a J.D. from the University of Notre Dame. Additionally, she engaged in Ph.D. studies at The Catholic University of America in Washington, D.C.
This past New Year's Eve, Hackett wrote on her blog:
When I review the events of 2017, I am reminded of an image my Mom shared with me when I was a child and was feeling hopeless about something. She said, "Patty, picture a room full of horse manure. Now remember, there has to be a pony in there somewhere." Well, our pony is our patriotic resolve. In 2018 our Nation's patriotic resolve and resiliency will propel us into midterm elections that will transform the makeup of Congress. … If any of you are still on the sidelines, I'm asking you to join me and make your voices heard. This is a movement not a moment as people wrote on signs carried at the Women's March. Let your passion for healthcare, education, the environment, immigration, labor, racial justice, women's rights, LGBTQ rights, sensible gun legislation be your reason to start now.
If elected, Hackett would become the first openly LGBTQ+ person to represent Indiana in Congress.
Iowa
Liz Bennett
Iowa House of Representatives, District 65
See lizbennett.com.
Reyma McCoy McDeid
U.S. House Iowa, District 38 | Primary Election June 5
See runreymarun.com.
Kim Painter
Johnson County Recorded
See @painterkim.
Janelle Rettig
Johnson County, Iowa Board of Supervisors
See janellerettig.com.
Courtney Rowe
U.S. House Iowa, District 1 | Primary Election June 5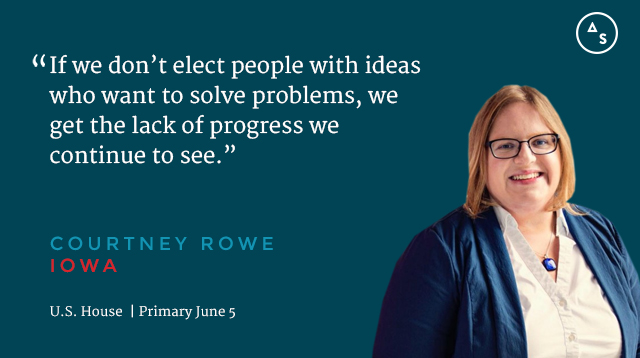 Courtney Rowe has a B.S. from Purdue University in Aeronautical and Astronautical Engineering, with a minor in both Aerospace Studies (Air Force ROTC) and Political Science. She currently works as a senior systems engineer on flight control systems, and believes her straightforward approach to tackling issues will appeal to voters. "If we don't elect people with ideas who want to solve problems, we get the lack of progress we continue to see," said the first time candidate.
Rowe supports clean energy expansion, a living wage at $15 an hour, and tuition free public colleges and trade schools. She's been outspoken in her support of a universal single payer healthcare (Medicare for All), and has publicly spoken out on her own, expensive battle with cancer. Among her plans and ideas, Rowe proposes a "Homeowner Green Energy Plan" which allows homeowners to finance the purchase of solar panels or home wind systems over 20-30 through the First Time Homeowners Association (FHA). She's also in favor or allowing small businesses to incorporate and sell shares in their company to raise capital.
Rowe is the treasurer of PFLAG Cedar Rapids. She lives with her wife, Raven, and their black lab mix, Shamrock. If elected, she would replace Tammy Baldwin, now a senator, as the only openly lesbian member of the House.
Kansas
Sharice Davids
U.S. House Kansas, District 3 | Primary Election August 7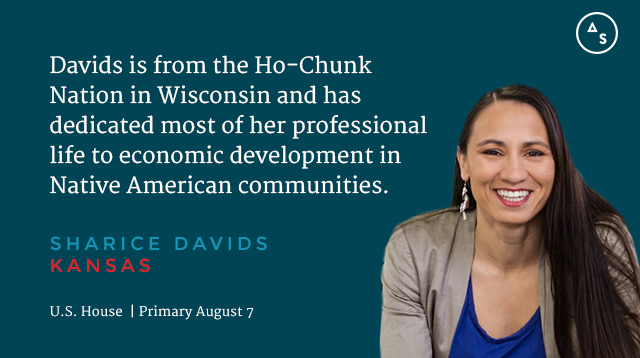 Davids is from the Ho-Chunk Nation in Wisconsin and has dedicated most of her professional life to economic development in Native American communities. She has a law degree from Cornell Law School, and was one of 16 selected to participate in the prestigious White House Fellowship program during the Obama-Trump transition (2016-2017). She's proud that she was arrested fighting for Dreamers in an anti-DACA protest on the steps of the Capitol Building, and says that her time in the White House opened her eyes to the "immediate need for competent, thoughtful people to step up, take action, and get involved."
If a fairy godmother were to grant Davids three wishes for her first term in office, she would wish for comprehensive immigration reform, action on gun safety, and access to healthcare for everyone in the United States. She supports the creation of a childcare tax to help working families, and will fight against the dismantling of the Clean Water and Air Acts.
Per the New York Times, KS-03 is in play as one of the 48 competitive House seats this election season. The Democratic field is crowded, with half a dozen first time candidates vying to be chosen in the primary. If elected, Davids would be the first female Native American to serve in Congress and the first openly gay member of the Kansas delegation. She is a former MMA fighter and likes a good multiverse.
Maine
Danielle Ravyn VanHelsing
Maryland State Senate, District 4 | Primary Election June 26
See RavynVanHelsing on Facebook.
Maryland
Liz Barrett
Frederick County Board of Education | Primary Election June 26
S. Benn (aka. Sarahia Benn)
Maryland House of Delegates, District 34A | Primary Election June 26
See ElectSBennImWithYou on Facebook.
Dana Beyer
Maryland State Senate | Primary Election June 26
See danabeyer.com.
Bonnie Cullison
Maryland State Senate | Primary Election June 26
Mila Johns
Maryland House of Delegates, District 18 | Primary Election June 26
See milajohns.com.
Anne Kaiser
Maryland House of Delegates, District 14 | Primary Election June 26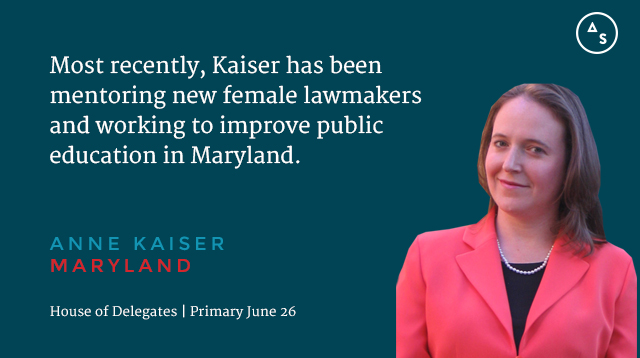 Delegate Kaiser was first elected to the chamber in 2002, and currently serves as House majority leader and Chairman of the Ways & Means Committee. She was raised in a Republican household, but became a Democrat because of her support for civil rights. In 2004, Kaiser publicly came out during her testimony before the House Health and Government Operations Committee in support of a bill to grant same-sex partners the authority to make medical decisions for their partners. She was also a powerful advocate for marriage equality. More recently, she's been mentoring new female lawmakers and working to improve public education in Maryland.
Kaiser has a B.A. in political science from the University of Chicago, and two Masters degrees from the University of Michigan: one in public policy, and one in educational studies. She lives with her wife, Nancy, in the Calverton neighborhood of Silver Spring.
Chelsea Manning
U.S. Senate | Primary Election June 26
Chelsea Manning rose to national prominence in 2011, when the former all-source intelligence analyst for the US Defense Department was charged with leaking classified information to Wikileaks. The data shed light on the "true nature of 21st century asymmetric warfare," exposing abuses of detainees carried out by Iraqi military working with American forces; and igniting heated debate over the difference between whistleblowing and treason. In 2013, Manning came out as a trans woman while serving in an all male prison. President Obama commuted much of her remaining sentence in 2017. Now, Manning is running for Senate.
Here's her campaign video:
Manning is running on a platform of open borders ("No ban, no wall, no borders at all."); universal, single payer healthcare; universal basic income; and demilitarizing and disbanding the police, among other issues. Although the candidate doesn't consider herself a Democrat, she's motivated by a desire to shake up establishment Democrats who are "caving in" to the Trump administration, and will be competing in their primary.
Maggie McIntosh
Maryland General Assembly, District 43
Maggie McIntosh first entered the House of Delegates in 1992 when she was appointed to fill a vacant position in the 42nd District. She first served on the Appropriations Committee, where she chaired the Personnel Subcommittee and was a member of the Education and Economic Development Subcommittees; later, she assumed the position of Vice Chairman of the Commerce and Government Matters Committee. In 2001, she then became the first woman in Maryland history to serve as House Majority Leader.
A former teacher in the Baltimore City Public Schools, as well as an adjunct professor at Catonsville Community College and the University of Baltimore, McIntosh is a strong advocate for education. This session, she partnered with Senator Joan Carter Conway to put a question to voters on the November ballot to amend the Maryland Constitution to ensure that revenue from casino gaming is provided as a supplement to existing education funding mandates. They also created the Healthy School Facility Fund, providing $60 million over the next two years to address the state's backlog of school maintenance projects. Recently, she and other female delegates also rallied to defeat a bill that would change the "CEO" title for the Baltimore schools chief to "superintendent," — a move, they pointed out, that would diminish the standing of the Black woman currently serving in the position.
McIntosh lives with her wife, Diane Stollenwerk, and Labrador retrievers, Myrtle and Olive, in the Tuscany-Canterbury neighborhood in North Baltimore.
Julie Verratti
Maryland Lieutenant Governor | Primary Election June 26
Julie Verratti is running for lieutenant governor of Maryland, on the ticket with Alec Ross for governor. Verratti is Director of Business Development at Denizens Brewing Co., which she co-founded with her wife and brother-in-law. Before her time as a small business owner, Verratti worked to support veterans entrepreneurship, women's business ownership, and local economic development policies as a Presidential Management Fellow and Senior Policy Advisor at the US Small Business Administration. She also helped to implement the Affordable Care Act, specifically working through the details of how it would impact small businesses.
In a podcast with the Baltimore Sun, Verratti shared that she is a Democrat because the believes in equity for all people. "One of the things that I hope to bring to Annapolis is being able to bridge different parties and different groups and different people. Making sure everybody has a voice at the table. It's something I've done my entire life, and it's something that I hope to keep continuing to do in Annapolis."
She and her wife, Emily, live in Silver Spring.
Mary Washington
Maryland Senate, District 43 | Primary Election June 26
Delegate Mary Washington has more than 20 years of experience putting her public policy expertise to use in public agencies and nonprofits. She took office in the Maryland House in January 2011, making history as the first openly LGBT African-American elected official in Maryland, and only the second such state legislator in the country. During her seven years there, she's been fighting for affordable access to water; protecting families at risk of losing their homes to unfair tax sales and foreclosures; making sure Baltimore city schools get the fair and equitable funding they deserve; and helping unaccompanied homeless youth get the services and support they need. Washington has also played a leading role in legislative work to establish marriage equality and prevent discrimination against transgender Marylanders.
In filing for the state senate race, Washington hopes to be a stronger voice for all of district 43's neighborhoods. "It's a tale of two cities where we find some of the state's most prosperous neighborhoods and greatest universities right next to some of our most troubled communities and public schools," said Washington in a press release. "As State Senator, I'll be in a much stronger position to amplify these efforts, especially as we fight for the funding we need to make our schools stronger and the reforms we need to make our people and neighborhoods safer."
Washington has a Ph.D. in sociology and wrote her doctoral dissertation at the Johns Hopkins University on the census' influence on national identity. "It basically tells us what we've known for a very long time. Gay families are living right here, working right here, raising children right here. We are a part of the everyday life in the state of Maryland," she explained.
Massachusetts
Alexandra Chandler
U.S. House Massachusetts District 3 | Primary Election September 4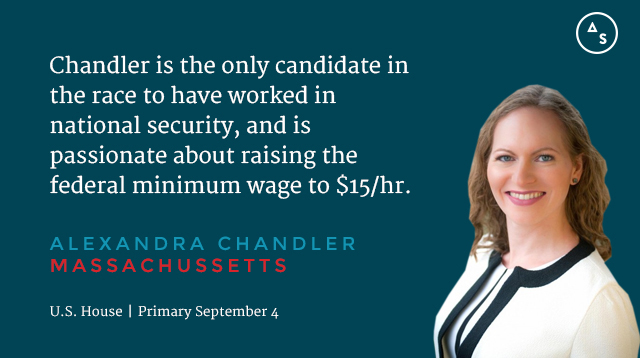 On September 11, 2001, Alexandra Chandler was in law school in New York City. When the twin towers fell, her wife Catherine was on a subway under lower Manhattan — unharmed, thankfully, but out of communication for hours. Chandler decided that day to join the intelligence community, where she served for 12 years in Naval Intelligence. In 2006, as a transgender woman, she became one of the first in the US intelligence community to transition on the job. If elected, she would become the first out transgender woman elected to Congress.
Chandler is the only candidate in the race (out of a dozen Democrats and two Republicans) to have worked in national security, and is passionate about raising the federal minimum wage to $15/hr by 2024; Medicare for All; universal pre-kindergarten; and publicly-funded elections, as is the norm in most highly-developed democracies. She is also personally invested in fighting the opioid epidemic, having had a father who struggled with addiction to prescription drugs, non-prescription drugs and alcohol before his death.
"I have had to work with other governments, and remember, I am doing this all as a transgender, lesbian woman in a very male-dominated, very conservative environment," Chandler recently told the Lowerll Sun. "I have experience working with people who are not at all like me for years and years, and not only working together, but thriving."
Maura Healey
Attorney General of Massachusetts | Election November 6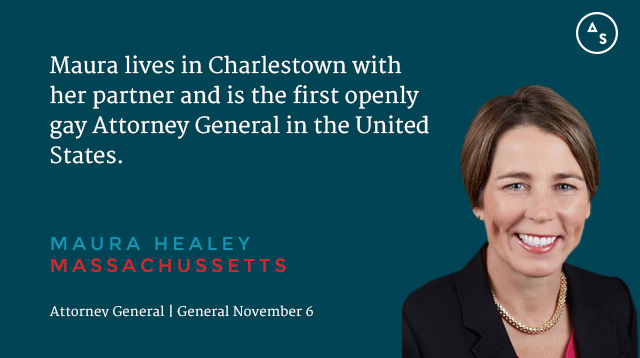 Attorney General Maura Healey is the chief lawyer and law enforcement officer of the Commonwealth of Massachusetts. She began serving in January 2015, having previously served the Attorney General's Office as Chief of the Civil Rights Division and directing the Public Protection & Advocacy Bureau and the Business & Labor Bureau. Earlier in her career, Maura was a prosecutor and litigation partner. She also spent two years as a 5'4″ starting point guard on a professional basketball team in Austria (after her time at Harvard, and before getting her law degree at Northeastern University).
Maura lives in Charlestown with her partner and is the first openly gay Attorney General in the United States.
Kate Hogan
State Representative, 3rd Middlesex District | Election November 6
Kate Hogan was first elected in 2009, and represents the towns of Bolton, Hudson, Maynard, and Stow. She serves as Chair of the Committee on Public Health, Co-chair of the Elder Caucus (which addresses senior issues), and Chair of the Public Library Caucus. Per her website:
Representative Hogan brings over 25 years of experience in small business, public, and community service to her job as a legislator. Representative Hogan continues to bring a deep commitment to providing resources for seniors in her communities, assistance to returning veterans, and the opportunity for a comprehensive education for all the children in her district and state. Kate has also been a strong supporter of education and local and state efforts to create a healthy environment and protect what is special about our small New England towns for the next generation.
Most recently, Hogan introduced a bill to improve patient privacy protections by requiring that explanation of benefits (EOB) documents be sent directly to adult patients, rather than the primary policyholder of the health plan.
She lives with her partner, Susan, in Stow.
Elizabeth (Liz) Malia
State Representative, 11th Suffolk District | Election November 6
Elected to the House of Representatives in 1998, Liz Malia represents the 11th Suffolk District and currently serves as the Assistant Vice Chair of the Committee on Ways and Means. She also serves on Joint Committees on Labor and Workforce Development, and Public Service. Previously, Representative Malia spent over a decade serving as House Chair of the Joint Committee on Mental Health, Substance Use, and Recovery, leading efforts to improve access to mental health and substance abuse services, especially in communities of color. Issues near and dear to her heart include extensive work on public safety issues; improving community relations with the police; working to promote independence and well-being of the elderly; ending human trafficking; promoting affordable housing; and protecting immigrants' rights, women's health issues, and LGBT rights. Malia is openly gay.
Before entering office, Malia served as Chief of Staff to former Massachusetts State Representative John McDonough for eight years — and prior to that, was very active in getting progressive Democrats to move the rest of the party forward on supporting gay rights. Later at the State House, she was responsible for a lot of the behind-the-scenes relationship building that eventually resulted in marriage equality passing.
Massachusetts is one of the most solidly Democratic states in the nation, and has had legally recognized same-sex marriage since 2004.
Tanya Neslusan
State Representative, 1st Hampden District | Election November 6
Neslusan currently serves as the President of the Sturbridge Regional Huddle, Secretary of the Sturbridge Democratic Town Committee and is on the Planning Committee for the Worcester Chapter of Showing Up for Racial Justice. Among other causes, she is advocating for a $15 minimum wage, making election day a national holiday, and expanding support groups to fight the opioid epidemic.
"For far too long in this district, we have been sidelined as other regions in the state prosper. Our district needs a voice to promote economic development and infrastructure, attract businesses and ensure our children will have opportunities to build a future, in this area," said Neslusan in a press release.
She resides in Sturbridge with her wife, Rebecca, her teenage son, Nick, two dogs and cat.
Gretchen Van Ness
State Representative, 14th Suffolk District | Election November 6
Here's an excerpt from Gretchen Van Ness's campaign website:
Civil rights lawyer and Hyde Park resident, Gretchen Van Ness, is running for State Representative of the 14th Suffolk District. Gretchen has spent more than three decades fighting to protect and advance the rights and liberties of all Massachusetts residents. As your State Representative, Gretchen will use her knowledge, experience and deep passion for change to represent the people of Hyde Park, Roslindale and West Roxbury. Gretchen served as President of the Board of Hyde Jackson Square Main Street and currently serves as co-chair of the Zoning Committee of the Fairmount Hill Neighborhood Association. …

She has lectured widely and taught at Suffolk University Law School and the Harvard Extension School. Gretchen has also represented clients before the U.S. Supreme Court, the Massachusetts Supreme Judicial Court, and the state and federal appellate and trial courts. As State Representative, Gretchen will focus on education, affordable housing, mass transit, criminal justice reform, and health care. She will be a fierce advocate and progressive leader who is also accessible, engaged with the community, and responsive to constituents' needs and concerns.
Van Ness worked to pass same-sex marriage in Massachusetts, and was also part of the legal team that fought to allow gay and lesbian groups to march in Boston's St. Patrick's Day Parade. She is the first openly gay president of the Massachusetts Women's Bar Association, and is cofounder of the national LGBT advocacy group Lambda Legal.
Sarah Peake
State Representative, 4th Barnstable District | Election November 6
Sarah Peake is currently serving her sixth term representing the 4th Barnstable District on Cape Cod. Before her political career, Peake was a lawyer in New York. When she and her wife Lynn moved to Provincetown, they purchased a bed and breakfast, which they ran together for 23 years. In addition to running the inn, Peake became involved in her community, serving on the Provincetown High School Site Council, Charter Enforcement Commission, and the Provincetown Board of Selectman.
Peake serves as the Chair of the RTA caucus and is an honorary board member of the Lower Cape Outreach Council, Cape Rep Theater, a past President of the Provincetown Business Guild, and a member of the Provincetown Chamber of Commerce. In 2009, she was appointed as the MA Legislative Commissioner on the Atlantic State Marine Fisheries Commission, and in 2015, she was named Third Division Floor Leader, a member of the Speaker's team who serves a resource to other members for guidance and discussion on legislation priorities and concerns.
Brianna Wu
U.S. House Massachusetts District 8 | Primary Election September 4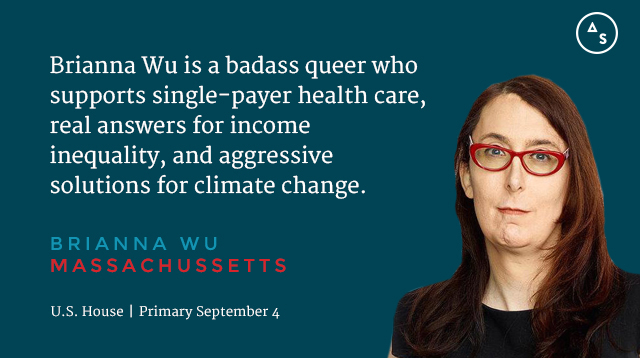 Brianna Wu is queer, and her platform supports single-payer health care, real answers for income inequality, and aggressive solutions for climate change. She rose to national prominence in 2014 as one of the primary targets of the Alt-Right during Gamergate, and has been raising hell ever since.
In an interview with Autostraddle last year, Wu shared,
I've always suspected that one day I'd be run for office. Yes, it's my first time with my name on the ballot—but I've worked in politics on and off my whole life. Constituent services, fundraising, canvassing, producing ads—this is not my first time to the rodeo. I've worked every major presidential election since 2004.

I expected to go back to my office in Boston and develop our next game after election night. We were in the middle of a big expansion. And, I was just in shock after Trump won. I kept asking my husband, "If I don't run now, when?" It's pretty similar to why I stood up to Gamergate. Something terrible was happening, and it's not my nature to sit out a fight.
Wu is the co-founder of independent gaming studio Giant Spacekat.
Michigan
Dana Nessel
Michigan Attorney General | Primary Election August 7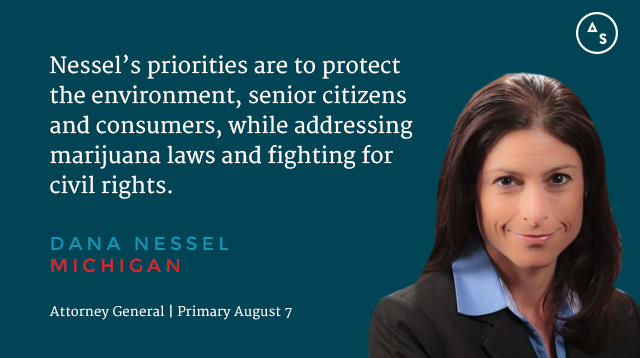 "Who can you trust most not to show you their penis in a professional setting?" asked former sex crimes prosecutor Dana Nessel in a November campaign video. "Is it the candidate who doesn't have a penis? I'd say so."
Nessel is the managing partner of Nessel & Kessel Law, and she has nearly 25 years of legal experience. In 2012, she spearheaded the precedent-setting case, DeBoer v. Snyder, which challenged the bans on adoption and marriage for same-sex couples in Michigan. This was later consolidated with its affiliated US Sixth Circuit cases into Obergefell v. Hodges, the landmark case that legalized same-sex marriage nationwide.
Nessel's priorities as Attorney General are to protect the environment, senior citizens and consumers, while addressing marijuana laws and fighting for civil rights. She notes that the AG's office can always be used as a bully pulpit in order to educate on issues such as anti-LGBTQ bullying, and would like to advocate as much as possible the expansion of sobriety courts, drug courts, mental health courts, and veterans courts. She lives in southeast Michigan with her wife, Alanna Maguire, their twin sons, Alex and Zach, along with various cats.
Nessel recently won the vote at the April 15 Michigan Democratic Party state endorsement convention at Detroit's Cobo Center and is the first openly gay person to run for statewide office in Michigan. If elected, she would be the first lesbian to head the 500-employee department, which was last won by a Democrat — Jennifer Granholm — 20 years ago.
Minnesota
Angie Craig
U.S. Representative, Congressional District 2 | Primary Election August 14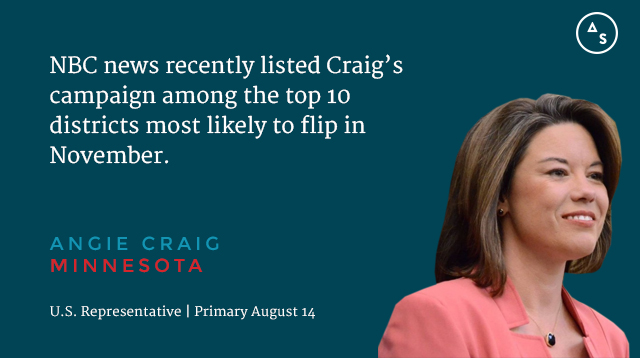 Craig was raised by a single mom in a mobile home park, and the central issues of her campaign reflect a dedication to improving the lives of working class people. These include: making affordable healthcare coverage available to everyone; expanding access to education, including both college and career training; and boosting the economy. Environmental issues are also big in Minnesota, with the Koch brothers' Pine Bend refinery notably located in the district. Craig advocates for clean water and clean air initiatives, and has called for Congress to accelerate the transition to renewable energy.
Craig first ran for Congress in 2016, but narrowly lost in what would be one of the closest races in the country. Previously, she worked as a journalist before transitioning to a successful career in the health care sector, rising to the level of executive at two healthcare companies before age 30. She and her wife Cheryl have four sons, one of whom Craig fought for in an intense legal struggle whose ruling helped pave the way for other same-sex couples to adopt.
NBC news recently listed Craig's campaign among the top 10 districts most likely to flip in November. I agree that we have a good shot here — in part because this is a historical swing district, and in part because her opponent Jason Lewis is a real scumbag.
Paula Overby
U.S. Senate, District 2 | General Election November 6
Paula Overby is a member of the working class and the first openly transgender Minnesotan to run for Congress. Here's an excerpt from her website:
Paula is a graduate of the University of Minnesota with a degree in psychology and a second major in computer science. As a full time working mother of three, she had a successful career as a systems analyst with experience in quality assurance, data analysis and process design. … Since leaving the two-party establishment in 2014 she has focused on political process reform and building a political movement that can successfully challenge the politics of wealth and the incumbency lock of the two major parties.

Through two campaigns, Paula has maintained a consistent track record: engaging the public in political process reform and converting military spending to social investment. She focuses on health care and education, two of the fastest rising costs in America.
Overby has run for election to House District 2 twice, losing both times in 2014 and 2016 while increasing her percentage of votes. She currently has the endorsement of the Green Party and is collecting signatures to get on the ballot.
Erin Maye Quade
Minnesota State Representative, District 57A | General Election November 6
Erin Maye Quade was elected in 2016, winning a "purple" seat previously held by a Republican. She sits on the Veterans Committee, the Job Growth and Energy Policy and Finance Committee, and the Education Policy Committee. She was also appointed to the Legislative Energy Commission in 2017.
In April, Maye Quade conducted a 24-hour sit-in on the floor of the Minnesota House of Representatives to protest lack of movement on gun control proposals in the Republican-controlled Legislature. This past month, she introduced a bill mandating affirmative-consent instruction for all Minnesota public high school students. She's also working with OutFront on a series of bills to protect LGBT rights, including outlawing conversion therapy for minors and vulnerable adults; and outlawing the gay panic defense. "The violence, the murder rates and the discrimination for finding housing or a job is such a huge hurdle for trans folks and gender-nonconforming people," said Maye Quade in an interview with Winona Daily News. "One of my duties as a queer woman is to know what the LGBTQ community needs as a whole and stand for them. Even if it's not for me, it's for us."
Maye Quade lives in Apple Valley with her wife, Alyse, and their rescue dog, Sota.
Missouri
Kathy Ellis
Missouri's 8th Congressional District | Primary Election August 7
Kathy Ellis is a psychotherapist with a BS in Administration of Justice from the University of Missouri-St. Louis, and a Master of Social Work from Washington University. The first-time candidate was inspired to run after attending the Women's March in D.C., stating, "As a clinical social worker, my code of ethics states that I must uphold the tenets of equality and social justice to all. I take this responsibility seriously and want to guarantee the promise of "Life, Liberty and the pursuit of Happiness" as outlined in the Declaration of Independence for all of the citizens of the 8th Congressional District."
Ellis has signed onto the Missouri Democratic Party Farmers' Bill of Rights, which supports a "set of values and policies that give power back to Missouri's farmers." Ellis also supports a single payer medical system to expand "medicare" for all and stopping anti-union "right to work" initiatives on the Federal level.
She and her wife Ann enjoy hiking wherever they travel, working in their gardens, and volunteering for things they believe in.
Montana
Kim Abbott
House, District 83 | Primary Election June 5
Kim Abbott has served in the Montana Legislature since 2017. She is the Co-Director of the Montana Human Rights Network, and prior to taking office, worked and volunteered for a number of non-profits as an organizer and advocate for issues relating to education funding; raising the minimum wage; and increasing access to healthcare. Abbott studied Philosophy and Religion at the University of North Carolina-Wilmington.
Among other issues, Abbott has fought hard to get LGBT anti-discrimination measures codified into law. In a moving testimony last February, she shared that she and her partner have faced discrimination as they've traveled around the state. "On a road trip, thinking about these things that seem minor: Should we both go to check in at the hotel?" she said. "Is it going to cause an issue? Will we have to lie? Will we be humiliated? … I'll tell you what – it takes a cumulative toll on your spirit. [The bill in question] will give an expectation that I shouldn't be discriminated against because of my sexual orientation. It will change behavior – laws do that."
She lives with her partner Tara in Helena.
Amelia D. Marquez
House, District 52  | Primary Election June 5
In an interview with The Montana Post, Marquez shared, "Currently, I work at a department store and nanny full time for my parents and the foster system. I came out as transgender about three years ago. At the end of the day, yes, I am transgender. I am also Latina, a sister, an aunt, a cashier. That is who I am but I want to emphasize that my candidacy and eventual representation of House District 52 will focus on the issues and not who I am."
Citing bell hooks as one of her biggest inspirations, Marquez states, "One of the biggest problems of our time is the imperialist, white supremacist, capitalist, patriarchy that has passed through generation after generation." Marquez wants to give the lower-middle class a voice, advocating for a minimum wage of $15/hour; tuition-free higher education; and potentially legalizing recreational marijuana and using the tax in support of education. If elected, she will push the 2019 legislature to create a budget that helps the most vulnerable and all working Montanans.
Andrea Olsen
House, District 100 | Primary Election June 5
Nevada
Pat Spearman
U.S. Congress, District 4 | Primary Election June 12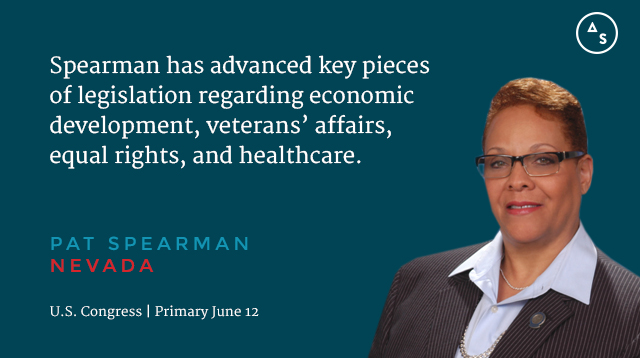 When Pat Spearman joined the Army in 1977, she lived in fear of being discharged for being a lesbian. During her 29 years of service, she served in the Army Operations Center of the Pentagon, graduated from the prestigious Command and General Staff College, ascended to the rank of lieutenant colonel, received the highest title of honor bestowed by the Commonwealth of Kentucky, and chaired the advisory council of Texas Region 6 of the Department of Health and Human Services. Following her military career, she won a seat on the San Marcos Independent School District Board. She became an organizer in Barack Obama's 2008 presidential campaign, and in 2012, was elected to the Nevada legislature. She was the first openly lesbian member.
During her time representing Nevada's 1st Senate District, Spearman advanced key pieces of legislation regarding economic development, veterans' affairs, equal rights, and healthcare. As she prepares to take her leadership to Congress, her priorities include fighting to pass the Equality Act; assisting veterans and servicemembers; providing Americans with clean energy job opportunities; and Medicare-for-all.
Spearman is an ordained minister. If elected, she would become the first Black openly lesbian woman to serve in Congress.
New Hampshire
Gerri Cannon
Representative, 18th Stafford District
See @GerriCannon.
Elizabeth Edwards
Representative, 11th Hillsborough District
New Jersey
Julia Fahl
Mayor of Lambertville | Primary Election June 5
See JuliaFahlforMayor on Facebook.
New York
Deborah Glick
NY State Assembly District 66
See deborahglick.com.
Tamika Mapp
NY State Assembly District 68
See tm4sa.com.
Andrea Marra
New York State Senate, District 52
See votemarra.com.
Cynthia Nixon
Governor of New York | Primary Election September 13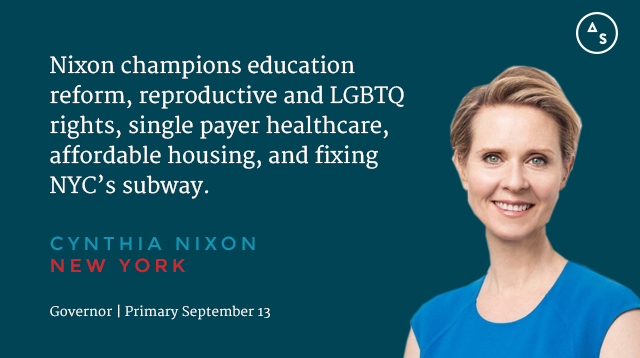 Cynthia Nixon, y'all! It's happening.
Here's what Heather had to say after the official announcement:
While Nixon is obviously most famously known as Miranda Hobbes from Sex and the City, she's made a real name for herself in activist communities in recent years, championing education reform, reproductive rights, LGBTQ rights, single payer healthcare, and affordable housing. Her wife, Christine Marinoni, is also longtime education activist who recently left her position with New York City mayor Bill de Blasio's administration to work with Nixon's campaign.

Perhaps, most importantly to people who live in New York City, Nixon has promised to fix the subway (which she rides every day).
Nixon challenges existing Governor Andrew Cuomo, and if elected, would make history as the first out governor in New York. Established LGBT groups and politicians in the state have largely backed Cuomo, citing his support for marriage equality and her lack of experience in politics. Nixon, in response, is blowing Cuomo out of the water with small donor contributor fundraising, and is selling "unqualified lesbian" pins on her Act Blue donation page.
Melissa Sklarz
New York State Assembly, District 30
See melissa2018.com.
North Carolina
Deb Butler
North Carolina House of Representatives, District 18 | Primary Election May 8
See electdebbutler.com.
Allison Dahle
North Carolina House of Representatives, District 11 | Primary Election May 8
See allisonforhouse.com.
Wendy May
U.S. Congress | Primary Election May 8
Marcia Morey
North Carolina House of Representatives, District 30 | Primary Election May 8
See marciamorey.com.
Marcia Morgan
North Carolina House of Representatives, District 19 | Primary Election May 8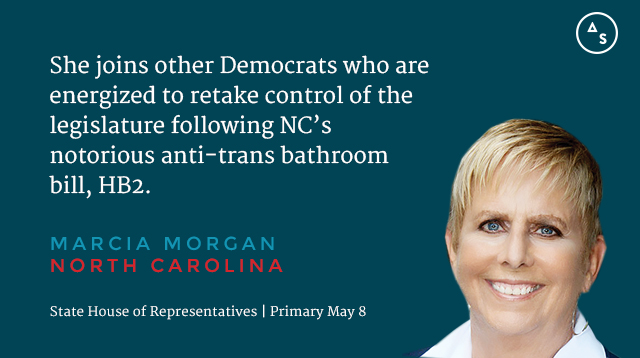 Marcia Morgan is a former professor and retired Army colonel with a strong sense of service to her community. She served for 25 years before retiring from the military, where her experience included two assignments at the Pentagon. Morgan is the youngest of four children raised by a single mother, which showed her first-hand the challenges faced by a woman forced to earn an adequate living in a biased society.
The first-time candidate will be the first to oppose Ted Davis since he defeated Emilie Swearingen by nearly 20 percentage points in 2012. She joins other democrats who are energized to retake control of the legislature following HB2, and pledges to base her decisions on research and communication with interested parties on all sides of an issue; be a model steward of donor and taxpayer funds; and work across the aisle.
Robyn Pegram
North Carolina House of Representatives, District 36 | Primary Election May 8
Born and raised in Apex, North Carolina, Pegram is a 24-year-old Libertarian who moved away from the Democratic party after seeing how they handled HB2. Specifically, a number of North Carolina Democrats, including Governor Cooper, supported HB 142 as a replacement. While that bill eliminated the controversial bathroom provision, it left in place a nearly four-year moratorium on local governments passing anti-discrimination laws.
"In a lot of ways, it can feel like when you're in the Democratic Party and you're in the LGBT community, sometimes you feel like a prop so that officials say one thing during campaign but do another once in office," Pegram told Indy Week. "I just wanted to get away from that completely."
Pegram supports expanding open enrollment within and between public-school districts; eliminating restrictions that force business relationships between private parties, such as those between North Carolina's craft brewers and distribution middlemen; and transitioning the current Medicaid direct payment model to a state-funded health savings account.
Ohio
Nickie J. Antonio
Ohio State Senate, District 23 | Primary Election May 8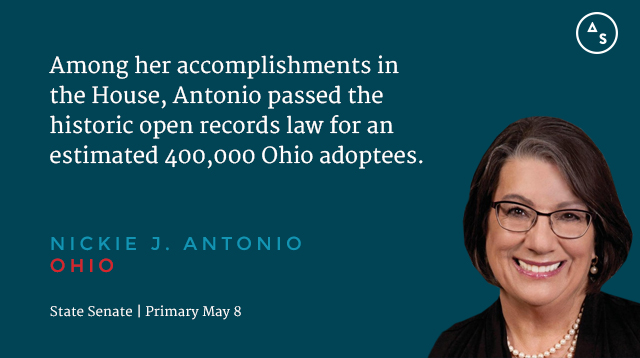 Representative Antonio is currently serving her fourth and final term in the Ohio House of Representatives (her second time as Minority Whip!), and is running for the corresponding Senate seat. She is an experienced public servant, having previously served five years on the Lakewood City Council and working for nearly 20 years as a consultant for non-profits and governmental agencies in Northeast Ohio, as well as administrator for a multi-county HIV/AIDS regional planning group. She's currently a board member of the non-profit Cleveland Tenants Organization, and previously worked as a special education teacher, an adjunct professor at CSU, and a non-profit executive director for a women's outpatient drug/alcohol treatment program.
Among her accomplishments in the House, Antonio passed the historic open records law for an estimated 400,000 Ohio adoptees, was a legislative leader on the fight against SB5, and continues to be a champion for protecting the collective bargaining rights of women and men in labor. She has also championed strategies to combat the opioid crisis, early childhood education, reproductive rights and has served as the health policy expert in her caucus.
Antonio is the first and only openly LGBTQ member of the Ohio State Legislature. If elected to the Senate, Antonio would be the first woman elected to serve Ohio Senate District 23. She and her wife Jean have two daughters.
Oklahoma
Kay Floyd
Oklahoma House of Representatives, District 88 | General Election November 6
See KayFloydforOK on Facebook.
Oregon
Kate Brown
Governor of Oregon | Primary Election May 15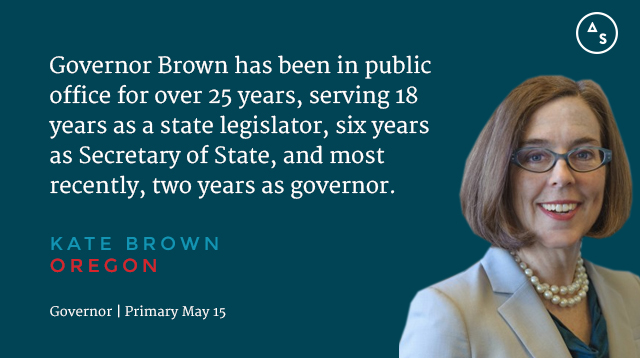 Governor Brown has been in public office for over 25 years, serving 18 years as a state legislator, six years as Secretary of State, and most recently, two years as governor. She made waves in 2015 as the the first openly bisexual person to serve at such a high level of political office in the United States.
Brown has been outspoken in resisting Trump, recently shooting back on Twitter that she would not comply with any orders to use National Guard troops to patrol the border. She signed a bill in April withholding state business from internet providers who throttle traffic, making the Oregon the second state to finalize a proposal aimed at thwarting moves by federal regulators to relax net neutrality requirements. In upcoming actions, Brown says she'll convene a one-day special legislative session to address inequities in the tax code, and will sign a bill that would disconnect Oregon's tax code from a federal tax provision.
Brown spoken openly about surviving domestic violence, and has attracted visibility on a national level. A review by The Register-­Guard found that one out of every three dollars Brown raised so far this cycle has come from out of state, for a total of about $1.3 million. This puts her in a good position to defend her seat against Republican Knute Buehler in the race this fall.
Kimberly Koops
Oregon House, District 112
See KimberlyforOregon on Facebook.
Faye Stetz-Waters
Circuit Court Judge in Linn County
Frayla Tarpinian
Cumberland County District Attorney | Primary Election June 12
See frayla.com.
Tina Kotek
Oregon House of Representatives, District 44 | Primary Election May 15
See votetina.com.
Christine Lewis
Metro Council
See christinelewisformetro.com.
Jamie McLeod-Skinner
U.S. House Oregon, District 2 | Primary Election May 15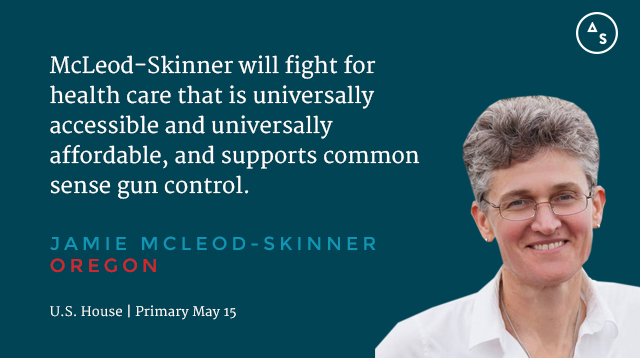 In 2004, McLeod-Skinner became the first lesbian elected to the Santa Clara City Council. During her 8 year term, she led her city to aggressively increase its renewable energy portfolio and provide greater affordable housing opportunities. She's earned degrees in Civil Engineering and Regional Planning, and has managed reconstruction projects in war-torn Bosnia, designed water systems in rural Kosovo, and served as a Senior City Planner in Silicon Valley.
McLeod-Skinner supports a tiered system of determining minimum wage where the rate falls into categories (standard rate, urban, and non-urban) and provides for regional variation. She will fight for health care that is universally accessible and universally affordable, and supports common sense gun control including a government buy-back program for military grade weapons, with no resale to civilians. Her plans are beautifully specific and detailed, check them out!
Karin A. Power
Oregon House of Representatives, District 41 | Primary Election May 15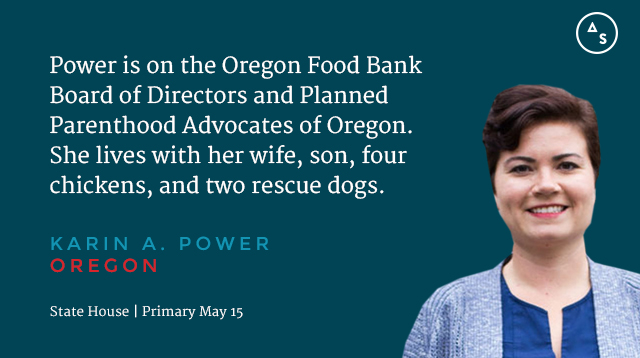 Representative Power currently represents House District 41, which includes the City of Milwaukie, Oak Grove, and the Sellwood, Eastmoreland, Westmoreland and Brentwood-Darlington neighborhoods of Southeast Portland. In her day job (legislative work is considered part-time), she is Associate General Counsel at The Freshwater Trust, working on cooperative solutions to the tough water quality and quantity issues facing our state and Pacific Northwest. She is on the Oregon Food Bank Board of Directors and Planned Parenthood Advocates of Oregon and holds constituent coffees most second Saturdays of the month.
Power lives with her wife, baby son, four chickens, and two rescue dogs in Milwaukie.
Pennsylvania
Mary Auker-Endres
Pennsylvania House of Representatives, District 98 | Primary Election May 15
See maryforpa.com.
Lisa Boeving-Learned
Pennsylvania House of Representatives, District 8 | Primary Election May 15
Ashley Lunkenheimer
U.S. House of Representatives, PA | Primary Election May 15
Amber Sloan
Allegheny County Democratic Committee | Primary Election May 15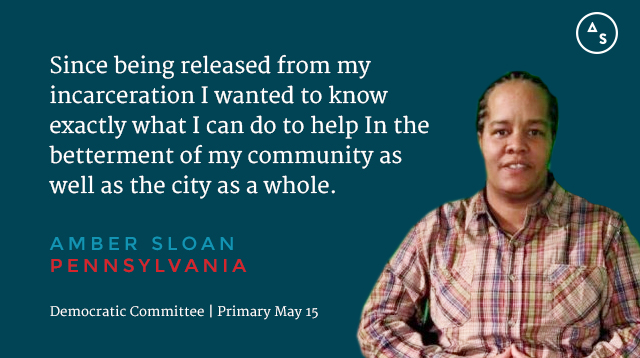 Amber Sloan is from Homewood Brushton, a Black neighborhood located east of Downtown Pittsburgh. In an interview with PGH Lesbian Correspondents, Sloan shared:
Since being released from my incarceration I wanted to know exactly what I can do to help In the betterment of my community as well as the city as a whole. As a engaged 12th ward resident, I'd like to continue serving so that I can do my part to ensure the priorities and values of my neighbors are reflected it the policies, endorsements, and political processes that I doubt Lay shape our communities, so that's why it's important for me to be at the table, as a Alleghany County committee member.
Sloan identifies as a lesbian.
Kristin Seale
Pennsylvania House of Representatives, District 168 | Primary Election May 15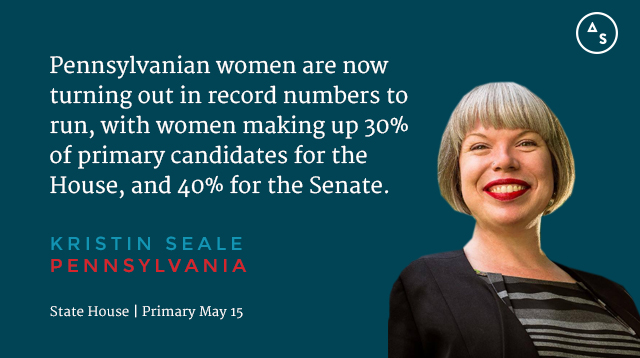 Currently, only 18% of Pennsylvania House seats are held by women, making the state the second worst in the country for women's representation. Coming on the heels of some truly horrifying abortion ban bills, Pennsylvanian women are now turning out in record numbers to run, with women making up 30% of primary candidates for the House, and 40% for the Senate. Says Kristin Seale, "Pennsylvania's 168th House District is 52% women, but none have ever represented it in Harrisburg. It's long past time! I'll fight for bold, progressive solutions to my neighbors' real daily problems."
Seale supports an independent citizen and subject matter expert led commission for redistricting, and will fight attempts to preserve or exacerbate the current gerrymandered state districts. (Note: earlier this year, the Pennsylvania Supreme Court released a new congressional map after the state Senate, House, and Governor were unable to agree.) In addition, Seale is an out queer candidate whose dream is to convene the first LGBTQ Caucus with more than one elected, out legislator in the PA General Assembly in 2019, and to continue to build that bench at every level across the state until true representation for the community in electoral politics is realized. She supports Medicare for All, increasing state funding for K-12 education, making college and trade school in essential fields available free of charge; and raising the minimum wage to $15 an hour.
Growing up in a working class/poor family in Baltimore, Seale was politically engaged from a young age. She is a founder of two successful nonprofit women's sports organizations, and currently serves on the leadership team of a statewide energy nonprofit. After being a Sanders' delegate at the 2016 DNC, she was elected Rose Tree Media School Board Director in November 2017, winning an historic number of votes in the race. She is the proud mother of two daughters as well as spouse to Chris Seale.
Rhode Island
Deb Ruggiero
Rhode Island House District 74
See debruggiero.com.
Texas
Candace Aylor
Texas House District 47 | Eliminated From Primary Election March 6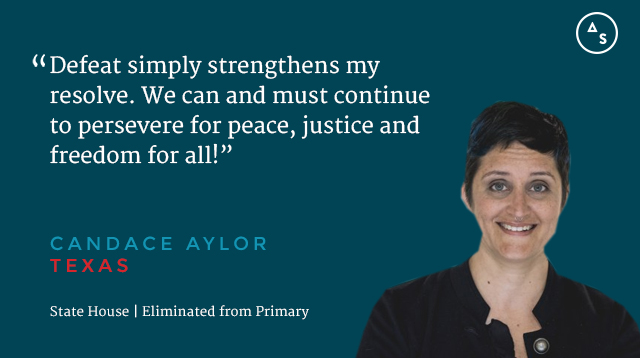 Whoever wins the primary for this Austin swing district is in for a good race —  progressive local voters are frustrated about the gerrymandering that created this conservative stronghold, as well as all the bathroom bill nonsense from last year. While campaigning, Aylor ran on a social and racial justice-centered platform, including dismantling the school to prison pipeline. She works as a recovery room nurse and has been a children's mental health and education advocate for many years, serving as a parent representative on both the District Advisory Council and the Special Education Advisory Council to the Austin Independent School District; as a member of the Trauma Informed Care Consortium of Central Texas; as the parent representative on the Planning & Network Advisory Committee to Austin Travis County Integral Care; as Mental Health Policy Lead for Austin Justice Coalition; and as the Health Advisory Board Chair for Measure Austin.
As of March 7, Aylor posted to Facebook: "I love you all to the moon and back. I'm not ready to call it just yet. Who ends up in the top 2 is not yet decided, and that will greatly determine what our next steps will be. It is not looking like it will be me this go around, but if you know me at all, you know I never stop fighting. Defeat simply strengthens my resolve. We can and must continue to persevere for peace, justice and freedom for all!"
Shannon Baldwin
Judge in Harris County Criminal Court 4 | General Election November 6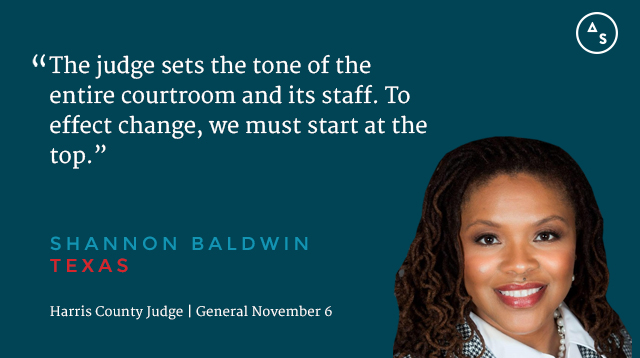 Baldwin is currently a partner at Baldwin Williams & Associates PLLC, where she practices criminal defense. She has over two decades of professional experience as a prosecutor and defense attorney, and is passionate about building a judicial system that is blind to race, religion, color, creed, sexual orientation, and gender identity. Says Baldwin, "The judge sets the tone of the entire courtroom and its staff. To effect change, we must start at the top."
Baldwin ran unopposed in the Democratic primary on March 6. She faces off against incumbent Republican John Clinton in the general election.
Lorie Burch
US House of Representatives, Texas Congressional District 3 | Primary Runoff Election May 22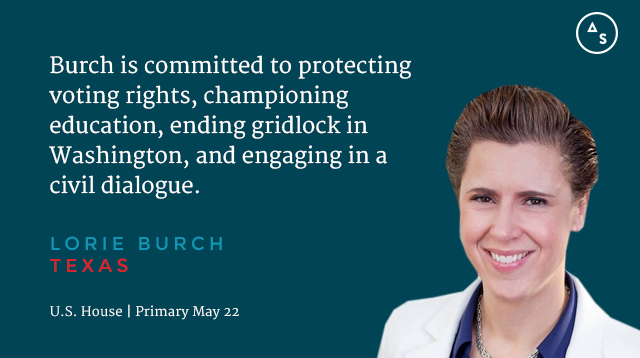 Burch is committed to protecting voting rights, championing education, ending gridlock in Washington, and bringing together different segments of the community to engage in a civil dialogue. She's made the decision not to take money from PACs and is dedicated to campaign finance reform. She hopes to "put Plano on the map as a community that welcomes and values diversity, inclusion, civility, education, economic growth and opportunity for all."
Burch won 49% of the vote in the first round primary and is optimistic about her chances in the runoff. She married her wife Kimberley last summer, and lives in Plano with her and their two daughters.
Early voting for the runoff election takes place May 14-18.
Vanessa Edwards Foster
U.S. House of Representatives, District 27
Vanessa was eliminated during the primary. See fosterforcongress on Facebook.
Jessica González
Texas House of Representatives, District 104 | General Election November 6
Jessica A. González is an attorney who was selected as the 2011-2012 Law Graduate fellow for the Congressional Hispanic Caucus Institute Fellowship program. There, she served as a Legislative Assistant at the U.S. House of Representatives where she handled an extensive policy portfolio, including Foreign Affairs Committee. During the Obama Administration, González also served under the Special Assistant for Immigration Policy to the President, where she researched and wrote extensively on immigration-related issues, including the DREAM Act. Following this, she opened her own law firm, Gandara & González, PLLC, where she specializes in personal injury litigation.
As Representative, González pledges to increase the States share of public education funding; address the negative impact of gentrification; and increase resources for the Texas Department of Family and Protective Services. She handily defeated incumbent Roberto Alonzo in the March 6 Democratic primary, 62.5% to 37.5%. Moving into the general election she is unopposed, with no other candidates having filed before the December 2017 candidate filing deadline.
Mary González
Texas House of Representatives, District 75 | General Election November 6
González is a University of Texas grad with a B.S. in history and Mexican American Studies, and an M.S. in liberal arts and social justice from St. Edward's University. She was first elected to the chamber in 2012, and during the most recent Legislative Session she empowered foster parents to act as special education decision-makers; created a way for employees seeking help in recovering unpaid wages to file a claim electronically; and served on the House Appropriations Committee for the first time.
González is dedicated to fighting for fully funded classrooms, access to basic health care and fairness for all. She came out as pansexual the year of her election and is currently serving her third term.
Rosa Maria "Rosie" Gonzalez
Judge of the Bexar County Court at Law in Texas | General Election November 6
Rosie Gonzalez comes from a working class family in Brownsville, Texas, Growing up, she remembers being told that because she was a girl, she wasn't allowed to play Little League baseball, participate in full court basketball, or attend drafting classes. Luckily, her family was very supportive, putting up no barriers on who she could become or what she could become — as long as she pursued her education.
Gonzalez attended St. Mary's University where she earned her Bachelor of Arts in Political Science and later her law degree. She started a family law practice and is a graduate of the Women's Campaign School at Yale University. Gonzalez has devoted her career as an attorney to obtaining fairness and justice for the disenfranchised and the voiceless, and she is committed to ensuring women get a seat at the policymaking table of their respective communities of origin.
During the primary, her campaign earned the highest number of votes of any Bexar County Court at Law.
Jess Herbst
Mayor of New Hope
See jessherbst.com.
Celia Israel
Texas House District 50 | General Election November 6
When Judge Israel was first elected to the chamber in a special election in January 2014, she became the second openly LGBTQ member of the Texas Legislature in history. (The first was Rep. Glen Maxey, serving district 51 from 1991-2003.) Per Israel's official house site, she serves on the House Transportation Committee and is vice-chair of the Elections Committee, focusing on congestion relief, public safety, multimodal innovation, and making it easier for Texans to vote. Israel is also second vice chair of the House Democratic Caucus, and is a member of the Legislative Study Group, the Innovation and Technology Caucus, the Women's Health Caucus, and the Mexican American Legislative Caucus.
Israel ran unopposed in the primary and will also run unopposed in the general. She is a licensed Texas Realtor who lives with her long-time partner, Celinda Garza, and their dog, Kia, in Northeast Travis County.
Julie Johnson
Texas House of Representatives, District 115 | General Election November 6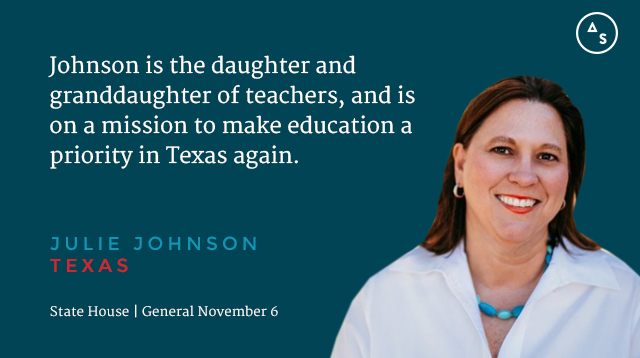 Julie Johnson is a small business owner and practicing attorney. She is the daughter and granddaughter of teachers, and is on a mission to make education a priority in Texas again. Specifically, she'd like to increase spending per student by addressing the school funding formula, using Texas's healthy sales tax surplus and Rainy Day fund in the short term, and exploring options from consolidating local authorities to centralizing and simplifying property tax jurisdictions in the longer term. Johnson also supports bail bond reform and a high speed rail between Houston and Dallas.
Johnson is a classically trained vocalist who, in her career has sung with groups ranging from church choirs to the Dallas Symphony Chorus. She's married to gastroenterologist Dr. Susan Moster and has two teenage sons.
Sara Martinez
Judge in Dallas County Justice of the Peace Court Precinct 5, Place 1 | General Election November 6
Judge Martinez was first elected in 2014, and currently presides over evictions, small claims, debt claims, and traffic matters as one of ten JPs for Dallas County, Texas, a region stricken with poverty. While in office, she was elected by her peers to serve on the Dallas County Bail Bond Board and was also invited to serve on the Dallas County Dispute Resolution Center Board. Other accolades include the Emerging Leader award by the Greater Dallas Hispanic Chamber of Commerce and a leadership award from the LULAC Rainbow Council.
I am committed to social justice issues and have worked tirelessly to assist the disadvantaged and those lacking access to services in their own communities. As a law student, I dedicated my summers to providing legal aid to disadvantaged clients. As a working professional, I worked as a non profit grant writer for the mental health authority in South Texas as well as for the Rio Grande Valley Food Bank. As an attorney, I formed a solo law practice and represented numerous clients free of charge. I then joined the Dallas County Public Defender's office to continue to serve those in need. I see my candidacy as a natural extension of that desire to help others. As your Justice of the Peace, I commit to being accessible and available to ALL people I represent.
Marinez is the daughter of migrant farmworkers and was born and raised in the Rio Grande Valley. She is one of only three women filling the ten-person bench.
Shannon McClendon
Texas State Senate, District 25 | Eliminated From Primary Election March 6
McClendon was defeated in the Republican primary by incumbent Donna Campbell, but you can still watch her fascinating campaign video:
In a Facebook post on March 7,McClendon wrote, "I am filled with a deep appreciation for all of the support I received and all of the efforts involved in this campaign for SD 25. I look forward to continued efforts for the benefit of all residents and businesses to prioritize the fiscal issues of the District."
Gina Ortiz Jones
U.S. House of Representatives, District 23 | Runoff Election May 22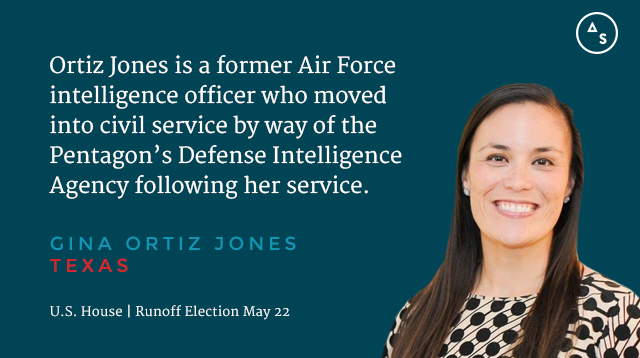 Gina Ortiz Jones is a former Air Force intelligence officer who, following her military service, moved into civil service by way of the Pentagon's Defense Intelligence Agency. When Trump won the presidency, she stayed on in her job as a director in the Office of the U.S. Trade Representative (which is responsible for recommending trade policy to the president). By June, however, she couldn't take it anymore.
"I wanted to see what good I could do from within, but that became very difficult personally and professionally," Ortiz Jones shared in an interview with Keith Chow. "I've worked in countries where women and minorities are targeted. I've served in countries where governments disregard the conflict of interest. That's hollowed out these countries, and what it's done to these democracies… to think that we'd be threatened by those things here, I just felt called to serve in a different way."
Ortiz Jones quit her job and moved home to San Antonio to run for Congress — a task requiring all of her attention, as Texas' 23rd congressional district is one of the most competitive in the nation; it flips parties in almost every election. As Representative, her priorities will be creating jobs and growing the economy; commonsense gun control; responsible immigration reform; and a single payer healthcare system. If elected, she would become the first openly lesbian congresswoman in Texas history; the first Iraq War veteran to hold a House seat in Texas; the first first-generation Filipina American to hold a House seat in Texas; the first woman elected to represent Texas' 23rd district; and likely the first person who left the Trump administration and ran for office to oppose that same administration.
Tonya Parker
Judge in Texas District Court 116 | General Election November 6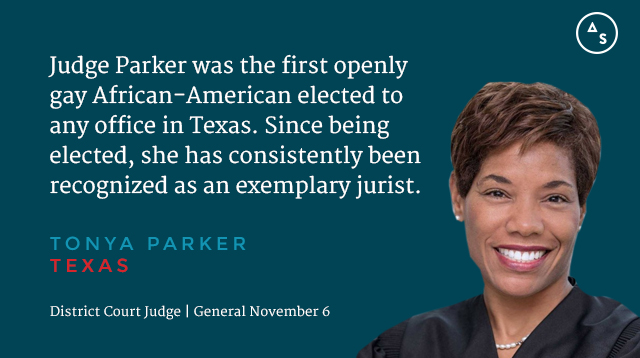 Judge Parker was the first openly gay African-American elected to any office in Texas. She came to national attention nearly a year into her first term, when in 2012 she declared that she would not perform any marriage ceremonies in her courtroom until marriage equality passed.
Since being elected, Parker has consistently been recognized as an exemplary jurist, with ratings from the Dallas Bar Association Evaluation Polls among the highest at over 90 percent. Says Parker, "I was very humbled by the public's response to the effort I give in preparing for and presiding over the docket each day. The other part of my response was the feeling that, maybe, I had really done something for lawyers of color, women lawyers, and LGBT lawyers that would open the door that much wider for them to have opportunities to serve in the judiciary. I think that's what really bowled me over, the idea that my service could lead the way for others to serve because people will see what can be missed when people are discriminated against on the basis of immutable characteristics. If the public would have done that, I would never have gotten a chance to serve. That's what those poll ratings mean to me more than anything."
Stephanie Phillips
Texas House of Representatives District 73 | General Election November 6
See stephanie4tx73.com.
Jenifer Rene Pool
Texas House of Representatives, District 138
See jeniferfortexas.com.
Susan Steeg
Judge in Travis County Justice of the Peace Court Precinct 3 | Eliminated From Primary Election March 6
Judge Steeg presided over the Justice and Small Claims Courts of Precinct 3 from 2007 to the present, with her term ending this year. During her time as judge, Steeg is proud to have launched a nationally recognized truancy prevention program, providing a way to help students and their families through a restorative justice approach. She also eliminated backlogs in the civil and criminal docket and lead the courts to implement cloud-based case-management software.
Steeg was unseated in the Democratic primary by Sylvia Holmes.
Rebecca "Becca" Tucker
Guadalupe County Commissioner of Precinct 4 | General Election November 6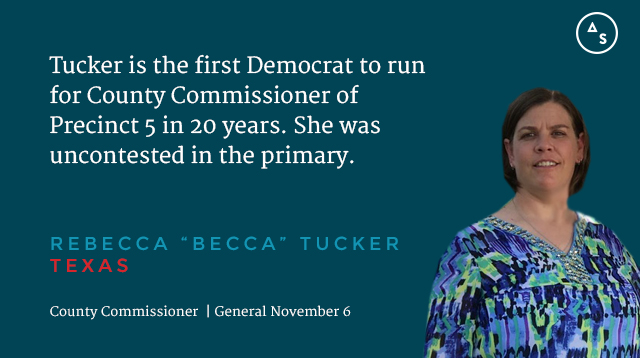 Tucker is the first Democrat to run for County Commissioner of Precinct 5 in 20 years. She was uncontested in the primary, and is committed to building a sustainable living-wage economy, including lowering unemployment. She will advocate for more investment in local communities by companies, whether through apprenticeship programs, or setting up formal partnerships with local high schools and adult employment services to establish vocational training programs. She also promises to push for accountability when companies receive tax incentives but fail to deliver the jobs and wages promised.
Tucker lives with her wife of 17 years, Stephanie, in New Berlin. She works as a global marketing manager for an international business consulting firm in San Antonio, and volunteers in the Guadalupe County Community Emergency Response Team (CERT) and at the local Humane Society. She and her wife often foster orphaned kittens left at the shelter, and in other endearing news, Tucker also uses her Twitter account to warn followers about heavy rain.
Mary Wilson
U.S. House of Representatives, Texas Congressional District 21 | Runoff Election May 22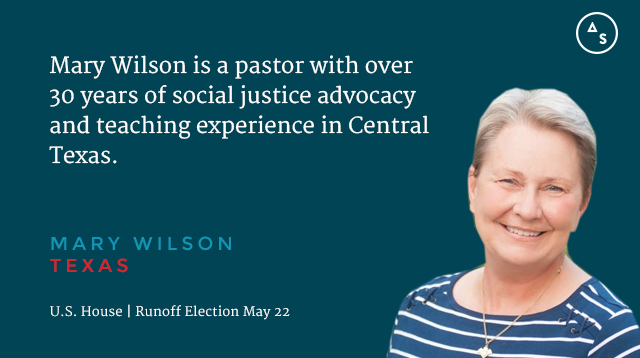 Mary Wilson is a pastor with over 30 years of social justice advocacy and teaching experience in Central Texas. Despite having little money behind her bid, Wilson unexpectedly won the most votes in the Democratic primary (30.93% of the vote, with opponent Joseph Kopser getting 28.98%). The candidate supports a $15 minimum wage, single-payer Medicare for all, and college for all. She's calling for common sense gun control, and a humane, safe and fair immigration policy that will reject Trump's racist border wall and move to immediately pass a clean DREAM Act.
Wilson has both a BS and MA in mathematics, and is currently a doctoral student at Brite Divinity School working on her final project on trauma from sexual abuse and theological aspects of recovering from traumatic experiences. She and her spouse, Betty, recently celebrated 24 years together.
Lupe Valdez
Governor of Texas | Runoff Election May 22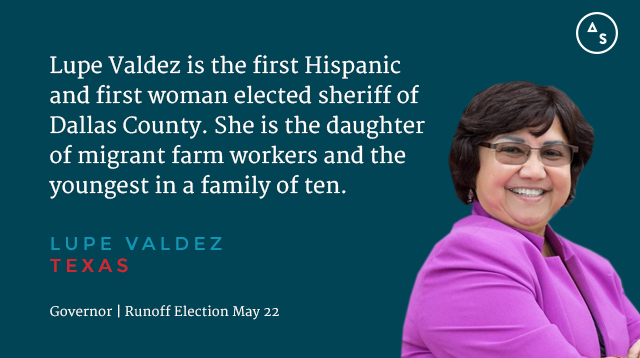 Lupe Valdez is the first Hispanic and first woman elected sheriff of Dallas County. The daughter of migrant farm workers and the youngest in a family of 10, Valdez the value of a strong work ethic and the opportunity that comes with education. She put herself through college to earn a Bachelor's Degree in Business Administration from Southern Nazarene University, sometimes working two jobs to pay for her education. Later, while working as a federal agent, she completed her Master's in Criminology from UT-Arlington.
As sherriff, Valdez worked to improve the quality of care for mentally ill inmates, and strove to ensure that any individual touched by the criminal justice system was treated with respect and dignity. As a candidate for governor, Valdez supports Medicaid expansion and the ending of medical deserts in urban and rural Texas; universal pre-k and college for everyone; and infrastructure investments in support of clean water and improved public transit. She is seen as the frontrunner after getting 43% of the vote in the nine-candidate primary, compared to 27% for Andrew White (who is now desperately calling for debates).
Fran Watson
Texas State Senate, District 17 | Runoff Election May 22
Following an open primary where no candidate won 50% or more of the vote, Watson is advancing to a primary runoff election between her and Rita Lucido. If Watson wins the seat, she would become the first openly LGBTQ member of the Texas Senate, and just the third black woman elected to the body.
In an interview, Watson shared her perspective on the need for people-centered policies that provide equal access to opportunity. "I've been through some tough times in my life — from losing my mother at a young age to breaking both my legs and being temporarily disabled — and I have dealt with depression as a result of these challenges. But I've always recognized a chance for a better life. With community support, all things are achievable. I believe in public service and I am inspired to do the work by those who came before me… My service is a way to be part of my community's support system — there are times when any of us could be and will be knocked down and need help getting up. I want to be there in those times of need."
Key issues of Watson's platform include criminal justice reform, Medicaid expansion, protection of voter's rights, strengthening the public education system, raising the minimum wage, and solving problems of inequity and access.
Erin Zwiener
Texas House of Representatives District 45 Hays & Blanco Counties
See erinforyall.com.
Utah
Misty K. Snow
U.S. House, District 2
Misty withdrew from the race. See mistyksnow.com.
Vermont
Christine Hallquist
Governor | General Election August 14
Christine Hallquist is the first openly transgender person to officially run for governor as a major party candidate in any state in the country. Among other issues, she is running to foster real economic development in rural communities; to improve the health care system; and to ensure children's access to quality public education. "Most of all, I am running because I must," said Hallquist in her campaign announcement speech. "When I heard Muslim Girls Making Change speak at the Youth March in January, I realized that I had an obligation to them, and to all Vermonters, to move Vermont forward. This is not a time in American history to sit back and be apathetic. Vermont does not need stagnation, and as a state we must be bold."
Hallquist is the former CEO of Vermont Electric Co-op, transforming the organization from near-bankruptcy to a thriving national leader on using renewable sources of electricity production to combat climate change. She's served as Hyde Park Town Meeting Day Moderator for the past five years, served 12 years on the Lamoille Economic Development Corporation Board, chaired the Sterling Area Services Mental Health Board, and served on the Hyde Park School Board. She and her wife Pat live in Hyde Park next to the Green River Reservoir.
Debbie Ingram
Senate, Chittenden County District
See ingramforsenate.com.]
Virginia
Nicole Carry
Norfolk School Board, Ward 1
Nicole Carry was narrowly defeated by Adale M. Martin in the election held May 1.
Here's an excerpt from the bio on her website:
Originally from Clarkston, Michigan, Nicole is a self-made woman who began her career in the U.S. Navy in 1991. She served in Sigonella, Sicily supporting numerous NATO operations and later on the Norfolk-based USS ARCTIC (AOE-8), one of the first series of combatant ships that deployed women. Nicole was honorably discharged from the Navy in 1997 and made Norfolk her permanent home. She worked as a contractor to the Department of Defense supporting the U.S. Navy working with Battle Force Tactical Training & Combat Systems Operational Sequencing Systems. She later transitioned to the commercial sector and focused on consulting, architecting, and building Information Technology systems for Virginia corporations, schools, cities and medium-sized businesses. …

In 2016, she co-founded Norfolk Forward, an umbrella non-profit organization that collaborates with various community and regional partners to form smart communities. Her inspiration is based on her experiences in technology and civic duties coupled with her desire to move Hampton Roads forward through community collaboration and civic engagement. Nicole is actively involved in local and state government as well as numerous non-profit organizations. In 2016, she was appointed by Norfolk Mayor Kenneth Alexander to serve on Norfolk's Naval Base Centennial Commission. Gov Governor Terry McAuliffe appointed her as a Board Trustee of the Virginia Veterans Services Foundation, which supports 781,000 veterans in the Commonwealth. She was also unanimously appointed to fill a temporary vacancy on the Norfolk City Council to represent Ward 1.
Carry was Norfolk's first openly gay city council woman.
Danica Roem
Virginia House of Delegates
See danicaroem.ngpvanhost.com.
Washington
Laurie Jinkins
Washington State Representative, 27th LD | Primary Election August 7
See lauriejinkins.com.
Kathy Gillespie
Washington State Representative, 18th LD | Primary Election August 7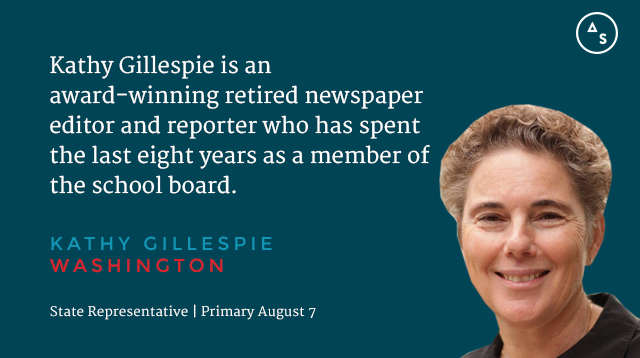 Kathy Gillespie is an award-winning retired newspaper editor and reporter who has spent the last eight years as a member of the school board, working to improve student success at Vancouver Public Schools. She has served as a Lunch Buddy, reading tutor and high school mentor to young women at Fort Vancouver High School, and has served in leadership roles on Parent Teacher Associations at multiple schools.
As representative, Gillespie promises to carry the stories and concerns of constituents with her as she advocates for a larger share of the state's tax revenues to be directed toward infrastructure development, job creation, public safety, public education and social services in the 18th District. She's been married to her wife Debbie for 27 years, and has two children in college.
Christine Kilduff
Washington House of Representatives, District 28 | Primary Election August 7
See christinekilduff.com.
Nicole Macri
Washington House of Representatives, District 43 | Primary Election August 7
Nicole Macri was elected to the Washington House of Representatives in 2016. She currently serves as vice chair of both the Healthcare and Wellness Committee and of the Community Development, Housing, and Tribal Affairs Committee, and is a member of the Capital Budget Committee. Macri has more than 20 years of experience championing progressive causes on issues around affordable housing, homelessness, human services, and mental health, including leadership in the national Housing First movement to end the homelessness of people living with serious disabilities.
This past year, Macri introduced a bill that would outlaw no-cause evictions, but ultimately failed. She's working to re-introduce just cause legislation in 2019, and continue her advocacy for housing justice.
Interestingly, Seattle's 43rd district has been a bulwark for gay representation in Washington, including at least one gay person at all times since 1987. Macri is a member of the Washington State Legislative LGBTQ Caucus, and lives with her partner, Deb, in the Capitol Hill neighborhood of Seattle.
Emily Randall
State Senate, District 26
Emily Randall is a community organizer and a healthcare and education advocate. Coming out of last year's Womxn's March, she's been active in the Kitsap Huddle, and has been running for office full time since February. District 26 has long been a swing district, though it's been under Republican control since 2013. With incumbent Republican Senator Jan Angel's surprise retirement announcement, it's now considered a prime pickup opportunity for Democrats in a cycle that is expected to be difficult for Republicans.
"I've gotten some pushback for being a radical progressive, which is not a way that I identify myself. I don't feel like it's radical to believe that women and children and the LGBTQ community deserves healthcare and education," said Randall in a podcast interview with She's Running. "When I was first expressing interest in running, some folks told me that I would have trouble because I was too far left for my district. And that's hard to hear, but I also knew that it wasn't true. … I grew up here; I know my teachers and my neighbors and, you know, folks that work at the grocery store. I know that especially in this post-Trump America, our community's values are of inclusion and community. And those are values that I can lift up. That's the challenge. People say that I'm a liberal feminist lesbian. Sure! Make a poster."
Claire Wilson
Washington State Representative, 30th LD | Primary Election August 7
See claireforsenate.com.
Washington, D.C.
Dionne Reeder
D.C. Council At-Large | General Election November 6
Dionne Reeder is an Independent running for one of two at-large D.C. Council seats up for election this year. Previously a Legislative Assistant for the House Committee on Natural Resources, Reeder left Capitol Hill to lead work more directly in her community. At the D.C. Community Prevention Partnership she developed a college prep program that helped over 200 young people get into college. Working with D.C. Mayor Anthony Williams, she managed a $9 million budget to curb youth violence in the city, and acted as Neighborhood Services Coordinator in Ward 8. And to combat the food desert in Anacostia, Reeder started Cheers at the Big Chair on MLK Avenue SE, a full service restaurant that both serves the community and hires from within it.
As a council member, Reeder will champion investing in her community. She's passionate about ensuring equal access to opportunity, including investing in young people to allow every D.C. resident to reach their full potential. If elected, she'll be the first out lesbian member on the Council.
Wisconsin
Tammy Baldwin
US Senator for Wisconsin | Primary Election August 14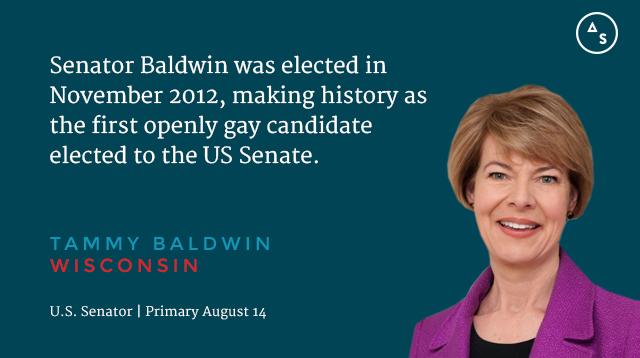 Senator Baldwin was elected in November 2012, making history as the first openly gay candidate elected to the US Senate, as well as Wisconsin's first woman to serve in the position. As Senator, she's advocated fiercely for the Affordable Care Act and rallied hard around protections for preexisting conditions, a subject she has personal experience with. Other issues near to her heart include addressing the student debt crisis and college affordability; protecting and growing manufacturing in Wisconsin; and supporting veterans' health, education, and job-training programs. Recently she's also been sharing messages of support for commonsense gun control, inspired by the youth movement.
As the most prominent progressive left in the Badger State, Baldwin is in for a tough race this year. Although there's no Republican candidate decided yet (the primary is in August), outside conservative groups have already funneled $8.5M into Wisconsin to defeat her. The filing deadline for primary candidates is June 1; stay tuned.
Marisabel Cabrera
Wisconsin State Assembly, District 9  | General Election November 6
Here's an excerpt from Marisabel Cabrera's website:
Marisabel Cabrera is what you would call a true success story. Born and raised in Milwaukee's Southside, Marisabel's family struggled to get by and on more than one occassion relied on the neighborhood church for food and other basic necessities. Marisabel became acutely aware of her family struggles at the age of seven when her family resided in Puerto Rico and survived solely off the food they planted, the animals they raised, and the clothes they made. She remembers her parents constantly emphasizing that the surest way out of poverty is through a good education. To this day, Marisabel says she owes all of her success to the quality education she received at public schools.

Despite having a very modest childhood, today Marisabel is a local entrepreneur, respected immigration attorney, and mayoral appointee to the Fire and Police Commission. As an attorney with her own immigration practice, Marisabel fights to keep families together and assist immigrants in finding safety in the United States. As a Fire and Police Commissioner, she strives to strike a balance between providing the Fire and Police Departments with the training and resources necessary to perform their public safety duties while ensuring that transparency and accountability are not forgotten.

Marisabel Cabrera is running for the state assembly so that each and every person, regardless of nationality, gender or orientation, has the same opportunities, services and protections to prosper and safely enjoy their home and community.
Cabrera supports increased funding to public safety programs; demanding that the federal government do its job and not require the use of local resources to enforce federal immigration laws; and securing funding for neighborhood and public beautification efforts.
Jackie Moore
Ashland School Board
See expectmoore.votejackie on Facebook.
Danae Steele, M.D.
Neenah Common Council
Danae Steele ran for and won a seat on the Neenah Common Council in April! Here's what she wrote on her campaign page:
I'm running for Neenah Common Council because I care about our community and want to make sure it grows to serve all of our residents. I want our city to be a desirable place to live for those of us already here, as well as welcoming to new individuals and families. This means we need good jobs, a variety of housing options, a safe environment, an inviting downtown, and plenty of activities for all ages.

My background: I'm a sub-specialist in obstetrics and gynecology in high risk pregnancy (Maternal-Fetal Medicine). I moved to Neenah in 2012 from Green Bay. I live with my spouse and our 9 year old daughter and an international exchange student at Fox Valley Technical College. We also have 5 adult children and 14 grandchildren. I love hiking and backpacking, competing with and training my English Cocker spaniels, quilting (you can see my dogs and my quilts at www.nohea.net), reading, and music. … If elected, I look forward to working with the other Council members as well as the Mayor and city employees to promote a diverse community that serves all of us.
JoCasta Zamarripa
Wisconsin State Assembly, District 8 | Primary Election August 14
In 2010, JoCasta Zamarripa won a historic election by becoming the first Latina woman elected to the Wisconsin Legislature. She publicly came out as bisexual during the launch of her 2012 re-election campaign. Zamarripa won both that race and the next, and currently serves in leadership for the Assembly Democrats as their Vice-Caucus Chair. She has been an outspoken voice against Republican anti-immigrant policies, as well as advocating for undocumented Wisconsinites.
Prior to her career in politics, she worked as a community outreach coordinator for Planned Parenthood of Wisconsin, working with women and teens in Milwaukee on access to sex education and healthcare. She is the third LGBT member to serve in the Wisconsin House of Representatives.
Wyoming
Cathy Connolly
Wyoming House of Representatives, District 13 | Primary Election August 14
Honestly, bless Cathy Connolly. This woman puts up with a lot.
Now seeking re-election for a fifth two-year term in the House, Connolly is a progressive Democrat who supports Medicaid expansion; increased anti-discrimination protections for all citizens; and increased TANF (Temporary Assistance for Needy Families) levels indexed to inflation. She has been on the board of directors of Cancer Control Task Force, the Albany County SAFE Project, and United Gays and Lesbians of Wyoming (now WE, Wyoming Equality). She served several years as a grant reviewer for the State Division of Victim Services and is currently a member of the State's Early Childhood Advisory Committee. She has also served as a facilitator and consultant for the Wyoming Council for the Humanities, leading hard conversations about topics facing our state in the "Justice Talking" and "Faces of the Family" series.
Although Connolly has run up against her share of anti-gay sentiment in the past, it took her by surprise when, just this December, her same-sex marriage was repeatedly called "disgusting" during a public hearing while her colleagues listened and remained silent. She had introduced a bill to update gendered terminology in state statutes, replacing "husband and wife" with "spouse," "married couple," or "parents," as appropriate. Instead of removing the archaic language, her fellow legislators defended the ugly personal attacks as "free speech," then voted down the bill.
Two months later, the Wyoming House passed a bill to create a day commemorating the first woman elected to statewide office, Estelle Reel. This was done in spite of Connolly's objections to celebrating a woman who overtly discriminated against Native Americans and other women. Though Connelly shared an article from the Wyoming Historical Society that laid out Reel's prejudiced actions, the House passed the bill 46 to 11 with 3 excused.