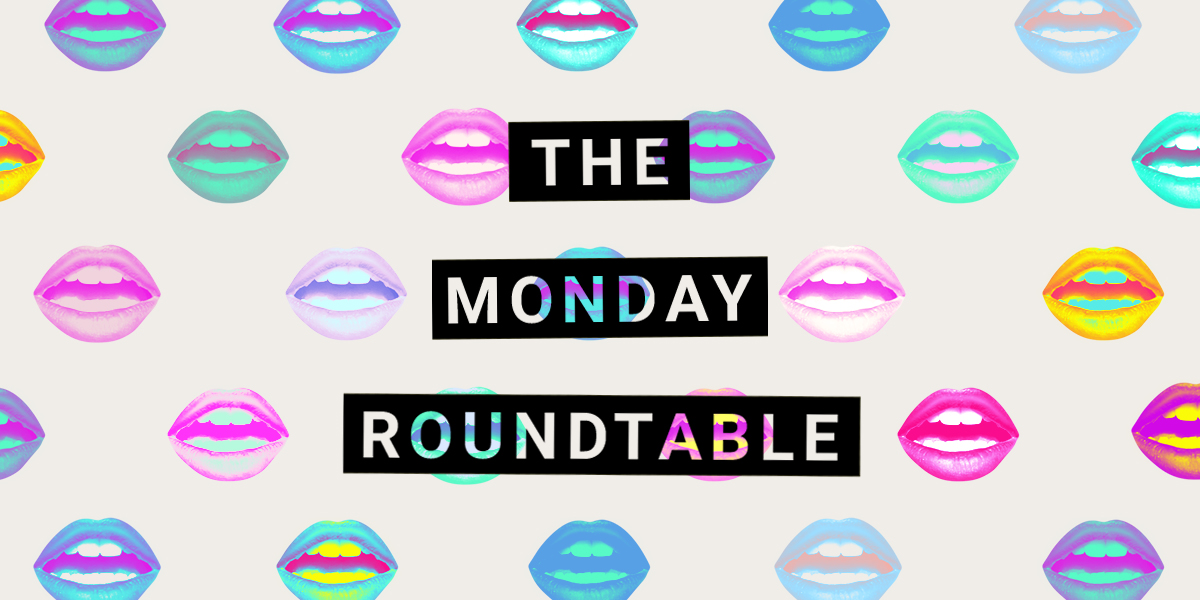 Jewelry is such a personal thing, even just the decision whether or not to wear jewelry at all. For this week's But Make It Fashion roundtable, we asked our team: Do you have jewelry you wear every single day? Tell us the story of each piece! How long have you had it? Where did it come from? What does it mean to you?
We'd love to hear your answers and see your jewelry in the comments!
---
Carolyn Yates, NSFW Consultant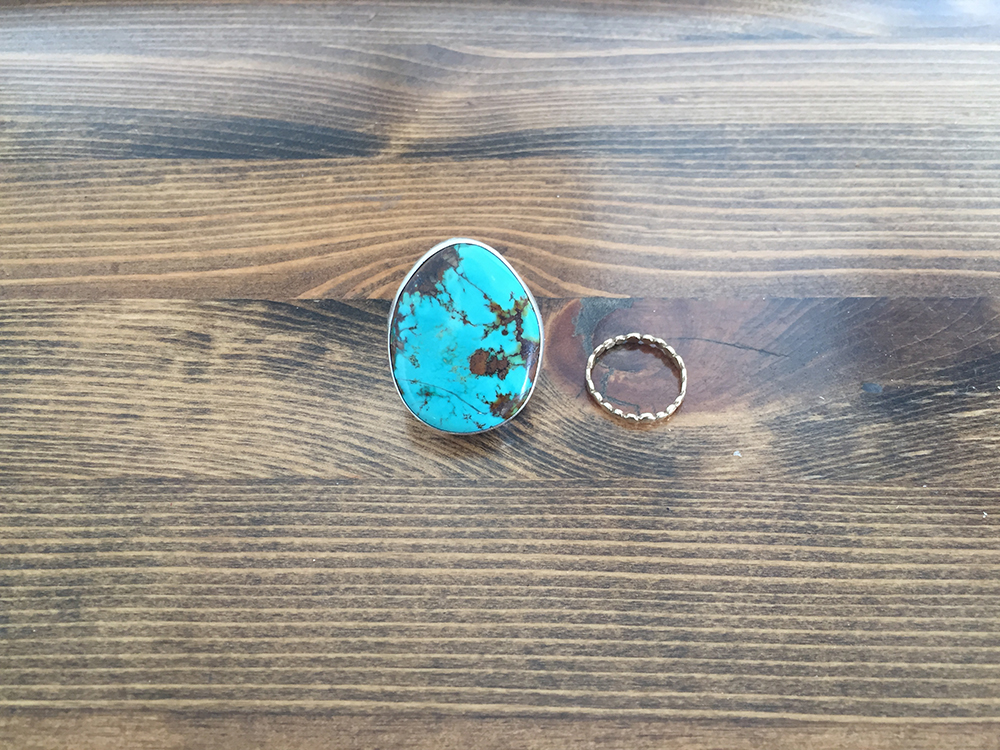 Most of the jewelry I wear daily is installed. I have three studs, two hoops, and two smaller hoops with dangles semi-permanently in my ears (not pictured); the first holes in my lobes are the only things I change, and I tend to wear my current pick until I lose an earring or they get discolored or misshapen. My tongue and (now migrating silent scream) nipple piercings have been with me for years and I don't really take those out either (also not pictured).
Other than earrings etc., I only really wear rings. If I'm feeling like myself, I wear two specifically: One looks like mashed-together gold pebbles, and I bought it for myself two years ago when I turned down a job that paid more than three times what I was making and seemed perfect on paper because I knew it didn't feel right, and I wanted to remember the feeling of believing in myself and my business and the future the way I did in that moment and also I like gold things. The other, large turquoise and sterling silver, just feels like me. I play with it when I'm anxious or need to concentrate, and since I wear mostly blacks and greys and whites it adds color, and as a stone turquoise feels good to me. Even though it was a birthday gift from someone who isn't in my life anymore, it almost never reminds me of that person unless someone asks – it's just mine.

Carrie Wade, Staff Writer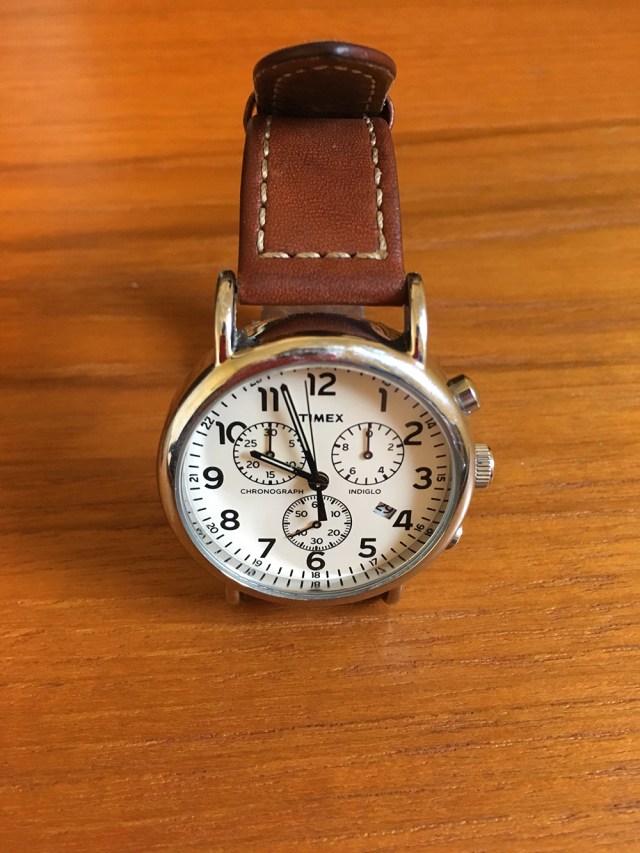 The one accessory I wear every day is my watch; I'm not much for jewelry otherwise, despite repeated efforts. I can never seem to pull it off in a way that makes sense with the rest of what I have happening. The watch, though, fits in well and serves fundamentally positive purposes. It helps me cut down on compulsive phone checks (which are the gateway to my own personal hell, Mindless Internet Scrolling) all while making me look put together and a little fancy.
I bought this particular watch over the summer to replace an aesthetically similar one that I loved but whose band had broken and could not be replaced. Turns out this one fits me even better (lighter weight and tighter on my wrist), so hooray! I knew it was a winner when the first time I wore it to work, one of our queer interns came up to me and said "I've been staring at your watch all day; where did you get it?" Boom.

Erin Sullivan, Staff Writer
At one point in my teens I made a sweep of the jewelry my mom never wore but still ceremoniously displayed and made them a part of my collection. I think she thought, "What the fuck?" and that I'd give them back because who just does that, but turns out I kept them. They're simple gold pieces but are well made, which you can tell by the clasp! It's all in the clasp, baby. I usually keep the same rings, brackets and necklace on, even when I sleep! My pinky ring was my grandmother's engagement band which she passed down to my mom for her engagement band, and I got it cut down to fit my child-size finger. The only piece that isn't a family member's is a silver ring that I wear on my left ring finger for no other reason than it fits that finger best, and I always forget that's what people check to see if someone is married. I'm reminded of that every time someone insinuates that I'm married!

A.E. Osworth, Staff Writer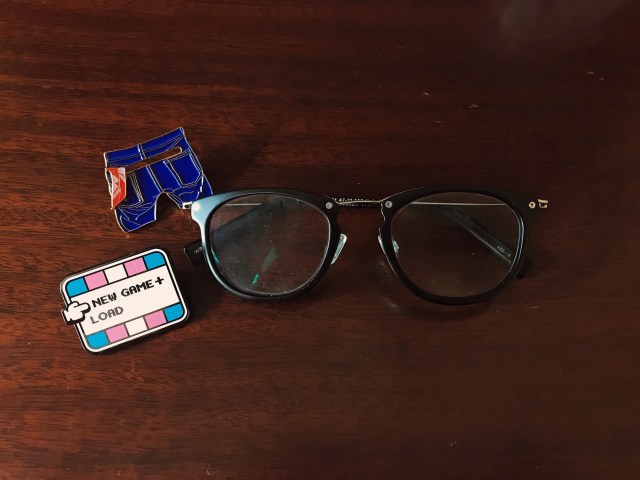 I don't wear jewelry per se, because most of it makes me feel dysphoric (I wish this weren't true but it's true!), but if you'll humor me for just a second and put "glasses" in this category, then have I got a lot of feelings for you. Glasses are a relatively recent development for me and I've only ever had one pair: The Moriarty from Warby Parker. They're also not a tremendous prescription, but they do help with things like depth perception, and when I'm not wearing them I'm liable to attempt to place a cup of coffee one inch above the surface onto which I intend; this usually goes poorly. But aside from basic functionality, my glasses also sort have happened around the same time as I was figuring out gender stuff. I came out August 2017 and I've had my glasses since December 2017. They've become an important part of my gender presentation in a way that I don't think would've happened were it not for the temporal proximity. Rarely do I leave the house without them; they make me feel good in a Ravenclaw sort of masculinity. And, as the Desire Map has told me, one of my core desired feelings is Peak Ravenclaw. So here we are.
I also have approximately one million enamel pins that I wear on my denim jacket every day, so humor me on these being jewelry as well. I can't photograph and talk about all of them for this because that would just be me writing an essay, but pictured are two real good ones—a flagging pin made by New York Toy Collective on which you can shift the bandana from the left to the right pocket and back again. I picked that one up at the Philly Trans Wellness Conference. The New Game+ pin was made by A-Camper and community member Gavin Greco for Penny Arcade's Pride pin set, and it shows off an intersection of trans and nerdiness that I enjoy. I guess my theme is gender-affirming jewelry-adjacent pieces.

Rachel Kincaid, Managing Editor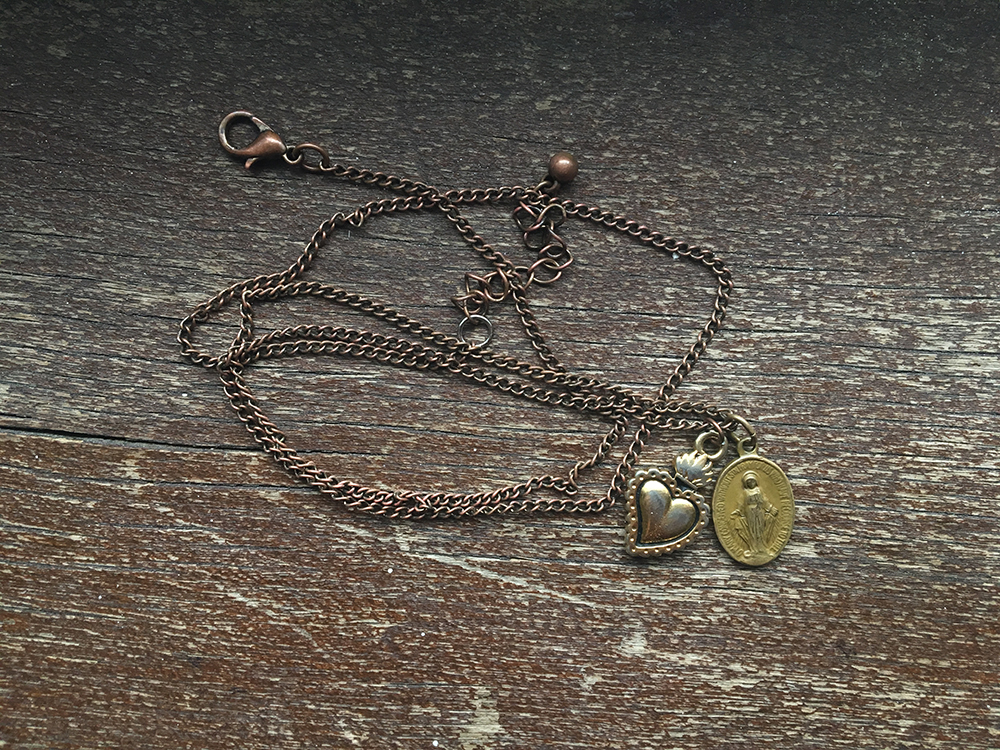 I wear a necklace every day with a little Virgin Mary pendant on it; it's my mom's from Sacred Heart, the Catholic school she went to as a kid. It reads "O Mary conceived without sin, pray for us who have recourse to thee." Chill! I recently added onto the chain a little sacred heart pendant because I found a cheap one I liked. I like wearing it because it makes me feel closer to my mom, who lives far away from me now, and is pretty representative of where I'm at with Catholicism: mostly engaging in it through nominal physical items and kind of just in it for Mary.

Archie Bongiovanni, Cartoonist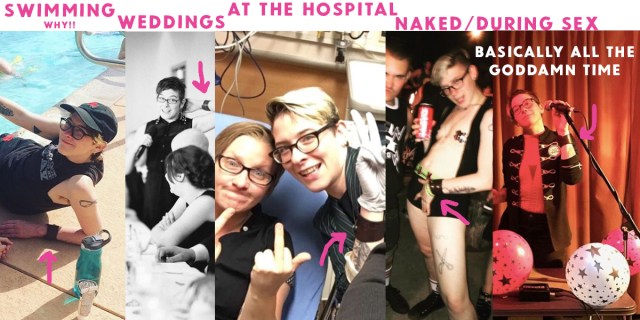 I have a leather cuff made my my old co-worker who was a leather worker-as well as a server at the shit-hole restaurant we both worked in. One day he brought in a suitcase and opened it to reveal all these leather cuffs made from recycled belts. Some were engraved with designs or flowers but I as drawn to the simplest one. He gave it to me without accepting any money and I don't know why I wear it everyday — I honestly couldn't say — but not a day passes where it's not on my wrist. It's also DISGUSTING — I used to do dishes at said restaurant which meant being elbow deep in half-chewed food n spit and for whatever reason would leave the cuff on.
I've worn it to more than one wedding, more than one funeral, and it's a miracle I never lost it when drunk. People compliment me on it all the time, which always surprises me. It feels like their complimenting a freckle or something that's just a part of my body.

Cameron Glavin, Cartoonist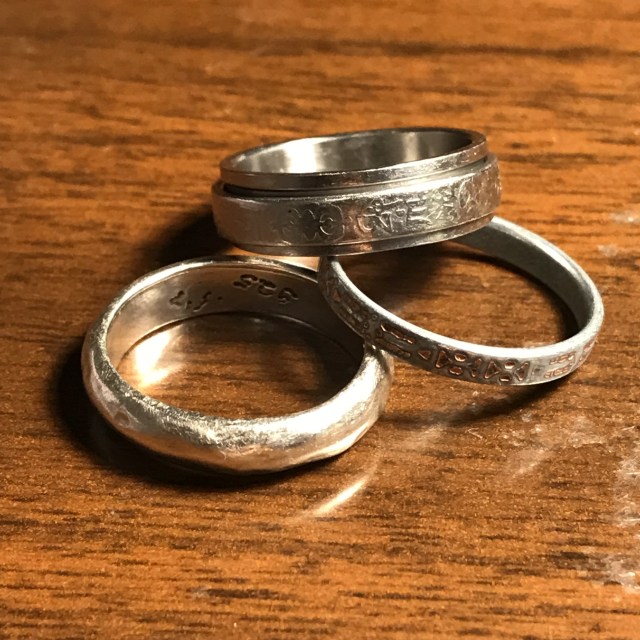 I have three rings I rarely take off. I have a thin one is just a cheap ring I put on and never bothered to take off, a thumb ring I was gifted from a trip to Israel, and most significantly, a spinner ring with a Buddhist prayer on it that I don't understand. It's a ring that each of the members of my mom's side of the family has. Most of my mom's side of the family lives in Taiwan or China, so it's nice to have something to feel connected to them. It's especially important to me because I got this ring right before my maternal grandfather died. I lent it to a ex to wear at one point and when we broke up (on not great terms in a LDR), I was sure I would never get it back. I asked her to return it once every few months and after two years of that, it finally showed up in my mailbox in a battered envelope. I've only taken it off a handful of times since.

Valerie Anne, Staff Writer
I always have one bracelet on each wrist. On my left wrist, I wear a simple, thin, silver metal cuff bracelet with the words "I know my value" stamped in. I bought one exactly like it at NYCC three years ago (it's a quote from Agent Carter), and last year it broke and I was devastated. I tweeted my sadness and a lovely human being on Twitter who just happened to make metal-stamped bracelets CUSTOM-MADE ME A NEW ONE to match the old. It was so, so kind and my heart was so full about it. But this week I lost it??? I'm hoping it's around my apartment somewhere, maybe tangled up in pajamas or something, because I'd rather it not be a sign that I have so little value that my wrist can't stand to wear such a lie around it.
SO for the purposes of this, I shall tell you about the bracelet around my right wrist, which is a simple black metal cuff bracelet (just as narrow but made of sturdier stuff than the silver one) that has little laurel flourishes on either side of the opening, and a groove running down the center. The groove is meant to hold a hair elastic, so I always have one close at hand. Black elastics blend in, sometimes I add a pop of color. Functional and stylish! The best part is, that's one less time a day I hear my mother's voice (you're cutting off your circulation!) in my head.

Stef Schwartz, Vapid Fluff Editor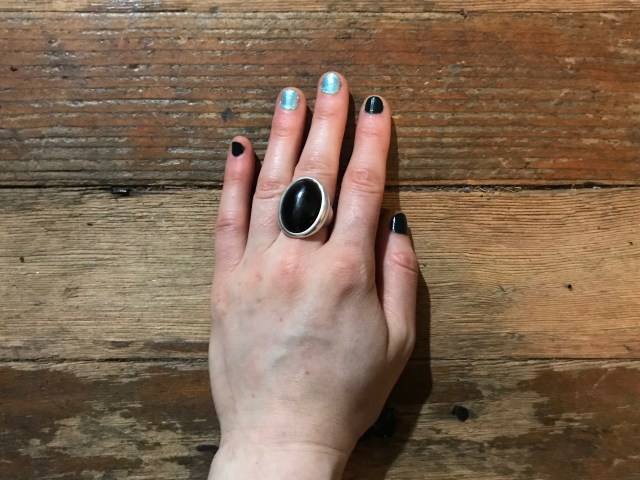 I mostly wear jewelry every day because I'm lazy — like I literally don't know how to take most of my earrings out so I never do (I have never removed my conch piercing and couldn't begin to tell you how). I like wearing a lot of rings but the only ones I wear with any regularity are a little baby Verameat skull ring on my right ring finger and a big black onyx on my left middle finger. The onyx in particular I've been wearing for 20 years. Shirley Manson (my HERO) had one just like it in the '90s so my cool internet friend found it at a gem show in Arizona and sent it to me. I've been wearing it so long that my finger underneath is sorta misshapen and I can't really take it off. I've been wearing it so long that a kid in my high school yearbook wrote an entire paragraph about how he couldn't stop thinking about that stupid fucking ring. My favorite thing in the world is when people ask if it's a mood ring so I can say yes.

Riese Bernard, CEO
These days, nothing, aside from the bellybutton barbell that has been chilling in there for maybe 15+ years?
From 2006-2014, I wore a leather wristcuff every day.
There've been brief periods of time when I wore specific bracelets (like when my boyfriend got me a Tiffany's Bracelet in 2004 after I told him it was Every Jewish Girl's Dream) or necklaces (I had this Jewish pendant necklace I wore for a while as a way of encouraging people not to say Anti-Semetic things around me since I don't look Jewish so people would do that all the time!) (it didn't work) or rings (hahaha remember when I was engaged) (except TBH i rarely wore it 'cause it was too big, but I'd wear it for special occasions) but in general, I've just never been a jewelry person. I have no desire to change this aspect of myself because I spend enough time thinking about clothing and accessories as is!