This post was sponsored by GFW
Hello, it's me, one of Autostraddle's resident reviewers for Masculine-of-Center clothing and accessories. This lovely company called GFW (gender free world) sent me a button down shirt. I was really excited to receive the button down shirt, as I spend most of my life in a button down shirt. Androgyny is the name of GFW's game—their shirts are designed for a neutral look that doesn't form fit like most button down shirts made for bodies with boobs.
GFW Clothing offers three styles of shirt—The Alex, for those with some hips on them; the Billie, for the tata-top-heavy; and the Charlie, for those whose hips and bust are about equal. I started by deciding what sort of size and style I'd be, which is very easy with their size guide. I measured myself with a tape measure and was shocked to discover I wasn't a Billie, but a Charlie. Perhaps I shouldn't have been so shocked; I do bind. It struck me that this is what we get when things are sized realistically, which clothing made for women with breasts often isn't. And y'all, these shirts are made explicitly for bodies with breasts. Each and every style has a backward-facing secret button to keep the ubiquitous button-down-boob-gap from making an appearance.
When I got my shirt in the mail, I was struck by how high quality the fabric on it felt—a little thicker than my Gap Oxfords, even, but similar in softness and in style. I was excited because I selected a blue shirt with checks at the cuffs, which I thought would look pretty awesome when I rolled up my sleeves (as I am wont to do). It also came out of the package not wrinkled, which made me wonder if it would come out of the dryer not wrinkled. My hopes were high.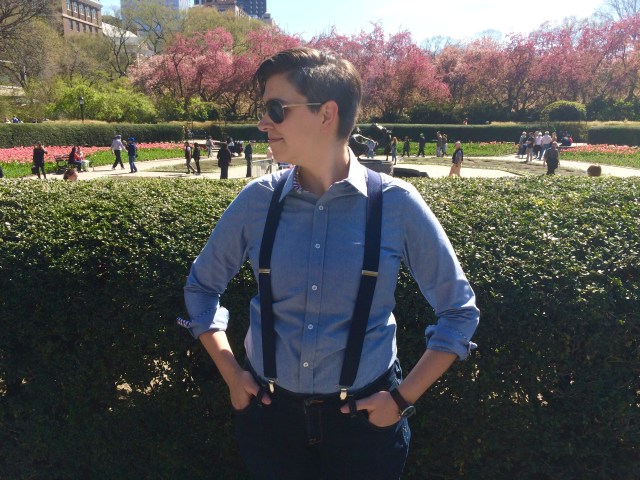 I'm gonna start with the negative and end with the positive, because I want you to remember the positive more than the negative, because this is a good solid shirt. First, the sleeves are too short for me to wear not rolled up. This is normal for me, because I'm like one of those stretchy Gumby toys from the '90s. My arms are way out of proportion. So it's not exactly a strike against the shirt, that's just the way my body is. But! When I roll my sleeves up, I fold them more than once to keep them from looking like they're too short. More than one roll—say up to my elbows—makes the roll look really intentional. That means those cool checks on the cuffs all but disappear, and I have to roll them a little sloppily to get that casual, too-cool effect. As such, I wish the cuff lining went up a little bit farther. The sleeves themselves are a little slim fit, so I wouldn't want to, say, move boxes in the shirt. But they are not so tight that they're uncomfortable.
The other thing is that secret button—I was convinced that everyone could see my secret button, but my fiancée said only I can see my secret button because no one else is looking for my secret button. However, as I put the shirt on this morning, I noticed the threads that hold the secret button in place were positively screaming with effort. This surprised me as this shirt isn't tight across my chest—I have a feeling I will be re-sewing the secret button back on. I do not necessarily have a problem with this; buttons come off of clothing. It happens. But once I bought a J-Crew coat and all the buttons fell off in the first three weeks of owning it, so I pay special attention to such things now. If all the buttons were falling off, this might be more of a negative to me. But as it stands now, I think it's just the price we pay for a secret button.
Now for the last negative, which actually turns into a positive: this shirt is too short to tuck in. I have a short torso to begin with, so I was surprised when I tried to tuck in the shirt and it kept rambunctiously ignoring my request. But then I realized something—I wear my shirts tucked in because I have to. Because men's wear shirts usually are not made for hips, so they pull across my belly and butt and make me look medium-terrible if the last button isn't concealed beneath the friendly and forgiving waistband. While I do enjoy that a tucked-in shirt gives the world the mistaken impression that I have my shit together, it does make me look tightly-wound to appear like this literally all the time. As soon as I realized this wasn't a shirt to be contained, I wore it un-tucked and the experience was freeing. I look like a normal human while walking through Central Park. This remains the only button-down shirt I have in my closet that I can wear without tucking it in. Worth it, by itself.
So now the positives, other than that. The secret button really does work, even if it might need a thread-rescue some day soon. No gaping holes, straining fabric or surprise binder shows. It also didn't change sizes on me at all when I washed it, and I washed it with all my other button downs in cold water with no special treatment. While it did come out of the dryer just as wrinkled as the rest of everything I own, it does seem to steam easier than a lot of my other shirts, and I don't need to spend as much time fussing the wrinkles out of it. It's from a woman-owned and operated company with an eye to queer people, so that in itself is pretty fucking cool.
Oh, and all the shirts are designed and made in the UK. And I look good in it, which is pretty much the biggest positive of all. I look so good in it that right now I am wearing the shirt, as I fly to A-Camp and write this review on the plane because I plan my time wisely. Anyone who knows me well knows I only fly in clothes that make me look good and won't piss me off on the plane (I get made fun of for dressing up to fly a lot). It's literally the highest praise I could give a shirt.
Get your own Alex, Billie or Charlie from GFW Clothing at their website—all long sleeved shirts are normally between £46-49, but they've got a sale going on right now on the white shirt for £35. I want to point out that one of the color selections on their shirts is "penguin," which is exactly what you're hoping it is.