This week after another great spurt of Steven Universe episodes, another queer woman left Twitter because of bullying and harrassment. It wasn't from Bernie Bros or gamergaters; this was from people who claim to be fans of the show. This is a disturbing trend that has shown up before in the SU fandom, once when a young fan artist attempted suicide after being attacked for thinning down the character Rose Quartz, and other times when SU artists were attacked for their tweets. This time it happened to Steven Universe Storyboard Artist Lauren Zuke, who was driven off of Twitter after she was accused of queerbaiting and of favoring one ship over another.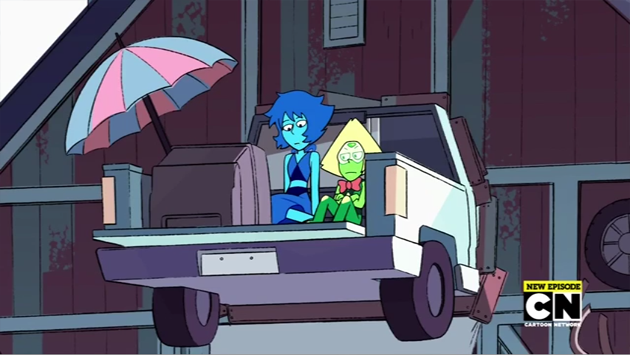 After the recent episode Betas aired, "fans" started harassing Zuke because Lapis and Peridot, two characters who people thought would be in a relationship, weren't actually in one. Others harassed her because she drew art of the pair, and they're bigger fans of the Peridot-Amethyst pairing. Seriously, this is what happened. A queer woman who works on the show with the best queer representation on TV was bullied and harassed until she no longer felt safe having a public social media presence.
I know this isn't exactly comics, but there is a lot of crossover between comics and animation, and this is a widespread problem that also crosses over into the world of comics. And I know I'm about to get preachy, but this is is something that is important, and that I feel like I need to talk about. Queer creators, creators of color, and queer creators of color are often afraid to tell stories about these kinds of characters because they're afraid of this exact thing happening. This creates an atmosphere where not only are things like sexism, racism, homophobia, the patriarchy, boys' clubs and nepotism keeping marginalized creators out of animation and comics, but so are fans' impossibly high and impossibly specific expectations. If we, the fans, contribute to this atmosphere of bullying and gatekeeping, we're only making things worse for ourselves.
What's worse, is that we're making them worse for other people. Not just other fans who just want to enjoy shows like this or who might learn what queerness is from shows like this, but also the people behind these shows, who are often women, queer and/or people of color. Twitter accounts are people; there are real life people behind these accounts. And often when we're talking about animation, a lot of these real life people are women who might be queer or people of color. Targeting them because they aren't telling the exact stories we want the exact way that we want isn't social justice.
https://twitter.com/arcordo/status/764374722469629952
The shows you watch don't owe you anything, they don't owe me anything, they don't owe us anything, but more importantly, the creators behind them don't. We should let creators, especially those with marginalized identities, tell the stories they want to tell. They've worked hard to get to where they are and they continue to work hard to create these shows and books and this art that we so often take for granted.
I'm not saying I'm perfect. I've reacted rashly and lashed out on Twitter before. I've called out when I should've called in. But I'm working on growing and I'm working to do better, and I hope that others work towards that as well.
This especially troubling because Zuke is a queer woman who is writing for the queerest show on television. She's exactly what and who we've been hoping for. She's exactly why I write this column every week. And she didn't even do anything wrong. She wasn't ableist or transphobic or racist or sexist or homophobic. She wasn't mean or cruel or queerbaiting. She was just a queer woman who thought she was safe on Twitter, at least safe from the people who call themselves her fans.
I'm not here to tone police, and I'm not saying that racist, homophobic, sexist or otherwise oppressive art should be excused,  but when fans drive a queer woman off the internet because the extremely, extremely specific type of queerness they wanted wasn't in a few episodes of a show that they like that doesn't help anyone or anything. Fandoms need to be better than this. The people who make up those fandoms need to be better than this.
This isn't a win for the fandom; this isn't a win for anyone.
New Releases (August 17)
Batgirl and the Birds of Prey #1
Wonder Woman by George Perez Vol 1 TP
Jem & The Holograms Vol 3: Dark Jem TP
---
Welcome to Drawn to Comics! From diary comics to superheroes, from webcomics to graphic novels – this is where we'll be taking a look at comics by, featuring and for queer ladies. So whether you love to look at detailed personal accounts of other people's lives, explore new and creative worlds, or you just love to see hot ladies in spandex, we've got something for you.
If you have a comic that you'd like to see me review, you can email me at mey [at] autostraddle [dot] com.