She wore headphones constantly, and I completely understand why. If I were Lamia, I wouldn't want to hear what people were saying about me either.
"Did you know that home wrecking witch actually devours children?"
"I hear her weirdo name means 'lone-shark.'"
"She's a bloodsucking man-eater!"
People are so rude! I mean, yeah, the rumors are mostly true. But that doesn't mean you have to whisper it on the subway, you know?
Anyway. Headphones.
Lamia rode across from me every morning on the E train for an entire week before I mustered up the courage to wave at her. She waved back and pulled her ear buds out with a friendly smile.
"What are you listening to?" I asked.
"The A+ Podcast," she replied.
I grinned and told her she had excellent taste. She looked me up and down and told me I had magnificent hair. So I told her she had a beautiful tail. She told me she liked my scar. I told her I liked her, and would she like to have dinner with me sometime? "Yesss," she replied.
The following evening she came to my apartment and I fed her five different homemade soups.
I'd heard of her quirky penchant for eating human children, but when I checked the meat section at Trader Joe's in Forest Hills, they didn't have any in stock. Following a hot tip from Fox News, I called up my favorite lady clinic, but it turns out they don't actually sell dead babies either. (Who'd've guessed?) So I worked out a new plan: wean Lamia off the taste of human flesh with a flight of delicious, increasingly veggie-based soups.
Here's the menu I settled on:
Borscht With Beef – A winter staple that says "I care about you so much that I spent two straight hours cooking, including 40 minutes just grating beets. Get in my pants."
Persian Cabbage Soup – Really excellent for freezing and reheating to eat when you're sick. Savory. Vegetarian.
Miso Ramen Soup – A highly customizable soup that looks a lot fancier than it actually is.
West African Peanut Butter Stew – Slightly spicy, super peanut butter-y, surprisingly complex flavor. Vegan.
Butternut Squash Soup – Delicious, and very little effort to prepare. Sub margarine for butter to make it vegetarian.
---
Borscht With Beef
recipe adapted from Natasha's Kitchen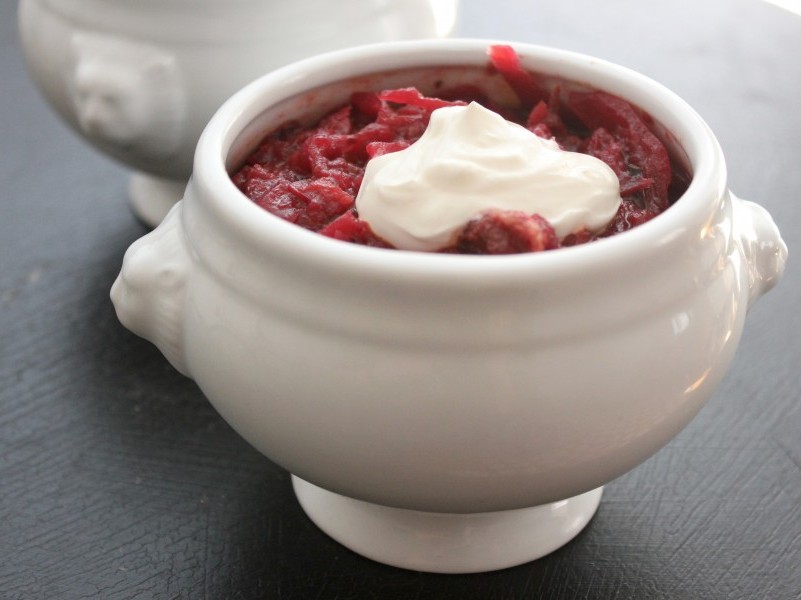 I'll be honest: I picked this soup because it looks like bloody human entrails. I wanted to start with something familiar to help set my date at ease and make her feel at home in my home. Yet when I set the bowl in front of my date, she looked entirely unimpressed.
"You've never seen entrails, have you?" my date asked pointedly, after a long minute of silence. I scrambled to fill it.
"Nooo. But uh, I've watched Bones. Don't you just love Angela?" I babbled nervously. "She's so great. And I like to think of Booth as the identity Angel assumed after bringing down the LA branch of Wolfram & Hart. Do you like Buffy?"
"No."
"Oh. Um, why… not?" I asked foolishly. Lamia then launched into a passionate 20 minute diatribe about how passionate love is an illusion and destructive enchantment and she hates the Scooby Gang. Now it was my turn to sit stunned and silent. We were not off to a good start. Not even slightly.
Fortunately, the borscht was as good as our conversation was bad.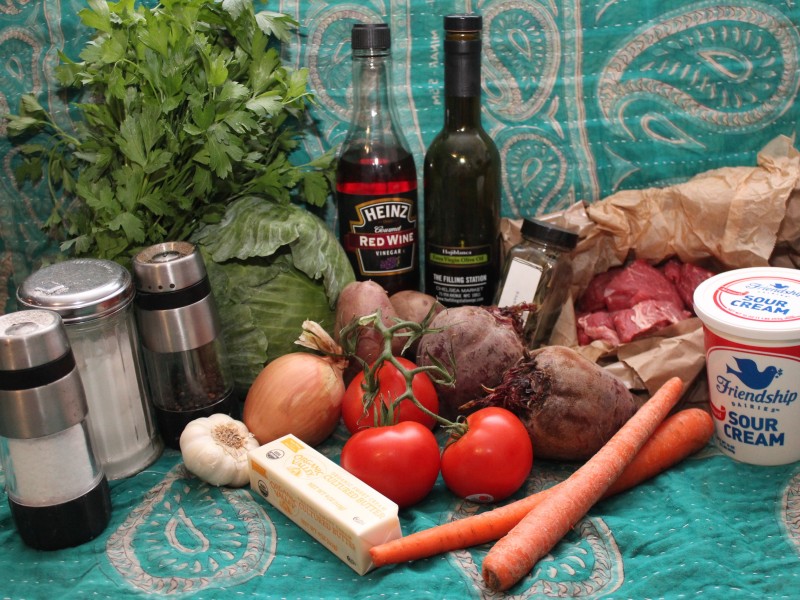 Ingredients
1 lb beef stew meat
1 Tbsp salt + more to taste
2 large beets
4 Tbsp olive oil
1 Tbsp red wine vinegar
1 Tbsp sugar
2 Tbsp tomato sauce
1 Tbsp butter
1 medium onion
2 carrots, grated
2 large potatoes
1/2 head of small cabbage
2 tomatoes
2 bay leaves
1/4 tsp freshly ground pepper
1/4 cup fresh parsley, chopped
2 cloves garlic
Optional garnish: sour cream and fresh sprigs of parsley or dill
Instructions
Rinse off your beef and cut it into 1″ pieces (if it's not already cut up). Place it in a large soup pot with 14 cups of cold water and 1 Tbsp salt. Bring it to a boil and skim off the foam.
Reduce the heat, partially cover it, and let it simmer, skimming off additional foam as needed. Set a timer for 45 minutes and start prepping your veggies.
Wash, peel, and grate your beets. You can use a food processor if you have one (which I don't), or  a grater with large holes (which I do). If you go the grater route, I recommend using a food holder guard or wearing gloves so the beet juice doesn't stain your fingers.
Place your grated beets in a large heavy-bottom skillet with 4 Tbsp olive oil and 1 Tbsp vinegar. Saute for 5 minutes, then reduce heat to med/low and add 1 Tbsp sugar and 2 Tbsp tomato sauce. Mix thoroughly. Saute for about 10 minutes, stirring occasionally, until the mixture starts to soften and break apart.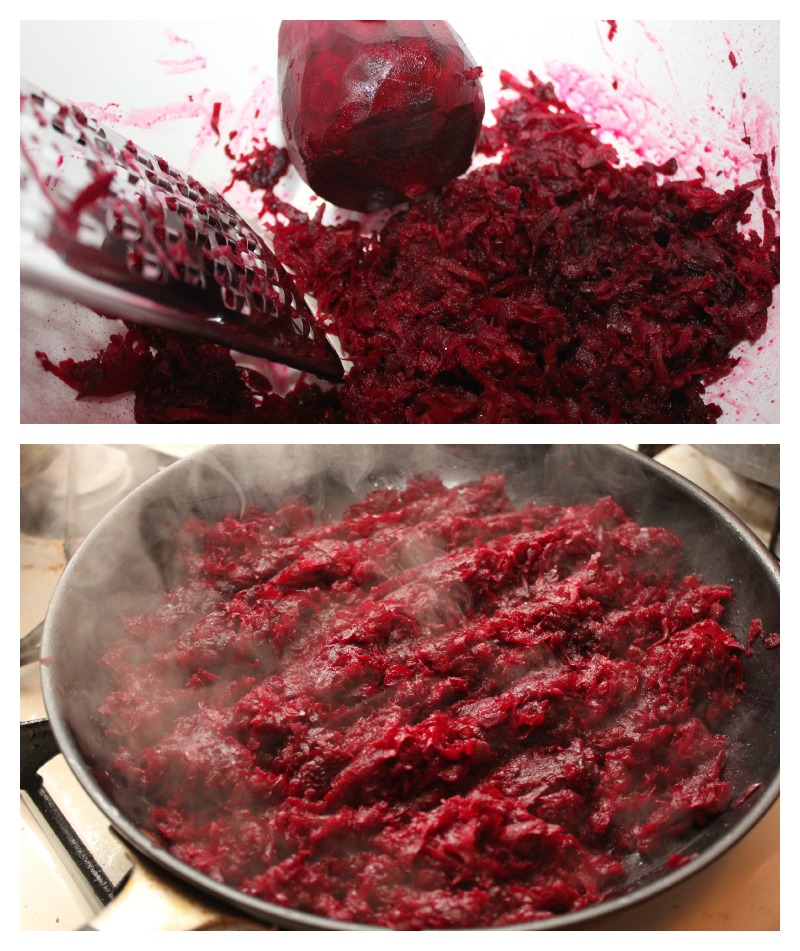 Remove from pan and set aside. In the same skillet, saute onion in 1 Tbsp butter for 2 min. Add grated carrot and saute for another 5 min.
Wash and peel your potatoes. Slice them into bite size pieces and put them in a large bowl with the sauteed beets, onion and carrot. Chop 2 tomatoes and add. Shred your lettuce (I used a mandoline slicer) and add it to the same bowl.
Now go back to your beef. Has it been 45 minutes yet? If not, you're incredibly fast and/or must have a sous chef. You should probably massage their shoulders and tell them how pretty they are until the timer goes off. Once the beef has been cooking for at least 45 minutes, add the potatoes, beets, onion, carrot, tomatoes, and cabbage. Cook for another 10 minutes, or until the potatoes can be easily pierced with a fork.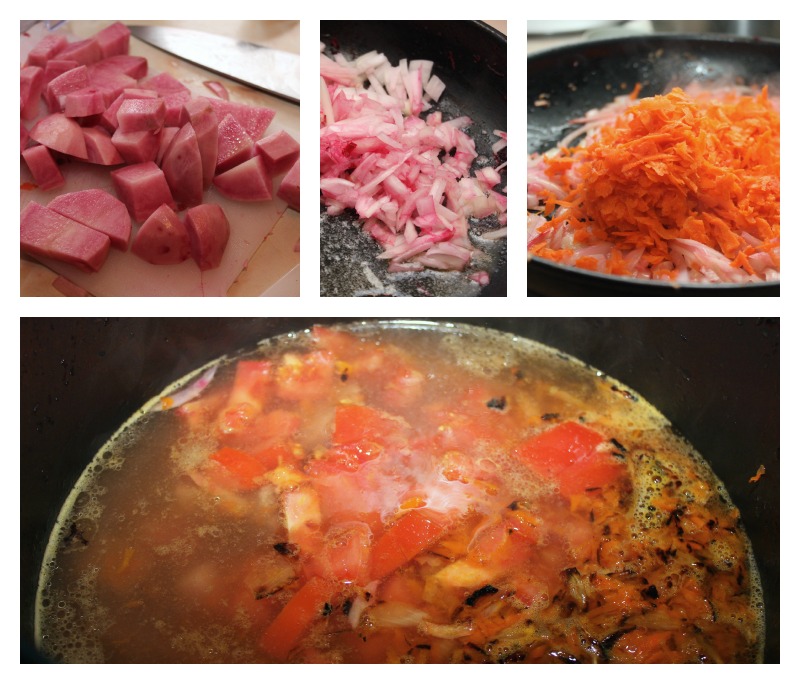 Add 2 bay leaves, ¼ tsp pepper, and more salt to taste. Chop the parsley, dice ore press the garlic, then stir them into the soup pot. Immediately cover the pot and remove it from heat.
Important: let the pot rest covered for 20 minutes for the flavors to meld. It smells delicious already, but I promise it tastes so much better if you wait.
Serve garnished with sour cream and optional sprigs of parsley or dill.
---
Persian Cabbage Soup
adapted from Cooking Mignette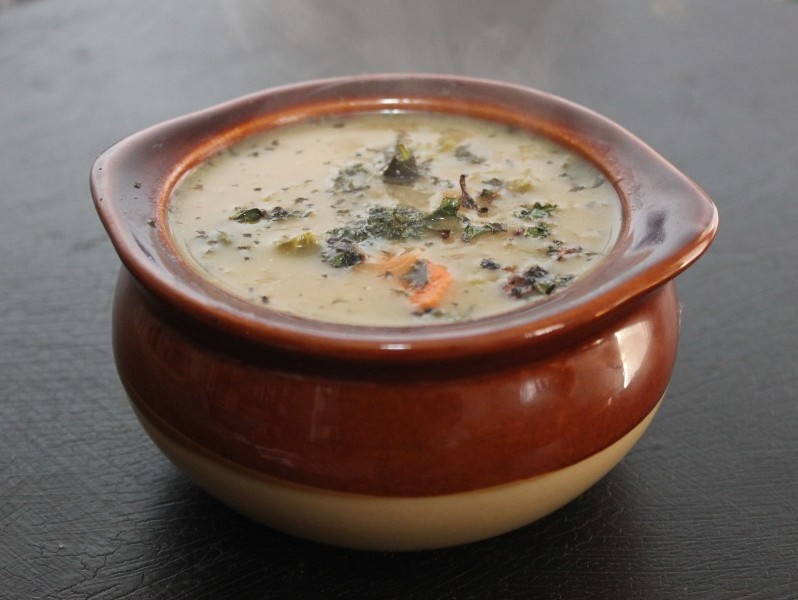 When I interrupted Lamia's rant to tell her that our next soup was vegetarian, the beautiful creature sitting across from me rolled her eyes so hard that I was afraid they might come right out of her head. But at least she stopped insulting Willow.
I abruptly changed the subject. "Do you have any pets?"
"I was thinking of getting some snails," she said.
I nodded politely. "Not a fan of cats or dogs?"
She lowered her chin and fixed her eyes on me, unblinking. I mean, she never blinks (something about a curse, blah blah, never being able to rest from the sight of her dead children), but this stare was loaded. What had I done wrong?
Oh right. Cats and dogs eat snakes.
"Agh, I'm sorry!" I said. "That was really insensitive of me."
She rolled her eyes again. "This soup better be amazing," she grumbled. (It was.)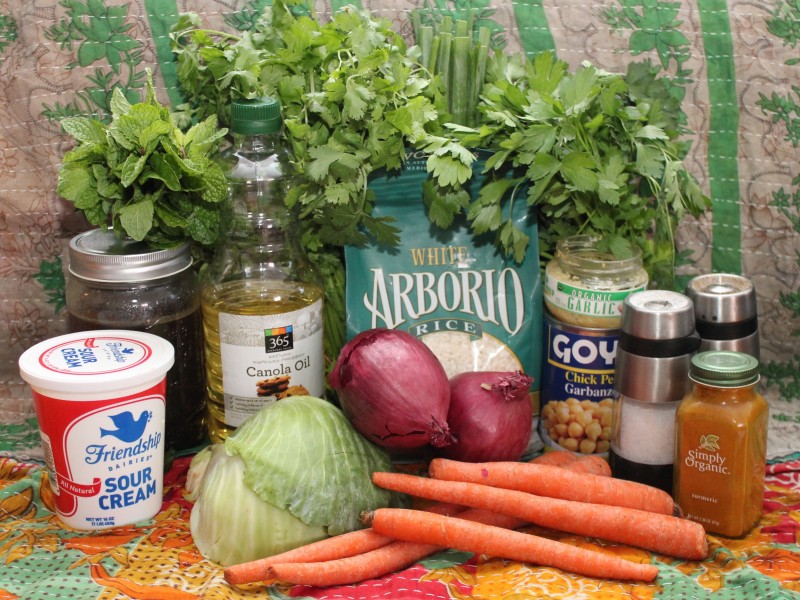 Ingredients
1 cup white arborio rice
2 medium onions, thinly sliced
2-3 tsp turmeric
2-3 cloves of garlic, finely minced
2-3 cups spinach, roughly chopped
2 cups cilantro, chopped
1 cup parsley, chopped
1 cup scallions, thinly sliced
2 cups cabbage, cut up in chunks
4-5 carrots, peeled, cut in half, then in 1 inch pieces
1/4 cup vegetable oil
2 Tbsp dry tarragon
2 tsp mint, chopped
5-6 cups broth (vegetable, chicken or beef)
1/2-1 cup cooked garbanzo beans
sea salt and pepper to taste
1/2 cup sour cream
Instructions
Slice two medium onions. In a large stock pot, brown your onions in half of the vegetable oil (about 1/8 cup) with 1 tsp turmeric. Remove 1/4 of the onions with a slotted spoon and set them on a paper towel to drain. Set them aside for garnishing with later.
Add 5 cups of broth to the remaining onions, with 1 tsp turmeric, and several (another 5-6) cups of water. Add sea salt and pepper to taste. Bring the mixture to a boil, then reduce heat and simmer for 45-50 minutes, stirring occasionally. Add carrots, parsley, cilantro, scallions, and spinach, and cook for another 30 minutes.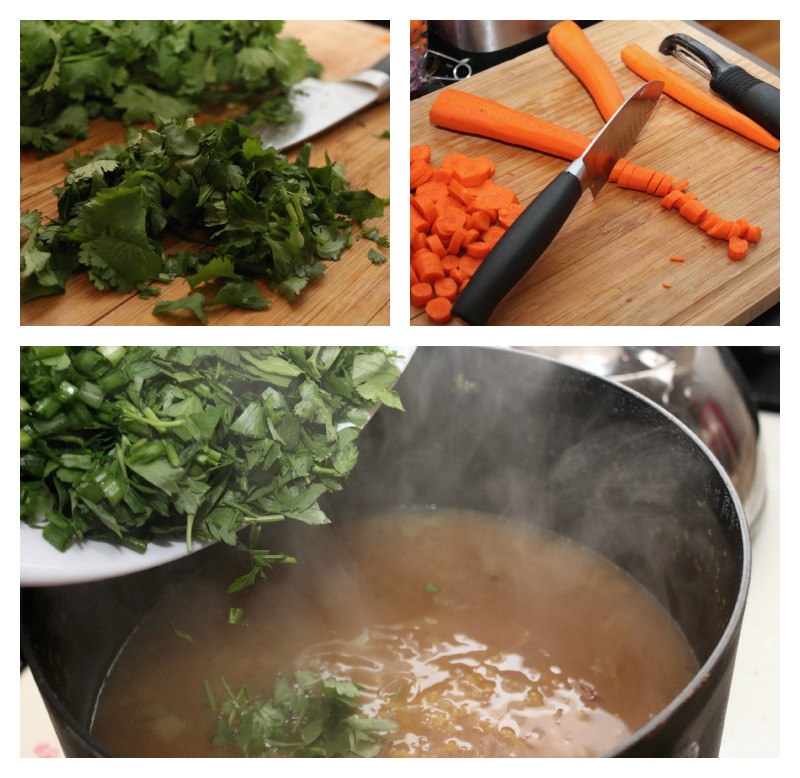 Add garbanzo beans, cabbage, and 2 Tbsp tarragon. Taste it and adjust the seasoning to taste. If necessary, add more water to keep it the consistency of a thick soup. Cook for another 30 minutes, stirring occasionally. Stir in sour cream and simmer for another 15-20 minutes.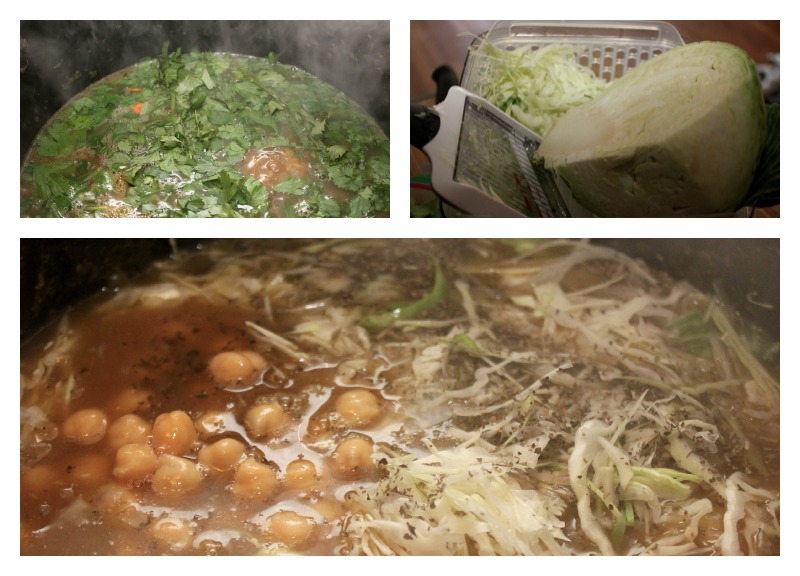 Heat remaining oil in a small saucepan. Add minced garlic and fry until golden. Remove from heat, then add mint. Combine well and allow the mixture to sit for at least a few minutes before using.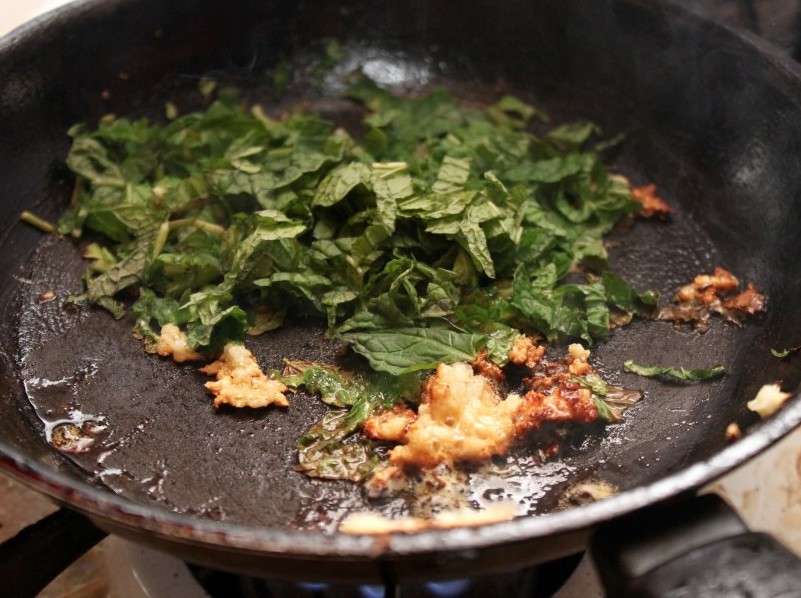 Stir 1/2 of mixture into the soup. Serve topped with garlic/mint oil and some fried onions as garnish.
---
Miso Ramen Soup
based on Namiko Chen's tutorial
This one is the only one that Lamia liked, and I have no idea why. Although she liked the last soup, she had mostly given up speaking to me at this point. But when Lamia ate this one, her smile was so wide I could see all six rows of teeth.
I'm going to go out on a limb and say that it's because of all the different textures. That's what I liked about this soup. And also the broth! Very tasty.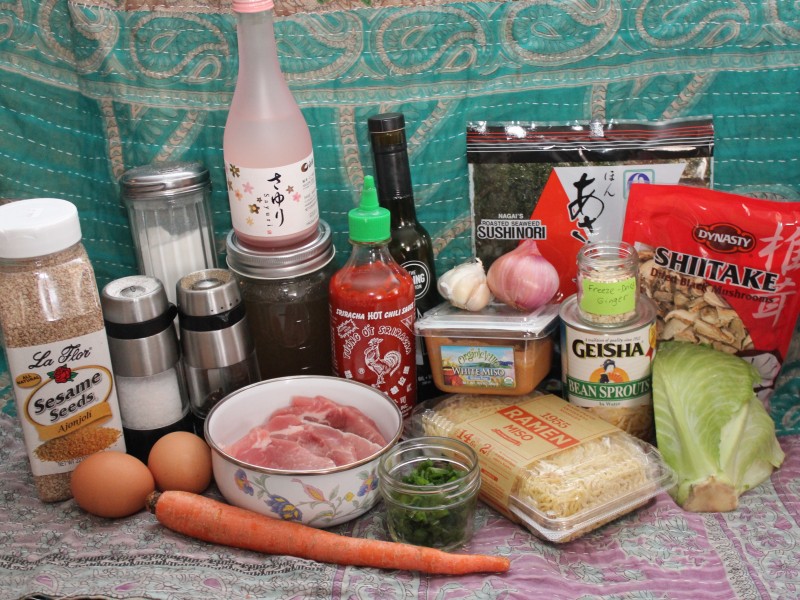 Ingredients
Miso Ramen
2 garlic cloves, minced
1 inch ginger, minced
1 shallot, chopped
1 Tbsp sesame seeds, ground
1 Tbsp sesame oil
1/4 lb pork (ground or cut into bite size pieces)
1 tsp sriacha
3 Tbsp miso
1 Tbsp sugar
1 Tbsp sake
4 cups broth (vegetable or chicken)
1 tsp salt
1/4 tsp pepper
2 servings of ramen noodles
Toppings
bean sprouts
carrots, sliced
cabbage, shredded
shitake mushrooms (dried)
sushinori roasted seaweed
green onion, sliced
Instructions
Brown your shallots, ginger and garlic in the sesame oil over medium-low heat. Add the pork and cook through. Mix in sriacha, miso, sesame seeds, sugar, and sake. Add broth, salt, and pepper. Let it simmer while you do the noodles in a separate pot.
Cook your ramen noodles according to package instructions. Drain water, then put your noodles in a bowl.
Place your toppings, then pour broth over it and eat immediately. You can use the same toppings that I did, or go your own way. Ideally you want a little more broth (and a bigger bowl) than is shown in the photo below, but I wanted to let you see the toppings better.
---
West African Peanut Butter Stew
adapted from Cookie and Kate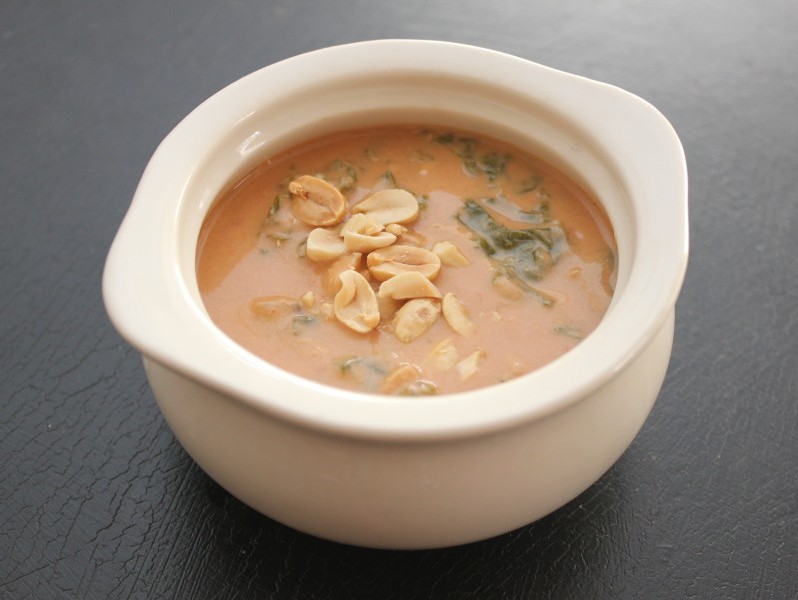 "This one's nice and hearty," said Lamia. "Real thick."
I wondered briefly whether she was making a cardiovascular pun, but it didn't seem like a polite dinner conversation topic to pursue. I was over it at this point anyway. I concentrated on enjoying the (mildly spicy but entirely comforting) soup.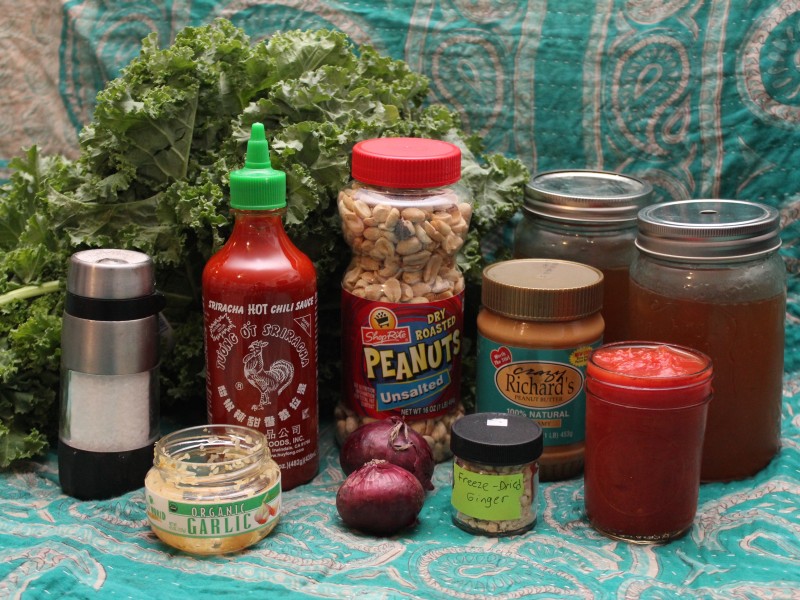 Ingredients
6 cups vegetable broth
1 medium red onion, chopped
2 Tbsp ginger, minced
4 cloves garlic, minced
1 tsp salt
1 bunch kale, ribs removed and leaves chopped into 1-inch strips
3/4 cup unsalted peanut butter (chunky or smooth)
1/2 cup tomato paste*
Sriacha
1/4 cup peanuts, roughly chopped
Instructions
Bring the broth to a boil. Add the onion, ginger, garlic and salt. Cook on medium-low heat for 20 minutes. In a medium-sized, heat-safe mixing bowl, combine the peanut butter and tomato paste, then transfer 1 to 2 cups of the hot stock to the bowl.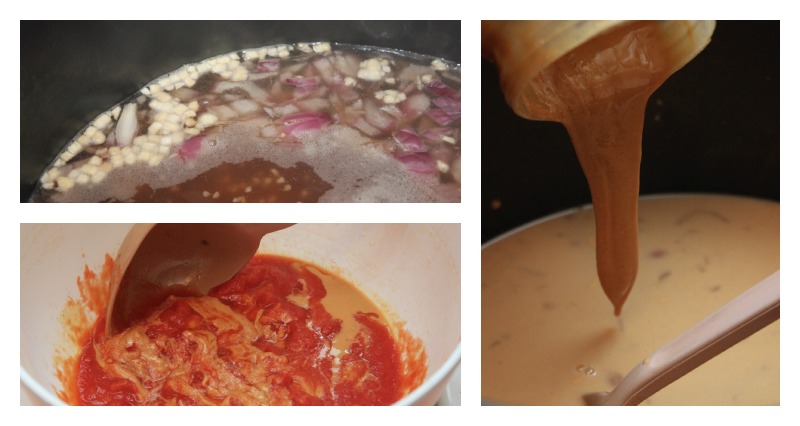 Whisk the mixture together until smooth, then pour the peanut mixture back into the soup. Mix well. Stir in the collard greens and season with sriacha to taste. (Add just a little bit at a time! Too much heat can overpower your soup.)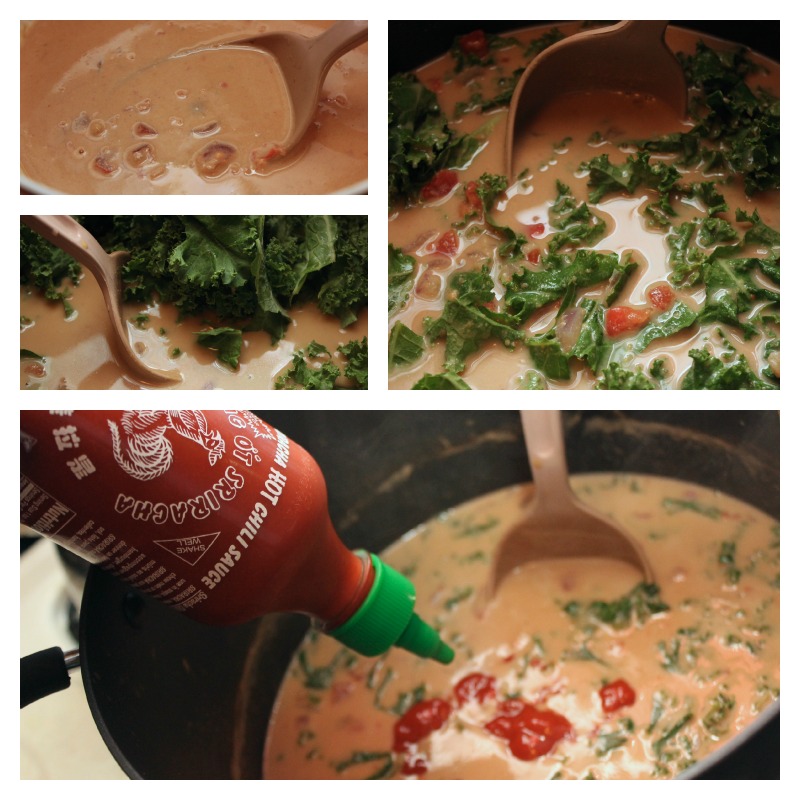 Simmer for about 15 more minutes on medium-low heat, stirring often. Serve topped with a sprinkle of chopped peanuts.
---
Butternut Squash Soup
recipe from Food.com
Lamia took one look at this soup and walked out. (Or slithered, rather.)
Honestly? I was fine with it. She wasn't very good company. And her leaving meant more of this glorious, creamy soup for me!
Ingredients
1⁄4 cup olive oil
3 lbs butternut squash
6 garlic cloves, minced
2 large onions, peeled and quartered
1⁄4 cup water
3 cups vegetable stock
1⁄2 tsp dried thyme
1⁄4 tsp ground nutmeg
1 tsp salt
pepper
2 tsp butter
20 fresh sage leaves, sliced
Instructions
Preheat the oven to 400°F. Brush the bottom of a baking pan with olive oil and set aside. Cut the squash through the stem ends into halves, prick the skin in several places, and scoop out the seeds. Brush the cut surfaces with about a tablespoon of the olive oil. Put the garlic inside the squash cavities and place halves in the pan cut side down.
Add the onions to the pan and brush with remaining olive oil. Pour the water into the bottom of the pan, cover and bake for 50 minutes. Uncover and bake for 5-10 minutes more or until the squash is tender and the onions are soft.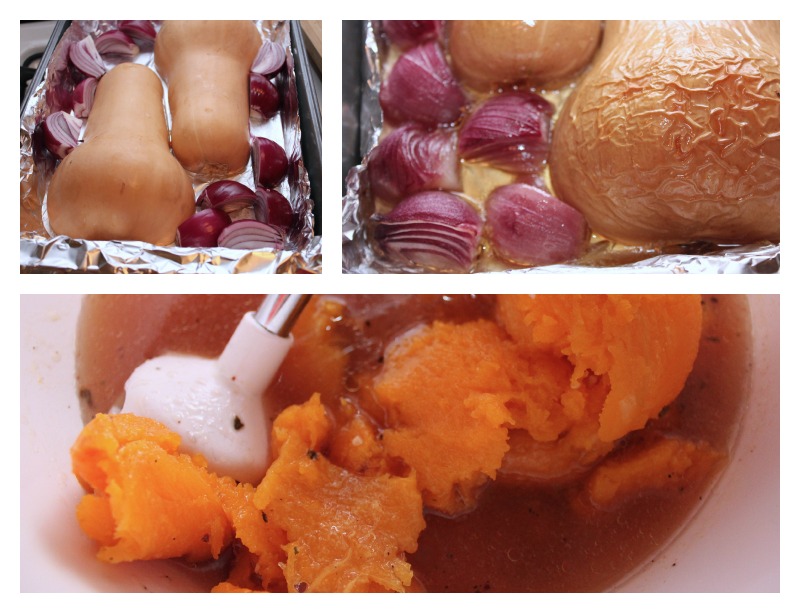 When the squash is cooled enough to handle, scoop out the flesh. Squeeze the garlic cloves out of their skins and discard the skins. Using an immersion blender, puree the baked vegetables, vegetable stock, thyme, nutmeg, salt and pepper.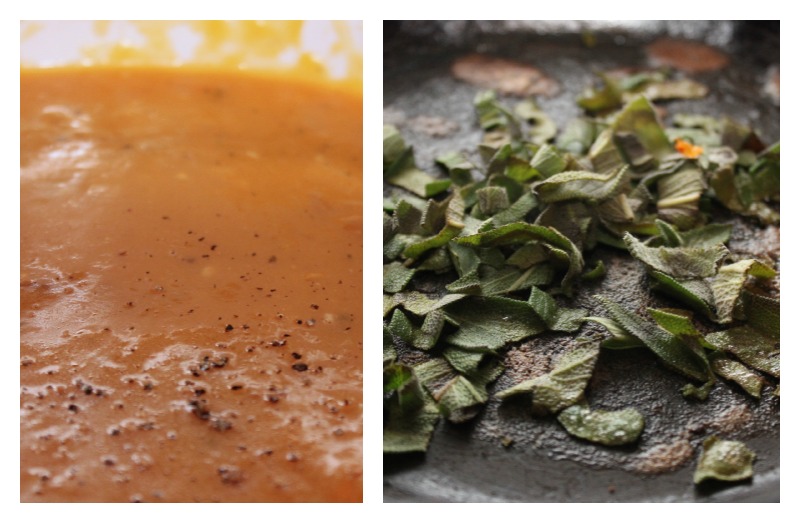 Pour the soup into a pot and heat gently. In a small skillet, melt the butter and saute the sage leaves until dark and curled. Garnish each bowl of soup with the sage leaves.
---
I'm sure you've guessed by now, but there was no second date with Lamia. I do have a freezer full of amazing soup, though, if anyone else is interested.