As part of the ongoing effort of many people and organizations to discredit, defund and destroy health provider Planned Parenthood, there have been a series of videos, speeches, debate allegations, investigations and hearings into the embattled women's health institution. Most recently, PP President Cecile Richards was called to testify before the House Oversight and Government Reform committee on Tuesday. In the midst of all this, there have been a dizzying amount of myths, misconceptions, misunderstandings and outright lies spread about Planned Parenthood and its employees. Here's what people have been claiming about Planned Parenthod and the truth behind the reproductive health hyperbole and half-truths.
1. Planned Parenthood sells fetal tissue ("dead babies"); the videos prove it
Truth: No, it doesn't. Planned Parenthood engages in donation of fetal tissue for research; it's acting legally under the National Institutes of Health Revitalization Act, which allows for research on voluntarily donated human fetal tissue, including tissue from abortions. Passed in 1993, the bill was voted for by many Republicans, including Mitch McConnell, current Republican Senate Majority Leader. The same bill allows for organizations that donate fetal tissue to be reimbursed by the research institutions they work with in order to recoup costs. FactCheck.org talked with Jim Vaught, president of the International Society for Biological and Environmental Repositories and formerly the deputy director of the National Cancer Institute's Office of Biorepositories and Biospecimen Research, who told them that:
"$30 to $100 per sample is a reasonable charge for clinical operations to recover their costs for providing tissue." In fact, he said, the costs to a clinic are often much higher, but most operations that provide this kind of tissue have "no intention of fully recovering [their] costs, much less making a profit."
Even if the CMP videos weren't heavily edited to be misleading and weren't potentially illegal to film in the first place, the conversations and actions they depict just aren't illegal, or anything that hasn't been happening in medical communities for decades. The recent investigation by Missouri Attorney General Chris Koster found no wrongdoing on Planned Parenthood's part, and no illegal sale of fetal tissue.
For further explanation on why this is a myth, check out FactCheck.org's coverage and Media Matters.
2. Cecile Richards apologized, which is the same as admitting PP sold fetal tissue
Truth: Cecile Richards did make a video apology, but it was for the fact that PP employees depicted in the CMP videos were having a "clinical discussion in a nonconfidential, nonclinical setting." She did not at any point apologize for selling fetal tissue illegally, because it did not happen.
3. Planned Parenthood uses federal and/or taxpayer funds to perform abortions
Truth: Nope. The Title X Family Planning federal grant program does not allow any funding for abortion. The Hyde Amendment restricts the use of Medicaid funds to pay for any abortion services that aren't related to rape, incest, or saving the life of the mother. Planned Parenthood is an organization that provides abortion, and it is an organization that receives federal funding in the form of Medicaid, but it is not an organization that, categorically speaking, funds its abortion services with federal money. Here's the relevant text of the Hyde Amendment:
SEC. 506. (a) None of the funds appropriated in this Act, and none of the funds in any trust fund to which funds are appropriated in this Act, shall be expended for any abortion. (b) None of the funds appropriated in this Act, and none of the funds in any trust fund to which funds are appropriated in this Act, shall be expended for health benefits coverage that includes coverage of abortion….

SEC. 507 (a) The limitations established in the preceding section shall not apply to an abortion— (1) if the pregnancy is the result of an act of rape or incest; or (2) in the case where a woman suffers from a physical disorder, physical injury, or physical illness, including a life endangering physical condition caused by or arising from the pregnancy itself, that would, as certified by a physician, place the woman in danger of death unless an abortion is performed.
4. The government writes a check to Planned Parenthood every year that we could be spending on other, more important things
Truth: The money that Planned Parenthood receives from the federal government comes primarily in the form of Medicaid reimbursements for health services provided; it's not sent in the mail once a year as a charitable donation. The government isn't deciding to award that money to PP when it could be deciding to award it to someone else; the money is mostly linked to individual patients who seek services or treatment, and if they were forced to seek treatment elsewhere, it would not mean that millions of dollars of federal money would suddenly be freed up for cancer research or anything else.
5. Planned Parenthood practices "partial-birth abortion" which causes great pain to fetuses
First, we have to talk about the term "partial-birth abortion" — it was coined as a political wedge by a the National Right to Life Committee, not a doctor. The medical procedure it describes is called by actual doctors a "dilation and extraction," and all it means is that the body of the fetus is intact when removed from the uterus of the person having an abortion. Although abortion opponents often claim that these procedures occur in the third trimester of pregnancy, when a fetus could viably live outside the womb, this is extremely rarely true. Most dilation and extraction procedures are performed in the second trimester, and may be a response to a health concern that would ordinarily kill the fetus, pregnant person, or both. (There are potentially fatal health problems, like fetal hydroencephaly, that can't be detected earlier than the second trimester.)
As for the claim that fetuses feel pain during dilation and extraction procedures, there doesn't seem to be evidence that this is true. In a medical article examining the truth of conservative legislator's claims that fetuses aborted at 20+ weeks experienced pain, it was found that "evidence regarding the capacity for fetal pain is limited but indicates that fetal perception of pain is unlikely before the third trimester."
6. Planned Parenthood spends federal and donation money frivolously on non-medical expenses
Truth: According to its annual report, Planned Parenthood does 65% of its spending on medical services, and 81% of its spending on programming & services when you include "non-medical programming" like sexuality education — the kind of programming that can help reduce unplanned pregnancies and thus the demand for abortion. Despite Utah Rep. Jason Chaffetz's claims that PP "[spends] millions on political activities, lavish parties, travel and health care expenses overseas," it seems that their spending on fundraising — 5% — pales in comparison to their spending on providing healthcare primarily to low-income women.
Another hot topic of contention at the hearing this week was Cecile Richards' salary, which tax returns showed to be in the $500,000 range. Richards doesn't dispute this, but as other legislators like Rep. Carolyn Maloney pointed out, it's not an unusual salary for the president of a large national organization. Her salary also isn't funded with federal money, and the committee "[has never] questioned male CEOs compensation package in any hearing regarding any for-profit corporation led by the committee."
7. Planned Parenthood's data shows that its non-abortion health services are declining rapidly while abortions are skyrocketing
Truth: The graph that's linked with this claim, which was shown by Rep. Jason Chaffetz during the court hearing and which he claimed was based on Planned Parenthood's own reported data, was almost immediately shown to be actually based on "data" from Americans United for Life, an anti-abortion group. Here's what the faulty graph looks like: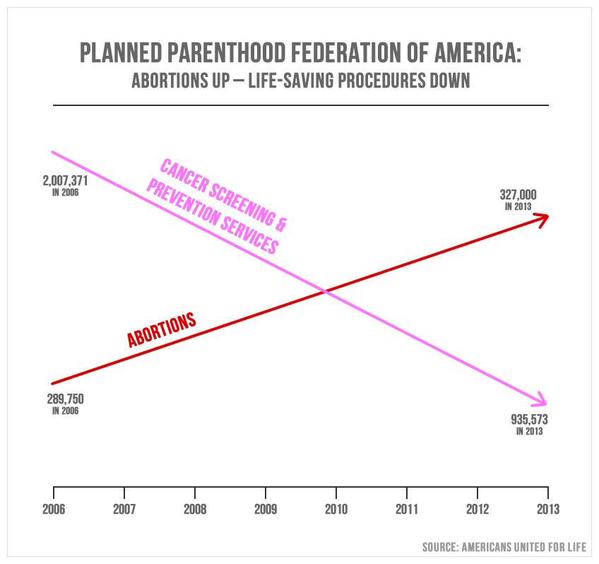 Javier Zarracina created an accurate graph for Vox using the actual data. Here's what it looks like: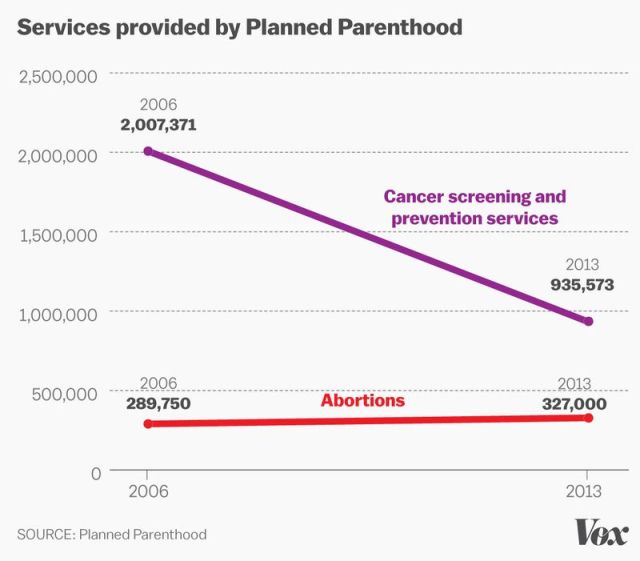 It's also misleading that the purportedly damning graph only contrasts abortion services and cancer screening services, as if those are the only two things Planned Parenthood does; Timothy B. Lee notes at Vox that when you include all the other non-abortion services PP provides, like STI treatment and contraception, "The overall number of non-abortion services provided by Planned Parenthood barely changed at all, going from 10.29 million in 2006 to 10.26 million in 2013."
8. Other resources will fill the gap if Planned Parenthood is defunded
Truth: While there are other resources for pregnant people, Planned Parenthood is a unique organization that provides a wide range of health services to a wide range of people, and isn't replicable by other already-existing organizations. Abortion opponent Gianna Jessen claimed that "We often hear that if Planned Parenthood were to be defunded, there would be a health crisis among women without the services they provide. This is absolutely false. Pregnancy resource centers are located nationwide as an option for the woman in crisis." Even if we accept this as true, the pregnancy resource centers she talk about won't provide what PP does, including:
+ breast exams
+ Pap tests
+ educational programs and outreach
+ tests and treatments for STIs
+ contraceptives and other services to prevent unwanted pregnancy before it happens
+ informed-consent model hormone treatment for transgender clients
+ anemia testing
+ cholesterol screening
+ diabetes screening
+ general physical exams
+ flu vaccines
+ support in quitting smoking
+ high blood pressure screening
+ tetanus vaccines
The fiction that Planned Parenthood is nothing more than a one-stop shop for abortions feeds the fiction that pregnant women can easily be provided other options, but the largest demographic of people who rely on Planned Parenthood's services isn't pregnant women who want to terminate their pregnancy, but low-income people who don't have access to and/or can't afford other providers of medical care, even general healthcare that has nothing to do with reproductive health. If Planned Parenthood disappears, the effect isn't going to be that pregnant women just have to drive to a different building in town to figure out their options; the effect will be poor people getting ill and potentially dying of diabetes, breast cancer, and illnesses they could have been easily vaccinated for.
9. Planned Parenthood is lying when it says it provides healthcare beyond abortions because it doesn't have mammogram machines in its clinics
Truth: Not having mammogram machines in their facilities is actually totally normal for a healthcare provider — your general practioner and family doctor probably don't have them either. Mammogram facilities have to be accredited by the American College of Radiology, and it's common procedure for any doctor, whether they work at Planned Parenthood or not, to assess a risk of breast cancer in their office via a manual breast exam and then refer the patient to another location if they think a mammogram is necessary. Regular mammograms are generally only recommended for women over 50, which is a small portion of Planned Parenthood's patient base. Plus, as mentioned above, cancer screening is only a portion of Planned Parenthood's services, even if it's sometimes the only one people remember outside of abortion services.