OUT Magazine has decided that you need a little extra hope and happiness in your life, so they've served some up to you via photos and stories from twenty-three homodorable families, small and large, that will just make your heart melt and your soul sing. Do you feel uplifted yet? Here are excerpts from a few of our favorites but you should really go through the entire slideshow and read everybody's WHOLE ENTIRE LOVE STORY. Everyone's just so cute and special! Makes me feel cute and special, you know?

Catherine Opie (Artist), Julie Burleigh (Garden Designer/Artist), Oliver (9 year old), Rodney Hill (Art Director) & Taka Nonaka (Art Director)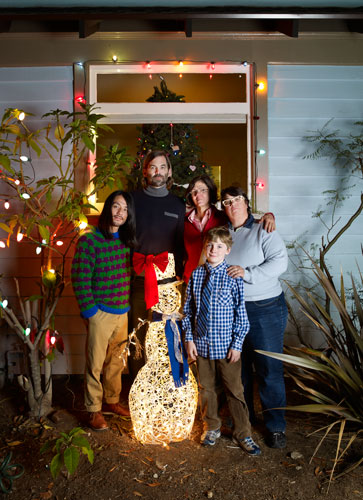 Catherine Opie's got herself a clan of five — her wife Julie, her son Oliver, Oliver's donor father Rodney ("Most gay guys don't go hoping to bear children with women, but when she asked, I knew I was going to say yes") and Rodney's boyfriend Taka.
Catherine Opie: "I'm not one of those people who ever crushed out on straight girls before—I've always been pretty butch-on-butch in my relationships—but Julie had this really great tomboyish attitude. We'd been friends for about a year, and one day as we were driving back from one of my openings, I said, "Julie Burleigh, you're the kind of girl I would want to marry." And she said, "Cathy Opie, I take that kind of proposal very seriously." And we fell in love."
Oliver, Age 9: "I'm not sure what other families are like, because I'm not a part of my friends' families, so I don't really know, But ours isn't strange — it's great. It's just that having two dads and two moms evens it out a lot. And I have a lot of people caring about me. Do my friends think it's odd? I'm pretty sure one of my friends doesn't think it's odd, 'cause their parents are gay too."

Sean Dorsey (Choreographer, Dancer) & Shawna Virago (Musician, Filmmaker)
Sean: "The connection was really deep early on because we both shared a lot of things spiritually, politically, artistically, intellectually — and our humor. They were all there, so it was really playful and sexy, but it was also really smart and engaging and challenging to find a fellow trans and queer activist who is an artist first."
Shawna: "When you find love, really true love, it's a human victory. It's complicated for queers because we're attacked so much, not only around marriage, but also for just wanting relationships of any kind. I think in our case, since we didn't move in together for five years, and we tried to be really conscious about our relationship, getting married felt like a clean move. There really wasn't any fantasy involved. I'm just old-fashioned in a way, and I wanted to celebrate the love we have."

Jessica Rankin (Artist) & Julie Mehretu (Artist)
Jessica: "We met in 2000, in a bar -the old-fashioned way! We met and had a wonderful summer together, and we were both insistent it wasn't serious, that we didn't want to rush into things, but it was really evident to those around us that what we had was something special."

When Edie Met Thea
Edie is the subject of Edie & Thea A Very Long Engagement and last November Edie filed a lawsuit challenging DOMA's constitutionality. Though Thea passed away, Edie had lots of super-cute memories of their 44-year relationship.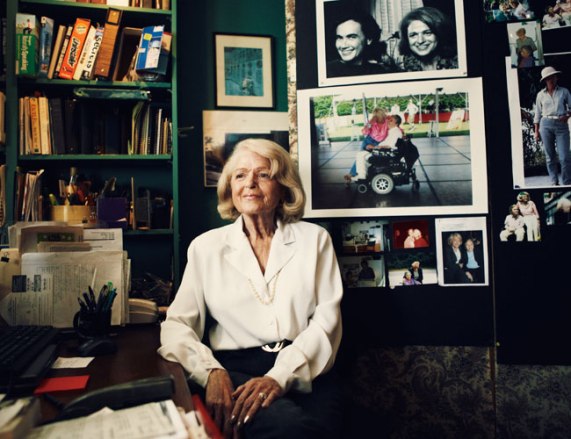 "
I came to New York to be a lesbian when I divorced. Near Downing Street there was a bar called the Laurels. I went maybe twice a week, and I got to know people, and I never paid for a drink myself. I always ended up with more money on the table than I started with. I would get little notes from girls the next day saying, "Forget the others," but I felt most strongly that with a woman you don't touch her until you can't bear not to."
"I was wild for her. I don't know how to describe it. It was everything. It was just more so. We were profoundly in love and stayed that way. For her, it was all sexual. Many, many years later, I said to her, "When did you really start to deeply love me?" And she said, "Mrs. Fordham's house," which is the house we rented for the summer in the Hamptons. We had very different passions, but we both had enormous love for each other's passions. She played the violin. She played golf. And she did them both obsessively. With golf I had to make certain rules, because if she came home talking her head off about every shot, I would say, "The idea is for you to go and enjoy it and discuss it completely and then come home."

Tasha Tilberg (Model) & Laura Wilson (Talent Agent)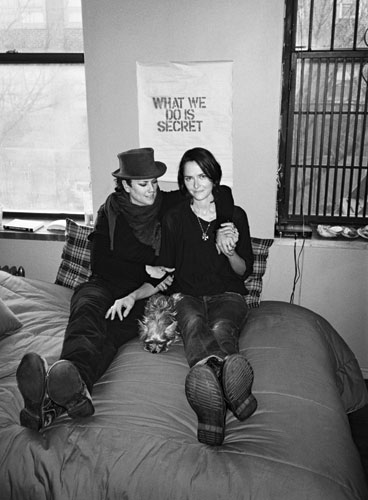 Laura: "I was the one who proposed, about eight months later. I knew I wanted to spend the rest of my life with her, but in January 2008, she had an accident where she severed a nerve in her hand, and I had to take her to the ER. I wasn't allowed to go with her into the exam room because I wasn't considered immediate family, and something just came over me, and I thought, I need to marry her. I don't ever want to be separated from her again."