Last night, the (gay) internet unanimously agreed that the first ten minutes of Logo's fourth annual NewNowNext Awards were already more exciting than all five hours of the Oscars. Hosted by Dawson Leery himself (get it, girl!), the program featured performances by Robyn, electropop group Oh Land, Panic at the Disco, and everyone's Dinah Shore favorite, Wynter Gordon. They also somehow managed to wrangle an impressive roster of presenters and attendees, including Adam Lambert, Darren Criss, Maya Rudolph, Paula Abdul, the queens from RuPaul's Drag Race and a pair of gay Angry Birds. Gosh I hope Tom and Katie found time to tune in and support the Beek.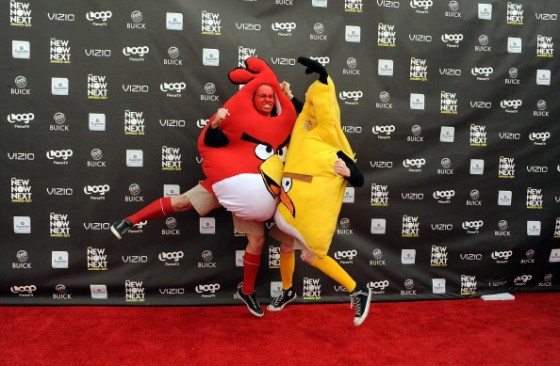 For the second year in a row Autostraddle was not nominated for a #zOMG Internet Award and we won't stop until we have one on our mantel, damnit.
Anyway, the NNN Awards actually have an impressive track record, having identified Lady Gaga, True Blood and Julie Goldman as Significant Things before they hit the mainstream radar.  In fact, the first annual NNN Awards was the site of Gaga's very first televised performance of "Just Dance" back in May 2008:
And you better believe Gaga remembers performing in that tiny, weirdly lit room in New York City as she gracefully accepted her Lifetime Achievement Award via video.Oh, you read that right. Lifetime Achievement. She's been around three years.
Backstage footage reveals an exclusive with Adam Lambert who dishes on his Finnish boyfriend, the secret meaning of "slaloming," other sordid sex acts, and his new album.
Full List of Winners:
Brink of Fame Actor: Darren Criss (Glee)
#zOMG Internet Award: (tie) @CarrieFFisher on Twitter; JamesVanDerMemes.com
TV You Betta Watch: Pretty Little Liars
Best New Indulgence: New Kids on the Block/Backstreet Boys — Summer Tour 2011
Most Addictive Reality Star: Tabbatha Coffey (Tabbatha's Salon Takeover)
'Cause You're Hot: Joe Magnaniello (True Blood)
Next Must See Movie: Bridesmaids
Brink of Fame Award: Oh Land
Always Next, Forever Now Award: Lady Gaga
Watch the entire show right here:
---
Before you go!
It takes funding to keep this publication by and for queer women and trans people of all genders running every day. We will never put our site behind a paywall because we know how important it is to keep Autostraddle free. But that means we rely on the support of our A+ Members.
Still, 99.9% of our readers are not members.
A+ membership starts at just $4/month.
If you're able to, will you join A+ and keep Autostraddle here and working for everyone?
Join A+