Sometimes there's just so much legislation happening by and for and against gay people on this spinning rock full of weirdos that it's easy to lose track of it all. Well, not today! Here is the 411, in several different states which you may or may not live in.
HAWAII:
Hawaii is really coming out on top today, with the passage of a bill that includes gender identity and expression in the state's employment protections. It passed with a 22-2 vote, and is now moving onto Governor Abercrombie for his signature. "The march towards full equality in the Aloha State continues," said Alan Spector, Equality Hawaii Co-Chair. "Providing employment protections to transgender citizens in Hawaii is a victory for civil rights and equal treatment under the law for all residents of our great state."
And that's not even all! They've also elected their third openly gay official, Kipukai Kualii. "Kualii joins Blake Oshiro, a state representative, and Kim Iwamoto, a transgender member of the state board of education, as Hawaii's openly LGBT elected officials. Hawaii, which recently legalized civil unions, also has a lesbian on its state supreme court, an appointed rather than elected position." Maybe there should be less talk of moving to Canada and more talk of moving to Hawaii.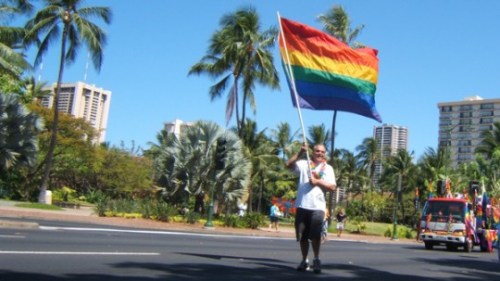 ARIZONA:
Governor Jan Brewer is well-known as the person responsible for the shockingly stringent and deeply unpopular immigration bill SB-1070. Now she's looking at SB-1188, a bill that would make it extremely difficult for gay and lesbian couples to adopt children. Brewer has the opportunity to veto it, but has given no real indication about how she plans on handling the bill.
ILLINOIS:
Illinois Republicans have somehow managed to sneak an amendment that would restrict gay people from adopting into a bill about assistance for the blind. The anti-gay sentiment is shocking on its own, especially when combined with an apparent willingness to trick other lawmakers into cooperating with its passage if that's what it takes to pass it. Specifically, the amendment states that "a child welfare agency that is religiously based or owned by, operated by, or affiliated with a bona fide religious organization may decline an adoption or foster family home application … from a party to a civil union if acceptance of that application would constitute a violation of the organization's sincerely held religious beliefs."
MARYLAND:
The bill meant to provide housing protections for trans people in Maryland, HB-235, has died on the floor. Supporters of the bill seem to generally be holding anti-gay Christian groups responsible for fearmongering about possible consequences of protecting trans people from housing discrimination. "Among the tactics used to defeat the bill was the Not My Shower website, which claimed that heterosexual men in dresses would invade public locker rooms to molest little girls." It's important to note also, though, that this bill was perhaps only of symbolic assistance to the trans community of Maryland, and that there was heated controversy within the trans and activist community about the lack of protections for public accomodation, which would have included shelters and protections for homeless trans people.
There! Now you know what to be either angry or pleased about. You're welcome.