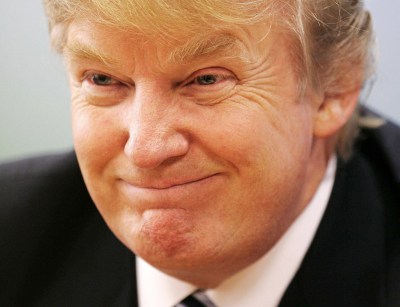 So apparently Donald Trump, the billionare real estate mogul who has his own teevee show in which he fires people by saying firmly "You're fired," is really probably going to run for president, which sounds like the worst idea I've heard since I first heard the idea of Sarah Palin running for president. I'm in favor of a constitutional amendment that bars anyone who has participated in a Reality Television program from running for President if anyone on the left is interested in proposing an amendment that could potentially waste as much time as the Republican amendments.
Anyhow, in order to win over the hearts and minds of the most stubborn self-centered members of the Republican party — the Social Conservatives — Donald Trump has officially reversed his positions on abortion…
He says one of the main reasons [he switched from pro-choice to pro-life is] because one of his close personal friends chose to keep his child rather than have an abortion.
[Sidenote: Um, isn't it safe to say that everyone who's ever had a child chose to have a child rather than have an abortion? Because they had the child, so. Not the abortion. If you have a child, you did not have an abortion. Is this complicated? Except for the people on that I Didn't Know I Was Pregnant show]
…and same-sex marriage:
Trump told The Des Moines Register last week that while his "attitude on it has not been fully formed," his current stance is "no and no" when it comes to extending any kind of rights to gay couples.
According to Mother Jones, this position "is in stark contrast to his past support for gay rights on everything from domestic partner benefits and civil unions to gays serving openly in the military." In 2000, he told The Advocate that he supported "a very strong domestic partnership law" though he opposed legalizing gay marriage, saying:
"I think it's important for gay couples who are committed to each other to not be hassled when it comes to inheritance, insurance benefits, and other simple everyday rights."
Furthermore Trump said he "cared more about a person's capabilities than their sexuality" and would open the door for gay employees in his staff. He also wanted to prohibit discrimination based on sexual orientation and amend The Civil Rights Act to include GLBTQ people.
BUT NOW IT'S TIME TO BE PRESIDENT OF THE AMERICAN STATES! So he is over gay people, which I would suggest means he never cared that strongly in their favor before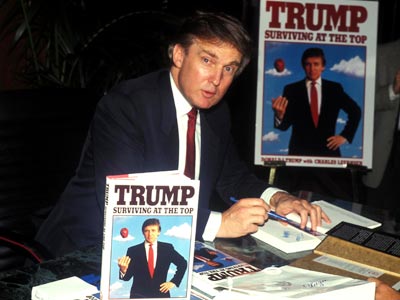 However, despite Trump's eager willingness to throw gay people under the bus in his pursuit of world domination, experts doubt he'll pull it off, as he has the Mark of the Beast for Supporting The Evil Gays in the Past:
Steffen Schmidt, an Iowa State political science professor who's studied the caucuses for 40 years, says the fate of Trump's candidacy is a no-brainer once Iowans learn of his past positions on issues including gay rights. "The moment at which Donald Trump's campaign collapses is the moment the 18 or 20 other candidates bring up these views and chop him off at the knees," Schmidt says. "I have no idea why he thinks he could launch his campaign in Iowa, but he'd probably be successful launching it in Las Vegas."
In almost-conclusion, Donald Trump is essentially a waste of oxygen. Every single thing he does is ridiculous and pointless. His #1 crusade right now is tracking down Barack Obama's birth certificate, which I mean — really? Does he know that a child dies from hunger every 2 seconds? Probably not! because The Smoking Gun has found documents revealing that Donald Trump had given just $3.7 million dollars to charity over the past 20 years, or less than $25,000 a year to charity, making him the least charitable billionaire ever.
His homophobia should come as no surprise, however, that Trump is reversing his stance on gay issues to pander to the party. He's a misogynist homophobe, as I discussed several months back in Policing Female Masculinity and which you've probably noticed if you've ever listened to him talk about women, like in 2008,when he told Larry King he found Angelina Jolie "amazing" because "Everyone thinks she's like this great beauty. And I'm not saying she's an unattractive woman, but she's not a beauty by any stretch of the imagination. And now she's like a representative of the United Nations and world peace and all of this crap."
In 2006, Donald Trump launched his crusade against lesbian Rosie O'Donnell, hurling one homophobic insult after another while suggesting that Rosie's then-wife Kelli Carpenter would be happier with one of his cronies than with Rosie:
"She talks like a truck driver…I never understood, how does she even get on television?… I'd look at her right in that fat ugly face of her's and say Rosie, you're fired!… It's not the chubbiness, Rosie is a very unattractive person inside and out, and she's very lucky to have her girlfriend and she better be careful or I'll send one of my friends over to get her girlfriend. Why would she stay with Rosie if she had another choice?"
In a Larry King Live interview in 2008, Trump continued sounding off about Rosie:
"She came to my wedding. She ate like a pig. And — I mean, seriously, the wedding cake was — was — it was like missing in action. I couldn't stand there. I didn't like it, but a particular woman wanted her at the wedding — Marla. I think they were friendly or something. And so I said what's Rosie O'Donnell doing here?"
In response to the 2006 Rosie Debacle, Karmen Kregloe at AfterEllen.com wrote of his Rosie-bashing interview with Greta Van Susten: "Trump crossed the lines that separate business from personal, creep from misogynist, and insecure bully from homophobe."
Here's what's really scary — The LA Times reports that Republicans polled in a CNN/Opinion Research Corporation survey on the question of who should receive the GOP nomination for president, Trump, the real estate tycoon, tied former Arkansas Gov. Mike Huckabee for first.
You guys. Is this the apocalypse?
The most retrospectively anonymous quote from the Donald-Rosie feud, however, is as follows, and speaks for itself:
"Well look, Rosie is a very unattractive woman. I'm saying something. I'm not a politician so I'm not running for office so I can say it. I'm mean, Rosie is a very unattractive woman but as unattractive as she is on the outside, she's even worse on the inside, and she's very lucky to have a nice girlfriend. I think you better hold onto your girlfriend Rosie because if you lose her, you'll never be able to get another one."
Luckily I don't even have to tell you what I think ('cause let's be real– you already know), I'm gonna tell you what Republican former Senator and all-around stand-up guy Alan Simpson thinks about these issues currently mucking up his party, so that we can end this post on a positive note:
Who the hell is for abortion? I don't know anybody running around with a sign that says 'have an abortion, they're wonderful.' They're hideous. But they're a deeply intimate and personal decision and I don't think men legislators should even vote on the issue.
Then you've got homosexuality — you've got 'don't ask, don't tell'.
We've got homophobes in our party. That's disgusting to me. We're all human beings, we're all God's children… if [Rick Santorum] is the kind of guys that are going to be on my ticket, you know,  it makes you sort out hard what Reagan said, 'stick with your folks,' but I'm not sticking with people who are homophobic, anti-women — moral values, while you're diddling your secretary, while you're giving a speech on moral values. Come on, get off of it."