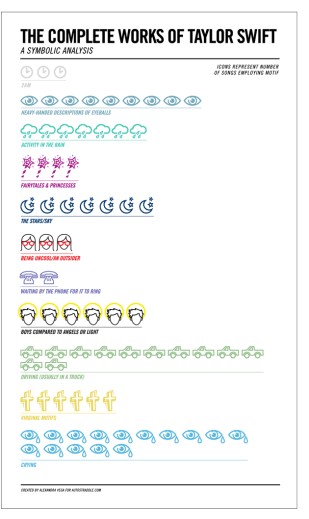 In February of 2010, I wrote an article for this website entitled Why Taylor Swift Offends Little Monsters, Feminists and Weirdos. I almost didn't publish it at all, having decided it was stupid, but our Executive Editor made me do it and whaddya know, it ended up going viral and will not escape me to this day! [Looking back on it, I realize I made some mistakes — like that I shouldn't have stanned so hard for Lady Gaga because I think that may have lessened my credibility with many readers, but I suppose things were different then and it made sense at the time.]
In any event, one of the true joys of my life is that the comment thread on this article actually never ends, despite it having been published two years ago. As often as several times a week, Taylor Swift fans will find the piece for the first time and give me a piece of their mind. And ladies — although Swift herself is a fairy-tale sweetheart-haired wide-eyed pilar of innocence, some of her fans can be viciously entertaining wildebeests.
The following lines were taken from comments left on the Swift article after its initial moment of glory last February, which I find hilarious. I have left spelling/grammar errors intact.:
1.  First of all, you're a bitch.
2.  Feminists piss me off for reasons like this article.
3.  wtf were you drunk when you wrote this too? your retarded. taylor swift is amazing. and about 99% of the world hated on kanye after that.
4.  I appreciate the fact that you've put a lot of effort into this, and it's really thorough, but fuck you!
5.  The only real problem that you may have with swift is that she is indeed a strong women, and based on this article, you apparently cannot handle that.
6. It seems that for all the name dropping you do [Dylan, Saving Jane, etc] that you're not really in it for the music. You're in for some crazy affirmation of your intelligence or liberation, something that says your choices or beliefs as a leftist are correct, or something that simply validates the stick you have up your ass.
7. haha you mad that Tr*nny didn't win and Taylor did.
8. Saying the author of this article is jealous of Taylor's success would be a dramatic understatement. It's evident she can't appreciate anything that others would consider mainstream.
9. Don't think gyrating all over the stage and making out with other girls like Rihanna and Britney is considered "putting on a good performance". I would rather watch Taylor put on a decent performance before I watch stage sex. I think you should re-evaluate your morals.
10. Your just a lazy piece of shit that took time to write this article that is completely untrue. 99.9 % of the world love taylor swift, and your that .1% who doesn't.
11. She isn't a feminist worst nightmare! i have a friend who is a feminist and she adores taylor.
12. Seriously GET over yourself, you sound like a miserable and jealous person
13. PS. I don't hate you. But I will NEVER like you. GOD BLESS YOU. you are in my prayers.
14. All this blog did was make me a bigger Taylor Fan. Firstly because I believe feminists suck and they are the ones I really don't want to listen too unlike Taylor Swift.
15. don't attack Taylor Swift just because you had sex when you were a teenager
16. DONT BASH TAYLOR JUST BECAUSE YOU WANNA SUCK GAGAs COCK AND SHE LOST
17. gather your shit and think and research your shit before you publish it so that you'll not making yourself look like an ignorant!
18. Not trying to be mean but if you wanna put down classy young girls everywhere, then we will fight back. We only look like delicate flowers, but when we need to fight back, we will.
19. you think taylor is unoriginal and recycling her music from other artist? well i think gaga is a wannabe copycat of madonna! so how about that!!!!
20. I think you need to stow away your burning bra and just relax: just because a 20 something year old girl is singing about boys does not mean the end of feminism is near.
21. This was such a bullshit article, and it made me so disgusted that I don't think I will ever read another one of your articles because of the lack of research or thought.
22. you're just a fucking bitch who's jealous of so leave her the hell alone and get a life
23. This is the stupiest article i've ever read.
24. taylor is like the best person i know she is so awsome.i wont to meet taylor so bad its my dream to meet her.i mite not be able to buy her shirts but i love taylor swift so much she is awsome,so awsome i dont really have any words to explian iti love every song u put out.now i wont to move to nashvile tn.close to where u live.but i geus that will be a wile im only 13.in live in tx.but thats not goin to stop me from meeting u one day.please come to dallas soon.I LOVE U TAYLOR SWIFT!!!!!!!!
25. lol fuck whoever wrote this haha really you're cool.
26. stopped reading this when you indicated you liked Twilight.* How can any one take you seriously as any type of music critic when you obviously have absolutly no taste or working knowledge of quality entertainment? You can't even tell the difference between something good and a steaming pile of crap.
* I said no such thing, obviously I don't like Twilight and think it's one of the most problematic franchises of all time, w/r/t feminist pop culture critique. Anyhow, this commenter is referring to the following statement: "[Taylor Swift] irritates me much like John McCain irritated me for most of 2008… or, more accurately, how Avril Lavigne's faux-"punk" abstinence anthem "Don't Tell Me" irritates me or yes, how the Twilight franchise occasionally irritates me (though I've seen it now, and I admit it does look cool)." Mhm. Who's "an ignorant" now, huh?