Hello possum-friends! We're at Camp this week, CAN YOU TELL? And one of the new workshops Alex Vega and I are running this Camp is cocktail making, and we're focusing on three-ingredient drinks because they're awesome and everyone who wants to mix drinks should know a few good ones.
Now I know sometimes I can get a little complicated with my drinks (like when I grew a special kind of mint just for a pun). But that's because this is my fun and I get to pretend I'm a potions student at Hogwarts. Practically speaking, you want to know a couple of quick n' easy drinks for surprise company or to prevent panic ordering at a bar with an unfamiliar spread.
It's also good to know three ingredient drinks because they're easy to scale in your head—if you're mixing for you and a friend, just multiply everything by two real quick without having to write things out because otherwise you forget them and, what? No, of course when I double my complex drinks I don't have to write it down and put it on my bar because I will almost definitely fuck it up if I don't do that, you're nuts.
Three-ingredient drinks are also easy to perfect to your taste — too sweet? Less of the sugar. Too sour? Less of the juice! Too drunk? Your alcohol ratio may be off. Because there are only three ingredients, nothing is doing subtle work and you can pick out your 'culprit.' It's also then easy to riff on a three-ingredient drink if you want to do something more complex, which is easier to talk through if we've got an example in front of us. That brings me to today's drink:
---
The Bees' Knees
(or the Bee's Knees? I'm choosing to go with the plural possessive because no one bee is responsible for the honey. Or we could call it the Beeses Kneeses.)
You will need:
a shaker
a jigger
some ice
1/4 oz. honey
1/2 oz. lemon juice
2 oz. gin (I'm using The Botanist in my house, but we'll be using Farmers Organic on the mountain).
lemon peel to garnish
and obvi a glass to serve it in. I'm using a jam jar DO YOU SEE A PATTERN HERE?
Fill your shaker about a third of the way full with ice. Have I ever said why you shake some drinks and stir others? I can't remember. Shaking is reserved for things you really need to mix up like eggs or fruit juices or simple syrup. Stirring is for when the drink is made with ALL LIQUOR. (There are a few three-ingredient drinks that are all liquor — the Negroni pops to mind.) Never put seltzer, soda or tonic water in a shaker. You'd think I wouldn't have to say that, because common sense, but the thing about people shaking drinks who don't do it on the reg is that they're usually a bit tipsy and logic no longer applies to them. I have received a few text messages asking me about seltzer in a shaker. But I digress, as there's no seltzer in this recipe. Onward!
Juice your lemon! Slice your lemon length-wise for optimal juice. I don't know why it works, but it does.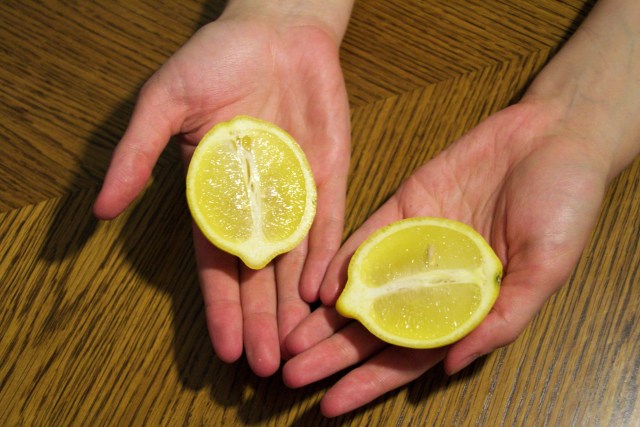 Measure out 1/2 oz. lemon juice and pour it into the icy shaker. Then go with the 1/4 oz. honey.
Now there's almost no way you're going to come out of this without a honey-finger. (My fiancée: "you could get a spoon or a knife so you could scrape it against the side or… or your finger, okay") Life is more fun when you have a gal pal or other sort of buddy to lick it off for you.
Add the 2 oz. of gin and SHAKE SHAKE SHAKE.
Strain into a cute glass and serve to your cute pal.
---
Now remember I was talking about three ingredient drinks being cool to riff on? Let's figure out what kind of things we could do once we have this perfected. Oooh, oh, for a real easy variation, how about throwing in a 1/4 oz. of orange juice for funsies? Or, if you really want to Hogwarts it up, you could make a lavender infused gin and garnish with lavender! See, the possibilities are endless when you have a solid base. I bet y'all can come up with some other tasty variations on your own.