Last month I urged you to try a Negroni, even if it was an acquired taste. How did that go, by the way? I genuinely want to know, so please tell me. But in the meantime, I want to continue our collective Campari education with another bitter drink, one that's quite similar to the Negroni but way less strong and way more refreshing: The Americano.
The Americano was first served at Gaspare Campari's bar in Turin, called Caffe Camparino, in the 1860s. And it wasn't called the Americano at all, but rather the Milan-Torino, because the Campari came from Milan and and the Sweet Vermouth came from Turin. Then prohibition came around, and American tourists and expats REALLY wanted a damn drink. So legend has it they all bellied up to this bar and ordered Milan-Torinos like they were running out. Because of the noticeable spike in orders and the noticeable people who were ordering them, the drink came to be known as the Americano, after the parched prohibition-sufferers.
I think its history is part of the reason I'm so into having Americanos this month—I've just finished a very stressful, busy time in my life and I'm thirsty for a break, like the Americans were back then. Plus I wish I were lounging around a bar in Italy pretty badly. Plus plus I think this is the perfect cocktail to pair with Elena Ferrante's Neapolitan series, which are on my list this month (I've been told the men don't matter AT ALL and I'm really psyched about it). Plus plus plus this drink, like the Negroni, is also really easy—only three ingredients, built in glass and easy to explain to bartenders when you order it out. Hopefully you've got a deck or a balcony or a bar with outdoor seating and a book and some queermos to hang out with, because this is that kind of drink. Let's hop to it.
You will need:
+ A bunch of ice. A few of you have asked what mold I'm using for my ice spheres, and it's this one.
+ Campari. If you made the Negroni last month, you probably still have some!
+ Sweet Vermouth.
+ Seltzer. NOT TONIC! I actually don't know that I've said this here before, but those are two different things and I've seen someone confuse them in the last month so I figured I'd let you know. Not that this would be BAD with tonic, it would just be a different drink. I mean, if you WANT tonic you should follow your heart and all. Also, did you know seltzer and club soda aren't exactly the same thing, either? The additives in club soda make it taste a bit saltier, which is not to my liking, so I usually go for seltzer.
+ A highball glass! When you're topping drinks, it's nice to have a tall skinny glass. Obviously it's not required—this would do just as nicely in, say, a stemless red wine glass. But the glass should have enough volume to get topped with soda, which cuts out some of the shallower options (no Martini glass, for instance).
+ A bar spoon.
+ An orange to garnish.
I'm putting three of my ice spheres into the highball glass first—but if you're using cubes, you'll want to fill it pretty good. About five or six average sized ones.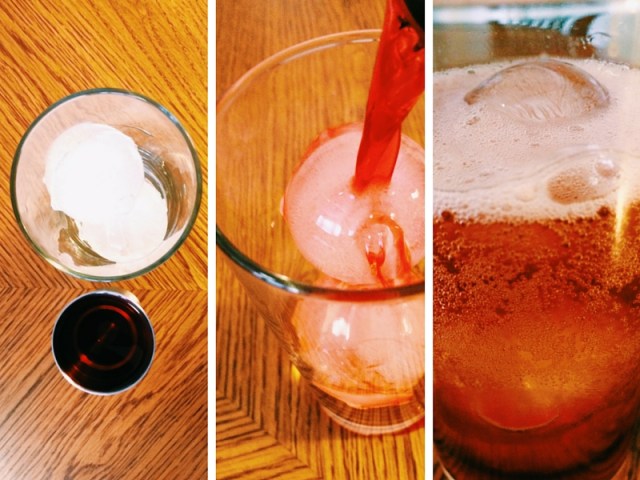 Then, and this is the easiest bit, dump in 1.5 oz Campari and 1.5 oz Sweet Vermouth. Top it off with seltzer—it'll be about 3 or 4 ounces of seltzer, but it's one thing that I can't be bothered to measure when I'm just making drinks for myself.
Using the bar spoon, stir the drink! What you want to do is slip the bar spoon between the ice and the glass and get a good stir on without clinking the ice too much. Just try to make a noiseless whirling vortex and see how you get on. It takes a bunch of practice; I'm still not the best at it.
Garnish with an orange coin and enjoy! Some people like this drink through a straw, so if you have straws (classy or silly), this may be an appropriate straw-use time.
Cheers all!