Welcome to the eighth recap of the third season of Faking It, a show about that time it rained so hard that my house floated away on a river and eventually docked on a distant port just in time for a lesbian whale-watching cruise. This program is brought to you by the same network that brought you Pimp My Ride, which was also about my house floating away.
I'm sorry this recap is many hours late and honestly, several dollars short. It's been a really stressful week!! BUT I SURE HOPE WE CAN COME TOGETHER TO DISCUSS THIS SHITSHOW.
---
We open in Amy's subconscious, okay? I'm just gonna do you the favor this show did NOT do me, and let you know straight-away where we are. Like say if you watched the Faking It mid-season trailer and saw this scene and thought it was a scene that would eventually transpire in this very narrative I want you to know that you were wrong. You were tricked. It is, indeed, a fucking g-damn DREAM, Y'ALL.
Yup, so, in Amy's dream, Karma approaches her, says she's identified the source of her jealousy, and then shares a series of intense but tongueless kisses with her best friend for life, donut and horror movie enthusiast Amy Raudenfield.
Then Amy's like, "no! I cannot go back there with you!" at which point Karma turns into Sabrina, and there's a wind machine, and it's like this whole thing.
And then, of course… she wakes up!
---
Cut to Java the Hutbucks, where a tiny sign on the cabana indicates we are merely seven days away from Christmas, my favorite holiday! Even though I'm Jewish. Anyhow, Amy admits to Shane, who says this situation reminds him WAY too much of that other situation, that Sabrina admitted to Amy that she had a "sexy female dream of her own."
Karma shows up and is alarmed to see that Amy is wearing her "crush boots," which kill Amy's tender golden arches but are also really good at seducing people. She demands Shane reveal who Amy's dressing up for — IS IT SABRINA??!!! Karma says Amy's gonna get her heart broken again but Shane refuses comment, instead shoving a taco into his mouth. An actual taco.
---
Lauren's Lovely Lair: LIAM, PUT DOWN THE BABY JESUS. PUT IT DOWN. THIS IS A CHRISTMAS HOUSE, NOT A HANUKKAH HOUSE. ALSO IF IT'S REALLY 7 DAYS BEFORE X-MAS, CHANCES ARE VERY GOOD THAT HANUKKAH HAS ALREADY BEGUN.
HERE LIAM, YOU CAN HAVE ONE SQUARE FOOT FOR YOUR MENORAH AND YOUR DREIDELS, OKAY? ONE SQUARE FOOT. MHM. HAVE SOME TINY PIECES OF GELT. LIKE DIME-SIZED GELT. MAYBE FIGURE OUT HOW TO MAKE THAT ONE SQUARE FOOT LAST FOR EIGHT SQUARE FEET, OR SOMETHING.
---
Back at Hester Heathen High For High Kicks and Fun Times, Amy and Sabrina are figuring out whether or not Sabrina is an Ellen Page type or a Portia De Rossi type, which's tough to figure out because Sabrina isn't gay.
Also WHERE did they find this rare print edition of Autostraddle.com?
Amy suggests they hit up LeZ-BINGO, which must be taking place in Fantasyland, but before Sabrina can excuse herself, Karma slides in like a wet banana and suggests something Sabrina wants to do even less: attend movie-oake as the Three Amigas! They're doing Mean Girls and Sabrina would be so good at it, because she is a mean girl! Sabrina and Amy lie very poorly regarding their plans for this evening and Karma buys it because she is a goldfish.
Karma warns Sabrina against doing anything that might lead Amy on. Unfortuanetly, Sabrina is a heartless bitch.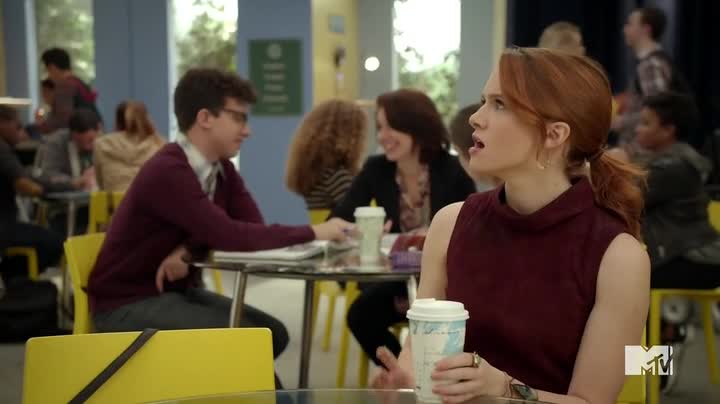 ---
Elsewhere in this institution of secondary education, Shane and Noah are linking pinkies and gazing into each other's eyeballs when Karma interrupts just in time for Noah to duck out of the convo because, as Shane tells Karma, Noah always ducks out when things get sexually suggestive. Maybe he has IBS.
Shane wonders if Noah's not out yet, but Karma says at least he's got something to be out ABOUT, unlike Amy's crush, Sabrina McStraightypants. Then Karma has an idea! She'll try to save Amy from the fake lesbian storyline by pushing her further towards the boyfriend storyline! She casts a determined glance in Felix's direction. Felix always seems a little bit confused that he's even on this show, you know?
---
Out in the previously cheery outdoor hallways of the Hester Hippie Hoe-Down, Penelope Delia Fisher is ripping down mistletoe like the motherfucking Grinch and declaring that Christmas Break is cancelled because um, it's offensive. To somebody. Hypothetically.
Penelope: In an ideal world, everybody would just wear labels that told us how NOT to offend them. But they don't!
Lauren: What if they did? If we can get everyone to label themselves, can we get our holidays back?
Penelope's unclear on how, exactly, that could be "pulled off." I'm unclear on how, exactly, you could cancel holiday break a few days before holiday break. Surely these fancy students have so many scarves in their wardrobe for a reason and that reason is probably "Colorado" or "Vermont." Can't wait to find out what the point of this weird plot device might be!
---
Karma locates Felix hanging out by himself in a Grandpa sweater and tells him it's time to begin wooing Amy 'cause we're a mere two weeks away from the end of his No-Dating period. The End Of Felix's No-Dating Period has arrived much sooner than I expected!
You know when you have that terrible date in your future that you're dreading, like "the day taxes are due" or "the day you have to drive all the way to Warren so your doctor can make you feel bad about yourself"? That's how I feel about The End of Felix's No-Dating Period. It was so far away it almost didn't exist, and I got through the days just forgetting that day would ever come, just pushing it right on out of my mind…. and now here it is! Right before our very eyes! My stomach hurts just thinking about it! I thought it would never come!
---
Good news: Liam and Lauren have come together to institute mandatory labeling 'cause obviously they didn't read Michelle Tea's bizarre article in Cosmo last week. This new system will enable everybody to avoid offending each other by um… being really forthcoming about their identities? I cannot believe Lauren of all people is into this!
All I can say is it should be a lot easier for Amy to find another lesbian at this school once this system gets put into practice… but will it?
Shane's concerned this'll make Noah uncomfortable, because Shane thinks Noah's problem is not being out. Then Noah strolls up proudly displaying his "Gay" label and also "Musician." This throws Shane off. What could Noah be hiding if it isn't his homosexuality? There's only one way to find out: following him home. Which leads to Liam and Shane rolling up outside a building called "Fitz's Place," which is where Fitz and Olivia hook up on the weekends and also where Noah has friends who he hugs and says hi to.
Welp, it turns out that Fitz's Place is a shelter for LGBTQ youth that is so well-funded that a guy walks over to their car and knocks on Shane's window to ask if they need a bed. 
Shane: Uh sorry, I'm taken and he's straight.
Liam: Wait — what is this place?
Guy: A homeless shelter for LGBTQ youth.
Liam: Oh, uh, sorry. Our mistake. Thanks.
Shane: So now he's cheating with a bunch of homeless guys! [pause] OHHHHHHHHHH.
Yeah, so this is intense and also thankfully not where I thought this story was going!
---
Amy's front yard: much to absolutely nobody's surprise, Karma thinks Felix's best chance of snagging a New Year's Eve date with Amy is to stand outside her window and PRETEND to play her a romantic tune on the guitar.
Karma will be hiding behind a tree playing the guitar herself to help Felix's ploy. Alas, in a truly tragic turn of events, Farrah's the only one subjected to a few lines of this undoubtedly epic ballad. She lets the kiddos know that Amy's gone out for the evening with Sabrina. Felix and Karma are both sad, for different reasons.
Pages: 1 2See entire article on one page