Last night at one in the morning I decided that it would be a really good idea to cut my own hair. It was the kind of night where you know you're not going to fall asleep so you become consumed with a toxic mixture of high-anxiety and previously bottled-up energy. I wanted to do something drastic without it being too angsty so I thought that cutting my hair was the perfect option—enough drama without going completely overboard. I wanted to give myself bangs but then I remembered what I looked like with bangs in high school—it wasn't great.
I searched for my special hair-cutting scissors (I get the urge to cut my hair late at night at least once a month) but could not find them anywhere in my embarrassingly cluttered summer-dorm room. I settled on my favorite pair of rather dull left-handed scissors (if you are left-handed and do not have left-handed scissors go out and buy them now—they will change your arts-and-crafts-life for the better). Unfortunately, I quickly learned that such scissors are not ideal for cutting hair.
But I mean, if The Real L Word has taught me anything it is that all lesbians are hairdressers—so why didn't my hair look awesome after I took scissors to it? Perhaps I do not have enough tattoos…
Oh well.
Unfortunately, my bad fashion decisions didn't stop last night with my hair. This morning I somehow came to the conclusion that it would be totally respectable for me to wear a shirt with poodles on them, my two-prescriptions-ago glasses, no-make-up, and what can only be described as "mom-jeans." Despite having a grand total of 20 dollars in my bank account, I was forced to step outside in pure daylight to put my last five-dollar bill on my laundry card. In the two minutes it takes to get from my dorm to the place with the laundry card machine I ran into a woman who was either drunk, homeless, or both. She told me that I should put sunscreen on my pale face and then added, "you could be pretty if you put some make-up on."
Sooo, that happened.
The past couple of days have just been a series of "one of those days." The days where you get caught in a torrential downpour of rain on the way to volunteer with little kids only to show up to the job in a soaked and completely see-through white sundress. Or the days where you get lost in your head about "feelingswp_postsand "emotionswp_postsabout someone you have only known for two weeks (yes, I am that kind of girl). The kind of day where you have a complete mental breakdown in the middle of a place called "Manhattan Mini-Storagewp_postsor as I like to call it, Fresh Hell.  I managed to yell/cry at everyone who was helping me move that night, including a perfectly well intentioned janitor, my ex, and my ex's new girlfriend (ya…I know…).
But, this column is about college and not about homeless people who do not think I am naturally pretty. (Homeless people often tell me I have pretty eyes so I am just going to pretend that she could not see my eyes because of my glasses…)
The end of my Sophomore year of college came and went in a rather boring fashion. This is my take on my last month of school:
"Blah blah blah I am stressed blah blah oh look I have strep throat again blah blah finals are not fun blah blah why did I take oil painting as a class blah blah I am stressed blah blah how did I pass Spanish with an A- I must be a genius (or should I say un genio) blah blah I have too many shoes to fit in this storage space blah blah I am stressed blah blah."
+
South Florida Is Sunny and Likes Plastic Surgery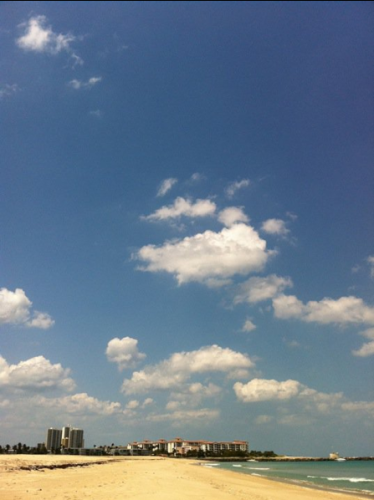 I went home to Florida for two weeks, got super tan during the first week and in true Lily-fashion came down with an ear infection IN BOTH EARS during the last week. How does that happen? Especially since I am not toddler and from what I know about medicine and science and stuff (read: nothing) only little kids get ear infections.
I have to go to multiple doctors every time I go home for whatever illness I have come up with that month. This time I had to go to the tonsil doctor. Here is the thing about my tonsil doctor: He doubles as a plastic surgeon because I am from Palm Beach and that is just how we roll down there. Every time I go to his office I not-so-secretly hope that he will ask to take a picture of my "perfect nosewp_posts(his words, not mine…in my imagination) to put on his wall for inspiration.  Of course, this has not yet happened. Instead I left his office with a cold/double ear infection. This was karma, I believe, for having such a damn egotistical imagination.
+
My Little Brother: The Wannabe Lesbian Superstar
While at home my brother and I attempted to record another song to put in this post. Mainly because my brother loved the attention he received last time and now believes that he is a superstar in the lesbian community. He talks about it a lot. Unfortunately our attempt at "Cry Me a Riverwp_postsdid not go very well. It turns out that Justin Timberlake can sing a lot of notes in multiple registers while I can only sing about 7 and my brother can do like 5 soooo it didn't really work out. But my brother won't give up on his newfound fame so I am sure we will have something relatively exciting in the near future.
+
Summer In The City
And now here I am, back in New York with a job as the Nightlife Editor for a publication called Inside New York.  The fact that my title is "Nightlife Editorwp_postsis quite hilarious–no one would ever describe me as any sort of "queen of the night". My idea of a perfect night would include Penelope Cruz and I curled up in bed while watching a marathon of 30 Rock and eating some sort of ice-cream/cookie combination. Unfortunately, Penelope Cruz is not in my job description. And because I am 100 years old (proven by the contents of my purse which includes Advil, vitamins, gum, and kleenex) being in charge of NYC Nightlife has been rather exhausting. BUT despite my senior-citizen-like lifestyle, I have been having a wonderful time at my summer job.
It is weird feeling like a "real personwp_postswho has a job that pays money and comes with real-life co-workers who have actual gatherings to happy hours at local bars. Granted, we are basically just pretending to be grown-ups as we are all college students and our office is tucked away on the Columbia campus. But still. I am not sure how I feel about this pretend-real-world-experience that I am living in right now. Obviously, I have some issues with growing up.
I may not turn into a grown-up this summer but I have a feeling that the next few months are going to be full of interesting stories that I will make sure to report on as often as I possibly can. And by interesting I mean random sightings of past America's Next Top Model contestants or how often I listen Demi Lovato while riding the subway–normal stuff like that.