by carolyn & riese
Books! They are really great. You just won't believe how great they are. You may think that the Internet's great, but that's just peanuts compared to books. Welcome to Lez Liberty Lit, our column about literary shit that's happening that you should probably care about. We're aiming to put one of these together twice a month. The name "Liberty Lit" was inspired by the short-lived literary journal produced by Angela Chase at Liberty High School in 1994.
Header by Rory Midhani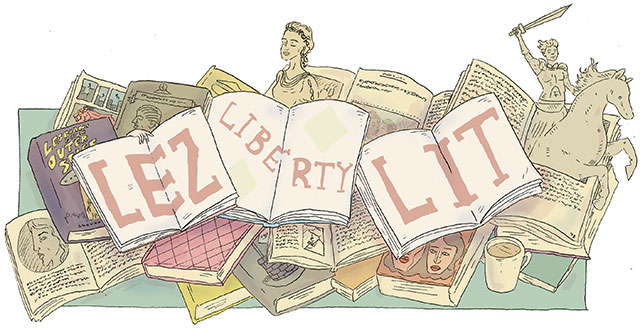 Lit Links
At the Rumpus, Adrienne Skye Roberts interviewed Tirza True Latimer, queer feminist art historian and the author of Women Together/Women Apart: Portraits of Lesbian Paris, co-editor of Modern Woman Revisited: Paris Between the Wars and co-curator of Seeing Gertrude Stein: Five Stories. The interview covers queerness, social activism, academia, poetry, construction, being an artist and more:
Tirza True Latimer: I owe everything to being queer.

The Rumpus: What does that mean?

Latimer: Misfitting in my given environment meant that I didn't really have to try to be a debutante or get married. It was like having another set of standards or ambitions. When I was much younger before I had—Well, we didn't actually say queer until later—but before I had a language for the kind of misfitting that I felt all along, I was just determined to be an artist because that was a pass.
Last Sunday's Rumpus interview was with Margaret Atwood. It is essential reading.
In a rare audio recording, Gertrude Stein reads from her novel The Making of Americans. Maria Popova calls the novel, written between 1902 and 1911, "a pinnacle of her signature use of repetition as a sensemaking mechanism."
Reading the words of writers you really hate can be a lot of fun.
These videos of 1940s book printing are basically like porn if you are into typesetting and printing and hot lead.
Malinda Lo writes about authors with agendas, social issues and general awkwardness.
Jane Austen's Pride and Prejudice turns 200 this year. Paula Byrne writes about how, even though most readers don't notice the historical context, it was influenced by the events of its time.
This gallery of classic literary fiction re-packaged as chick lit is appalling.
The classic "Choose Your Own Adventure" novels are being adapted as iPad apps. To find out what happens next, go to page 87. To examine the knife behind the treasure chest, go to page 91. Did anyone else consistently get themselves killed after about five minutes in these books or was it just me.
Negative Amazon reviews on newly released books can, en masse, ruin them.
You can buy ebooks from your favorite independent bookstore if you have a Kobo device (or app). And you should: prices for bestselling ebooks are at an all-time low.
A new documentary, The Great Book Robbery, details the looting of about 70,000 books from private libraries in Palestine during the war in 1948.
The Bell Jar has gotten a hideous makeover.
A new library in San Antonio, Texas, will open this fall without any physical books. Instead, it will have 50 computer terminals, on-site tablets and laptops, and pre-loaded ereaders for patrons to take home. According to the local judge, the library will serve a community that may not have access to computers at home and is cost effective because it will open in an existing building. Critics, however, say that due to a limited selection and a general lack of tech-savviness, the effort is "premature." Meanwhile, university libraries in Nova Scotia are testing ebook sharing.
The "10 Fictional Libraries I'd Love To Visit" include the libraries at Sunnydale High School, the Jedi Temple, Hogwarts and the Unseen University.
Trop has an interview with poet and writer Eileen Myles about directness, the idea of badass and language:
"I'm really obsessed with the language of my poems being language that is in the world. I'm not having to give birth to new language—I'm using the language that is already there. I'm putting it next to language that might be surprising. Like when you look at a film and see how a film is edited—there are visual puns and auditory puns and there's repetition and a pan and it's just an inventory. There are so many different devices which we use in poetry and writing too. I'm interested in recombining different kinds of moments that can be grasped in language and putting them next to each other."
Sista Outsider posted a critique of Lillian Faderman's Odd Girls and Twilight Lovers: A History of Lesbian Life in Twentieth Century America that deconstructs Faderman's apologism for racist behavior by white lesbians in the 1960s, 70s and 80s.
At the Lesbrary, Kathleen Wheeler reviewed Flowers from Iraq, by Sunny Alexander, which she called "riveting, heartbreaking, uplifting and cathartic." Jill Guccini reviewed My Awesome Place, a posthumous collection of autobiographical essays by Cheryl Burke.
The Lesbrary also has an extensive collection of queer (primarily lesbian, but with some bi and trans* representation) books and literature. Really extensive. There are lists about identities, lists about genres and content. Lesbian knights in fiction, lesbians and cats and lesbian sleuths all have their own categories.
At Lambda Literary, Victoria Brownworth reviewed The Retribution and The Vanishing Point, two crime novels by Val McDermid. Cathy Camper reviewed Transposes, a graphic novel by Dylan Edwards that focuses on six queer transmen. Sarah Rauch reviewed Licking the Spoon, a memoir by Candace Walsh.
Don't forget to check out all the awesome book-related things we published recently: Hansen wrote about hollowing out books and book necklaces. Malaika wrote about how science says reading classic literature makes you smarter. Fonseca reviewed Tip of the Iceberg, by Laura Szumowski. Rose wrote about Utah removing In Our Mothers' House, by Patricia Polacco, from its banned books list. Cara wrote about the word "drag."
Books And Events To Watch Out For:
January 23, St. Paul, Minnesota: Catherine Lundoff will read from Silver Moon, her novel about menopause, lycanthropy and coming out. SubText: A Bookstore (165 Western Ave N.), 7 p.m. CST.
January 24, San Francisco: Six poets – Sirama Bajo, Christina Fisher, Carrie Hunter, Ava Koohbor, Aide Rodriquez Zamudio and Sunnylyn Thibodeaux – will present their work. Meridian Gallery (535 Powell St.), 7:00 to 9:00 p.m.
Now to January 31, New York: Strange Loop Gallery is collaborating with the Bureau of General Services, Queer Division, to create a pop-up bookstore and event space at Strange Loop Gallery (27 Orchard St.).
February 5, Athens, Ohio: Poet Andrea Gibson will be at Baker Center Theater (1 Park Place) at 6:45 p.m. She'll also be running a workshop February 6 at the Ohio University Women's Centre (Baker 403) at noon. Call 740-593-1000 for info. She will be in lots of other places this spring, too.
Know of a queer event with literary merit? Send it to us!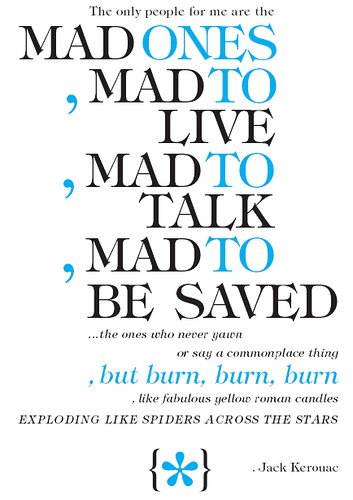 What We've Been Reading:
Riese:
I've already eaten Lorrie Moore, Mary Gaitskill, Grace Paley and A.M Homes, so now it's time to eat Amy Bloom. By eat I mean "read every single short story book she's ever written." I read/loved Come to Me and read/adored A Blind Man Could See How Much I Love You (what a fantastic fucking title) and now I'm like 75% of the way through Where the God Of Love Hangs Out. Reading Amy Bloom makes me want to write, which means it's the best kind of thing to read. The format of this book is interesting and I really love it — it's like divided into sections, and each section contains 2-5 short stories about the same cast of characters, from different perspectives about different times in their lives. I love it.
Carolyn:
I read The Vanishers, by Heidi Julavits, a literary paranormal mystery about family and psychic damage. I still get excited whenever I find a non-queer- or -feminist-branded book that passes the Bechdel test as hard as this one does, which made me more forgiving of some of its quirks (like slow spots and more face changes than Mission Impossible II). I also read Loitering With Intent, by Muriel Spark. The next book I am reading is Harriet the Spy because my queer feminist unicorn bi-city book club is reading it.
What are you reading?