I grew up writing novels, because that's what I read — novels. It's not like Beverly Cleary or Judy Blume published short story collections. But then when you get older and are writing things for teachers or judges or whomever to read, everyone wants you to write short stories. I thought for a long time this shift was a logistical thing; workshopping a novel or evaluating submitted novels to writing contests is unwieldy.
There's probably some truth to that, but short stories are also their own thing. And they're rarely popular like novels are, which is funny, like how poetry isn't popular, considering everyone's got these allegedly short attention spans. Short stories are also always uniquely literary. Unlike popular novels like The DaVinci Code or Gossip Girl, keen storytelling is never the hook — good writing is. It's not like I'm glued to a A.M Homes anthology because I can't wait to see what happens next, I just want her to dazzle me with her perfect sentences.
So short story books are a bit more niche, and by definition cover more ground — more stories — than novels. And maybe that's why it seems it's way more likely to stumble across a lesbian here or there in a short story anthology than in a novel. In general things are a bit more queer.
Some Queer/ish Short Story Books
Trash, Dorothy Allison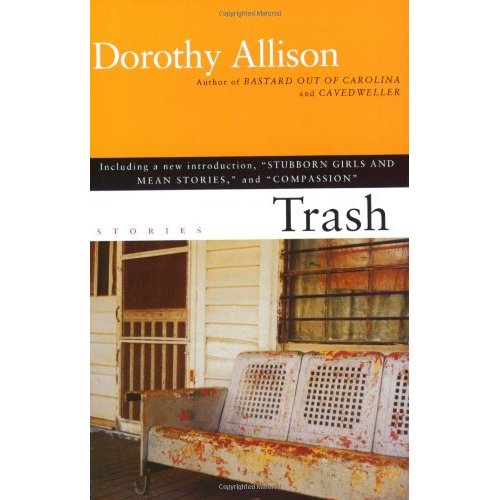 "I write stories. I write fiction. I put on the page a third look at what I've seen in life — the condensed and reinvented experience of a cross-eyed working-class lesbian, addicted to violence, language, and hope, who has made the decision to live, is determined to live, on the page and on the street, for me and mine."
– Prologue to Trash
If you've yet to read any Dorothy Allison then you need to really just stop whatever it is that you're doing with your life, sit down and approach this motherfucker. Trash, a National Book Award nominee, was published in 1988 (before Bastard Out of Carolina) and features 14 "gritty, intimate stories" and opens with 'River of Names," one of my favorite stories of all time.
+
"It is all small things, Jane knows. She is now practically a professional observer of gender, and she sees that although homeliness and ungainliness won't win you any kindness from the world, they are not, in and of themselves, the markers that will get you tossed out of the restaurant, the men's room, the Michigan Womyn's Music Festival."
– "A Blind Man Can See How Much I Love You"
Amy Bloom herself is a psychologist, a bisexual, and a feminist. So you and her already have three entire passions in common, which is not for nothing. The title story in this collection stars the single mother of a transgender son with a narrative that begins in the sandbox and ends with bottom surgery. In another story there is a moment when the lesbian's best friend's husband tells her he knows she's been in love with his wife for twenty years, and she responds that she hasn't been, because it's true, and god, isn't it lame how they just assume that. The lesbian says there was just no chemistry. I read the whole thing in one afternoon.
+
"Although she could be attracted to males or females, she had little luck with either; her shy flirtations tended to be muffled failures, which started, then ended, with puzzled indifference, embarrassment, and trailing irresolution."
– "Orchid"
Gaitskill is one of my top five favorite writers of all time. She gets so unpretty, yet restlessly sexy and fierce, with characters who often exist on the peripheries of various sexual subcultures and are rife with self-destruction, emotional wastelands and complicated, torrid relationships with the regular working world. Seems like nearly half the stories in this anthology have some queer element. One story is narrated by a father whose lesbian daughter has just published a story about him in a magazine, the other tells of a bisexual woman who runs into an ex and is forced to confront long-buried memories of who she was and who she wants to be.+
+
"When we were fourteen we got drunk for the first time, and for about nine minutes, everything seemed possible and we kissed. This encounter seemed promisingly normal, and in the following days I waited for more kissing, perhaps even some kind of exchange of rings or lockets. But nothing was exchanged. We each kept our own things."
– "Something That Needs Nothing"
Miranda July is bisexual, and you probably saw her movie, Me And You And Everyone We Know. Before this book came out, a friend I worked with and eventually slept with gave me "Something That Needs Nothing," she'd read it in The New Yorker and thought I'd like it. I did. And then beyond that, there was this whole entire book. Not that they're all about queer people — they aren't. But they're about weird people, and I think you, my loves, of all people, could appreciate that.
+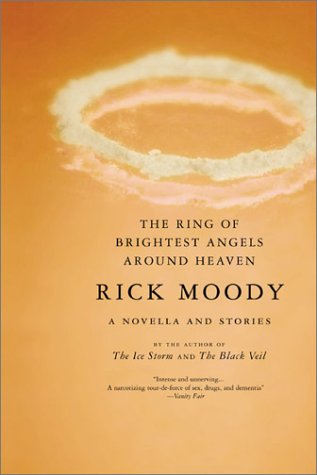 "Marlene's cheekbones were like the sharp side of an all-purpose stainless steel survival jackknife, and her eyes narrowed to reflect disappointment and loss, which, when combined with her biceps, her violent and toned physique, made for a compelling female beauty. Doris, meanwhile, looked like an Ivy League intellectual."
– "The Ring of Brightest Angels Around Heaven"
The title story is brutal and violent and it's about all of these junkies, burnouts, suicidal queers and otherwise deviant kid-like-near-grownups all connected to each other through lovers and heroin and kink. The lesbian part opens in a Meatpacking District sex club where Doris and Marlene, a lesbian couples, buy this dominatrix Toni for the night at an auction. An abusive love triangle evolves. It's not for the faint of heart. I think this story was the first place I'd ever heard about nipple clamps.
The other stories in the book I could take or leave and have since forgotten. This is one to get at the library, then.
+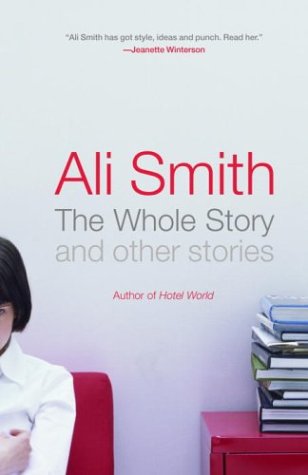 I borrowed this from a friend who said she thought I'd like it and she was right because I did like it, and then I kept it, even though she wants it back; but mostly because I kept forgetting to give it back. It's experimental fiction and Ali Smith is a lesbian. In one of the stories, a woman falls in love with a tree. It happens. I think Free Love And Other Stories has actual queer characters (this one may not, but generally gender is an afterthought), but I'd be lying if I told you that I'd read it.
+
"Darcy presses her dry lips into the pad of Gwynn's palm and lifts them again, like a swimmer coming up for air, and they sleep like that, tucked together, the soft pressure of assurance holding them to one another, as if that's what safety is: a point of contact."
– "What Safety Is"
Out of the Girls Room and Into the Night is one of my favorite short story books of all time. Nissen, a graduate of the prestigious Iowa Writers Workshop, explores youth with maturity and writes complicated, interesting stories about people who are sometimes college students; a feat which many consider impossible. The book is entertaining, expressive, brilliant and witty from beginning to end.
+
It's actually bisexual author A.M. Homes brilliant novel, Music For Torching, that digs into lady-on-lady love; but her short story collections, even when lacking lady-on-lady love or overt gayness, have a queer sensibility vivid enough to snarl lesbian wonderwoman Rose Troche into adapting The Safety of Objects into a film (one of my favorite movies ever, also features a young K-Stew). Homes actually wrote a few episodes of The L Word back when it was still good. In The Safety of Objects' "Yours Truly," the narrator literally locks herself in the closet to write love letters to herself and in "The I Of It" an old gay man ponders his life as he feels it slip away.