Feature image by Carolyn.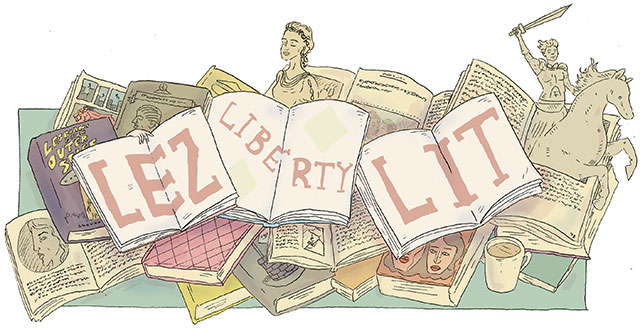 Things About Queer Books (And Other Books Relevant To Your Interests)
Michelle Tea wrote about Eileen Myles at the Los Angeles Review of Books:
"I became obsessed with Eileen Myles via a worn-out copy of Not Me, a bright green book of poems that streamed in skinny columns. These were poems that I read so often and with such mania that a line would often ring through my head like a song. Any life can look back on itself and wonder how it all would have shaken out if, perhaps, you had gone to college, or if your parents hadn't gotten divorced, or if you'd moved to women's land in Arizona rather than urban California. I wonder what my life would look like if I hadn't read Eileen Myles. I can't imagine who I would be or what exactly I would be doing."
Some of the best queer sex in literature (according to the Guardian) appears in Fingersmith, Kissing the Witch and Valencia.
Claudia Rankine spoke to Paul Holdengraber about race, Citizen: An American Lyric, getting pulled from line in the airport and more.
The 2015 National Book Award shortlist has been announced!
"All love stories are frustration stories… To fall in love is to be reminded of a frustration that you didn't know you had."
Carrie Brownstein's memoir comes out this month and you can read an excerpt right here.
What happens when a pseudonym gets a life of its own?
You too could have had your very own atomic garden.
There are lots of things to be afraid of.
Some Chicago trains are now libraries. Also some tiny libraries in Indianapolis are now artist-designed and beautiful.
Sometimes libraries have too many good books, which you are definitely going to finish on time, this time: "There's an optimistic feeling about a pile of library books that's very similar to new school supplies. Even when I consider that maybe I'm checking out too many books, I remind myself that they're free, so why not? Free books! Nevermind that I have a bookcase at home of half full of unread books. These ones will be different."
Teens in St. Paul can read books to lower their library fines.
If you run a library, here is how to make it more queer inclusive: "Fill your collection with books with queer content. I know, seems simple but it's the first and best step. You might be worried there's no audience for these books and they'll never circulate. But there are teens in your community who need them as their doors and windows. So buy them. It's really that simple."
Also, have you heard? The card catalog is dead.
What if Hermione didn't do anyone else's homework?
At Lambda Literary, Daphne Sidor reviewed The Gap of Time by Jeanette Winterson. In an interview, Kate Scelsa discussed Fans of the Impossible Life, writing about queer sex, her process and more. The Nepantla poets are currently reading a lot of books that are probably relevant to your interests. Chinelo Okparanta discussed Under the Udala Trees, being obsessed with relationships and more. (Danika at the Lesbrary also reviewed her book.) Julie R. Enszer reviewed Uncovered by Leah Lax. Courtney Gillette reviewed Hunger Makes Me A Modern Girl, a memoir from Carrie Brownstein. July Westhale reviewed I Must Be Living Twice by Eileen Myles.
Here at Autostraddle, Mey wrote about Meags Fitzgerald and also the Beyond anthology. Maddie wrote about the feminist utopia project. Melanie wrote about A Theory of Small Earthquakes by Meredith Maran.
Book Things To Do In Person
15 October, New York: Leah Lakshmi Piepzna-Samarasinha will launch her memoir, Dirty River, at Bluestockings (172 Allen St.), 7 p.m.
17 October, New York: In "Poetry & Digital Writing from the Transgender Vanguard," Lilith Latini, Tyler Vile, Merritt Kopas and Allison Parrish will read from their work at Bluestockings (172 Allen St.), 7 p.m.
17 October, New York: Vetch Poetry is a new journal of trans poetry and poetics — one of the first venues that will publish only poems by trans poets. Celebrate its launch at BGSQD (208 West 13th St Room 210), 8 p.m.
17 October, Los Angeles: The Feminist Utopia Project will launch at Skylight Books with Jill Soloway, Abigail Carney, Richard Espinoza, Cindy OK, Yumi Sakugawa and William Schlesinger (1818 N Vermont Ave.), 5 p.m.
17 October, San Francisco: As part of Litquake, Michelle Tea, Maya Chinchilla, Baruch Porras-Hernandez, and Kat Marie Yoas will be reading at Radar (Elbo Room, 647 Valencia St.), 6–7 p.m.
19 October, New York: Speaking about her book Getting Screwed: Sex Workers and the Law, Alison Bass will be joined by Julie XXXX, a madam profiled in the book, and make a case for decriminalizing sex work (Bluestockings, 172 Allen St.), 7 p.m.
20 October, Burbank: Lillian Faderman will sign and discuss The Gay Revolution at Buena Vista Branch Library (300 N. Buena Vista St.), 7 to 8:30 p.m.
23 October, Los Angeles: Eileen Myles will read from her new collection of poetry, I Must Be Living Twice, at Skylight Books (1818 N Vermont Ave.), 7:30 p.m.
26 October, Iowa City: Vetch Poetry is a new journal of trans poetry and poetics — one of the first venues that will publish only poems by trans poets. Celebrate its launch at Trumpet Blossom Cafe (310 E Prentiss St.), 8 p.m.
26 October, San Francisco: RADAR is hosting the second installment of its "Queering the Castro" series, featuring Julia Serano, Juba Kalamka, Carson Beker and Dawn Robinson, at Magnet (4122 18th St., San Francisco), 7 p.m.
30 October, New York: Celebrate Bluestockings keeping its space and running a crowd funding campaign at Bluestockings (172 Allen St.), 7 p.m.
31 October, Los Angeles: Tavi Gevinson will present and sign Rookie Yearbook 4 at Skylight Books (1818 N Vermont Ave.), 5 p.m.
1 November: The deadline to submit to Femme to Femme, a literary non-fiction,varied anthology seeking to explore femme* identity in the 20th and 21st century through poetry, prose, essays, stories/narratives,illustration/art and photography," is today!
20 November, New York: Cheryl Strayed will launch her new book of quotations, Brave Enough, at Housing Works Bookstore Cafe (126 Crosby St.), 7 p.m.
1 December: Submissions for Topside's short speculative fiction anthology by trans writers are due.
1 December: Submissions for #Trans: An Anthology Collection about Transgender and Nonbinary Experience Online are due.
Know of a queer event with literary merit? Send it to us! The Liberty Lit is bi-weekly.
---
Books! They are really great. You just won't believe how great they are. You may think that the Internet's great, but that's just peanuts compared to books. In Lez Liberty Lit, we talk about queer books and literary shit that's happening that you should probably care about.
The name "Liberty Lit" was inspired by the short-lived literary journal produced by Angela Chase at Liberty High School in 1994.