Feature image via professionalprocaffeinator.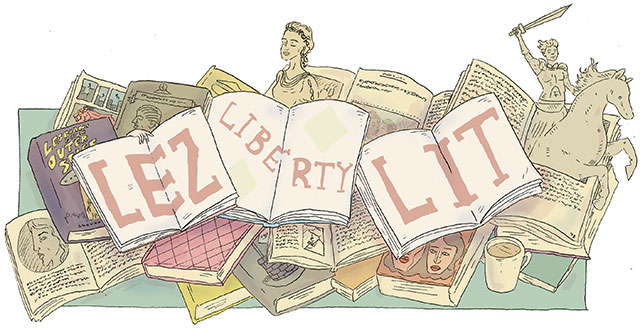 The Lambda Literary Award winners were announced! I was on the mountain so I missed it so you don't get to read my conflicted thoughts on the awards as a flawed but ultimately valuable institution this year. Winners include Give It To Me by Ana Castillo (bisexual fiction), A Safe Girl To Love by Casey Plett (transgender fiction), Yabo by Alexis De Veaux (lesbian general fiction), Mysterious Acts by My People by Valerie Wetlaufer (lesbian poetry), The Walk-In Closet by Abdi Nazemian (LGBT debut) and Second Avenue Caper by Joyce Brabner with art by Mark Zingarelli (LGBT graphic novels). Casey the Canadian Lesbrarian had some thoughts on the awards, writing, "Every year I feel a mixture of excitement and trepidation […] Excitement because these awards are the be all end all of queer literary awards, and I love to see LGBTQ writers being recognized. Trepidation because they always seem to fuck up somehow, especially when it comes to trans and bisexual folks, as well as people of colour."
Zadie Smith has new fiction in the New Yorker.
Alice Sola Kim was profiled at the Toast, and you should read her because she "is cutting away that skin on the world and showing us some of the ugly necessary truths: beauty is a white girl, beauty is a lethal disease, love is sometimes sinister, sometimes it gets worse. Sometimes it just gets weird."
Books about women are less likely to win literary prizes, according to a survey of major awards over the last 15 years:
"'It's hard to escape the conclusion that, when it comes to literary prizes, the more prestigious, influential and financially remunerative the award, the less likely the winner is to write about grown women. Either this means that women writers are self-censoring, or those who judge literary worthiness find women frightening, distasteful, or boring. Certainly the results argue for women's perspectives being considered uninteresting or unworthy. Women seem to have literary cooties,' wrote Griffith in a piece laying out her analysis in a series of pie charts."
Walking is good for your mind.
Here is a Google Maps mashup of where some classic books are set.
At Lambda Literary, Sara Rauch reviewed The Hope of Floating Has Carried Us Away by Quintan Ana Wikswo. Jennie Rathbun reviewed The Jazz Age Life of Henrietta Bingham by by Emily Bingham. Dawn Martin Lundy discussed her new collection, as well as the power of forgetting.
Judy Blume has a new novel. Judy Blume has a new novel. Judy Blume has a new novel.
The Nancy Drew and Hardy Boys novels are still going thanks to ghostwriters and assembly-line-like production and I am fascinated by how.
We just really need more gay YA.
Carmen reviewed Where the Words End and My Body Begins, a collection of poetry by Amber Dawn, that she calls "a rich, rewarding set of stories about queer identity, surviving abuse, sex positivity and personal identity."
School reading programs are better when everyone can pick their own books.
People have asked reference librarians really strange things.
Mey talked about comics with the amazing Jasika Nicole.
Book Things To Do In Person
19 June, New York: Quiara Alegría Hudes is reading as part of Girls Write Now's 2015 Chapters Reading Series at the Scholastic Auditorium (557 Broadway), 6 to 8 p.m.
1 December: Submissions for Topside's short speculative fiction anthology by trans writers are due.
Know of a queer event with literary merit? Send it to us! The Liberty Lit is bi-weekly.
---
What We've Been Reading:
Riese: Hello! I have been SUCH a good reader / audio book listener lately y'all, let me give myself a round of applause. Okay, for starters I read my Emily Books Kickstarter perk giveaway book, Women, by Chloe Caldwell, which is about a woman's first affair with another woman and it is fantastic. The other book I read, finally, was Meg Wolitzer's The Interestings, which was touted as a feminist/woman-centric Jonathan Franzen-type Great American Novel spanning a Lot of Time and well, I liked it a lot too. A lot! It was big and expansive and dug into some interesting characters and the writing was great. I mean, the central characters all met at an arts camp, so already I'm in. However, I was troubled throughout by one of the central plot points that maybe bothered you too, if you read it. I listened to it on my way to camp and back and read it via kindle before, during and after. The person who read the Audio Book, btw, did a really good job! Like she did voices for all the characters, it felt really authentic, I loved it. Now I'm halfway through Maggie Nelson's The Argonauts, which we're reading for Book Club, and you should too! I LOVE IT. I'm full of love for literature this month, apparently.
Rachel: I kicked off my summer reading with what I guess is technically YA with The Coldest Girl in Coldtown by Holly Black, which I loved and read in like three days, I recommend it if you have ever found yourself thinking "I wish someone would write a novel about what the world would be like with vampires and a teen girl protagonist but it was, like, smart and good." People vlogging their vampire transformations and buying "BITE ME" babydoll crop tops! I also read Notice by Heather Lewis, my Emily Books Kickstarter book, which was intense and kind of hard to read sometimes and not always perfect but stuck with me for a long time and was worth reading. Now I'm in the middle of Pitch Dark by Renata Adler! Renata Adler is so cool y'all.