Feature image by raindropsmelody.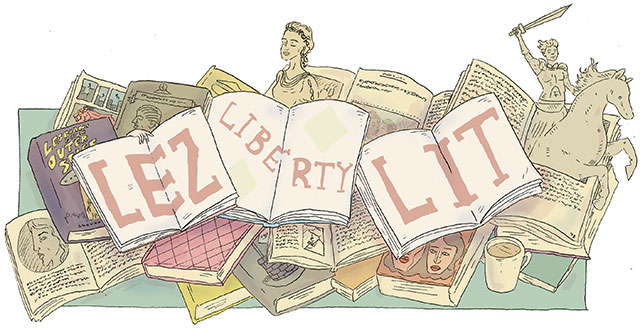 Uncovered Classics is a new site about books that you need to read immediately.
Claudia Rankine has created "a new way of writing about race."
Kara Walker reviewed Toni Morrison's God Help The Child, calling it, "a brisk modern-­day fairy tale with shades of the Brothers Grimm: imaginative cruelties visited on children; a journey into the woods; a handsome, vanished lover; witchy older women and a blunt moral — 'What you do to children matters. And they might never forget.'" Also, Rachel Kaadzi Ghansah profiled Morrison, writing, "Morrison is a woman of guardrails and many boundaries; she keeps them up in order to do the work. The work 'protects,' she told me. 'It's a serious protection: emotionally, even intellectually, from the world.'"
"How do you rehabilitate your love for art works based on expired and inhuman social values— and why bother?" asks Elif Batuman at The New Yorker.
Books by people of color are more likely to be banned or challenged. (Books that feature queer characters, characters with a disability, or subjects like racism and mental illness are too.) ALA has the full list.
Casey the Canadian Lesbrarian recommended YA books featuring genderqueer/non-binary trans characters, and books about toxic self-destructive lesbians. She reviewed Sovereign Erotics: A Collection of Two-Spirit Literature, edited by Qwo-Li Driskill, Daniel Heath Justice, Deborah Miranda and Lisa Tatonetti, only the second LGBTQ2 Native literature anthology ever. She also reviewed Bodymap, a new poetry collection by Leah Lakshmi Piepzna-Samarasinha. (Elinor at the Lesbrary reviewed it too.)
Why not deconstruct motherfuckery?
It's VIDA time.
This new web series is basically lesbian pulp fiction come to life.
Malinda Lo was on This Creative Life.
Cherríe Moraga, co-editor of This Bridge Called My Back, discussed the volume's rerelease, feminist women of color, Black Lives Matter, the non-profitization of the feminist movement and more.
Trish Kelly reviewed Amber Dawn's poetry collection Where The Words End And My Body Begins, writing, "It's a funny feeling to be in awe of my best friend, someone I've known more than half my life, but that's what it felt like to read this book."
At Everyday Feminism, Carmen Rios wrote about five books written by queer and trans women that set her free.
Vanessa Mártir wrote about racism at AWP.
Criticism is still useful.
Samantha Claire Updegrave reviewed How to Grow Up, Michelle Tea's memoir, writing, "her intent is so clear, her tone so conversational and grounded in the mess and splendor of the everyday, that it doesn't feel lofty. It stays fresh."
The Salem Witch Trials Aren't As Over As You Might Think, and other New England novels.
Some libraries are more interesting than others.
At Lambda Literary Heather Seggel reviewed Tiny Pieces of Skull by Roz Kaveney. Sara Rauch reviewed Apocalypse Baby by Virginia Despentes. Anna Furtado reviewed Forever Faithful by Isabella.
At Autostraddle, Mey wrote about "Rock and Riot" and "Computer Love."
Book Things To Do In Person
18–19 April, Los Angeles: The LA Times Festival of Books is happening and it looks amazing.
21 April, San Francisco: Lambda finalists Jim Provenzano, Dan Lopez, Susie Hara, Katie Gilmartin, Abdi Nazemian, Jericho Brown, Chaz Brenchley, A.F. Gore, Heru khuti and Katie Gilmartin will be reading at the San Francisco Public Library (100 Larkin St.), 5:30 p.m.
22 April, Oakland: Co-editor adrienne maree brown will be reading and speaking about Octavia's Brood at the African American Museum & Library (Oakland, 659 14th St.), 6–7:30 p.m.
22 April, Northhampton, MA: Lambda finalists Sally Bellerose, Lanelle Moise, Judy Frank and Mary Beth Caschetta will be reading the Coolidge Museum at Forbes Library (20 West St.), 7 p.m.
1 May: The deadline for Biyuti Publishing's fundraiser is 1 May so if you want to support a press run by a trans woman of color, do it now.
May 19, New York: Roxane Gay is reading as part of Girls Write Now's 2015 Chapters Reading Series at the Scholastic Auditorium (557 Broadway), 6 to 8 p.m.
To 30 May, lots of places: Poet Andrea Gibson is on tour! And is going to a lot of places across the US and Canada, and to a few places in the UK. Maybe somewhere near you?
6 June: If you're a girl between ages 12 and 18, you should submit your writing to Grlhood by this day.
7 June, New York: Imogen Binnie is leading "Why Would Anyone Even Read This? Writing Compelling Trans Fiction," a workshop associated with Bindercon, at the Powderkeg Writer's Space in Brooklyn (33 Flatbrush Ave.), 2-4 p.m. Register online.
19 June, New York: Quiara Alegría Hudes is reading as part of Girls Write Now's 2015 Chapters Reading Series at the Scholastic Auditorium (557 Broadway), 6 to 8 p.m.
1 December: Submissions for Topside's short speculative fiction anthology by trans writers are due.
Know of a queer event with literary merit? Send it to us! The Liberty Lit is bi-weekly.