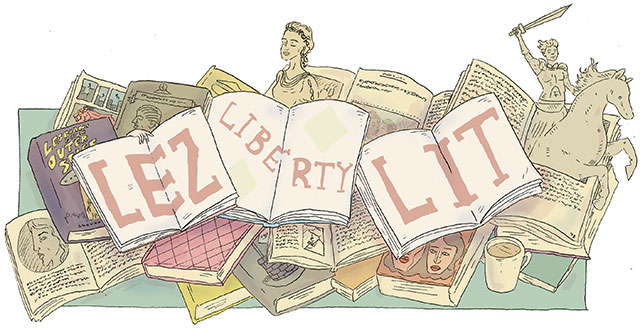 Malinda Lo is asked about why diversity is important a lot:
"Diversity is not important. Diversity is reality. Human beings are not all the same. We come from many different places and have many different identities and experiences. Having only one kind of human being in the stories being told is flat-out bad storytelling. Diversity is reality. Let's stop erasing that."
The Lambda Literary Award finalists have been announced!
Coffee House Press is launching an imprint with Emily Books that will be about "original books that speak to the aesthetic excellence, experimental boldness, and social concerns of both organizations." While Emily Books the website currently functions as a tightly curated online bookstore featuring existing titles, Emily Books the imprint will release two original titles a year. (The website is also due to be improved.)
Lumberjanes co-creator, co-writer and all-around heartthrob Shannon Waters talked to Paste about "this is just the way it is" queer representation, all-ages comics, whether Taylor Swift would make a good Lumberjane and more.
Comic books don't have a great history of queer representation, as Catwoman being officially bi illustrates. (Mey wrote about this too.)
Queer-positive kids' books include Soma So Strange, The Terrible Thing That Happened To Barnaby Brocket, And Tango Makes Three and more. And at the Millions, T.K. Dalton writes about gender, books and children. Getting a little older, Casey the Canadian Lesbrarian has recommendations for queer new-adult books. Or if you need to you could talk to your baby about post-structuralism.
Everything the Hays Code was worried about has come to pass (finally).
At Bitch, Black women writers talked about their work.
Alice Munroe wrote (in 1962) about the first book she ever read.
Schedule and timing impact how much writing time you spend writing and how much you spend bored or worried. Also if you are writing and not sure how to make women characters be human beings (or believable non-human beings) then here is what to do.
March is LGBT history month. It's also women's history month and Carmen has a reading list.
Speaking of history, here are ten books that will change how you see it.
Book Things To Do In Person
To 30 May, Lots of Places: Poet Andrea Gibson is on tour! And is going to a lot of places across the US and Canada, and to a few places in the UK. Maybe somewhere near you?
7 March: The Blk Grrrl Book Fair will be held at Cielo (3201 Maple Ave.)
7 March, New York: It's NYC Feminist Zine Fest! Where "artists, authors, community organizers, and other feminist killjoys hold a day long celebration of DIY media." Barnard Hall, Barnard College, 12 to 6 p.m.
15 March: Submissions for an anthology called Bad Dates: Hilarious Tales of Queer and Trans Romance Gone Wrong close.
1 December: Submissions for Topside's short speculative fiction anthology by trans writers are due.
Know of a queer event with literary merit? Send it to us! The Liberty Lit is bi-weekly.
What We're Reading:
Carolyn: I had not been reading and then I read the The First Bad Man: A Novel by Miranda July and it was weird and also good and I couldn't put it down and I will talk about it with anyone.
---
Books! They are really great. You just won't believe how great they are. You may think that the Internet's great, but that's just peanuts compared to books. In Lez Liberty Lit, we talk about literary shit that's happening that you should probably care about.
The name "Liberty Lit" was inspired by the short-lived literary journal produced by Angela Chase at Liberty High School in 1994.