Sometimes you bake a cake because it's a special occasion and sometimes you bake a cake because you want cake, dammit. (Or because someone else wrote about wanting cake and you read it and wind up feeling equally inspired and snacky.)
Anyway I really wanted chocolate cake this week and specifically to make it myself and here we are.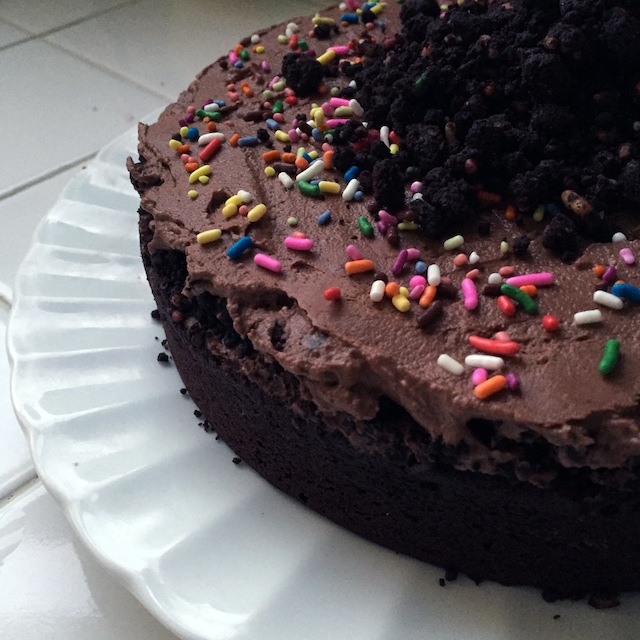 This cake is part simple small chocolate cake and part "what if I just add…" extra. The chocolate crumbs add texture and interest and the illusion of grandeur (and after making a birthday cake with similar crumbs last week I really wanted to use them again).
You don't have to make the crumbs, and you don't need a ton of sprinkles or even frosting if you don't want them, but also they are fun. Even so, the cake will kind of hit you in the face with multi-textured chocolate. Other, more talented bakers would probably add fruit or coffee or red wine or something to make the flavour less CHOCOLATE!!!!!! and more delicate or balanced or subtle or whatever. I am not them. Follow your arrow.
A few notes on the recipe: I used a round 9-inch pan, but you could also use a round 8-inch or square 8 by 8-inch pan. I used cake flour but pastry flour would have been okay (and the Kitchn has a guide on how to fake either if you only have the regular kind). I also made my own buttermilk-like milk situation, but if you have actual buttermilk feel free to use that instead and make sure you ditch the lemon juice. Similarly if you can digest or eat dairy, unsalted butter would be better than soy-free Earth Balance across the board and cream would be better than almond milk in the frosting (though I really liked the hint of almond). If you do not have a stand mixer with a paddle attachment try a hand mixer and if you do not have either of those things use your sex arm and godspeed.
This Chocolate Cake
Here's what we're doing:
1. Make the crumbs. (Make them in advance if you want — they'll keep for up to a month in the freezer unless you eat them.)
2. Make the cake.
3. Let the cake cool. Level the top of it with a large serrated knife if it's really uneven but otherwise let it be.
4. Make the cake soak. Make the frosting. Then see below for assembly instructions.
Chocolate Crumbs
Adapted from Momofuku Milk Bar
2/3 cup cake flour
1 tsp cornstarch
1/2 cup sugar
2/3 cup cocoa powder
2 tbsp rainbow sprinkles
1 tsp kosher salt
6 tbsp butter substitute, melted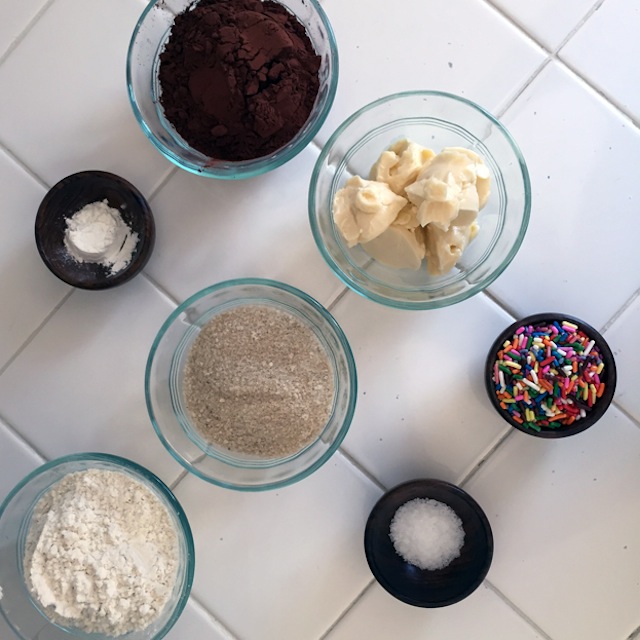 1. Preheat the oven to 300 F and line a baking sheet with parchment paper or something non-stick.
2. In a stand mixer bowl with the paddle attachment, combine the flour, cornstarch, sugar, cocoa powder, rainbow sprinkles and kosher salt. Run on the lowest speed until mixed.
3. Slowly add the butter and run on a low speed until small clusters start to form. This might take a few minutes. If it doesn't really look like anything because it's way too try, add a sprinkle of almond milk or water. If it doesn't really look like anything because it's too wet, add a sprinkle of extra flour.
4. Spread on a baking sheet and bake for about 20 minutes, stirring to break up the clusters and so that they cook evenly. They should be a little soft and moist when you pull them out of the oven, and will get harder and drier as they cool.
5. Cool completely before using or eating.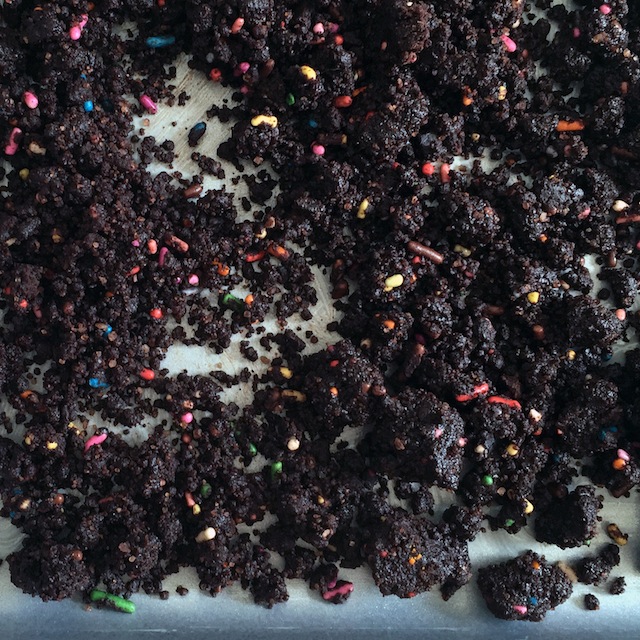 Chocolate Cake
From Smitten Kitchen
3/4 cup minus 3/4 tbsp almond milk
3/4 tbsp lemon juice or white vinegar
6 tbsp butter substitute, room temperature
3/4 cup firmly packed dark brown sugar
2 tbsp granulated sugar
1 large egg, room temperature
1 large egg yolk, room temperature
1 tsp vanilla extract
1 cup cake flour
1/2 cup Dutch cocoa powder
1/2 tsp baking powder
1/4 tsp baking soda
1/4 tsp fine sea salt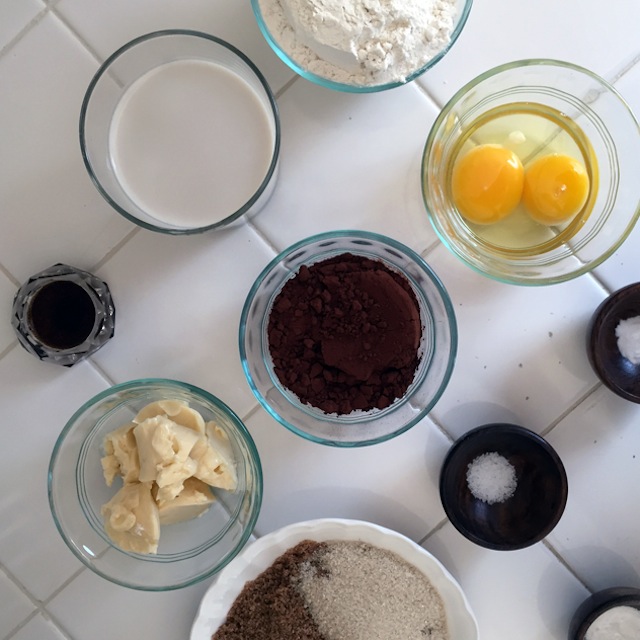 1. Preheat the oven to 350 F. Line your pan with parchment paper or something non-stick. Don't forget the sides. In a small bowl, combine the almond milk and 3/4 tbsp lemon or vinegar — just stir them together and let them stand for five to ten minutes.
2. In a large mixer bowl with a mixing attachment (or using a hand mixer), beat the butter substitute and sugars until they look fluffy, scraping down the sides occasionally.
3. Add the egg, egg yolk and vanilla and beat for about two to three minutes. Add the buttermilk mixture and beat for another minute or two. Scrape down the sides whenever you need to.
4. In a separate bowl, combine the flour, cocoa powder, baking powder, baking soda and salt. You might need to sift it if it's clumpy but I did not.
5. Add the dry ingredients to the larger bowl, about a third at a time, and mix on low until just combined. Scrape down once more just in case, and pour into your baking pan of choice. Shake it a little to flatten the top.
6. Bake the cake for 18 to 22 minutes, until a toothpick stabbed into the middle comes out clean. Take it out of the oven and let rest on a rack if you have one or on something heat-resistant in the fridge if you don't until cool.
Cake Soak
From Momofuku Milk Bar
This is mostly here because moist cakes are better than dry ones and because messing around with layers of frosting and crumbs and more frosting takes time during which things might dry out a little. You're supposed to brush it over the cake with a pastry brush but I don't have one so I sprinkled it over the surface of the cake with a fork.
3 tbsp almond milk (or whatever milk/milk replacement, or even water)
1 tsp vanilla extract
Whisk together. I used a tea cup and whisked with a fork.
Chocolate Icing
From Smitten Kitchen
2 ounces unsweetened chocolate
1 1/2 cups icing sugar
1/2 cup butter substitute, room temperature
1 tbsp almond milk
1/2 tsp vanilla extract
1. Melt the chocolate in a double boiler until just runny but not super hot. If you don't have a double boiler, fake it by filling a pan with water and bringing it to a simmer, and putting another smaller pan (or tiny pyrex bowl) containing the chocolate into the middle of it. Stir so the chocolate melts evenly.
2. Beat the butter substitute and icing sugar with a mixer until fluffy. Pour in the chocolate, almond milk and vanilla extract and beat until fully combined and then a little longer so it fluffs. Then GET READY.
Assembly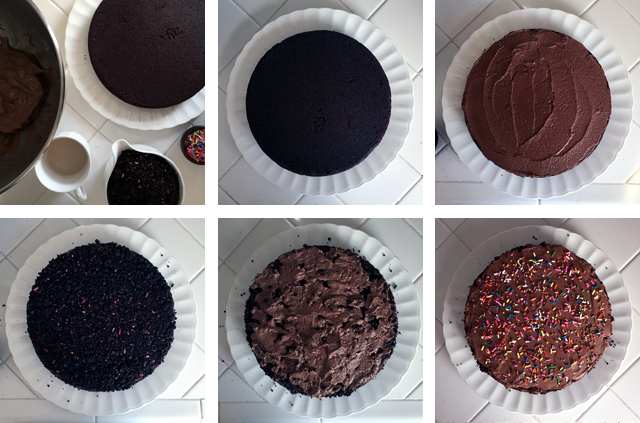 1. Gather the cake, the chocolate crumbs, the cake soak, the just-made frosting and extra sprinkles.
2. Put the cake on whatever it is you're gonna serve it on. (Remove it from the pan first if you haven't done it already.) Sprinkle the cake soak over the top (or use a pastry brush if you have one) until it's evenly moistened but not soggy.
3. Spread 1/4 of the frosting evenly over the top of the cake using a spatula or the back of a spoon.
4. Sprinkle a thick even layer of the crumbs over the frosting, right to the edge (rest your hand against the edge of the cake so they don't spill too much). Tap them into place with your fingers. The layer should be generous and definitely cover any icing but not inches thick or anything. Use your judgment.
5. Spread another layer of 1/4 the total frosting over the crumbs. This will feel almost impossible and will be slow and super messy and that's fine. I sort of dropped small globs of icing all over and then spread them into each other, and I found that pressing a little harder was better than being gentler since less icing stuck to the spatula. Use your fingers if you want and aim less to make it pretty (pretty doesn't matter right now) and more to cover as much of the crumb layer as you can as evenly as you can. Things will look sort of messy and shitty right now and that's fine.
6. Put the cake in the freezer for 15 minutes, or until the frosting feels stiff and the crumbs feel secure if you poke at them. If you have been baking all afternoon, the approximate length of time to wait is about half a bourbon.
7. Spread the remaining frosting evenly over the surface of the cake, working from the middle outward. Either use a scraper to make it perfectly flat or use a spatula and push it into S-shaped whorls. Top with as many rainbow sprinkles as aesthetics allow for and then a few more. Pile some of the extra crumbs in the centre of the cake, if you want.
8. Serve. The cake will allegedly keep in the fridge for up to a week and probably longer in the freezer but I did not have the opportunity to find out.