Feature image via teacoffeebooks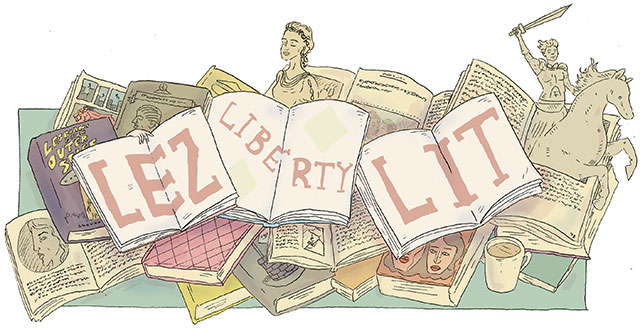 TONI MORRISON HAS A NEW NOVEL COMING OUT, STOP EVERYTHING.
Roxane Gay wrote about writing about difference, saying:
"Writers can and should write across difference, so long as they do so respectfully, intelligently, with some degree of accuracy. They may not fully succeed, but a good-faith effort and a demonstration of empathy are generally all that is required."
Harper Lee, author of To Kill a Mockingbird, allegedly has a new novel coming out. The announcement comes three months after the death of her sister, who'd been looking after her estate, and you should be suspicious about whether the release is actually in keeping with Lee's wishes. Her editor and publisher want you to think she's excited about it. Mallory has questions. Anyway it's already number one on Amazon.
This One Summer won a Caldecott Honor and a Printz Honor prize (the first graphic novel ever to win the first and the second ever to win the second). It's about friendship and you should read it and Mey will tell you why.
The Lowland author Jhumpa Lahiri won the DSC prize for south Asian fiction for her novel about the 1960s Naxalite uprisings.
In the Coveteur, Miranda July talked about her forthcoming first novel, The First Bad Man, developing ideas for projects, her hair and clothes and things and more. (You can also read her interview with The Millions or with Bookforum and a review of her novel at Lambda Literary.)
This asshole returned a library book 65 years late. The first person on the wait list must have had SUCH a sense of satisfaction. If they were still alive.
JK Rowling outlined Harry Potter with this spreadsheet.
If you emotionally just want to devour a pile of podcasts, here are eight literary ones. Also Roxane Gay discussed Bad Feminist at City Lights Book Store and you can listen.
More books, though arguably still not enough of them, are focusing on the friendship between women.
Here is how to make a tiny zine for Valentine's Day or for life.
You could also make a zine out of sexts. (Disclosure: that was me, I did that.)
Early Wonder Woman involved some bondage.
The Los Angeles Review of Books is currently running an excellent series, In Crisis, on contemporary criticism and it is an utter delight.
Casey the Canadian Lesbrarian wrote about Don't Bang the Barista, Indigo Springs, and I've Got A Time Bomb, which she describes as "the most unique book I've ever read, and I have no fucking clue how to review it."
At Lambda Literary, Anna Furtado reviewed Life After Love by KG MacGregor. Sarah Shulman reviewed Women′s Cinema, World Cinema: Projecting Contemporary Feminisms by Patricia White. Julie Marie Wade reviewed Life In A Box Is A Pretty Live by Dawn Lundy Martin.
At the Lesbrary, Amanda Clay reviewed Afterworlds by Scott Westerfeld. Kalyanii reviewed The First Person and Other Stories by Ali Smith. Rachel reviewed Two Teenagers in Twenty edited by Ann Heron.
Recently on Autostraddle: Mey wrote about trans women's representation in comics.
Book Things To Do In Person
2 Feb. to 30 May, Lots of Places: Poet Andrea Gibson is on tour! She is going to a lot of places across the US and Canada, and to a few places in the UK. Is she coming to you?
6 Feb., Los Angeles: Frederick L. Smith, Sheree L. Greer, Rebekah Weatherspoon and Fiona Zedde will be talking about black queer lit at Skylight Books (1818 n Vermont Ave.), 7:30 p.m.
7 Feb., Los Angeles: LA Zine Fest is happening.
13 Feb., Chicago: Issa Rae will be reading from The Misadventures of an Awkward Black Girl at The Swedish American Museum (5211 N. Clark St.), 7:30 p.m.
1 March: Submissions to Femme to Femme close.
Know of a queer event with literary merit? Send it to us! The Liberty Lit is bi-weekly.
What We're Reading:
Rachel: Among other things, I'm still working on June Jordan's essay collection Some Of Us Did Not Die, which is obvs great. I also just bought the much-talked-about Marie Kondo book about organizing, so we'll see if that changes my life as drastically as the Amazon reviews claim. I also really want this book by Cristina Mazzoni, Saint Hysteria, which is about neuroticism and hysteria and female saints, but it's expensive and hard to find, so if anyone wants to buy me that, feel free.
Carolyn: All my books are in boxes in three different cities right now and the only ones I kept are the most beautiful to-read pile, but I haven't felt much like reading piles of words lately so I started with The Worn Archive, which so far is amazing.
Riese: I finished reading Americanah by Chimamanda Ngozi Adichie, and, just as I'm sure you've already been informed, IT'S EXCELLENT AND YOU NEED TO READ IT.