Feature image via books-cupcakes.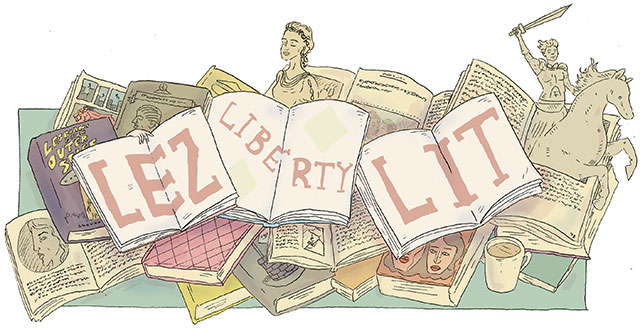 In an interview at the Rumpus, Daisy Hernández, author of A Cup of Water Under My Bed, discussed how language can make you feel powerless and powerful, her personal lexicon, feminist writers who changed her life, why she writes and more:
"At first, I wrote to make sense of experiences, like why my father prayed to a candy dish and why I stole money as a teenager and why the brutal death of the transgender teen Gwen Araujo haunted me. Writing provided me with a starting point for unraveling feelings and facts and perceptions and cultural commentaries. And then, while writing, I realized I was also reaching for love y cariño, for a way to love the broken places of my life and my community's. And by the time I finished the book, I knew I'd done it for my younger self, that 16-year-old girl in New Jersey who didn't have a book like this.

Part of what helped to make this book essential for me, too, was meeting young women and men who read Colonize This! and told me it changed their lives. They changed degrees, created new job positions at their colleges, better understood their relationships with their mothers. They read that book and reported that it changed their lives, and that gave me tremendous encouragement."
Malinda Lo's "Fox," a short story set in the Huntress universe a few years later, is free for you to read online.
Margaret Atwood shared her reading list on Reddit.
At the Guardian, Marnia Warner examined how fairy tales have changed and continue to evolve, "with lots of dark twists and no more sweet, biddable girls."
Dawn Lundy Martin wrote about visiting Angela Davis's library, saying:
"I'd read bell hooks and Barbara Smith and Gloria Anzaldúa before, but so out of context that I could not connect their writings to my own experience, let alone to that of my mother, although she was the woman for whom many of them spoke. To read them here, in Angela's living room, alongside the wreckage and memorabilia of the Black Power movement, alongside Bettina Aptheker, Karl Marx, and Jürgen Habermas, Huey P. Newton, and Assata Shakur, opened a small door in my sealed heart. To watch all the videos on the Black Panther Party, the Hoover administration, and COINTELPRO, and then, on other nights, to drink port wine from tiny port-wine glasses with Angela at her kitchen island, many of us having just escaped some rally or another, helped us to channel our anger toward a potentially transformative rage. "That we find ourselves in jail, beaten on the streets, or killed is not the work of accident or coincidence," Angela would tell us. I began to understand—I don't remember exactly how—that my mother, a working black woman who came of age in the late nineteen-fifties, was not absent from the struggle, as I had once half accused her of being. She was the site of the struggle itself."
Victorian hair art was serious business.
A pile of new-old works recently entered the public domain, including some by Flannery O'Connor, Rachel Carson and Edith Sitwell.
Here is a pretty infographic about banned books.
Everyday Feminism has a gallery of queer women in history.
The latest edition of Popaganda rounds up the best pop culture from 2014 and features Cheryl Strayed.
GalleyCat has samples of its top books of 2014 for you to read.
Also you can get so many free ebooks and audiobooks through Open Culture.
There are no easy or hard books, only different readers.
A new report suggests that libraries will need to become community hubs if they are to survive.
Jia Tolentino wrote about Elena Ferrante and female characters, voices and identity:
"At a time where—on the internet, at least—backlash against feminine voices is matched only by women's insistence on keeping our voice, Ferrante is a third path out of a battle you didn't expect to find yourself fighting. Her work is more than this, of course, in the way that all great female writers are more than the adjective that still tends to precede them. But I have loved Ferrante's work this year for one thing in particular: Each of her narrators is a woman whose life has been carved out by other people's ideas of what a woman should be—let's call this the original position of "the female experience"—but whose story is defined by violent rejections of this position, a willingness to sacrifice identity to instincts, to shut out all other judgment except for her harsh, dark, freeing own."
Casey the Canadian Lesbrarian wrote about a year of reading QTPOC books.
At the Lesbrary, Katelyn reviewed Silhouette of a Sparrow by Molly Beth Griffin. Anna M reviewed Air Planes by Anna Macdougal. Casey reviewed The Haunting on House Shirley Jackson.
At Lambda Literary, Anna Furtado reviewed Sweet Sweet Wine by Jaime Clevenger. Shelly Oria discussed her new collection New York 1, Tel Aviv 0 and also multiple voices, expanding the idea of genre, her favorite queer writers and more. Stephanie Glazier reviewed Carry the Sky by Kate Gray.
Recently on Autostraddle: Riese wrote about 12 places to read great writing on the Internet. Fonseca reviewed Liz Prince's Tomboy. I listed the top queer/feminist books of 2014.
Events To Watch Out For
January 17, New York: The deadline to apply for NYC Feminist Zinefest 2015 is January 17!
Know of a queer event with literary merit? Send it to us! The Liberty Lit is bi-weekly.
---
What We've Been Reading:
Riese: Like everybody, I want to read more books this year, and I have to figure out how to make that work w/r/t also reading so many things for TIRTL. One of the main things I'm doing towards this goal is that my girlfriend and I have committed to reading together instead of watching television, unless it's a new show that we want to watch (like, we're not just gonna turn it on and see what's on, or watch more Criminal Minds). So, I have triumphantly and finally finished Joan Didion's Slouching Towards Bethlehem, because I finished like 75% of it many months ago and then not the rest. Obviously it was excellent. Also I'm halfway through Harry Potter and The Prisoner of Azkaban. Harry Potter books are long, y'all! I'm still about 25% of the way through Wild, by Cheryl Strayed. Also, I just got started on Americanah, by Chimamanda Ngozi Adichie, which my girlfriend got me for Christmukkah. I know this is not a very efficient way to read but believe it or not, it's part of a system wherein there are certain environments in which I read aforementioned books.