Feature image via shutterstock.
2014 has been really excellent for a ton of new queer/feminist things to read. Here are some of the best.
The Top 10 Queer/Feminist Books of 2014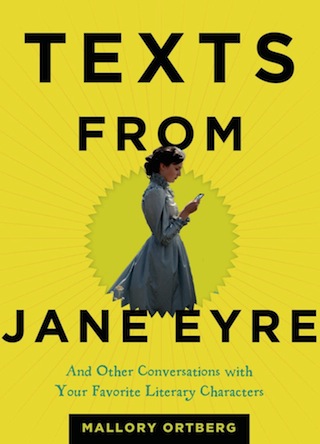 Texts From Jane Eyre is a compilation, including new material, of Mallory Ortberg's popular texts from series. The point is less that popular canonical literary characters have phones, and more that depicting them through vapid, hilarious text message means they are dismantled, with a dash of misandry. In a review at the LARB, Sarah Mesle argues Texts From has created a whole new genre of literary criticism and expression:
"Texts from Jane Eyre isn't really another book in the mode of Pride and Prejudice and Zombies — a book I enjoy, but which stages the collision between high literature and mass culture as a joke for its own sake. Texts from Jane Eyre, by contrast, uses that collision to pointed satiric effect.

The better comparison might be that Texts from Jane Eyre is to literary culture what The Daily Show is to politics: both use satire to expose the contradictions and absurdity enabling powerful figures. And Ortberg's satire matters because it is fantastically able to express women's anger toward men: men both real, and imagined."
---
In Playing the Whore, Melissa Gira Grant argues that sex workers are entitled to the same rights as people in any other field, and that insisting that sex workers – and everyone – must love their jobs or risk losing them is harmful. In an interview with Carmen at Autostraddle right before Playing The Whore was published, Grant says:
"I wanted to document and question the various interests involved in insisting that any sex workers who for whatever reason still want to do sex work are both an insignificant minority and a dire threat — because they shatter stereotypes, sure, but also because they insist on speaking for themselves. Writing the essay [that led to the book] pulled my perspective around sex work into a new focus, shifting from sex workers' experiences (including my own) to those people who want to speak for sex workers. Anti-sex work activists, police, politicians, journalists — these people produce fantasies about sex work that bear even less relationship to sex workers' own lives than what sex workers get paid to play out with customers. Writing this was a classic script flip."
---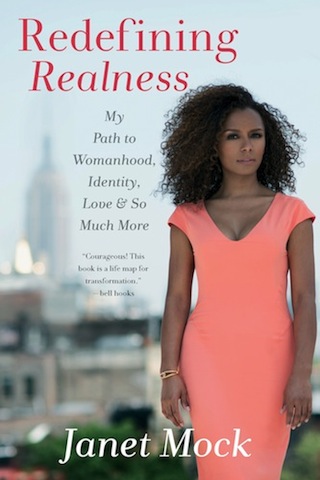 In Redefining Realness, Janet Mock tells her coming-of-age story with a backdrop of the intersection that "bridge[s] between those communities, between the queer and trans community and women of color communities." In an interview with Rookie, Mock says:
"Those words [i.e., intersectionality] are very powerful tools for describing this oppression, and it's great that some people have access to them. But most people don't. For me, it was super important to not use those terms in the book, because they exclude a lot of people who don't have educational access, or who may not be engaged in social-justice stuff but who want to be enlightened about things and have their political consciousnesses raised a bit. I wanted to write the book for everyone—including that girl who I was in seventh grade who didn't even know the term transgender. I wanted to give her a book so she could also feel like she was in the know, without being talked down to or made to feel like she has to aspire to something "higher" when she already has all the knowledge she needs to define her own experience. It's not for me to define it for her. So I wanted to use words and language that she understands."
---
7. Women In Clothes edited by Sheila Heti, Heidi Julavits and Leanne Shapton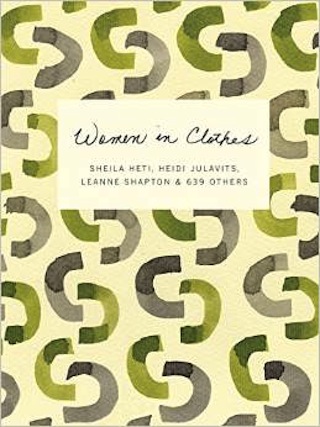 Women In Clothes is a collaborative, lengthy, multi-form anthology that uses survey answers, personal essays, interviews, discussions, illustrations, photography and more to examine the relationships between women and the way they present themselves. At the Rumpus, Amy Feltman writes:
"In our conversation, Ms. Julavits emphasized the plasticity and continued evolution of the project. The book includes such diverse contributions as essays on perfume selection, whether to wear lipstick as a female Israeli soldier, and wardrobe choices as an Orthodox Jewish woman in an MFA program. […]

Ultimately, it is the multiplicity of perspectives that makes Women in Clothes an immersive, fascinating experience—"un-put-downable," to borrow a term from a friend. The book is well-balanced between serious, insightful journalism (an essay by human rights journalist Mac McClelland, an account of a collapsed clothing factory in Bangladesh) and pleasurable self-reflection (Julavits's piece on a misplaced mitten and the downfall of refusing to accept loss). The reader feels included in an intimate, ongoing conversation about the relationship between our physical and emotional selves."
---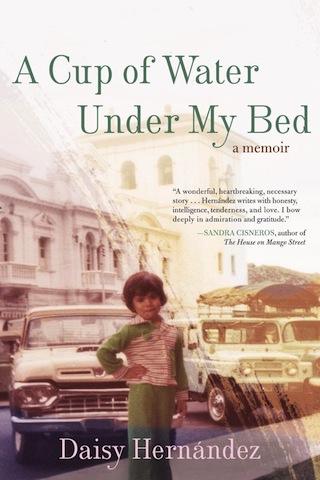 Former Colorlines editor Daisy Hernández calls her new memoir on sexuality, family, and class and race her attempt "to answer the questions I had. What did it mean to be bi coming from a Cuban-Colombian home? What did it mean that I longed to be normal?" In a review at Feministing, Juliana Britto Schwartz writes:
"Hernandez's coming-of-age memoir, A Cup of Water Under My Bed, explores some of the questions we face as young adults navigating gender, race, migration and sexuality in a world that imposes such strict borders on us. She writes her experiences as a queer Latina and daughter of immigrants like a compilation of anecdotes which ultimately tell a whole history."
---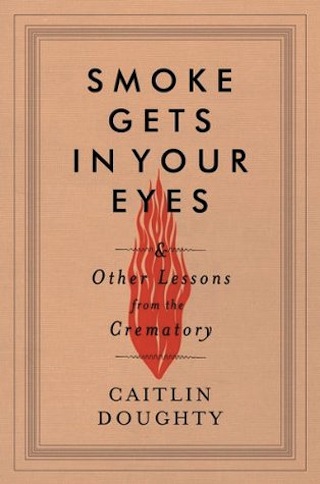 Smoke Gets In Your Eyes reads partly like a coming-of-age memoir and partly like an anti-patriarchial reclamation of death and dying. It is gross and it is glorious. (You can read an excerpt at NRP.) In a later chapter, Doughty writes:
"We can wander further into the death dystopia, denying that we will die and hiding dead bodies from our sight. Making that choice means we will continue to be terrified and ignorant of death, and the huge role it plays in how we live our lives. Let us instead reclaim our mortality, writing our own Ars Moriendi for the modern world with bold, fearless strokes."
---
The latest poetry collection from Ellen Bass is structural, naked, vivid, and sexy in the sense of "contains lesbian sex." In a review at the Rumpus, Julie Enszer writes:
"Bass's deftness as a poet is breathtaking in Like a Beggar. By which I mean: I am left breathless reading these poems and witnessing her control of the line. Then, I am equally awed by my own breathlessness, which Bass, of course, has elicited artfully through her control. Reading each poem I feel as though I have been walking up and down the hills of Esalen with her. Like a Beggar sings with the clarity of a single voice alone in a large concert hall and with the gravitas of a full chorus in the finale of a sold out opera. These poems are large in their ambitions and precise in their observations."
---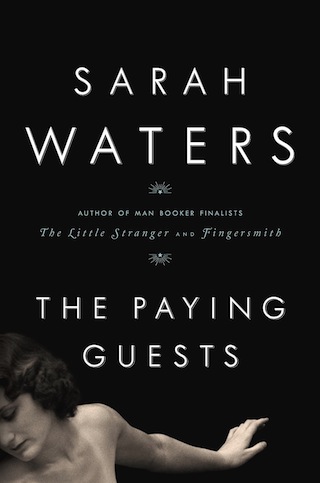 Sarah Waters's latest historical novel, set in 1922 London, comes predictably highly praised and centers on the love affair between Frances, who lives in a house newly divided with an apartment for renters, and Lilian, one of the renters. Also there is a murder. In her Year of Reading at the Millions, Emily Gould writes:
"[I]t's a gripping page-turner in addition to being perfectly written and it's about something important and real. I wonder whether reviewers' understandable reticence about revealing the plot twist that changes the book halfway through from masterful historical portraiture to something more like a thriller made it a harder sell than it ought to have been? Anyway, if you like interwar London, fraught lesbian secret affairs, and hot sex scenes, plus crime, punishment, and hard moral questions that keep you thinking long after the book is over — I mean, it's just hard to imagine anyone not loving this book."
---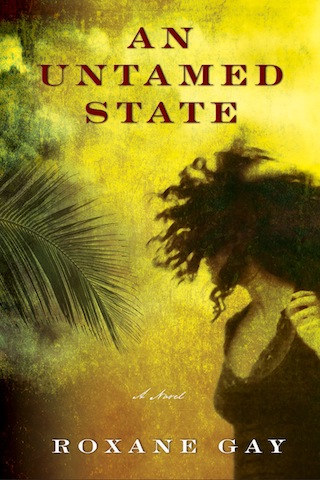 Essayist, short story writer and internet hero Roxane Gay's debut novel is about a woman who is kidnapped and held for thirteen days and who must then find her way back to herself. In the LARB, Eric Newman writes:
"An Untamed State is a novel about the cultural politics of belonging, and the precarious condition of women in a world organized by male violence. It is important to remember that it is also an exploration of a particular historical moment and place. Gay writes about a Haiti 'that belonged to men who obeyed no kind of law.' […]

Looking back on her experience, Mireille reasons that there are at least three Haitis: 'The country Americans know and the country Haitians know and the country I thought I knew.' Haiti might ultimately be unknowable to Mireille and Gay's American readers, but An Untamed State works to illuminate the difference that sutures that unknowability across national borders. Readers won't forget this painful, beautiful, and important novel."
---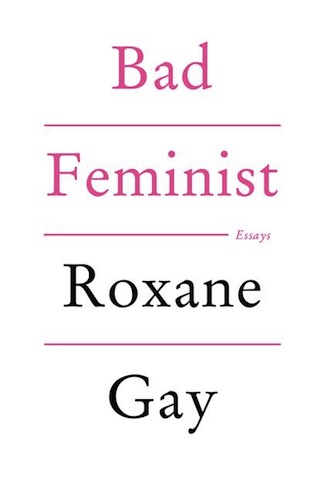 In her first essay collection, Roxane Gay addresses gender, sexuality, race and pop culture. Everything about it is amazing. In an edited version of the introduction at Buzzfeed, Gay writes:
"I'm trying to lead, in a small, imperfect way. I am raising my voice as a bad feminist. I am taking a stand as a bad feminist. I offer insights on our culture and how we consume it. The essays in my collection also examine race in contemporary film, the limits of "diversity," and how innovation is rarely satisfying; it is rarely enough. I call for creating new, more inclusive measures for literary excellence and take a closer look at HBO's Girls and the phenomenon of the Fifty Shades trilogy. The essays are political and they are personal. They are, like feminism, flawed, but they come from a genuine place. I am just one woman trying to make sense of this world we live in. I'm raising my voice to show all the ways we have room to want more, to do better."
---
Honorable Mentions, In No Order
Citizen: An American Lyric by Claudia Rankine
Prelude to Bruise by Saeed Jones
Lumberjanes by Grace Ellis, Noelle Stevenson, Shannon Watters and Brooke Allen *
Men Explain Things To Me by Rebecca Solnit
Motherland Fatherland Homelandsexuals by Patricia Lockwood
Tomboy: A Graphic Memoir by Liz Prince
Moving Forward Sideways Like a Crab by Shani Mootoo
New York 1, Tel Aviv 0: Stories by Shelly Oria
* Conflict of interest disclosure: Lumberjanes is top 10 in my heart and so is one of its creators. NOT YOU GRACE DON'T WORRY.
---
If I missed your favorite book of this year and you have feelings about it, please comment using as much punctuation and self-righteous indignation as possible. Or just tell me about what I should read next.