So I know we all watch this show because of Ashley Madekwe's portrayal of Tituba. And the next two episodes feature this character quite a bit. But holy shit, be ready for a roller coaster of emotions, because Tituba becomes a prisoner of a white bible-thumping, colonial witch hunter. Draw yer wands and get them ready for a duel.
---
Ep 9: Children, Be Afraid
The theme song of this episode is "Cinnamon Spider" by Jack Off Jill, because of all the eight-legged friends coming up in the show. Follow along with our Spotify playlist at Ladies' Night in Salem.
Remember Emily's abusive father? Increase aka "Escalate" Mather identifies him as "Not a Witch" and releases him from jail. Emily's dad goes raging around Salem in a drunken stupor, looking for his daughter so that he can sell her to the brothel. Hope he gets a taste of some magical justice soon.
Escalate Mather now has his witch-hunting lasers set on Mary Sibley, and he's just waiting for George to wake up and spill the beans. Every time Mary gets into a tense situation, she wanders out onto her balcony and casts this concerned look over Salem.
Salem is so teensy; I'm pretty sure that Escalate and Mary are neighbors. How awkward would that be?!
Cotton's Soaked
I keep waiting for Cotton to rise up against his father and rebel. Guess I'm expecting far too much. He spends the entirety of the next two episodes boozin' it up and running from the horrors his father inflicts on Salem. The town seems to let Cotton's behavior slide, since his lover, Gloriana, was just exiled. Cotton was such an abhorrent character early in this series. But I can't help feel sorry for him now. On some level, he recognizes that he slaughtered innocent people, and that guilt is tearing him up.
What Would Freud Say?
Finally, Mary decides to step up to the plate, drop her romantic dramas, and address a major threat in her life: her husband, George. When Mercy asks why they can't just kill him, Mary has to explain the patriarchy in the most basic terms: the witches need George Sibley as their puppet, because no one will take the women seriously otherwise.
Mary dream-hacks into George's subconscious. It's weird to see him so lucid in this dream, speaking to her as an opponent, face-to-face. For some reason, dream-Mary is dressed like a puff of cotton candy, instead of in her villainous black Puritanical garb.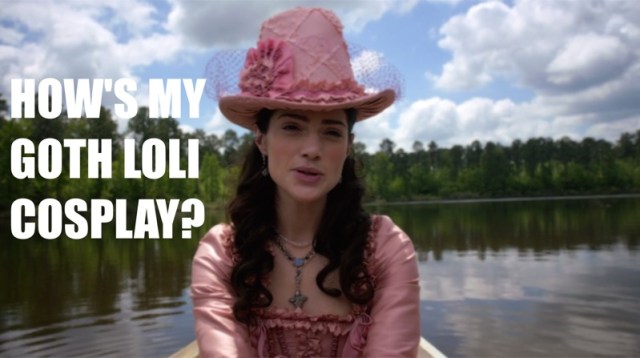 The exaggerated fashion in this dream sequence vaguely reminded me of a scene from the musical-turned-film Sweeney Todd.
Mary's mission is to suppress her husband's consciousness, so that he won't be able to wake up and rat out the witches. So she tries to kill him with an oar.
George sinks underwater, and for a moment, we think he's a goner. But he burst out of the water, sputtering and cursing at Mary. That when she notices THIS GUY on the shore. That's right, Escalate Mather is duking it out with the witches within the Dreamscape!
Girl-On-Girl Drama
This is some L-Word worthy homo turmoil. We all knew it was gonna happen, especially since Mary's been smooching Mercy on the side while living with Tituba. We finally get to meet Tituba's familiar, which is a giant freakin' tarantula that bites into her neck to feed.
Luckily (or unluckily, depending on your fetish), Tituba isn't rocking neck-nipples, unlike Mary's leg-nipple that she uses to feed her familiar.
Actually, wait a second – How does Mary even shave her legs?! I'd be terrified to, if I had a leg-nipple. What if you ran into with a blade?! Right? I'd just go werewolf and never shave again. That seems less weird than trying to shave around your leg-nipple.
Oh who knows, maybe Mary uses some kinda witchy Nair spell. I guess we'll never know.
I gotta admit, I feel like a spider comes in at a solid 8 on the Badass Scale, especially compared to Mary's toad familiar. But still, spider fangs in your neck. Ahhhh!
Mary and Tituba are under a lot of stress, trying to keep George Sibley from speaking out against the witches. Then this utterly heartbreaking scene happens.
Tituba confesses her love for Mary, exclaiming that she'd do anything to protect the Witch of Her Dreams.
But Mary responds like this.
And twists the knife, saying "Love me less and you'll love me better."
OUCH.
Tituba, you and your broomstick dildos deserve better. Seriously. All you've done throughout Season One is support Mary in her quest for world domination. You shouldn't have to put up with this shit!
While Mary and Tituba are busy almost breaking up, Mercy is out rallying a formidable Salem Witch Army.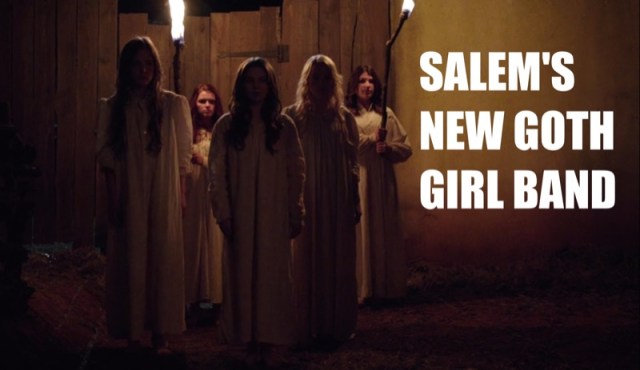 Actually, since we just saw Mercy kill two women in cold blood, I'm pretty terrified by her new gang.
They roam throughout Salem, hunting down Emily's dad and cornering him in a barn. And then they proceed to rip him apart, limb from limb using their bare hands. I mean, you see a foot fly across the screen at one point.
The Young Witches start chanting "Light as a Feather, Stiff as a Board," in another homage to The Craft. They're charging Mercy's scary witch batteries up with power, so that she can stop George Sibley herself.
Mercy summons a spider familiar, which looks suspiciously identical to Tituba's spider. Could it be that she's trying to frame the only queer woman of color in this entire show?? Ugh.
Okay, in case you thought a toad familiar was gross, this happens.
Escalate Mather hears George struggling to breath and rushes to his bedside. George has a golden, magical spider web clogging his mouth. EWEWEW.
Escalate rushes into the center of Salem to confront Mary Sibley about witchcraft and the spider web. Everyone's watching them.
And then Mercy steps forward, saying that she witnessed Tituba feeding a spider familiar. Escalate arrests Tituba on the charge of witchcraft.
All right, folks. Tituba is my fav character. I really don't know what I'm going to do if something bad happens to her. Probably *ragequit!*
---
Episode 10: The House of Pain
Well, yeah. That's a foreboding title, huh? Before I even start, I'm going to channel really anyone who will listen — supernatural power, animal, mineral, or vegetable — and say, "Somebody free Tituba!"
The Fathers in this Show are Terrible Role Models
Okay, seriously? Male parental role models in this show have a LOT of opportunity to improve. Let's take a peek in at Mather Sr., since his kid is busy running around drunk in the forest.
So, uh yeah. Escalate is really into the whole pain = redemption thing. This doesn't bode well once he converts the former alehouse into a torture chamber / house of worship.
Okay, so Mather Sr. is up to no good. How about Lucius Malfoy Hair and his daughter, Anne Hale?
Unfortunately, she finds her dad's Death Eater mask laying around in his study. Since Anne is very grounded by science and fact, she doesn't think twice about trying on the mask. It immediately gets stuck to her face.
Hey, didn't something like this happen once in Goosebumps?
A few seconds later, the mask teleports Anne into the middle of the forest. She stumbles and runs through the woods, completely lost.
Okay, so one dad is busy with self-torture while the other dad leaves his dangerous Death Eater mask laying around the house. It's 3pm! Do you know where your children are?
Poor Cotton is still on his multi-episode bender. He's so overcome with guilt, he momentarily attempts to drown himself, but then settles in for a good cry instead.
Tituba's Painful Story
Unfortunately, we learn rather quickly that Tituba is being held captive in the House of Pain. Surrounded by instruments of torture. At this point, I'm squirming around in front of the screen. Do we really have to go down this route?
I can't even really go into all of the horrific things Escalate Mather does to Tituba throughout this episode without wanting to projectile vomit. Mather Sr. and the torture devices are misogyny given form.
Before Cotton runs off into the woods to drink, he tells his father, "A tortured prisoner will confess to anything to stop the pain! Anything! True or not!"
Hmmm, this seems like it would've been great info for the CIA before they proceeded with torture tactics.
In a cruel and heart wrenching twist, these scenes also include the most Tituba exposition that we've had all season. We learn about her roots, and how she came to be in Salem.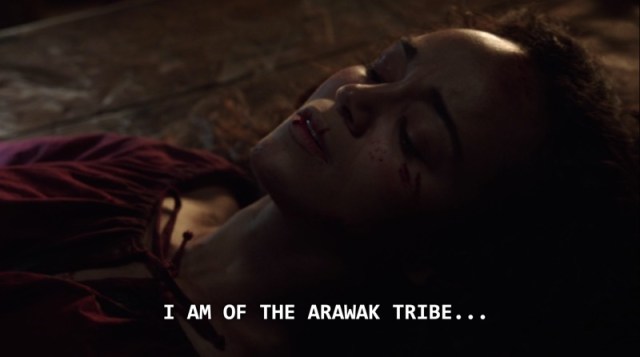 We learn that white slavers pillaged Tituba's village and raped the women. She explains that she saw two glowing eyes in the woods as she was being carted away into slavery. Tituba tells Mather Sr. that she accepted powers from a supernatural creature, the Kanaima, in order to bring justice to the ones who have oppressed her.
But of course, Escalate has to copy-paste his own Christian narrative over Tituba's experience.
Escalate proceeds with the torture, and seriously, why is no one stopping him?!
Just to make all of us cry, Tituba gasps out:
AND THEN, Tituba whispers the name of the Leader of the Witches. Nope, we can't hear whom she names, and it doesn't show up in the subtitles either. SUSPENSE!
Fumbling in the Forest
Lucius Malfoy Hair and his wife discover that Anne has accidentally used his mask to teleport into the forest. And she's probably completely lost. Lucius Malfoy Hair has to swallow his pride and ask Captain Alden for help, since he's got plenty of outdoor tracking experience.
John senses someone in the woods and tells Lucius Malfoy Hair to stay calm, no matter what happens. Tribesmen approach and speak with John Alden in their native language. Some of this exchange is possibly Kanien'keha, based on words used in the show's transcripts. However, the tribe is never explicitly identified within this episode. Salem suffers from a serious lack of tribal representation, considering its subject matter. Hopefully, this changes in future seasons.
According to John's translation, the tribesmen saw Anne running around the woods, but they decided not to bother her, since she was behaving so strangely. John tells Lucius Malfoy Hair that crazy people are sometimes regarded as "walkers between worlds."
Anne's stumbling around in the dark, when it starts raining. The situation is so absurd, that she bursts out into laughter. But then she realizes that she's not alone….
Before the Demonic Moaner can get Anne, Captain Alden and her dad find her! They make their way back home toward the "safety" of Salem.
Witch Hunt
Before John even gets a chance to sit down and take off his boots, the townsfolk are stomping toward him with torches and pitchforks. We can all see where this is going.
Escalate admits that he made some false assumptions about Mary Sibley, and that he's discovered the true witch leader, who was named by Tituba.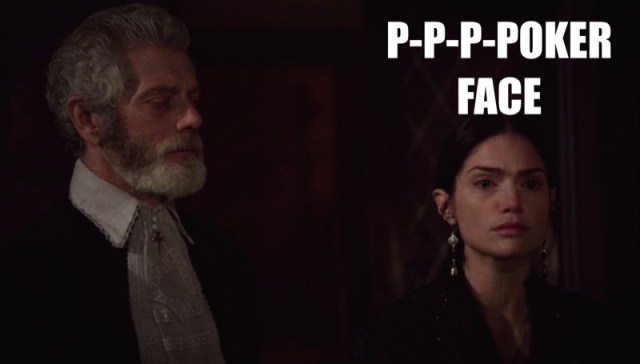 And whom did Tituba accuse?
John Alden.
Will Mary finally get her comeuppance for betraying her fellow witches and generally ruining the lives of everyone in Salem? Is Tituba still in love with her, or is she in full revenge mode? What the eff will happen to John? Will Cotton finally pull himself together?
This episode's theme song is "I Hate Myself for Loving You" by Joan Jett & the Black Hearts, because ALL OF THAT TITUBA / MARY ANGST! Follow along with our Spotify playlist at Ladies' Night in Salem.