Previously on Pretty Little Liars, despite being tortured to the edges of their sanity by a red-coated person for the last infinity years, the Liars eagerly anticipated the arrival of Santa Claus. Unfortunately, what he wrought was a message of despair stapled to a barn in Christmas lights and an epiphany from Paige's parents that the only way she's going to make it to adulthood is to get the fuck outta there. Mona returned to Rosewood as a ghost, dressed like somebody decked Elsa's halls, and guided Ali through the past, present and future shitshows she calls life. (Abridged. Past: Brainwashed by her mom to forget her half(?)-sister. Present: Ostracized by her friends. Future: Dead, no legs.) There also was an ice ball that Alison threw for a charity called like Needy Sexy People or something, and Cece Drake (the apotheosis of at least two of those things) showed up to give Ali some custom-made perfume called Essence of Soul Switchery that she crafted at a boutique in Paris.
It has been three months, Rosewood Time, since the last episode of Pretty Little Liars, which, according to my calculations, means I am now 157 years old. The Liars are leaving Mona Vanderwaal's funeral, wearing leis for some reason, and talking about how even though there's no body in Mona's casket, at least her mom will probably find some comfort burying half of Mona's knickknacks in the graveyard. (Over/under on how many episodes until they're digging that shit up with plastic cups?) Alison DiLaurentis, Knickknack Burying OG and Master Troll, arrives on the scene wearing a floral print dress that matches Mona's funeral leis exactly.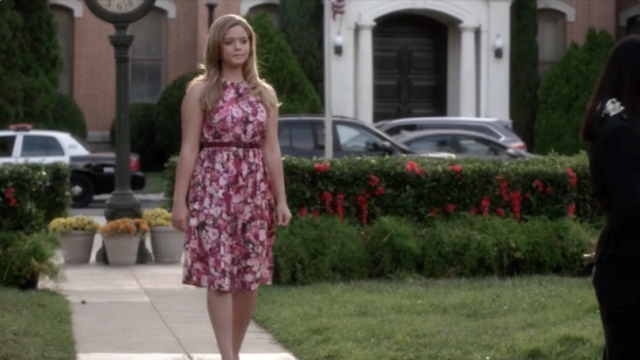 She tries to apologize to Mona's mom, one more time, and assure her she didn't have anything to do with Mona getting bludgeoned to death, all over her house — but Mona's mom does not accept Ali's apology to the max, and to reiterate her nonacceptance, she punches Alison right in the head. It's intense, even for a Vanderwaal.
When the Liars' do reaction faces in a group, it is always Emily's face that is the best, and she does not disappoint this time — no, indeed — but it is Spencer who wins this round because her face is an oh, shit GIF come to life.
Hanna Marin, whose flawlessness on this earth is more pure and true than even Beyonce's and I'm sorry if that truth upsets you, hangs around Mona's house after the memorial brunch to help clean up and console Mrs. Vanderwaal.
Mrs. Vanderwaal: It feels like Mona was lost at sea due to their being no body to bury.
Hanna: I don't want to say it's better this way because at least no one is digging her up to make necklaces out of her teeth, so instead I will say that I've cleaned up your house and will fold up all the chairs before I go.
Mrs. Vanderwaal: Do you want to take home some of Mona's dolls?
Hanna: NO. Um. I mean, no. But thank you. That's very sweet. I know how much she loved her dolls.
Mrs. Vanderwaal: Yeah. She sure did have a lot of blonde-headed ones, huh? Okay, how about you take this adorable stuffed dog?
Hanna: Seems innocent enough. Sure.
Stuffed dog: [Will undoubtedly come to life in Emily's backseat at some point this season and force her to drive off a cliff.]
Spencer's dad finds her moping around the house and apologizes for not coming to Mona's funeral. He explains that he is a busy man and really only has time to attend funerals for dead teenage girls whose bodies were discovered in his own personal backyard. He's also got some bad news. Bethany Young's parents are petitioning to have Spencer's bail revoked because her indictment has now been unsealed. What do those law words mean, strung together like that? Well, you know #OfficerToby is on that case. Or should I say #PoliceChiefToby? It has been three months and this is Rosewood, after all.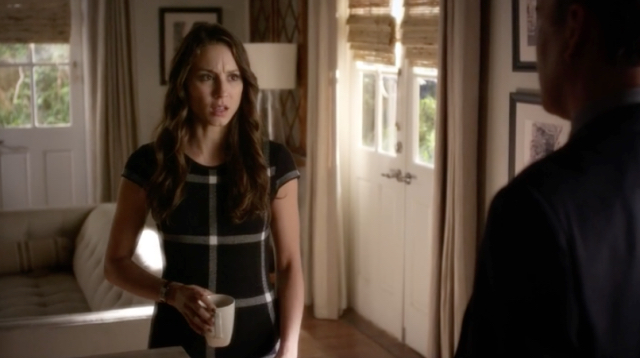 What Toby discovers, with the help of Detective Tanner, is that at some point, Jessica DiLaurentis told the police that of the 100 people she saw tromping through her yard talking to the one dozen blonde girls in Alison masks and yellow tanktops on that fateful Labor Day weekend, Spencer Hastings was one of them. And like, yeah, Byron Montgomery had a rock, and Jenna Marshall had a hockey stick, and Garrett Reynolds had a fire poker, and Melissa Hastings had a boat paddle and Jason DiLaurentis had one of those pole vaulting sticks and Toby Cavanaugh had a pool cue and even the magic-eyed lady hiding in the bushes had a golf club — but it was Spencer Hastings who had a shovel. Wilden took the statement but didn't do anything about it because of something something Radley something. "All roads lead to Radley," is what Tanner says, and I'm pretty sure she means that both figuratively and literally. I'm pretty sure the literal one road in this town does, in fact, lead to Radley.
Spencer looks lovely in her mugshot, by the way.
Ezra has purchased the Brew to turn it into a toy store, and in keeping with the theme of naming this piece of property after famous movies, he has decided to call it "Predator." He also is only employing underage children to do construction for him. Now that Toby Cavanaugh (Teen Contractor, Esq.) has taken over the police department, Ezra has turned to Mike Montgomery for all his remodeling needs. Aria asks Ezra if he would mind blurring the boundaries between "boss" and "former English teacher who started boning your sister when she was 15" and talk to Mike about why he didn't go to Mona's funeral. Would he mind getting too involved in the life of a child over whom he has authority? Would he mind? No, obviously, of course not, he says he'll speak to Mikey right away.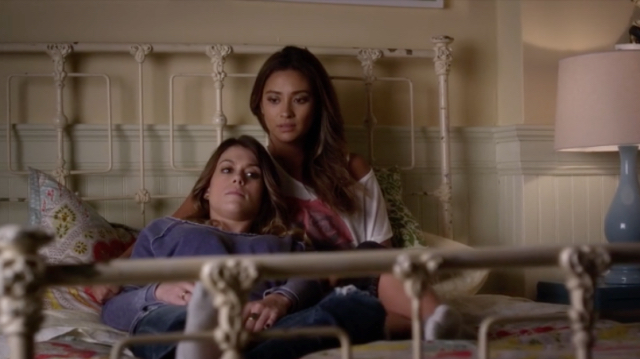 In Emily's bedroom, she and Paige are canoodling and bemoaning the fact that even though it took three seasons to make it from Halloween to Christmas, it took only one episode to make it from Christmas to Easter, and now Paige has to go to San Francisco tomorrow.
Emily: I mean, I can't speak from experience, but it seems like a person with parents would be able to communicate with them, right? Like, is there some kind of magical device we could use to speak to your mom and dad and ask them to let you stay until prom?
Paige: I don't think so. They're really not budging on this whole "don't want you to get murdered" thing.
Emily: I know. And I get it, I do. Frankly I'm surprised you survived this long. My vagina is clearly cursed. But goddamn, Paige, I am going to miss you.
Paige: I wonder how come I never went blind looking at your face. You're brighter than the sun, you know that? But you would never blind anyone on purpose.
Emily: …yeah. Hey, do you want a muffin?
Caleb and Hanna eat five gallons of ice cream and talk about Mona, which is how they spent all their time when she was alive, and so why should they change their schedule now that she's dead. Caleb can't believe he can't hack into Mona's military grade laptop. He doesn't think even Lisbeth Salander could do it. But Hanna has a different idea for getting to the bottom of what happened to Mona, one that involves less technology and more magical witches. Or, well, one magical witch: Ms. The Grunwald from Ravenswood, PA. Caleb drops his spoon to the floor and says he really must insist that he be the only ghost Hanna has sex with, he's got to draw line somewhere. Hanna ignores him because it's Mad Hatter nonsensical when he starts talking about Ravenswood, and asks again for the coordinates of The Grunwald's fortress so she can send a parrot to her straight away.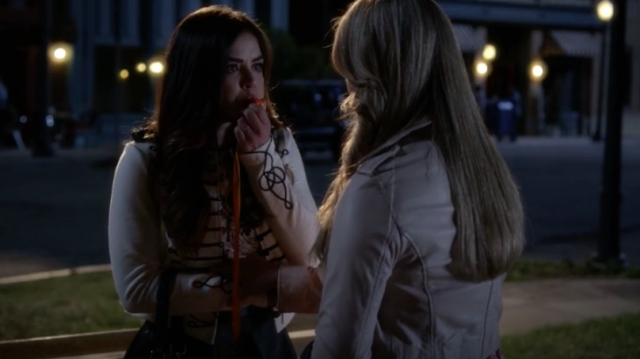 Town Square. The pharmacist has stopped yelling for the night, so Aria sits on a bench in the quiet and reads a rejection letter from Oberlin College, and isn't that just the most Aria thing you have heard? Four years at Oberlin and Aria would come out on the other side as a character in Girls. Ali appears as if from nowhere and tries to commiserate with Aria about not getting into college, and when that doesn't work, she tries to explain for the one hundredth time that fucking no one is getting into college if they don't stop freezing her out and accept that she's trying to keep them alive. "What you people continue to fail to understand is that: yes, my powers are Slytherin powers; but Slytherin powers are the only thing that will save you now." On the advice of Mona, Aria has been keeping her rape whistle handy, so she starts wailing on that thing until everyone in the entire town is glaring at Alison.
Alison's face is amazing. She's not mad or afraid; she's just like, "Girl." So good. Sasha Pieterse is so good.
The Liars convene to come up with a plan to get Alison arrested. Trying to help Aria get into college was just one step too far. Somehow Spencer and Emily make the leap from "proving Ali killed Mona" to "Spencer can stay out of jail" and "Paige can stay in Rosewood." Like if Ali killed Mona then Spencer didn't kill Bethany and surely Paige's parents will understand that the streets are safer with one less constantly stalked teenage girl on the loose? I don't know. It's one of their dumbest plans ever. Do you remember when Spencer got caught in a bear trap? Dumber than that.
Pages: 1 2 3 4See entire article on one page