By Carolyn & Riese
Feature image by Juliette Tang.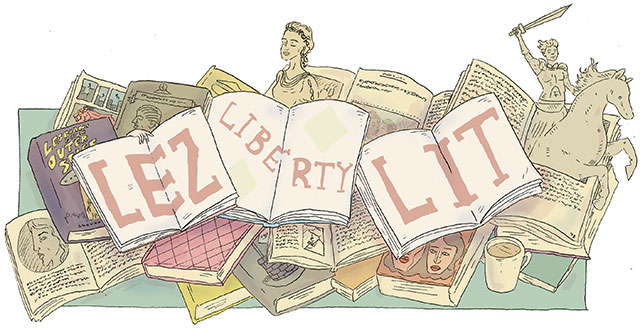 She Rises by Kate Worsley, The Last Nude by Avery Ellis and The Salt Roads by Nalo Hopkinson are just a few of Casey the Canadian Lesbrarian's historical queer women's fiction favo(u)rites.
It's okay to read slowly.
Books are not fact-checked, generally.
This butch/femme 101 reading list includes Brazen Femme, Stone Butch Blues, Odd Girls and Twilight Lovers and more.
Julie Enszer reviewed Like a Beggar by Ellen Bass, a new collection of poetry that I am mostly interested in because some of it is about lesbian sex.
There is a word in your vocabulary that you use too much and everyone else knows it.
Independent bookstores, using curated selections as an edge, are starting to open again. Why not take an independent bookstore road trip?
Readers have better mental and physical health empathy, according to attractive data from the National Reading Campaign. (Though it can also make you bad at sports and maybe commit murder, according to a conversation between Leslie Jamison and Francine Prose.
Lizzie Skurnick Books is an imprint that reissues classic YA. At Bitch, Skurnick discusses the genre, starting with whether it's a girl thing: "It is a girl thing. Which is why the whole genre, for ages, has been kind of maligned. Seriously, people used to come up to me at parties and when I said I wrote teen books, and you could watch them assuming that it was about romance and girls, who are of course intrinsically stupid. I used to say to them sometimes, 'I hope you don't have a daughter. Because you seem to have a really low opinion of what teenage girls like.'"
Young adults are actually going to libraries with their bodies and everything. That's part of why they're better read.
Except in Portland where one library travels by bicycle, because of course it does.
And except in Canadian prison where prisoners' access to books is dropping.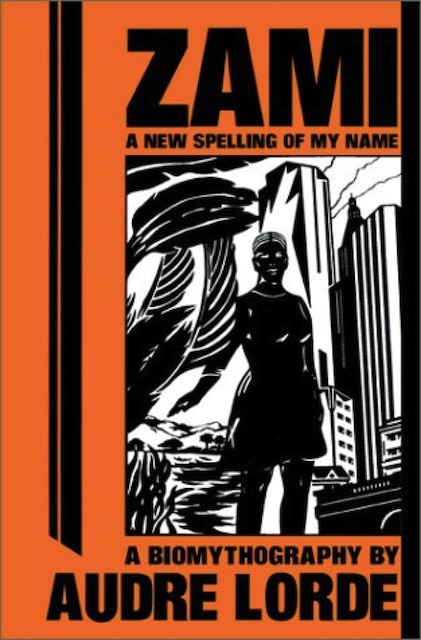 The National Book Award non-fiction long list appeared yesterday and features only one woman author.
At the Rumpus in a posthumously published interview, Maya Angelou discusses the form of poetry, rhyme, joy and more:
"ll sorts of things bring me joy. I'm a grateful person. I have an attitude of gratitude. So when I wake up and look through the blinds and see a little bit of sky through the blinds, I thank God that I've awakened and have things to do and people to talk to and people who will make me smile. [I have] bananas and oranges and things to eat and all of that. The truth is I'm a very simple person. What you see is what you get. I know that I think a lot, and so I appear to be complex—and maybe I am—but I don't think so. I look for joy. Sometimes people don't find joy because they don't look for it, they don't expect it. I expect it. I don't expect negative, and when I find it, I run like hell and holler 'fire!'"
At Lambda Literary, Anna Furtado reviewed Keepsake Self Storage by Marianne Banks. Jackson Nash reviewed Beyond Magenta: Transgender Teens Speak Out by Susan Kuklin. Sara Rauch reviewed The Paying Guests by Sarah Waters. Frank Pizzoli interviewed John Rechy.
At the Lesbrary, Krait reviewed Better Off Red by Rebekah Weatherspoon. Hannah reviewed Emlyn and the Gremlin by Steff F. Kneff. Danika reviewed October by Reney Warrington. Ashley reviewed Hard Love by Ellen Wittlinger. Casey reviewed A Map of Home by Randa Jarrar. Danika reviewed Hild by Nicola Griffith.
Recently on Autostraddle: Mey reviewed Jilian and Mariko Tamaki's This One Summer. Laneia wrote about Pioneer Press. Audrey wrote about Alison Bechdel's MacArthur Genius Grant. Carmen wrote about defining privilege and oppression. Maggie wrote about reading and journaling.
Events To Watch Out For:
San Francisco, Sept, 18: Ellen Bass, Sally Ashton, and Dean Rader will read from 99 Poems for the 99 Percent at Kepler's Books and Magazines (1010 El Camino), 7:30 p.m.
Cambridge, MA, Sept. 18: Sarah Waters will talk about her new book with Emily M. Danforth and also sign it (40 Brattle St.), 6:00 p.m., $5.
San Francisco, Sept. 20: Malinda Lo will be interviewing Sarah Waters about her new novel at The Booksmith (1644 Haight St.), 7:30 p.m.
New York, Sept. 21: A discussion between Roxane Gay, Kiese Laymon and Leslie Jamison will be part of the Brooklyn Book Festival (St. Francis College Auditorium), 2 p.m.
New York, Sept. 23: Ariel Schrag and Liz Prince will discuss gender identity and their works at Word (126 Franklin St.), 7–8 p.m.
Indianapolis, Sept. 24: Malinda Lo will discuss diversity and censorship as part of the Kurt Vonnegut Memorial Library's Banned Books Week (The Emelie Building, 340 N. Senate Ave.), 5–8 p.m.
Los Angeles, Sept. 27: Katherine V. Forrest and Michael Nava are going to talk mystery novels as part of WeHo Reads: Noir (City Council Chambers, underneath the library), 2–3 p.m.
New York, Sept. 30: The Women's/Trans Poetry Jam and Open Mike is on at Bluestockings (172 Allen St.), 7 p.m.
New York, Oct. 1: Madison Young will read from Daddy: A Memoir at Bluestockings (172 Allen St.), 7 p.m.
New York, Oct. 7: Contributors to Pen & Ink will be reading from the anthology at Housing Works Bookstore Cafe (126 Crosby St.), 7 p.m.
Know of a queer event with literary merit? Send it to us! The Liberty Lit is bi-weekly.
---
What We've Been Reading:
Riese: Welp, I read this article about how millennials have "grown up on" Harry Potter, Twilight and 50 Shades of Grey, and I was like are you serious, so then I accidentally found myself reading 50 Shades of Grey and firstly, it seemed really tame compared to how scandalous everybody claimed it was and secondly, it was AWFUL. I think I'm a stupider person for reading it. Anyhow, I'm now about 75% of the way through The Empathy Exams, which I highly recommend although you've already read a good chunk of it via TIRTL.