Feature image of a little free library by Laurie Hertzel of the Star Tribune.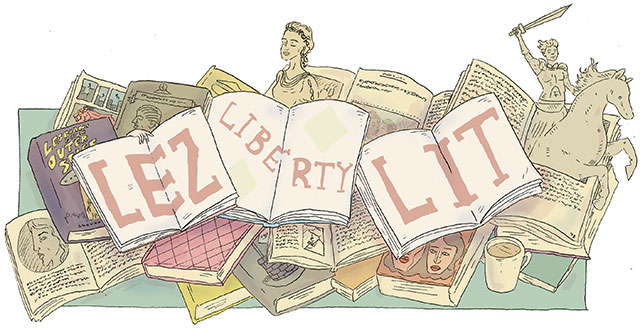 ---
Zadie Smith, self-described pathological reader, writes about her love of books:
"I would like to say in my defense that I don't really get the appeal of YOLO. I live many times over. Hypothetical, subterranean lives that run beneath the relative tedium of my own and have the power to occasionally penetrate or even derail it. I find it hard to name the one book that was so damn delightful it changed my life. The truth is, they have all changed my life, every single one of them—even the ones I hated."
Smith's "Big Week" is also newly on this side of the Paris Review paywall.
Giovanni's Room, a queer bookstore in Philadelphia that's been closed since May, might reopen.
Sometimes, as a reader, it is very hard to actually sit down and read something.
Reading Harry Potter books makes children more likely to be empathetic toward stigmatized groups generally and gay people in particular, according to a study in the Journal of Applied Social Psychology. Relatedly, the series has new cover art.
The Hairpin has a history of teen magazines past and present (but mostly past). It also has an engrossing history of the diary novel, like Go Ask Alice, The Golden Notebook, Pamela and more: "The irony of more contemporary diary novels like Go Ask Alice is this: ostensibly progressive, fun-loving diary novels feature a girl's voice but are often bent on silencing women or at least quelling experimentation, while explicitly conservative diaries by women (real and fictive) must also justify why a woman was ostentatious enough to write and publish in the first place."
Sari Botton had a conversation with Samantha Irby, a writer braver than her, at the Rumpus.
Books have been getting longer and longer. According to an unscientific survey of the "best books" of the past 110 years, books in 1904 averaged around 219 pages, while books in 2014 average 345.
Cover blurbs have been getting more and more superlative. A similar falsely positive shift is occurring in book reviews, argues Lee Klein in a discussion of how "superficial adulation intended to support and promote […] corrodes the endeavour of reading and writing."
This entire site is dedicated to collecting and reviewing public-domain works.
The Onion made fun of YA novels: "Poised to shake up the genre with its daring choice of protagonist, a groundbreaking young adult novel released this week by author Joan Berman reportedly makes the bold choice of following a moody, independently minded high school student who could be described as something of a loner."
At the Rumpus, Sara Lautman reviewed Adam by Ariel Schrag in comic form, noting, "in Adam, the hetero and queer universes touch and transcend — necessarily, sincerely, and intimately."
Also at the Rumpus, Lauren Eggery-Crowe interviewed Francesca Lia Block, author of Weetzie Bat and many other things, on myth and fairy tale, misfits, power and more.
Everyone has that one word that's impossible to spell correctly.
At the Lesbrary, Abigail reviewed Child of Doors by J.S. Little. Danika reviewed Kissing Kate by Lauren Myracle.
At Lambda Literary, Heather Seggel interviewed author and L Work writer Ariel Schrag. Chase Dimock reviewed Returning to Reims by Didier Eribon. Mitch Kellaway reviewed Gephyromania by T.C. Tolbert. Anna Furtado reviewed All In by Nell Stark. Susan Stinson interviewed Judith Frank about her new work and queer relationships.
Recently, on Autostraddle: Maddie wrote about food journalling. Fikri listed 40 queer-friendly picture books for young kids. Kate wrote about femslash saving the world. Mey wrote about the Eisners. I wrote about new books for you to read at the end of summer.
Events To Watch Out For:
August 7, New York: Nepantla: A Journal Dedicated to Queer Poets of Color and Lambda Literary are hosting a summer reading series. This event features Kamilah Aisha Moon, Metta Sáma, Amber Atiya, Julia Guez and Elisa Gonzalez at the Lillian Vernon Creative Writers House (NYU, 58 W 10th St.), 7 p.m.
August 14, New York: Nepantla: A Journal Dedicated to Queer Poets of Color and Lambda Literary are hosting a summer reading series. This event features Franny Choi, Joseph Legaspi, Jackie Wang, Paul Tran and Ocean Vuong at the Audre Lorde Project (147 W 24th St., 3rd floor), 7 p.m.
August 16, Montreal: Montreal's annual queer book fair is back (1710 Beaudry), 11 a.m. to 6 p.m.
August 21, New York: Nepantla: A Journal Dedicated to Queer Poets of Color and Lambda Literary are hosting a summer reading series. This event features Eduardo C Corral, Rosebud Ben-Oni, Denice Frohman and Roberto Montes at the Lillian Vernon Creative Writers House (NYU, 58 W 10th St.), 7 p.m.
Now to 24 August, Toronto: The Ryerson Image Centre is presenting What It Means To Be Seen: Photography and Queer Visibility, on queer media portrayals, curated by Sophie Hackett (main gallery, 33 Gould St.).
Know of a queer event with literary merit? Send it to us! The Liberty Lit is bi-weekly.
---
What We're Reading:
Carolyn: Bad Feminist came out this week and I wanted to read it twice. Also recently, I read Ex Libris: Confessions of a Common Reader, a lovely book of essays about reading and owning books and general bibliophilia by Anne Fadiman. I read The Loved One, by Evelyn Waugh, which was thoroughly depressing. I've also been picking up The New Fuck You, an anthology of lesbian work edited by Eileen Myles and Liz Kotz, and reading a few pages whenever I need a break.
Riese: I took a break from bouncing back and forth between Fried Green Tomatoes at the Whistle-Stop Cafe by Fannie Flagg and Slouching Towards Bethlehem by Joan Didion to read Emily Gould's novel Friendship, which was lighter than I'd expected but also observant and witty and self-reflective and you know, Emily has a way of saying things just right, like "she had assumed that staid adulthood came for everyone eventually, without exception or much effort — like a bus, if you just waited around for it long enough." Also, I listened to Leslie Jamison's The Gin Closet while driving from here to Oregon and back some time ago because I want to write like Leslie Jamison because she writes so good. The Gin Closet was gorgeously written, of course, and surprisingly queer at times, although the story itself didn't exactly capture me, I was into it. I have The Empathy Exams on my nighstand just waiting for me to get a moment.
---