This week's going to be a billion times nicer than last week. I pinky promise. Here's some loving animals to prove it.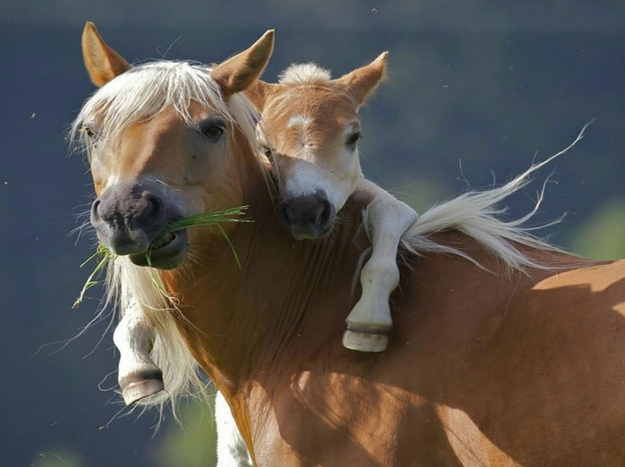 Happy Sunday Funday! It's all rappers against homophobia and pictures of puppies from here on out.
LGBT Athletes: Come Out, Come Out, Wherever You Are
Never too late to recruit the first gay pro athlete, amirite? The YOU Belong Sorts & Leadership Initiative is a camp for queer and allied youth athletes run by two former professionals looking to pay attention to the future of gay athleticism:
While the debut of an out NFL player (or several) is something to look forward to as it would force the league to confront its homophobia in a more tactile way, youth advocate and out former NFL player Wade Davis says many of us are missing the point.

"I actually think the quest for the first gay athlete is the wrong starting place. We should be working to make sure that we can create safe enough spaces within sports and elsewhere that would make disclosure a safe possibility," Wade told BuzzFeed via email. […]

Speaking about the inspiration for the camp, Moore noted, "We wanted to come up with a proactive solution to the problems that we both assessed — namely, the dearth of attention paid to young people within the larger LGBTQ movement and the lack of conversation and programming centered on the needs of LGBTQ youth within sports environments."
Here, Here Are Some Carbs
Just in case you're like, stressed or something.
High-protein diets might still be all the rage, but it's time for their reign of tyranny to come to an end. You know why? Because nothing will ever beat a carb. Potatoes, rice, and bread will get you every time — and why not? The ultimate point of living isn't to be as healthy as possible — it's to have a great fucking time. And what's a better time than French fries? Possibly sex. Maybe.

Plus, this week has pretty much blown, and so it's probably best for us to carbo-load our troubles away. It's science!

After thirty years of research (eating pounds of every known carb), I've come up with the 31 best ones. They are in descending order, and this is not open to debate. (Of course it is.)
Chinese Lesbian Street Wedding
A Chinese lesbian couple welcomed the Prime Minister of Iceland (and her rarely mentioned wife) to the city of Guangzhou by holding their wedding nearby. How sweet of them to invite her!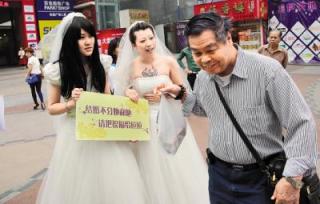 The couple identified as Xiaoyang and Xiaoxiao went to Guangzhou's High Street Wednesday morning (17 April) in white wedding gowns holding hands and kissing, Yang Cheng Evening News reports.

As Sigurdardottir and her partner of 13 years Jonina Leosdottir visited Beijing from 15 to 18 April, Xiaoyang said she was holding a wedding to greet the couple and also made people more respectful of untraditional marriages and loves. […]

Many passers-by were at a loss when Xiaoyang and Xiaoxiao approached them with a sign reading: 'Marriage is not about hims or hers, please give lesbians your blessings.'
Cat & BB Goat
Alt Scouts Are Too Cool
The gay-inclusive Navigators USA program has seen a doubling of their membership in the last year, probably because the Boy Scouts of America blow so hard.
T-Pain: Fuck Homophobia
T-Pain just ain't got time for that.
Attention all homophobic idiots: if you're not attractive to straight women, you're probably not attractive to gay men. You can unclench now

— T-Pain (@TPAIN) April 16, 2013
Happiest Puppies of All Time
What the world needs now are happy dogs.