Welcome to Fridayyyyyy! Film and TV studios shuttered last month due to the coronavirus, and we are starting to feel the effects of it on the TV Team (next Friday's episode of Grey's Anatomy will now serve as the Season 16 season finale — and if the previews are to be believed, it will be quite the cliffhanger). But still we are here with you, looking for some entertainment anywhere we can. Hey, here is What's Gay and New On Netflix, Amazon and Hulu in April 2020. The Hitman is a silly comedy series that puts The Great British Bake-Off's Mel Giedroyc and Sue Perkins talents and chemistry to great use. And there will always be classic TV to comfort us in our time of great need! The L Word's fourth season premiered this week on To L and Back with Carly and Riese — and since Season Four is notoriously Riese's least favorite, we're sure there will be lots of joy to unfold!
Here's what else!
Notes from the TV Team: 
+ One Day at a Time wasn't exactly Elena-centric this week, but it did have a prolonged comedy bit that involved the teen driving around her family, going to an e-sports tournament (#nerds!), and also a bird pooping in her car. It was one of those episodes where you laugh, you — have I mentioned what a joy it is to have this show back in our lives? Especially at this moment, when everything else feels so turbulent, it's amazing to have a half hour of peace that's masterfully executed. — Carmen
+ It was a rollercoaster episode for our queer cheftestants on Top Chef this week. In the elimination challenge, the chefs are tasked with creating a plate of food, using different styles of art as inspiration. Melissa King's lobster wonton dish earned her the win, while Karen Akunowicz ended up in the bottom three for her flavorless chicken thighs. Thankfully, though, Karen was spared from elimination and will live to cook another day. — Natalie
+ There's a new show in SYFY on Friday nights called Vagrant Queen and it just started but it's already revealed at least one of its queer ladies, Amae, who is an adorable, bubbly little alien mechanic. It's cheesy, sci-fi fun and has lots of women and queer folks behind the scenes. — Valerie Anne
---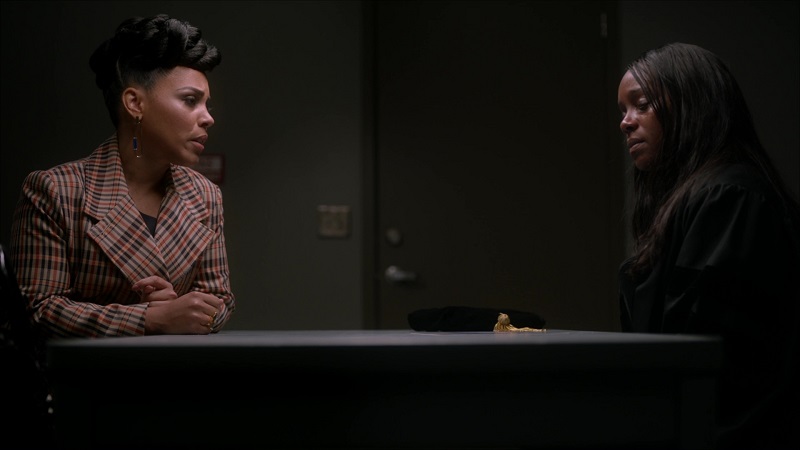 After having watched HTGAWM's midseason premiere, two things are abundantly clear to me: First, I've always been sensitive to how this show gaslights us into thinking that everything bad that's ever happened is Annalise's fault but, in the age of corona, my tolerance for that is at an all-time low. Second, I've been disabused of notion that I will get any real closure from this show or for a character that's meant so much to me. Let that be a lesson to y'all: don't emotionally invest in shows about murder…but I digress…
We pick up this week right where we left off: Michaela and Connor under arrest for Asher's murder and Annalise making her escape to parts unknown. Annalise is now in Mexico, completing the transition into her new identity. "Justine" strips off all the physical remnants to Annalise — a nice callback to Viola Davis' Emmy winning scene in Season One — and steps out to await her handler. But as she's dragged through the town, without any sense of where she's going or who she's running towards, Annalise thinks better of it and opts not to get into the car with her handler and the driver. But before she can even disappear into the crowd, Annalise is surrounded by the police, thanks to a tip Michaela's dad passed on to the FBI.
How did he get involved in this? Well, Bonnie recruits Tegan to represent the last remaining members of the Keating 5 but her efforts are thwarted by a skeptical Michaela. She doesn't trust Tegan after keeping the secret of Laurel's disappearance — which seems to bother Michaela more than the fact that her ex-boyfriend actually died — and refuses Tegan's counsel. Instead, Michaela calls on her father who recruits another defense attorney, Kendra Strauss, to secure her freedom.
After being denied bail, both Michaela and Connor are offered a deal: plead guilty to a bevy of charges (including a lot of stuff they aren't actually guilty of) and testify that they did it all at Annalise's behest. They'd get five year sentences rather than the life sentence that the US Attorney would seek at trial. Both Connor and Michaela ultimately agree to it, with one stipulation: Neither will agree to the deal without the agreement covering them both. The FBI is amendable to this — all they really want is Annalise, after all — and Connor and Michaela are free to go. They spot each other in the hallway and share a warm embrace. It's a rare moment of genuine affection in this hellscape of a world.
(The only other show of genuine emotion in this episode? Tegan who is EXTRA salty that "Annalise just took off without a thought about [her]." I appreciate her unrelenting and obvious thirst.)
---
Siren 301 & 302: Borders & Revelations
It's that time of year again! The time to be #HornyForMermaids! Our mergirl Rin is back and she brought with her a very attractive, very smart, very badass murder mermaid who decided to call herself Tia after Tiamat, an ancient sea goddess. I'm a little nervous for our main triad because Ben has done something Maddie might not be able to forgive, and Maddie also met a new man who loves the ocean as much as she did, but she still loves Rin and Rin still loves her and I suppose that's all that matters for now. Tia is going to prove to be a challenge because while she first enticed Rin with promises of uniting mermaid tribes and pooling their resources, she also has decided that all humans must die. And what's more, there's a merbaby implanted in a human that is growing too fast for the mother to survive, so we're going to have to reckon with that pretty soon, too. On another note entirely, Xander joined a training program and made a new friend, and I think she's queer, too. He saw Katrina on the street and made an exclamation that his new friend interpreted as him thinking she was attractive and the girl herself was like, "Yeah, very cute!" So. Who knows if we'll ever see this girl again or if it was just a lil treat but either way I was delighted.
---
I like to think of Maya's vacation with Carina (I didn't quite catch the exact location they ran off to, but it's safe to call it "a place where you don't wear a lot of clothes") as happening in three acts.
In Act I, Carina, who is wearing the tiniest of bikinis, can't get Maya to stop thinking about work and leave their hotel room. If it's one thing the former Olympian and fire captain never learned, it was how to R E L A X. So Carina takes it upon herself to help, first by… well, wearing basically nothing and looking like exactly how she looks… then with some playful banter.
In Act II, the girlfriends — now safely poolside, in their bathing suits, and enjoying drinks with those little umbrellas in them — are approached a group of dumbass drunk men who think they are entitled to every woman who crosses their path. You know the type. One of my favorite "queer women on a date" TV/Film tropes is when a man thinks he's welcome into their conversation, and the women proceed to ignore him and make him feel inconsequential (because he is). WELL THEN, Station 19 took things up a notch.
Maya bets dumbass dudebro #1 that if she can beat him in push-up competition, then he has to buy a round of drinks for her and Carina — and then leave them alone for the rest of the day. Of course the dudebro smugly accepts, she's just a puny woman after all, and he even promises to do them with one hand behind his back "to make it even." Someone really should've warned him not to make bets with queer women who love nothing more than proving men wrong. We live for this shit.
After about seven or eight push-ups in, he stops thinking it's funny and uses both of his arms, by the 20th push-up he's out of breath completely and collapses to the floor. Maya hasn't even broken a sweat yet. In one smooth motion she calls over the waitress to order another round, with Carina adorably adding some deep fried appetizers to the guy's tab. Then Maya swoops down and kisses her girlfriend like the champion she is, leaving all the stupid stupid men in her dust. Maybe, she ponders, just maybe vacation is fun after all.
That is, until Act III. While together clad in wet hair and bathrobes, Maya learns that she's hundreds of miles away from her team during a five-alarm fire. Not being able to lead her team through this crisis sends Maya into the throws of a complete panic attack. She heaves and heaves, but can't catch her breath. Carina talks her girlfriend through it, finally getting her to focus just long enough to complete a round of deep breathing exercises. It's raw, vulnerable, even beautiful. They are in this, together.