Last Wednesday I walked into an event space in SoHo, sweaty, tired, a liiitle bit tipsy (perhaps explaining the sweaty fatigue), halfway expecting to run away screaming with my pants down. Literally.
I was at a TurnON event run by the people at OneTaste, who help people engage with their inner sexy and to be present, honest, and orgasmic in every corner of their life. They also teach people how to masturbate together in a yoga studio (much more on this later).
There were so many stars aligning to bring me into this room. My friend Maya Gilbert invited me. Maya is a close family friend and was my babysitter for a short while when I was about ten. Somewhere around that time, I had just discovered my vagina. I was actually obsessed with it. Looking at it, playing with it, just generally exploring it at pretty much every chance I got. The classmates with whom I tried to share my curiosity about masturbation ended up spreading awful rumors that I was weird and gay. Well, it turns out they weren't totally wrong, but Maya was the first person to tell me that weird was the new cool, and I was ahead of the curve. And Maya was a popular teenager with boobs and probably the first person in my childhood to make me feel like my sexuality, however I chose to express it, was a-okay. So, I trust this chick.
Maya started advertising her involvement with OneTaste and OM on her Facebook page a few years back, and I was inspired to purchase the book Slow Sex by Nicole Daedone, the inventor of OM (Orgasmic Meditation) and founder of OneTaste. Almost immediately after beginning the book, I put it away forever. I was 21 years old at a liberal arts college that was pretty much a 24/7 orgy. How could I possibly be having bad sex? How could I possibly be having better sex? This stuff is for old folks and people who have never seen a vulva before.
More recently, my relationship hit the fan. I was feeling all pent up and like maybe I wanted to fuck everything that moved, but when it came down to it, I kind of didn't want to fuck anybody at all. I hated all things, but I wanted all things to love me. I was raging and horny with a better relationship with my vibrator than another human being. I left my partner, got in two enormous fights with my two BFFLs, threatened to move to California, and wound up just making a Tinder account.
Just in time, Maya moved back to NYC from a stint in London and got in touch with me. I mentioned that I wanted to take an OM class, probably hoping she would forget I ever said that. Oh, and somewhere in here I got back together with my ex. This is important information for later.
Back to Wednesday: I was at the back of this classroom (a space borrowed from the organization Friends In Deed, a support community for people with life-threatening illness) and I was the only person taking notes, which was awkward. What's funny is that I was taking notes about all of the other awkward people there, like the guy who needed me to know he's actually just finishing his novel, the guy who wanted his "cock sucked long and hard," or the one sitting directly next to me who wanted to have steamy, anonymous sex. While I'm describing these men in my notebook, I can only imagine what they are thinking, "Is she taking notes at an event about how to be present? Awkwaaarrrrd." I feel it is important to note that the crowd was extraordinarily diverse. I definitely thought there would be a lot more white, urban, pseudo-hippies, and there were a few but, pretty much every age, ethnicity, and perversion was represented in this room. I can't speak for the sexual orientation or gender identity of everybody there, but I'll admit it felt very "usually-hetero-but-totally-down-for-whatever."
Go figure, I got called up to sit in the "Hot Seat," where people were allowed to ask me any question that popped into their head and I was supposed to answer without thinking. It may have been the extra glass of wine, but I honestly cannot remember almost anything that I was asked during that session, except for one, asked by Maya herself: "Do you ever get very, very angry?" Woof! Yes. That shit runs in the family. Sometimes, there are things we simply cannot deny about ourselves. While I am remiss to admit my emotional baggage on the web, I'm already about to tell you about the orgasm class I took, so here it is: I have anger issues. I left embarrassed, impressed, red-faced and sweaty-palmed. I mean, I usually have sweaty palms, but I was also completely turned on.
The following Saturday I wake up at 9 am (not a morning person), grab myself an iced dirty chai with almond milk (bad idea) and head back up to Friends In Deed for the real deal. For the low, low price of $195, from 10 am – 4 pm I am going to be learning all about orgasm. Then I am going to learn how to OM. For the first hour of me holding in my pee, OM instructors Yiya and Maya tell us about their first OM experience. Most of the small audience, containing more couples than the first meeting, appears enraptured. After lots of listening and almost nodding off, two OM experts bring out a table. An adorable faerie girl named Linda hikes up her dress, spreads her legs just so, and her OM partner, Hamsa, meticulously applies rubber gloves, a wee bit of special magic lube that they sell in the lobby, and begins stroking the upper left quadrant of Linda's clitoris. Almost immediately Linda is convulsing, and getting red in the face, and moaning in a way I've never heard a lady moan before. Little short bursts of air. She is making spirit fingers in the way I imagine they are meant to be done. Hamsa's face is contorted into something like the one all bassists make when they're really groovin'.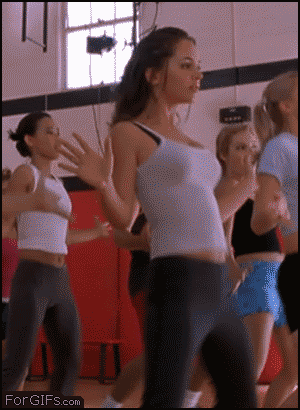 Oddly though, the whole thing was very clinical. In our seats, we were like medical students watching a surgical procedure through those enormous glass windows. The audience is encouraged to shout out sensations as the OMers perform the act. I hear a lot of people saying things like "heat in the back of my neck," and "pressure in my forehead," "weight in my limbs." Maybe only one person came straight out and said, "pulsing in my pussy." Like, come on y'all, this is hot. Who here doesn't want to go home and jump the bones of the first person whose eyes they catch on the train? I thought I was the journalist in the room, but somehow you all seem very, very calm about this. Wait…am I the perv in this situation!? When the whole 15 minutes is over, Hamsa applies pressure to Linda's pussy (they insist we refer to vulva as "pussy" and nothing else, so, I'm sorry if that term makes you as uncomfortable as it makes me), removes the gloves, lays a small hand towel over her crotch. Bada-bing, badaboom. They answer some short questions about their experiences, and send us to lunch.
At this point, I'm pretty convinced that this isn't a cult. Well, I don't know, it might be. But if it is, it's a cult full of the happiest, most well adjusted and totally open-minded folks with healthy relationships, who also all have impeccable, kind of off-putting, cultish eye contact. Like, I'm pretty sure none of them were blinking.
They send us to lunch in groups with an OM expert as our group leader. While I'm stuffing my face — as they pretty specifically told us not to do — the two couples in my group are barraging my group leader with questions. I mention that IF I were to have my pussy stroked by a stranger, I would only be comfortable doing it with another woman, and my group leader tells me that this "can be arranged." My group leader lives in an OM house in Brooklyn where she wakes up every morning, has her pussy stroked, goes to work, comes home and does it all over again. She says she does this at least two to four times a day. I think this sounds exhausting. Also… they have a HOUSE? Okay, maybe this is a cult.
After lunch we come back to our seats and learn step-by-step instructions on how to OM. We also learn all the right terminology and reasons for doing OM in the first place. I learn that the lusty rage I had been experiencing was something OMers call "tumescence," which sounds a lot more Zen than it really is. Tumescence is a buildup of sexual energy they claim will unleash itself in ways like getting really unnecessarily frustrated by the way your partner chews their food. Or maybe in my case, having a shit-fit when my partner is 10 minutes late to dinner without calling. They give us a mantra: "Tumescence: where the problem is never what it seems, and the solution is always orgasm." I think I can get down with this. They also give us a new definition for the word "orgasm." Most of us consider orgasm to be that peak moment where all your muscles contract uncontrollably and then you want to take a nap. For OMers, orgasm is all of the small and large sensations you feel along the ride, ranging from blood rushing to your face, to full body convulsions, and everything in-between. They explain all the rules about how to ask for an OM. There are a lot of rules about consent, what to ask, how to ask it, exactly what NOT to ask. You cannot OM in your bed; you must create a "nest." Put your right thumb here, left index finger at 1 o'clock, work that thing for 15 minutes, do not have sex directly afterward… and whatever you do, never feed it after midnight.
The whole day has been leading up to this moment: everybody gets to OM. After spending six hours discussing and watching orgasms, I'm tumesced to the max and I need to get the fuck out of dodge. For whatever reason, none of the eye-contact queens can fathom why I wouldn't want my pussy stroked by a total stranger — male, female or otherwise — in a room full of more strangers. So, I run (literally run) out and call my partner and tell them to get their fine ass to my house A.S.A.P.
They are very confused about the makeshift yoga mat nest thingy I have Macgyver-ed on my bedroom floor, but I hastily explain all the rules and I'm like "get to work, bitch." And you know what? Even though I'm pretty sure we broke half the rules, that shit was the bomb. I didn't have nearly the experience it appeared Linda and Hamsa did, but apparently they have the equivalent of black belts in OM, so all things considered I think we did all right.
TL;DR If you and your partner each have $190 to drop, you can join a cult* where you learn to come all day, make eerie eye contact, and you can even do it with a bunch of strangers.
---
*not a cult