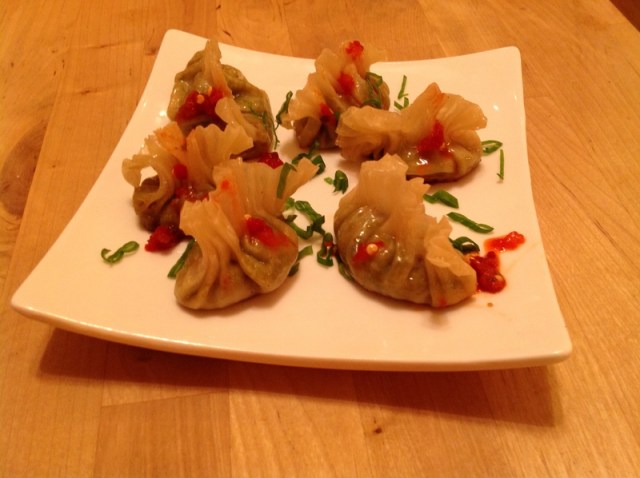 You know what's surprisingly easy? Making dumplings, that's what. I'm not talking American dumplings, or Jewish bubbie dumplings (though both of these are really freaking easy too). Nope. I'm talking beautiful, hand-pleated, dim sum style potstickers that are everyone's favorite food and apart of nobody's culinary wheelhouse. Which needs to change, because guys, they are cheap and easy. Heh.
I'm not kidding. You too can cook these pillowy yet crunchy, chewy yet supple, sauce-dripping, gorgeous nom morsels! And the best part is that you can fill them with almost anything you already have in your refrigerator. Have those carrots and greens in the fridge been staring at you sadly a little too long? Do you have a bag of frozen edamame or other veggies sitting all alone in your freezer? Excitedly bought an unnecessary amount of mushrooms at the farmers market but now you aren't sure what to do with them? Stir-fry that shit with a little soy sauce and some chili paste and put it in a potsticker.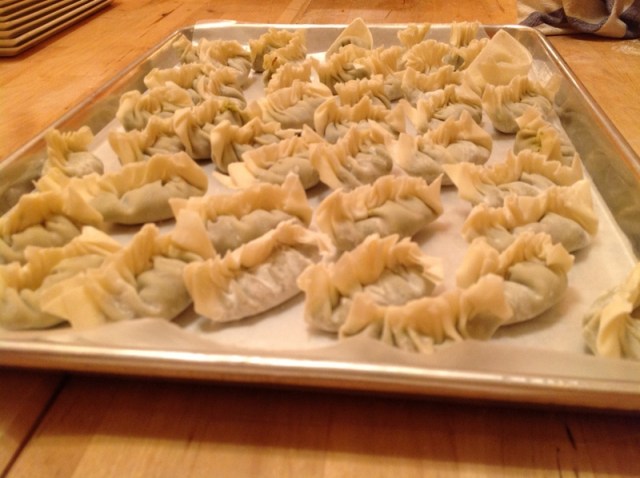 Yup, if you have a package of dumpling wrappers in your refrigerator, you are always ready for a party. Or an exceptional evening in your pajamas, unwilling to share your potstickers with potsticker-less partners and pets And, no joke, you can feed crowds of people on dumplings for a matter of dollars because whatever you put inside of them is stretched really far. And you know what else? You can make a ton of potstickers on a lazy weekend, or invite a bunch of friends over for a dumpling-making party, freeze them, and have dumplings anytime you want them forever!!! You simply cannot argue with dumplings.
Ok, so how do you make potstickers? Basically, you take your filling of choice (I provide a fantastic recipe for one below), stir fry it, fold inside a wrapper, and them crisp them up in a pan until they can't take it anymore. You really can put anything inside a dumpling, as long as you think it would taste good. The ONLY thing you need to remember is that whatever is inside the filling (veggies, meat, herbs, etc…) should be chopped or processed pretty small so it can actually fit inside the wrapper. Here is a step-by-step on how to make, fold, and fry your way to dumpling glory:
Recipe: Mushroom, ginger, and edamame potstickers
1 lb mushrooms (any kind works here), chopped coarsely
Canola or vegetable oil
2 tablespoons ginger, minced
1 tablespoon garlic, minced
4 scallions, sliced thinly
3 cups of frozen edamame, de-thawed
2 tablespoons chili paste or hot sauce
½ cup soy sauce
1 tablespoon corn starch
1 package dumpling wrappers (I like these, but you can use any brand you find at the store! They are all virtually the same.)
Heat up some oil in the bottom of a large skillet and sautee your mushrooms until they get nice and brown. Add the ginger, garlic, and scallions and cook them until they are soft. Remove the pan from the heat and set aside.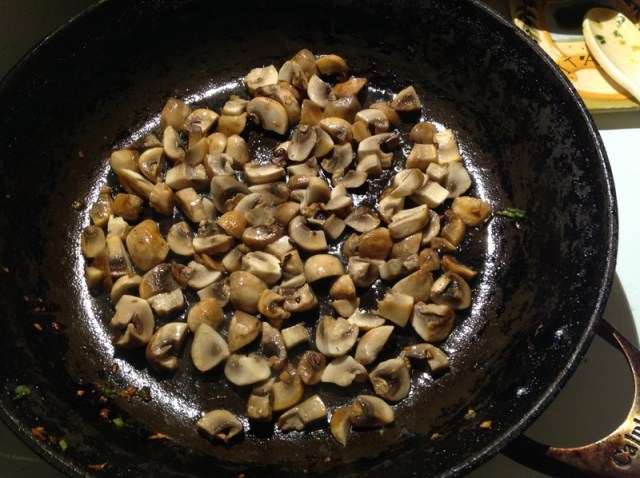 Pour your edamame into the bowl of a food processor along with the chili paste, soy sauce, and cornstarch. Process until its smooth.
Mix the mushroom mixture with the edamame mixture, taste it for seasoning (maybe a little more chili paste here, or a little more soy there), and throw it in the fridge until you are ready to use it.
Step #1: Prep your filling- Below is a recipe for mushroom, ginger, and edamame potstickers, if you are into that. Otherwise, sauté finely chopped veggies until they are soft. Add some fresh herbs if you like (I am into scallions, cilantro, and fresh mint). Add some soy sauce, chili paste, garlic, ginger, or any other aromatic and delicious condiment you have laying around. If you are using ground meat, keep it raw (sexual), so that it doesn't over-cook when it's in the wrapper. Allow your mixture to cool completely in the fridge before you proceed to the next step.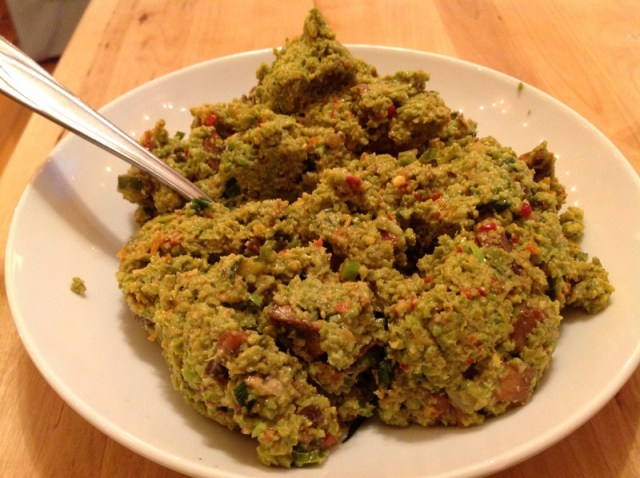 Step #2: Fill your wrappers- Place one dumpling wrapper on a work surface, with one of the points facing you, like a diamond.
Put no more than a tablespoon of filling in the center of each one. For real. You are going to want to use more filling, but if you do, your dumplings won't seal correctly and then nobody gets to eat them and everyone will hate you. Use a little water around the edges of the wrapper, and fold the diamond into a triangle. This is really important: use your fingers to really seal the edges and press out any air that gets trapped in there.
At this point, you can fry these up as is! Go ahead and skip to Step #4! But if you want them to look extra pretty…
Step #3: Crimp your dumpling (sexual?)- Hold up your beautiful triangle and starting at one side, make tiny crimps all the way to the other side like this:
It's VERY important to keep all your little dumpling soldiers lined up, not really touching each other, and covered up with a towel or plastic bag, or something to prevent them from sticking together and drying out. Nobody likes a dry dumpling (definitely sexual).
Step #4: Fry and steam!- Heat up a big skillet over medium-high heat with some oil (anything but olive oil here because that shit burns REAL quick). Place your dumplings in the pan and under absolutely NO CIRCUMSTANCES touch them until I tell you too. These are called "pot stickerswp_postsfor a reason! We very much WANT these dumplings to stick to the pot at this point so that they have a chance to form a super delicious brown and crispy crust. Let the dumplings cook for a few minutes until this happens.
Once your dumplings are starting to get brown on the bottom, prepare for drama. Fill up a glass of water, cover up your super cute bear arms with an apron or a hoodie, stand at a distance, pour in enough water to barely cover the bottom of the pan, and cover the pan quickly with a lid. Whoa. Did I mention the bear arms? Oil and water will splatter all over your adorable outfit and skin when heated to high temps! Careful!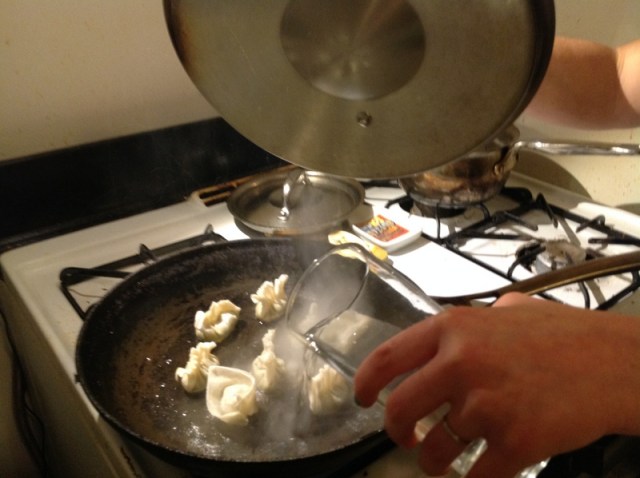 Keep the lid on the pan, no matter how curious you are, for at least three minutes. This will allow 1) the dumplings to steam and finish cooking and 2) the water to work its magic and de-stick your pot stickers from the pan. Let the water evaporate completely before you remove your dumplings from the pan.
Step #5: EAT- Serve your dumplings over a bed of shredded cabbage, floating in some chicken broth, or just by themselves with a little dish of soy sauce and chili paste. You're welcome.