Spaces & Places is a three-week series focusing on the private and community areas we occupy, the ways we personalize them, and the meanings that we assign to them. Organized and edited by Meg Jones Wall.
---
The concept of taking up space is something I've always struggled with. From growing up in a home where being unnoticed was preferred to being a target of rage, years of half-hearted pity-invites to parties from friends who knew I probably wouldn't be allowed, generally assuming no one wanted me around because of self-consciousness and anxiety, and internalized fatphobia, I am constantly aware of how much space I'm taking up, literally or metaphorically. I never want to be in anyone's way in a physical sense, I never want to be anyone's emotional burden. It all feels like other people's space I'm borrowing, and I always want to be a perfect guest in that space.
For the first 33 years of my life, I never lived alone. Which is odd to think about, considering I've spent a lot of time alone. In fact, I'd argue I've spent MOST of my time on this Earth thus far alone. But I never truly lived alone until my most recent roommate moved in with her girlfriend a few months into the pandemic and I decided she would be my last roommate.
The first place I remember living in is the one my family and I moved to when I was three years old, where my parents still live now. It was two floors of a two-family house in Massachusetts, 5 miles north of Boston. My grandparents lived in the first floor apartment, and my parents, my little brother, and I lived on the top two floors. We had no backyard to speak of, just a slab of concrete that was only available for playing when my dad wasn't parked there. We lived on a busy street, and I was more inclined to read books than play outside anyway, so a lot of time was spent in my room. When we eventually got a second computer in our house, the one we could actually play games on because it wasn't mom's work computer, it went into my room, meaning my parents had the power to give my brother permission to come into my room, no matter how I felt about it. And locking my door was not an option. I'm not sure what they thought I was doing in there. I didn't do drugs in high school but even if I did I would've been smart enough not to do them in a house where I wasn't even allowed to drink soda. Regardless of my spotless track record, no locks allowed, and my parents took advantage of that whenever they felt like it.
I had my own room, and between my books, TV shows, imagination and the internet, I had my own worlds, but I didn't really have my own space. I did my best to make it my own, with baby teal paint on the walls, glittery glow-in-the-dark butterflies on the ceiling, a corkboard for my Spice World movie ticket stub and my Hanson CD liner and my quirky keychains from Spencer's. I wasn't allowed to tape things to the wall so I asked my mom to hang up an empty poster frame and I taped pages from magazines to it, like my Got Milk ad collection (Sarah Michelle Gellar, the Charmed Ones) or my JTT glamour shot from Tiger Beat. It wasn't really what I wanted, but it was close enough.
Freshman year of college, I lived with three other girls in a two-bedroom suite. My bed was closest to the door that we kept unlocked, so luckily I never slept because I'm not sure how I would have been able to. I can't count high enough to tell you how many mornings I woke up to someone sitting on the foot of my bed talking to my roommate, or how many nights I took my headphones out after finishing as much of The L Word as Megavideo would allow to realize my roommate and her boyfriend were having sex 10 feet away. That was probably the least a space has ever been mine, since it was basically our living room, but I tried to put my own touches on it. I had a towel with a bunch of musicals on it that I hung like a tapestry, and a few official musical posters that were the beginning of a collection I never finished. (I did get the RENT one signed though, so I felt pretty cool about that.) Plus, a Kim Anderson print my older cousin gave me and a Starry Night print I got at the gift shop during my first trip to the MoMA that made me feel very sophisticated even though they didn't fit in with my accidental theatre nerd theme at all. These wall hangings would travel with me for years: BOTH of my sophomore year dorms, the first a six-person suite in a room so small it was a fire hazard to unbunk our beds (even though we did it anyway) and the second a room in a two-story suite shared with 7 other girls. They came with me junior year to another 4-person suite, and senior year to the suite of four single rooms off one shared kitchen and bathroom.
This art all came with me after college too, the poster edges starting to fray from being put up and taken down so many times; the towel starting to fade from hanging in various amounts of sunlight; the frame to the Kim Anderson print cracked in one of the many treks between New York and Boston. They came with me to the apartment in Inwood, Manhattan that had the best neighborhood but the worst roommates. They came with me to the apartment in Kensington, Brooklyn that had the worst neighborhood but the best roommate. And they came with me to Astoria, to the apartment I live in now, though they were first hung up in the small room I now use as a Study.
It never made sense to me to buy anything new. What's the point? I'd think. I'm just going to have to take it all down and put it all back up again. I moved 11 times in six years, between my 5 dorms, summers in Boston, and three NYC apartments. What was the point of investing more time than tossing up what I already owned? Enough to hide some of the asylum-white walls, but not enough that it will be annoying to take down in a year when I inevitably move again.
Plus, I always felt like a visitor in these rooms. Like I was living in my roommate's home, even when the rent was split fairly.
But then something strange happened: I didn't move. My favorite roommate and I stayed in the same apartment for another year, then another. When she moved out to live with her boyfriend I just…didn't. And suddenly it felt like MY apartment. I cycled through a few more roommates, eventually moving to the bigger of the two rooms, cycled through a few more. But I was the constant in this equation now. MY name was the only one on the lease, it was my second bedroom to rent out. It was MY space and I was the one sharing it, instead of the other way around.
I finally started to feel like my bedroom was a place that was going to be mine for a while. And when I looked at the posters that had traveled with me for over a decade, I saw them for what they were: safe. Sure, they did reflect some of my interests. But they were carefully curated for a closeted gay young adult trying to blend in at college after failing miserably to do so as a closeted gay teen in high school. This haphazardly hung collection said, "Hey, I like musicals and art but like, in a mainstream way." But while RENT and Wicked were two of my favorite musicals at the time, so were Next to Normal and Tick, Tick…Boom! My interest in musicals wasn't (and still isn't) nearly as mainstream as I was projecting.
I started buying art prints of my own choosing at cons and from fandom artists I found on Twitter. Gay art. And not the kind of gay art that was like how everyone more secure than me in their sexuality (gay or straight) had that poster of The Kiss on their dorm room walls in the early 2000s. I'm talking Buffy/Faith fanart. Art of Critical Role's queer D&D characters. I made a gay nerd gallery on one wall featuring things like Life is Strange and Harley Quinn, a Wynonna Earp gallery on another. It was bordering on that "loser nerd boyman who lives in his mother's basement" stereotypes from 90s sitcoms, but instead of Batman and Spiderman figurines, it's Funko Pops of Shuri from Black Panther and the 2016 Ghostbusters.
While my room was starting to feel like home, it was the only place in the apartment that did. Between social anxiety and living with literal strangers I found on the internet, when I was home, I would stay in my room 90% of the time. I left it long enough to shower, which I tried to do when my roommate was seemingly in their room for the night. I would order food or make a very quick dinner when the coast was clear and take it back to my room and eat it on my bed. I had my own room, but I didn't really have my own space. And every social interaction I had was so draining for my tired, introverted heart, even with the roommates I genuinely liked. Small talk in my own home! It's only been a few months without it and I can't believe I lived like that for over a decade.
It's kind of ironic, that my world opened and closed at the same time. On one hand, we were in a global pandemic. I wasn't taking my asthmatic lungs and shitty immune system anywhere. I went into self-isolation a few days before my work even sent us home for what would eventually be 16 months and counting. Those first few weeks were confusing; is this a long or short-term situation? Is this going to be over soon or what? But when my last roommate moved out for real, and I decided I wasn't about to look for a roommate during a pandemic, my world got smaller while my home got bigger.
I turned the small second bedroom into what I have been calling the Study, where I could theoretically work and read away from the temptations of my PlayStation/TV or my bed. The room has a desk and two bookshelves: one full of novels, with the top shelf dedicated to Buffy paraphernalia, and the second is full of comic books and Critical Role merch. I shoved the futon I had been living on since the start of the pandemic in there, which I intend to be my reading couch once my brain calms down enough for reading for pleasure to be a thing again. I added a real couch (unfortunately purchased before I knew there were hilariously awful Pride-themed couches to inspire me) and a more modern dining set than the hand-me-downs I had worn ragged. I bought a new rug that matched my new curtains and got to make all the decisions on my own. The first time I stepped back and looked at my living room that looked the least like a dorm than any space I've lived in since my childhood bedroom, I was so pleased.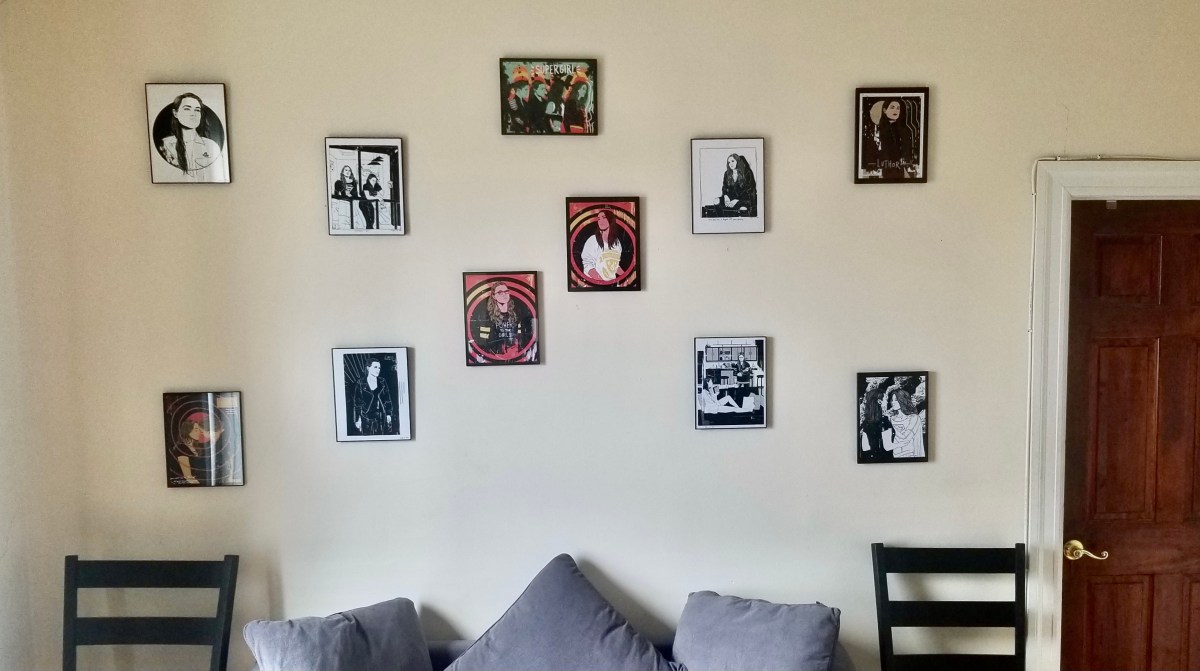 Prior to this, I thought "home" was more of an abstract thing. Some of my favorite people feel like home to me, watching my favorite TV shows feels like home. Belting musicals on a long car ride feels like home. New York City as an entity feels like home. This was the first time I looked around an empty room and felt like I was home.
I was surprised to feel a sort of…relief. A breath I didn't know I was holding that I could let out. A back-of-mind waiting that I could put to rest. This space was all mine. No one else had a key and could stroll in at any minute, no one would care what time I showered. I could walk around in just a t-shirt and boxers, I could watch TV in the living room guilt-free. I didn't have to worry about taking up space in my own space for the first time in my entire life.
Of course, there are downsides to living alone during a global pandemic, anxiety and asthma aside. I have a hard time self-motivating, so while I had once prided myself on keeping shared spaces clean despite having a messy room, I now find myself without shared spaces at all, and thus my mess has crept past the confines of my bedroom. And since I am lucky enough to work from home for both of my jobs, and to live in New York where you can get anything delivered at any time, sometimes a week will pass in the blink of an eye without me having to even consider leaving my apartment. I already experienced a sort of time oblivion and this certainly didn't help. Somehow, without me noticing, the sink got full of dishes and the hallway filled up with empty boxes. The surfaces are all somehow full of random items — mostly cups? Why do I have so many cups?? — and even the couch has somehow shifted a few inches out of place.
But on the days I do finally overcome what TikTok has taught me is called executive dysfunction, I feel myself growing almost giddy as I realize that everything is where I left it, I know exactly what everything is and where it came from. I know whose food is whose (it's all mine!). I know where everything goes, and, if I decide on a whim that something should belong somewhere new, I have the power to make that decision. I can light a scented candle that I like. I can listen to whatever weird playlist I want to (like one of my personal favorites for all-day cleaning binges, High School's a Bitch: The Musical). I can dance around and sing into my freshly washed spatula.
And 90% of the time I love the solitude of it all. I love living alone, love being single. I love that no one depends on me, and that I don't depend on anyone. I love that I installed my own air conditioner and cook my own meals. I can binge eight seasons of a TV show in two weeks because I don't have to wait on anyone. I can stay up until 4am playing video games without bothering anyone. We don't need to talk about the other 10% — that's a different essay for another time. For now I'm just reveling in this new level of independence that my already-very-independent self is experiencing.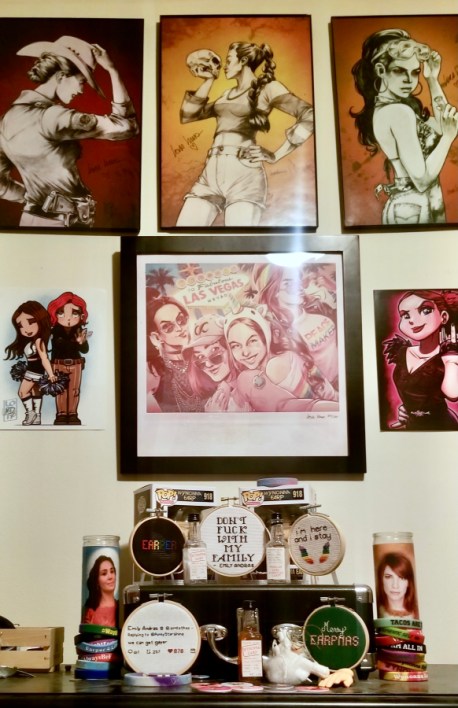 I've officially lived alone in this apartment for over a year, but we're still in a pandemic, so I keep putting things off. There's still a box of art in the Study that I have to hang up. I still have big dreams for a box of shelves in my bedroom, and some art that fell off my bedroom walls that need re-hanging. And I won't lie to you, the only art in my living room were two paintings I made at paint-and-sip classes until I started this essay, which lit a fire under my ass to hang up the Valentine Smith prints I've had for months. (See what I mean about external motivation?) Even while I was planning out how exactly I would hang these prints I had a moment of, "Is this too much CWDCTV fanart for one wall?" And then I realized…there's no such thing. If I'M okay with this wall that will be behind me in Microsoft Teams meetings and Zoom D&D games being mostly Supercorp fanart, then it's perfectly splendid. If I like it, and I want it, then it's not too much.
My childhood bedroom had posters of David Boreanez, J.T.T., and Hanson to try to balance all the posters of Sarah Michelle Gellar, Neve Campbell, and the Spice Girls, because I was queer but couldn't quite wrap my head around it yet. My college dorm rooms had posters of mainstream musicals instead of Willow and Tara fanart, because it felt safer than showcasing what I was into at the time. I was realizing I was queer then, but wasn't quite ready to admit it yet.
Now I'm 34 and have successfully queered up my life in a way that my teen self could barely dream of. I have a collection of cross stitches by a queer friend I met through Wynonna Earp, one of the queerest shows this side of The L Word. I have art from queer shows I've recapped over the years like Legends of Tomorrow made by a queer artist I met…also through Wynonna Earp. I have spooky Haunting of Bly Manor art (and a talisman) hanging up from a press kit, which I received for being professionally queer. My refrigerator is full of Autostraddle stickers that I turned into magnets, with a Haunting of Hill House themed card from a friend as the centerpiece.
And I didn't have to run any of it by anyone. I didn't have to worry if it took up too much space or if it was too nerdy or too gay. Every single change I make is MY choice, and the fact that it makes ME happy is all that matters.
Because finally, finally…I have my own space.