I won't lie, I have several favorite tweets of my own.
I think I'm pretty funny and I would have loved to elaborate on one of my more underrated missives, but let's be real, I had to write about this one. There's a reason it has been my pinned tweet since 2016. It's a perfect distillation of me — It's my origin story.
mom: why'd it take u so long to tell me ur gay?
me: what r u talkin bout I tried to tell u every year on picture day pic.twitter.com/IobsFKFtSa

— kayla kumari upadhyaya (@KaylaKumari) August 14, 2016
The making of the tweet went something like this:
I remember I was visiting my parents in my childhood home and was bored. I started going through old pictures, and when I came across one of these school photos, I flashed back to a memory of my entire family making fun of me for wearing a colorful striped sweater every single year for picture day. So I hunted through albums and bins to find more school pictures, and sure enough, my family was correct. I rocked the same look every year without fail (until late middle school/high school when I switched to graphic tees). But where they saw nerdy ass thick, striped sweaters, I saw something else — the literal gay pride flag. I proceeded to scan and upload four of the most flamboyantly, rainbowfied iterations of this pattern. I wrote the tweet and fired it off. It didn't go wildly viral, but it was more popular than I anticipated. And the people who liked it really liked it.
It's a silly tweet, but beneath the humor, there's something there. One of my mother's many reactions to my queerness included centering herself. She legitimately was frustrated I'd taken "so long" to tell her. She didn't accept much accountability for it. At the risk of getting too deep about a tweet, I think this was partially my way of reclaiming agency in that argument with her. My girlfriend recently wrote this about self-deprecating humor: "It is a way in which many queer people learn to process things. By making fun of ourselves, we are better able to understand the things that we can't seem to uproot." That fucking resonates.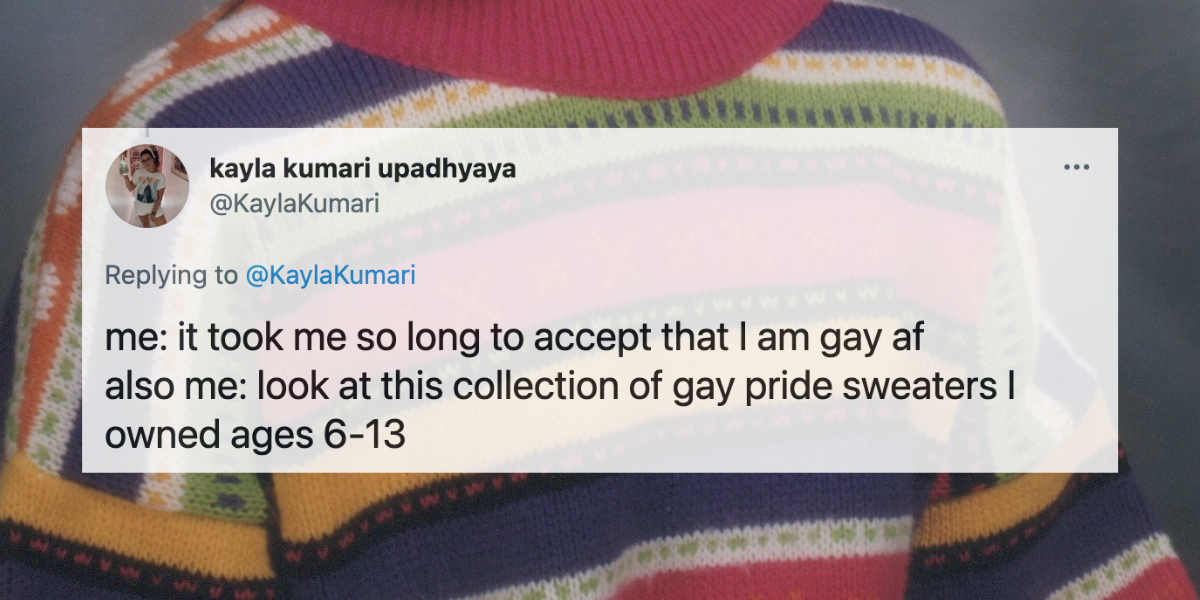 When I fired off this tweet, I'd only been out for a few years—and out to my mom/family for even less—and I was still in a stage of my dyke journey where I so often shouted I'M GAY online and in real life. It still felt liberating just to say it. Here was photographic evidence I've always been shouting it.
Did I literally know I was gay when I wore these gay flag sweaters? Obviously no, but something I often explore in my writing is the idea of re-examining and reimagining my closeted adolescence as an out queer adult. How do my experiences and sense of self now inform and transform my experiences and sense of self in the past? I believe in queer time travel. I have a strange but strong conviction I knew even when I didn't know.
Also, for those wondering, yes my mother eventually did see this tweet. She loves it.