Answers sourced from our eclectic team of writers and editors who love Samira Wiley.
1. I'd invite her to my home for a romantic string cheese & wine tasting.
2. We would go to the pub for trivia night. Then there would be a pizza.
3. I would succumb to muteness and just look at her for 25 minutes until she got uncomfortable and left.
4. I'd invite her to give scissoring another try.
5. I would invite her to brunch at a cafe where we would both be hopelessly undecided between french toast and pancakes and so decide to each get one of them and then share. This would devolve into feeding each other around the third mimosa.
6. I would sit with her while we drink a whiskey and rehash why our past relationships failed because I think that's what we all secretly want to do on a first date.
7. Our cats would play together and we'd write poetry together by moonlight.
8. We'd have our own fashion shoot and then document it for all of Instagram to see and for lesbiddies to get mad about.
9. I'd want to cook her dinner and then after we ate together I'd just want her to smile and do that thing where she rubs her hair because she has the best smile in the world and I'd just want to appreciate it for a little while.
10. I'm pretty sure I'd just want to journal and stare deep into each others' eyes. Or maybe we'd start one of those group journals like we all did at Girl Scout camp. Like, the composition book with the decorated cover where you wrote notes/hopes/fears for each other and you pass it back and forth like a pair of lovesick third graders. Probably that's what we'd do, now that I think about it.
11. We'd watch Sailor Moon together because she once confessed to me that it was her favorite show growing up.
12. We'd go to a monster truck rally and I would win her the biggest stuffed animal. Are there carnival games at monster truck rallies? I have no reason to think so but it feels right.
13. I'd tell her that I always wished I had an Easy Bake Oven and she'd tell me she conveniently still had her Easy Bake Oven and we'd see all the different adult cuisines we could make from the relic.
14. We'd go to Ikea and romantically feed each other meatballs with lingonberry sauce, then we'd walk through the model rooms together and name our future imaginary children.
15. We'd get tacos and then go to a craft brewery.
16. Omg. No. Wait. We would taste whiskey together.
17. We'd have a picnic in a quiet spot by a river, and after we ate we'd read in the sun for a while and then we would go skinny-dipping.
18. I'd want to spend a couple hours staring at her face. And then I would ask her if I could make out with her face.
19. We'd play a game of one-on-one basketball which she would win graciously, and then make each other breakfast for dinner with Mickey Mouse ear pancakes.
20. Ok I want to spend some time driving around this crazy weird town that used to be my home, and take pictures of every single weirdo thing we saw. And like no being a chickenshit — if you see it and it's weird, you have to stop and take a picture of/with it, even if it's embarrassing or possibly dangerous. The person with the picture of the weirdest thing wins and by wins I mean the other person takes off her shirt and then we cuddle. Or "cuddle." I'm flexible there.
21. I'd invite her over for naked s'mores making in front of the fireplace.
22. I would propose to gay marry her.
23. I'd take her out for ice cream and then eat it by the weird fountain at the park and talk about theater bullshit.
24. I think I'd be too shy to actually say anything to her, so I'd want to take her to something like a play or movie so I could look over and catch her eye and lopsided-smile at her every once in awhile without being forced to sound interesting right off the bat.
25. I'd take her to the Cheesecake Factory.
26. I'd ask her if I could paint my hands and recreate this: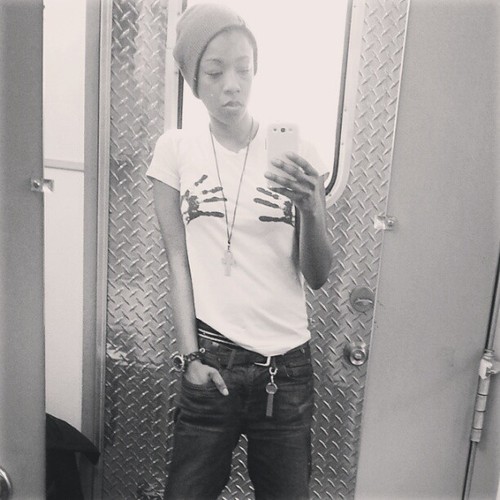 27. I'd ask her about her siblings Aiyana Kai Wiley and Joshua Dhameer Wiley so she knows a.) I care about her family life and b.) I've done a frightening amount of Google research pre-date.
28. FREAK OUT but try to act real cool and stuff.