Welcome to Idol Worship, a biweekly devotional to whoever the fuck I'm into. This is a no-holds-barred lovefest for my favorite celebrities, rebels and biker chicks; women qualify for this column simply by changing my life and/or moving me deeply. Valentine's Day is coming up! And it's the perfect time to celebrate the girl-on-girl couplings that made and continue to make history together.
Header by Rory Midhani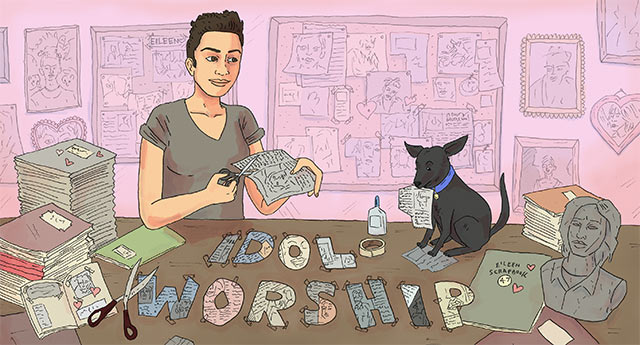 A note: the math here is simple – two idols are better than one, especially when they come as some sort of "package deal" with one another. But what isn't simple are the labels. Not all of the couples here are "lesbian couples," nor are they all "married" or even officially "partnered" in some way. But they're all lady-loving-ladies I love loving a lady I also love in a somewhat official manner, and that's all that matters.
Eileen Myles and Leopoldine Core
When one poet is in love with another poet, are there a lot of cliches? This is a question I have yet to ask Eileen Myles, lesbian poet extraordinnaire, who is dating fellow poet Leopoldine Core. To be fair, they do make poems together.
Although they are separated by more than a handful of years, the two women have truly begun a chapter of their lives completely immersed in one another. Eileen talked to me a little about Leopoldine when we met – just enough to convince me that their relationship was nothing if not absolutely perfect. Spunk and charm, all rolled up into one. And if a conversation with one of them taught me something, it's that a conversation between two poets probably always sounds beautiful.
I'd also like to submit Leopoldine and Eileen as proof that couples who raise dogs together stay together.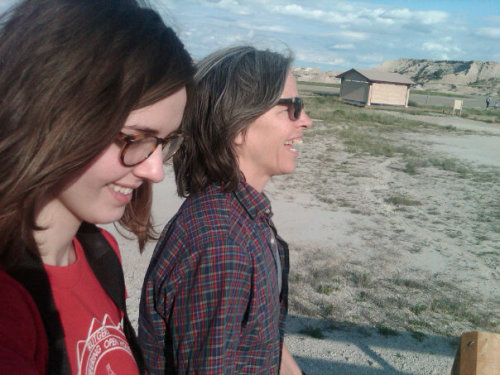 Ellen and Portia
When a day comes where I lose faith and want to give up, I will always – always – look for a gallery of images from Ellen DeGeneres and Portia de Rossi's wedding. You don't need background information on these two, unless you've been buried under a rock for twenty years. But you probably do need more time to be deeply moved by their wedding photos.
Danielle and Aisha Moodie-Mills
Danielle and Aisha Moodie-Mills are a Washington, DC power couple often found looking fabulous and/or working incredibly hard – together. They write and publish ThreeLOL, a blog about "living, loving, and laboring out loud," and co-host Politini, a radio show where they serve politics and pop culture up with a twist.
Danielle and Aisha met when they were helping a mutual friend move out of his apartment, and it was love at first sight as they spent the night talking to one another in his windowsill. They were one of the first same-sex couples to legally marry in DC, as well as two activists on the forefront of the movement to make their wedding legally possible there in the first place. Their wedding was the first same-sex ceremony to be featured in Essence magazine.
They're an inspiration to us all, not only as effective humans but as potentially one of the most attractive couples of all time. 
Robin and Carly
Robin and Carly are perfect humans who had a perfect wedding that they deserved after all of the perfection they hath laid upon the Earth prior and continue to lay now in its current state of increased perfection.
Cynthia Nixon and Christine Marinoni
My relationship with Cynthia Nixon is complicated, mostly because it's a reluctance, I believe, in every smart girl's life to embrace her occasionally frumpy Sex & The City character as being pretty much her mirror image. But outside of Miranda, Nixon is an outspoken advocate for gay rights and a unique voice in our culture's ongoing struggle to define and explain human sexuality.
Nixon married her wife, Christine Marinoni, an education activist, in May of 2012. They had been engaged for three years, and have been together since 2004. They even have an adorable little son together, you guys.
Gertrude Stein and Alice Toklas
When Alice Toklas went to Paris on September 8, 1907, she met more than a city. She met her life partner, Gertrude Stein:
She was a golden brown presence, burned by the Tuscan sun and with a golden glint in her warm brown hair. She was dressed in a warm brown corduroy suit. She wore a large round coral brooch and when she talked, very little, or laughed, a good deal, I thought her voice came from this brooch. It was unlike anyone else's voice — deep, full, velvety, like a great contralto's, like two voices.
The two women, author and Parisian avant-garde personality, built a life together which indeed lasted forever, seeing as they're buried next to each other right now. And in a time when no one was out or talking about le queers, the two women resided in France and America together completely and totally proud of who they were, alone and together.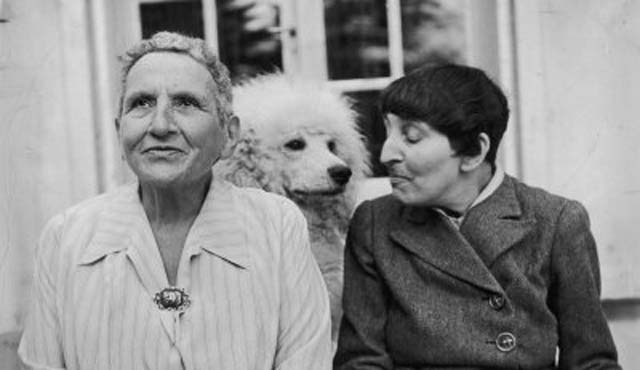 Eleanor Roosevelt and Lorena Hickok
As a little girl, I was deeply moved and inspired by Eleanor Roosevelt. We learned about her very vaguely in school, but by the age of seven I'd decided to go into politics and so my mom encouraged me to read up on her. We even visited her home and walked around the grounds once! (Side note: FDR and Eleanor had an adorable dog named Fala.) I loved what I learned about her: Eleanor was intelligent, astute, emotionally mature, forgiving, loving, kind, compassionate, good. But like most good women, she suffered, struggling to be taken seriously in order to do good, facing betrayal by her husband and daughter, and dealing inevitably with the crippling powers of sexism that limited her own ability.
It was immensely relieving to learn, then, about Lorena Hickok, the woman Eleanor loved until her own death. A reporter Eleanor called "Hick" (I'm feeling lesbian vibes already – off the record, of course), she was assigned to the inauguration of FDR but got more than expected when Eleanor and her began a relationship that endured for years.
The relationship was censored heavily – by both the two women themselves and the rest of the world – but still Eleanor exchanged over 3,000 letters with Lorena and even entertained her at the White House.
They read at first blush like the plaints of a lovelorn schoolgirl. "Oh dear one," begins a letter dated 1933. "It is all the little things, tones in your voice, the feel of your hair, gestures, these are the things I think about and long for." Goes another when the two were apart: "Hick darling. Oh I want to put my arms around you. I ache to hold you close. Your ring is a great comfort. I look at it and think, she does love me, or I wouldn't be wearing it."
Del Martin and Phyllis Lyon
Quite possibly America's first power lesbian couple, Dorothy "Del" Martin and Phyllis Ann Lyon brought the fire. They met in 1950, started dating in 1952, and moved in together on Valentine's Day of 1953. Together, they were unstoppable: they founded The Daughters of Bilitis in 1955 – viewed as the first official organization for lesbian women – and also edited The Ladder until 1963, were the first lesbians to enroll in NOW, did work in California to make homosexuals welcome in churches, wrote books together, and supported and influenced a demand for non-discrimination legislation for queermos.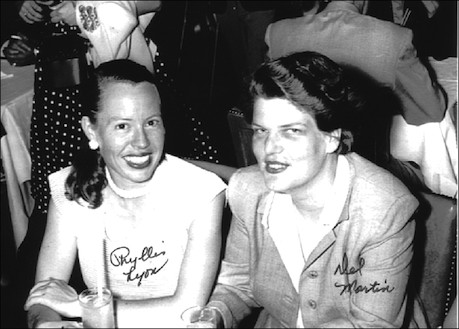 On June 16, 2008 Martin and Lyon became the first same-sex couple to be married in San Francisco. They were together until Martin's death two months later in August.