Welcome to Idol Worship, a biweekly devotional to whoever the fuck I'm into. This is a no-holds-barred lovefest for my favorite celebrities, rebels and biker chicks; women qualify for this column simply by changing my life and/or moving me deeply. This week, I'm confessing to a life spent secretly listening to Sheryl Crow's hits from the 90's and early 2000's.
Header by Rory Midhani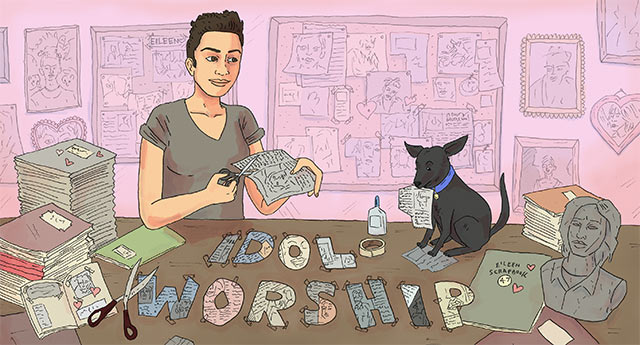 So. I was perusing the Internet, as I am paid to do by various folks, when I stumbled across this week's bit of 90's nostalgia: a live cover of Sheryl Crow's "Strong Enough" by HAIM and Lorde. No offense to the godessess of our loins that they all may be, it was kind of the shittiest thing I've ever heard.
But that could just be because I've been listening to Sheryl Crow for an inordinate and possibly unhealthy amount of time.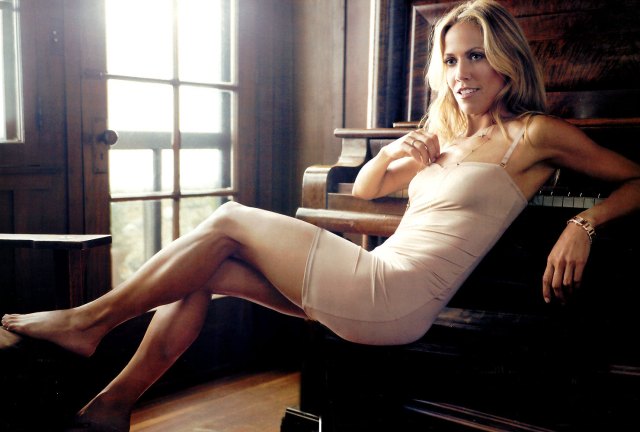 What I've just told you is my biggest fear, my number one secret, something Geneva only realized after we'd ridden in cars together for like, three weeks combined: I listen to Sheryl Crow. Still. On the reg. Like, all the time. I even have her songs on my iPhone and I even feel tempted, many days a week, to make them into Tumblr posts or integral parts of my Twitter biography. I strut to work listening to Sheryl Crow. And even if "Strong Enough" is no longer on my Sheryl playlist (because I mean, come on, my breakup was so long ago), I can still appreciate the lingering affection for an angsty girl who also knew how to see the sun.
Sheryl Crow to me sounds like endless summer, drunk and/or hungover mornings, dust falling on your small town, the loss of innocence, and, overall, my entire early twenties. (And twangy guitar, because in the nineties every pop star was apparently also a country star. Right, Jewel?) I listen to Sheryl Crow and I think about getting unstuck, and how nice it is to sit back and bitch with the girls about, well, other girls, and life, and how sometimes, deep down, I just wish I was sitting on someone's front porch drinking a beer. The Sheryl Crow I knew was always cynical and sort of apathetic about romance and about everyone's expectations for women, and she was a tomboy mixed with a bleeding heart and I always thought it was cute that there were people like that on this Earth. Sheryl Crow is rough around the edges, probably a little buzzed, and just looking for a good fucking time – and I can relate. And I'm aware that probably nobody else on this Earth (or at least who reads this website) listens to old Sheryl Crow, new Sheryl Crow, or the ghost of Sheryl Crow's mainstream career crying in country bars, but hear me out: it's worth a try.
I'm not here to talk to you about current Sheryl Crow songs or the state of pop-country music or LeeAnn Womack (though that's always on the table) or Lance Armstrong. I'm here to talk to you about Bud Light, girls in men's jeans, and an Americana that was invented by road-trip babes like Sheryl Crow before Lana Del Rey had learned to pout. Sheryl Crow always struck me as a total bro, someone who kicked it with the boys, someone with dirt in her hair, and it makes sense to me now what felt memorable about that.
I'd like to talk to you about why I'm still listening to old Sheryl Crow songs.
One at a time.
When I'm walking down the street and a bunch of people are staring at me I can choose between two extremes: listening to hip-hop and strutting like Kanye West, or listening to "If It Makes You Happy" and pounding my boots on the sidewalk as I think, "ugh, I'm 2 alt 4 u anyway."
I try to think of the entirety of the lyrics as subversive, since observing "I hate to do this thing, but I did it anyway, for you, and you're still being an unappreciative bitch" strikes me as kind of just that. Plus, having survived a relationship where I often felt like nothing I did was ever enough, this is a great cure.
If you want to feel powerful, just think back to the last time you weren't living for yourself, throw your head back, and fucking werq through this song. In public. And preferably in a leather jacket.
Well, OK, I still get stoned. I'm not the kind of girl you'd take home.
Not gonna lie to you on this one: my mom and I used to pop quarters into the jukebox at the local diner and pick songs and I always chose "Everyday is a Winding Road." In light of my recently overexposed childhood, I think that makes sense. Not everything is the way we planned it, but hell if it isn't a damn good ride.
I get a little bit closer. 
If you've ever wondered about the futility of the world, about the academic-industrial complex, about the failing job market, about the dark underbelly of the American dream, or about a good party, you were probably listening to this song. So, that political apathy and sense of overall discouragement about our culture? Don't worry — it's not you. It's everything else. And Ellen's here to save you.
Hello it's me, I'm not at home, if you'd like to reach me, leave me alone.
All I wanna do is have some fun before I die. Like, seriously. Even if it means drinking beer on noon on Tuesday with boring dudes in a dive bar.
This song feels like my mornings in 2010 where I woke up, immediately got fucked up, and then skipped class, all never for a reason. All just to fucking feel like I was alive.
https://www.youtube.com/watch?v=7dGGFpeQNfY
This ain't no disco. It ain't no country club, either. This is LA.
The only time I didn't listen to this song in transit was when Geneva and I were actually leaving Las Vegas, but I did hum it a little bit to myself to make sure I hadn't wasted my only chance at ever making sense. I listen to it when planes are taking off, when I'm headed somewhere on a sunny day, or when I'm entering new city bounds, and sometimes I just listen to it when I wish I was headed somewhere else. I've been in DC for five years now, and that can feel like forever when you're not even 25, and thus I sometimes like to listen to this song when I'm walking outside, stare up at the sky, and pretend it's my last day there. Everything seems more romantic and nostalgic when you're saying goodbye, anyway.
Such a muddled line between the things you want and the things you have to do.
I actually only recently discovered this one, but it moved me super deeply and I had feelings about being stuck and finding the place I belong in afterward for at least seven days.
My head is full of voices and my house is full of lies.