Welcome to Idol Worship, a biweekly devotional to whoever the fuck I'm into. This is a no-holds-barred lovefest for my favorite celebrities, rebels and biker chicks; women qualify for this column simply by changing my life and/or moving me deeply. 
Header by Rory Midhani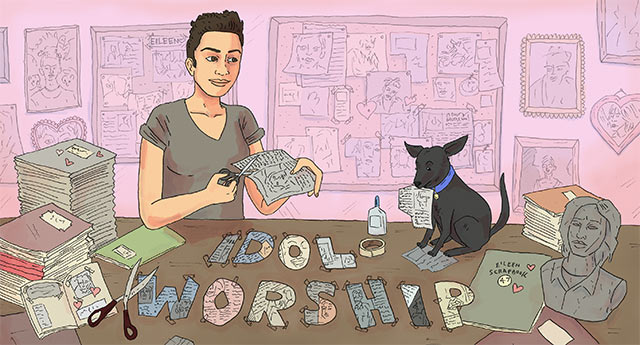 The 50th Anniversary of the 1963 March on Washington has come and gone, and with it came a ton of discussions: on the state of racism, the state of the economy, and the legacy of Martin Luther King, Jr., to name a few. But someone was strangely absent: the First Lady of Civil Rights.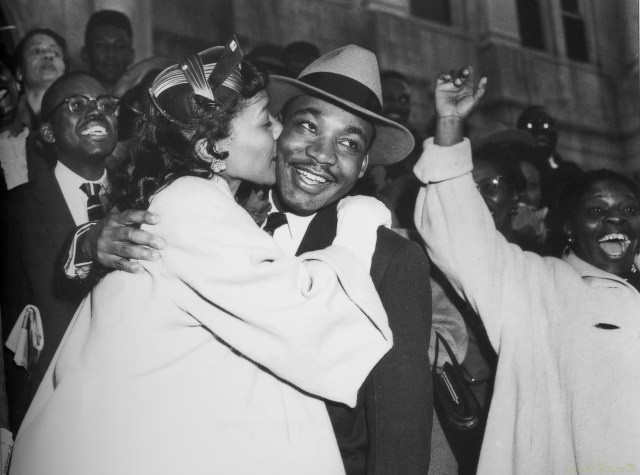 Coretta Scott was born on April 27, 1927 in Heiberger, Alabama. Bright from the beginning, she graduated as valedictorian from her high school and went on to become the first in her family to earn a degree, studying music at Antioch College in Ohio.
Scott married Martin Luther King Jr. on June 18, 1953 in her family's home. She met King in college:
He was looking for a wife. I wasn't looking for a husband, but he was a wonderful human being," she told an interviewer. "I still resisted his overtures, but after he persisted, I had to pray about it… I had a dream, and in that dream, I was made to feel that I should allow myself to be open and stop fighting the relationship. That's what I did, and of course the rest is history.
From the start, Coretta and Martin Luther King had a partnership: both invested in the revolution, she was home caring for her newborn child during the first bus boycott; as the years passed by, she would march with him and sometimes speak in his absence at Civil Rights events.
But the partnership wasn't always equal, and gender hierarchy often prevented it from being so. Coretta's duties were in the home, in caring for children during her husband's absences and in managing  the family's life. And when the March on Washington came in 1963 – a historic occasion which challenged society's long-held racial inequalities — she simply sat in the second row. Women marched down Independence, and men marched down Pennsylvania; although women had helped to put the whole thing together they were given only 142 words at the event by Daisy Bates, the only woman to address the crowd during the official program. (Josephine Baker addressed the crowd before the program began.) In the Smithsonian's oral history of the march, Coretta is mentioned only once in passing, despite a lifetime invested in the work.
As we know, Martin Luther King, Jr.'s life was tragically cut short — and with his passing came wider recognition and respect of Coretta's presence in the Civil Rights movement. On the topic of his death, she said, "I think you rise to the occasion in a crisis. I think the Lord gives you strength when you need it. God was using us – and now he's using me, too."
Four days after her husband's assassination, Coretta led 50,000 marchers silently through Memphis in mourning; her speech at his funeral was televised to over 120 million people. Two months after that she led the Poor People's March to Washington. She went on the be the first woman to preach at Great Britain's St. Paul's Cathedral and the first woman to deliver the class day address at Harvard University. She created the Full Employment Action Council, which brought over 100 religious, business, labor, civil, and women's rights organizations together to push for national policies on employment access and opportunity; she also created the Coalition of Conscience, a coalition of more than 800 human rights organizations.
Coretta's work, however, was mostly invested in the founding and expansion of the Martin Luther King, Jr. Center for Nonviolent Social Change. The center "has been a global destination, resource center and community institution for over a quarter century," and Coretta led it until her retirement in the mid-1990s. Around one million people visit the center in Atlanta each year, and under her leadership it grew into an $8.4 million organization covering 23 acres — including the location of her husband's grave. "When I say I was married to the cause," Coretta is quoted as saying, "I was married to my husband whom I loved… It was my cause, and that's the way I felt about it." (Civil Rights, however, wasn't Coretta's only movement: she was active in feminist politics and the campaign to pass the Equal Rights Amendment, as well as being a public ally to LGBT folks.)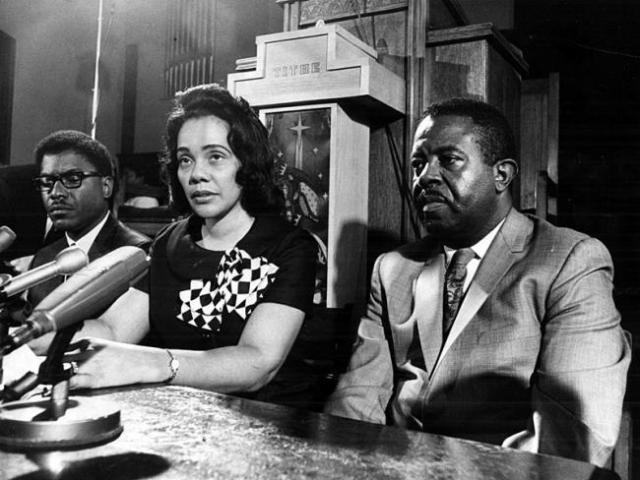 On January 30, 2006, Coretta Scott King passed away in her sleep. The work of her life is, in many ways, still a dream that many of us hold dear; an ideal of equality that we haven't yet seen recognized. I'm inspired by her drive for leadership and her ability to recognize her own accomplishments as possible and important during a time where that seriously challenged the social norms of her own movement. I'm in awe of her strength and her willingness to sacrifice for that dream. And most of all, I'm grateful: for her voice, for her work, and for the march which inevitably made it all the more possible.