George Floyd was murdered on May 25, 2020, and we stand in unequivocal support of the protests and uprisings that have swept the US since that day, and against the unconscionable violence of the police and US state. We can't continue with business as usual, which includes celebrating Pride. This week, Autostraddle is suspending our regular schedule to focus on content related to this struggle, the fight against white supremacy and the fight for Black lives and Black futures. Instead, we're publishing and re-highlighting work by and for Black queer and trans folks speaking to their experiences living under white supremacy and the carceral state, and work calling white people to material action.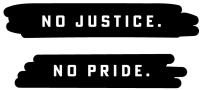 ---
If you haven't already read Police And Prison Abolition 101: A Syllabus And FAQ, start there.
Excessive force is the most frequently investigated complaint against police. Cops in the US murder over 1,000 people annually and assault, harass, profile, surveil and lock up hundreds of thousands more. Black people are two-and-a-half times as likely as white people to be killed by the police in the US, despite only making up 13 percent of the population. White people in the US are uniquely indoctrinated into the fantasy that cops protect "good people" from "the bad guys," when in reality, police are perpetrators and cosigners of mass murder, facilitators of mass incarceration and protectors of state capital whose goal is to produce and maintain inequalities.
Countless calls for help have ended in death. In 2015, Michael Noel's mother called police to ask for help taking her son to the hospital. Noel, a 32-year-old Black man, was experiencing a mental health crisis when police claimed he resisted arrest. Sgt. Pittard Chapman shot Noel in the chest and killed him. In 2019, Atatiana Jefferson's neighbor called a non-emergency police number because they were concerned that Jefferson's door had been open all night. Moments after arriving at Jefferson's apartment, a cop shot and killed the 28-year-old Black woman through her own bedroom window.
If we want to move towards a police-free, abolitionist future, we have to do everything we can create an abolitionist reality right now. People of color have always been doing this work, and Black women have been leading the charge. Early Black Panther Party member and radical activist Angela Davis coined the term "prison industrial complex" (PIC) to describe "the overlapping interests of government and industry that use surveillance, policing and imprisonment as solutions to economic, social and political problems." This definition comes from Critical Resistance, the abolitionist group that Davis co-founded in 1997 to shrink forms of state control and bring power back to communities. Critical Resistance served as a model for other abolitionist groups like INCITE!, a network founded in 2000 by radical feminists of color to address violence against women without police intervention. In 2009 Mariame Kaba founded Project NIA, which aims to end youth incarceration by offering community-based alternatives to the criminal legal process. These are only a few examples of organizations envisioning a police-free world, but you can find evidence of abolitionist practices in any community threatened by police violence.
White people in particular, it's on us to catch up. We need to interrogate our reliance on cops, imagine a world without them and commit to never calling the cops again.
Plan ahead.
Do you foresee a potentially dangerous situation in which you or someone else would normally call the cops? Take steps to stop violence before it starts and prepare yourself to manage challenges that arise. Make a list of local hotlines and services you can call instead of calling police. Create a network of friends and neighbors you can call for support during a crisis. Seek out POC-led groups that will train you in first aid, crisis de-escalation and transformative justice. The "Safer Party Toolkit" created by the Audre Lorde Project, the Safe OUTSide the System Collective and the Safe Neighborhood Campaign lays out clear steps for preventing and de-escalating violence at large gatherings.
Redefine "safety."
Is the situation you've encountered truly "unsafe?" A houseless person sleeping on your front stoop is not affecting your safety. Your neighbor's loud conversation is not affecting your safety. Your perception of the "suspicious" activity around the corner is likely based on your internalized bias. Are you truly "unsafe" or are you just inconvenienced?
Calling the cops out of concern for someone else can make their unsafe situation even more dangerous. If you hear a domestic dispute next door, is there another way you can address the situation? In an ACLU survey, most domestic violence survivors reported that police involvement made their situation worse, and the mandatory arrest laws in most states mean that the survivor is often taken into police custody instead of or alongside the person causing harm. If you knew all of your neighbors and were friendly with them, would you feel more comfortable knocking on their door and asking if they need to stay at your place? Committing to your community and being an active part of it keeps everyone safer.
If someone smashes your car window, takes your bike, steals from your home or otherwise damages your property, you will shoulder a financial burden, and you might feel scared or violated. Before you cling to the white knee-jerk reaction of calling the cops, consider that when you file a report with police, you're prioritizing your items over human life. The Unitarian Universalist Association created this helpful list of ways you can recover lost property without bringing police into your neighborhood.
Handle the situation on your own.
White people in particular are trained to call the cops as the sole means of handling any difficult situation. I promise you can be more creative than that. If your neighbor is hosting a loud party at 3AM, do you feel comfortable knocking on their door and speaking to them directly? Are you familiar with techniques that will help you de-escalate a verbal confrontation in your workplace? Can you ask the person with the aggressive dog to keep her pet leashed around your kids? If there's a recurring problem in your neighborhood, could you get in touch with your neighbors and ask if it's bothering them as well, and if all of you can work together on a plan to address it? A kind request is always a better first step than calling the police, whose presence can escalate a minor conflict.
Get support from a friend or neighbor.
Would you feel safer handling this situation with support from another person or a group? Do you have friends with specific skills that they could lend to this situation? If you don't already know your neighbors or have a mutual support network of nearby friends, define your pod. Pod-mapping, a technique developed by the disability justice movement, helps us organize the dependable individuals in our lives. Use this worksheet from the Bay Area Transformative Justice Collective to create your pod and have a plan in place for times of crisis.
Seek help from a designated mediator or mediation program.
If you're dealing with an interpersonal conflict, your city might already have a meditation program that can provide support (like Community Mediation DC, which helps folks navigate interpersonal conflicts, neighborhood disputes, workplace conflicts and more). If not, INCITE! collected this list of resources for addressing harmful behaviors on a community level. Look into whether there are organizations or groups that offer transformative justice actions or train others in them. The Revolution Starts At Home: Confronting Intimate Violence Within Activist Communities, edited by Ching-In Chen, Jai Dulani and Leah Lakshmi Piepzna-Samarasinha, outlines police-free strategies for confronting interpersonal violence that are effective both within and outside of social justice circles.
Seek help from a crisis intervention specialist.
If you or someone you know is experiencing a mental health crisis, be aware that calling the cops often escalates the situation at best, and can put your friend at risk of physical harm at worst. Police are not adequately trained (and are often not trained at all) on mental health crises, and people with mental illness are 16 times more likely to be murdered in a police encounter than other civilians stopped by cops. Some cities offer mental health first responder teams (like CAHOOTS in Eugene, OR) and trainings in crisis intervention. Be aware that crisis hotlines can employ non-consensual "active rescue," which involves police, if a caller seems to be in immediate danger. TransLifeline, a hotline by and for trans people in crisis, is the only crisis hotline committed to never calling police.
---
These suggestions only scratch the surface. If you want to learn more about abolition and policing alternatives, visit Transform Harm, a resource hub dedicated to fostering abolitionist practices, or check out any of these resources on community safety and protection without police.