Who wants to learn about Canadian politics? Great, take a seat, because today we're going to be talking about something special.
Last night the House of Commons voted 143 to 135 to pass Bill C-389.
What is Bill C-389, you ask? Well, I'll tell you. Bill C-389 is an act to amend the Canadian Human Rights Act and the Criminal Code to include gender identity and gender expression. Yeah, that's right: if passed through the Senate, trans and genderqueer people would be able to see themselves in the law as equal to every other Canadian citizen, and crimes motivated by transphobia would be potential hate crimes .
Wait, what about the Senate? Alright, let's back up a bit. First, how does Parliament work? (I tell you this because I didn't know, and I've been Canadian my whole life.)
From the Parliament of Canada's website (and I know you're going to be tempted to skip the italics, but I'm telling you right now that you shouldn't):
All bills normally go through a similar series of steps in both the Senate and the Commons.
Introduction: The process begins when a bill is introduced.
First Reading: The bill is "read" for the first time, without debate, and printed.
Second Reading: The principle of the bill is debated. It is then voted on and the bill is sent to a parliamentary committee.
Committee Stage: A committee hears witnesses, examines the bill clause by clause and submits a report recommending the bill be accepted as is or with amendments, or that it not proceed any further.
Report Stage: Additional amendments to the bill may be moved, debated and voted on.
Third Reading: The bill is debated a final time and voted on.
Message: Once passed, the bill is sent to the other House, where the process starts again from first reading.
Royal Assent: The Governor General or a deputy gives the bill Royal Assent.
So where is C-389 at? It was introduced as a private member's bill by NDP MP Bill Siksay (that's the New Democratic Party for you foreigners) in March 2010. It went through two readings and the committee and report stages. On Monday the bill was debated for a third time, last night it was voted on, and now here we are. There are only two more stages for this bill to get through, and by two I really mean one because the Governor General is a rubber stamp. We are this close to the bill being passed.
The thing is, because it's a private member's bill, it requires sponsorship by a sitting Senator to move forward. So far it has not been picked up by a Senator. Canada, it turns out, is also very close to an election being called. If sponsoring this bill is perceived as threatening anyone's election chances, it makes it less likely. This could put the bill on the backburner while other things that I don't understand happen, so here's hoping that the Senate moves quickly to get this passed.
There were a few issues raised in the debate on Monday. Firstly, that "gender identity" and "gender expression" are not defined within the language of the bill and will therefore cause problems for those interpreting or enforcing it. Secondly, that transgendered people are already protected from discrimination under the category of "sex", and therefore the bill is unnecessary. Of course, in the few media articles that have been produced by the Other Side (strangely there have been little to no media reports on this), the argument is that this will allow men to go into women's bathrooms and prey on little girls, hang out in public changing rooms, etc. (You may be aware of the corresponding "Bathroom Bill" controversy in the US.)
I'll let Siksay, who reminds me of our anti-Prop 8 lawyer friends, respond:
On the matter of the definition, the Canadian Human Rights Act does not define each of the prohibited grounds of discrimination that it contains. This is intentional. It encourages living definitions, grounds that are defined by common usage, experience, jurisprudence, tribunal decisions and science. In keeping with that feature of the act, there is no definition of gender identity and gender expression in this bill. I hasten to point out that gender identity and gender expression are not new terms or new ideas. They have been in use for many years.
Also, while there have been successful human rights complaints launched by transpeople using the current law's provisions on "sex" and sometimes "disability", we should never forget the fact that successful challenges to discrimination have been made by transfolks using current law, including an explicit reference to gender identity and gender expression, which is still important. It is important for absolute clarity. Transpeople should not have to think their way into protection using other categories originally intended to cover other groups in our society.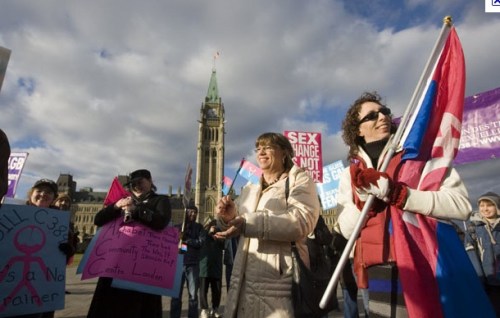 Finally, pedophilia and sexual exploitation is still illegal, and there is no way this bill could possibly change that. It's outrageously offensive that transgenderism is equated with that. Pointe finale.
If you get the chance, you should read the third debate. It's not as long as it looks.
This is the third time that Siksay has attempted to bring this bill to the House. The first two times, it didn't even make it to the debate round and so this was the first time transgender issues were debated in Parliament. Regardless of how C-389 turns out, that is still a huge step forward for the community. However, this not a time to pat ourselves on the back just yet — this is a time for Canada to step forward and seize the opportunity to be a leader and advocate for human rights. Because that's what we all are, right? Human.
Read the full text of Bill C-389 here.